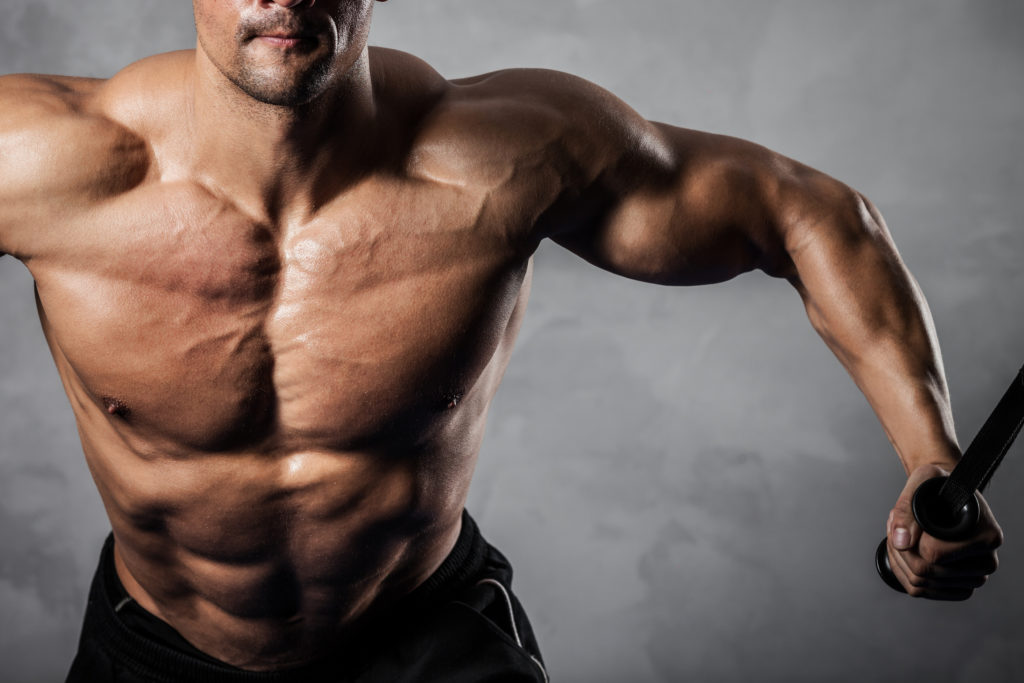 Inspire Fitness's FT1 is a smaller version of their inspirational FT2 functional trainer. With a significantly smaller price tag, the FT1 might be a better buy if you're willing to give up on a few advanced features. Either way, with dual weight stacks, fully adjustable pulleys, and an incredible warranty, the FT1 has what it takes to stand alone as one of the best home functional trainers around.
But you really shouldn't take my word for it.
That would be too easy. You need to do your own dirty work to make sure what I'm suggesting holds water.
This review will walk you through everything the Ft1 has going for it so you can make your own educated decision. I'll start with a quick discussion on some of the key specs you should consider when comparing functional trainers.
Choosing A Functional Trainer
Just in case you're not sure what we're talking about here, I better start with a definition of functional trainer. These machines are really just cable machines (or weight stack home gyms) with one or more pulleys.
Having an adjustable pulley gives you a lot of exercise variety. These machines have adopted the name "functional trainer" because they've been used a lot in the rehab and sports medicine settings for activity and sport specific training.
The adjustable pulleys give you pretty much unlimited range of motion to play with, giving you the opportunity to train pretty much any movement you can think of.
You can see how this would come in handy for an athlete training to improve their baseball or golf swing, or a pitcher working on pitching technique.
Anyway, the name stuck. And I personally think it sounds pretty sophisticated.
"Yeah, I was just working out on my functional trainer, you know, no big deal".
Functional trainers come in different shapes and sizes. Here are some of the key specs you should consider when looking for one to add to your home gym:
Weight Stacks
Most home functional trainers utilize weight stacks for resistance, but some do still use weight plates. Trainers that use plates are usually a little more affordable, but consider you have to purchase the plates (and store them) separately.
Functional trainers can come with one or two (dual) weight stacks. You'll have more exercise variety with the dual systems because you can do moves that you can't on a single stack, like cable crossover, bench press, and shoulder press.
The amount of resistance that comes with these weight stacks varies too. Some may come with as little as 150 lb, others might come standard with 210 lb.
Keep in mind, that with a pulley system, the actual resistance you feel is different than the selected resistance. These pulleys have a 1:2 resistance ratio, meaning the resistance you feel is half the selected resistance (due to the mechanical advantage created by using a pulley).
Example: selecting 100 lb on the stack will provide 50 lb of resistance
All functional trainers are like this. But if you think you'll need more weight, go with a trainer that comes with more resistance. FYI- you can purchase additional weight packs for most trainers- they usually come in 50 lb increments.
Attachments
The attachments that are included with a trainer vary greatly too. Some trainers come with a boat load of attachments, others may only come with a single set of handles.
More expensive machines usually include more attachments.
If you don't think you'll need many extras, you can safe some cash and go with a more bare bone machine.
Common attachments include:
Triceps rope
Short bar
Long bar
Sports bar
Pull up bar
Ankle strap
Curl bar
I recommend comparing the included attachments when comparing trainers. If they seem similar in most areas (including price), choose which machine comes with your preferred handles.
Benches usually have to be purchased separately. Some trainers are compatible with preacher curl attachments and leg developers as well.
Warranty
Warranty should always be considered when deciding on a piece of fitness equipment. Longer is always better of course. After all, who prefers a shorter warranty?
Warranties on functional trainers are usually divided into frame and moving parts.
A good warranty on frame is anything 10 years and longer. Lifetime is preferred.
Anything over 2 years is pretty decent on moving parts, but again, lifetime parts warranties are out there and they are preferred.
A machine's warranty is usually directly related to its asking price. More expensive models tend to come with better warranties. You can save some money if you're willing to give in the warranty department- just know that it's a gamble that could end up costing you more in the long run.
The Inspire Fitness FT1 Functional Trainer
Inspire Fitness has been around for about 15 years or so. They produce both residential and commercial fitness equipment. They have a reputation for producing high-end machines and offering generous warranties.
The FT1 is one of four trainers currently being offered by Inspire Fitness. It falls in the mid-range category in both features and price.
Pros
Heavy-duty, steel frame
Dual, 165 lb weight stacks
Dual, fully adjustable pulleys
Vast exercise variety
Pull up bar
9 included attachments
Easy assembly
Lifetime warranty on everything
Cons
Would be nice if weight stacks were 200 lb
Construction/Features
The FT1's frame is designed with heavy-duty, steel round/rectangular components for a solid foundation. The matte black and chrome color scheme gives the machine a sleek appearance, but it's also powder coated to help prevent accidental scratches and dents during use.
This trainer comes standard with dual 165 lb weight stacks. With the additional 5 lb add-on weights included with the attachments, that's a total of 170 lb per side (or 85 lb of functional resistance per stack).
Compared to other functional trainers, this is pretty standard. Some comparable machines come standard with 200 lb stacks though, so it would be nice of Inspire Fitness bumped up the stack weight a little.
However, you can purchase an extra 50 lb per side if you like.
Each stack has its own fully adjustable pulley. Each side has 30 different starting positions, giving you a ton of freedom and customization options for your workouts. Each pulley also swivels 180 deg freely, allowing you to perform your movements at any angle you prefer.
Each pulley is easily adjusted and glides smoothly. Users seem to be very happy with the quality of construction on the FT1, many comparing it's feel to that of a commercial grade machine.
The biggest difference between this machine and the upgraded FT2 is the inclusion of a Smith bar. You'll notice there's no such apparatus on this trainer. The Smith bar on the Ft2 is unique and pretty amazing, but the FT1 is able to cut about $1500 off the asking price by eliminating it from this model.
Attachments
The FT1 comes standard with the following attachments:
2 rubber handles- these are the classic handles used for performing a large variety of moves (cable crossover, bench press, single arm bicep curls, etc)
Triceps rope- commonly used for tricep extensions, can also be used for a variety of bicep curls and upright rows
Straight bar- or long bar, this can be attached to both pulleys and be used as a barbell
EZ curl bar- this is the contoured bar used to make curls more comfortable, this also attaches to both pulleys
Ankle strap- this attachment allows you to perform a variety of hip strengthening exercises (hip abduction, extension, etc)
Multi-function belt- this can be attached to both pulleys and act as a pull up assist device, making pull ups easier
Sport handle- a shorter, straight bar used to mimic sport specific movements (like swinging a bat, or club)
Pull up bar- an angled pull up bar sits in the front of the frame, giving the ability to perform pull  up and chin ups if you like
Exercise booklet- an included workout guide that attaches to the frame for quick and easy reference during your workout
2 5lb add-on weights- an extra 5 lb of resistance for each weight stack, comes in handy for fine-tuning your resistance level
This is a generous offering of attachments. This gives you the ability to get your trainer up and running with everything you'll need right out of the box.
A bench isn't included, so if you want to do bench presses and shoulder presses, you'll have to provide your own. Inspire also offers a leg developer as well as a preacher curl attachment.
Assembly
Looking at a machine like this, you might expect the worst when it comes to assembly. And a lot of times you'd be right. But surprisingly, users report putting this gym together is actually pretty easy.
This is because each tower comes pre-assembled. You have to just attach the towers with the pull up bar and frame. Most users report they were able to finish assembly in about 2 hrs.
It's recommended to have 2 people to get the job done safely, but some users report being able to put it together solo.
You'll need an adjustable wrench and a few Allen wrenches, but it looks like some are included.
The instruction manual is pretty straightforward with large illustrations and written directions for each step.
Once assembled, the FT1 has the following dimensions: 54″ (W) x 46″ (L) x 83″ (H). This is WITHOUT a bench though, the length turns into 83″ with Inspire's optional bench.
I want to point out that the FT1 is one of the more narrow dual stack trainers out there with only a 54″ width. Many are a good 10 inches or so wider. This is convenient if your workout space is tight. It's actually designed to fit in corners to save space.
Oh, finally, the FT1 weights 725 lb fully assembled. Make sure you have a permanent location settled on before assembly, because it would be tough moving this thing after you put it together.
Warranty
So far, the FT1 has a lot going for it. Does the warranty match the quality? Yes, it does. Inspire Fitness offers the following warranty on the this trainer:
Residential: limited lifetime frame and parts
Light commercial: limited lifetime frame, 10-year parts
This is a great residential warranty. Inspire's reputation for awesome warranties stands true. Knowing this machine comes with a lifetime guarantee may relieve any anxiety over purchasing a home gym of this magnitude.
Final Thoughts
The FT1 has a lot going for it. It's built with a durable steel frame and 2 smooth acting pulley systems. The dual weight stacks and fully adjustable pulleys give you a ton of workout options, which is amplified by all the attachments that are included with purchase.
User reviews are overwhelmingly positive. Folks love how high-end it feels and are pleasantly surprised by how easy it is to assemble.
The fact that this trainer comes with a lifetime residential warranty on everything is the icing on the cake.
To sum things up- for the price, it's going to be hard to find a nicer functional trainer. The Inspire Fitness FT1 Functional Trainer comes highly recommended.