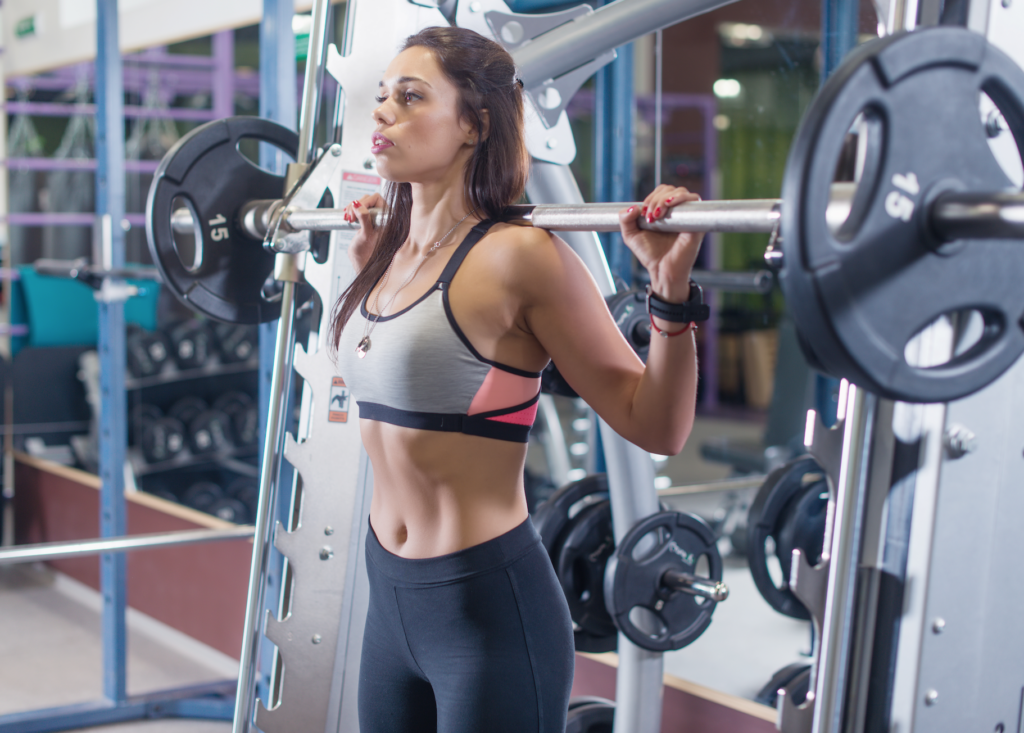 The best home Smith machines should be durable, smooth operating, and backed by a generous warranty. I guess I could say the same about pretty much any home fitness equipment- but it's especially true when you're talking about an attached barbell system.
The last thing you want is for your Smith bar to stick or get stuck during a workout. I can guarantee that's a great way to ruin your day.
Not to mention the safety hazards that causes.
But don't worry, I'm here to make sure that doesn't happen.
This guide will walk you through all the stuff you need to know to find the right Smith machine for your home gym. We'll go through all the basics as well as the specs you should prioritize to ensure your Smith machine is a winner.
I'll also present my top picks based on the same criteria.
How To Buy A Smith Machine
Adding a Smith machine can elevate your home gym to a whole new level. A dumbbell set and a bench can get the job done, but bringing one of these bad boys into the equation can really step up your workout game.
Powerlifting moves like squats, bench press, and deadlifts now become doable. Not only will you add significantly to your workout repertoire, but you can do them safely and with peace of mind.
Well, if the machine you bring into your home gym actually works that is.
Believe it or not, not all Smith machines are built equal. I know, you're shocked. But keep a discerning eye on the following specs and features and you'll be a lot more likely to be happy with your purchase.
Linear Bearings
The most important thing a Smith machine has to do is move smoothly. No matter what other features and gizmos it may have attached to it, the simple fact is that if the barbell doesn't travel smoothly, you're not going to be happy.
We all want a home Smith machine that feels like the one we've used before in the local gym. Am I wrong?
I don't want to burst your bubble too early on here, but the only way you're gonna get a Smith machine that feels just like the one at Gold's is to buy a commercial grade unit.
But that's not what we're discussing here, we're talking about HOME models.
The only way you're going to get close to replicating that gym-like feel is to get yourself a home machine that uses a linear bearing system.
Linear bearings are basically a series of ball bearings that connect the barbell to the supporting bar. These ball bearings enable the barbell to slide freely across the vertical support bars, giving you the smooth operating Smith machine you've been looking for.
I'm no engineer, but I know ball bearings are a good thing when it comes to reducing friction between surfaces.
Please know that not all home Smith machines come with linear bearings. They are usually only found on the higher-end models. I can almost guarantee you won't find linear bearings on any Smith machine costing less than $700.
The alternative system is referred to as a bushing system. Smith bars that use this mechanism will not slide as smoothly and can get stuck if they aren't lubricated enough.
Weight Capacity
Not all machines come with the same max weight capacity (the amount of weight you can put on the bar). If you plan on lifting some serious weight, this is one spec you need to pay special attention to.
Most home machines have a weight limit somewhere between 300 – 1000 lb. I wouldn't recommend purchasing any Smith machine with a weight limit under 300 lb.
Weight capacity is directly related to durability and quality of construction. Machines with a more stable frame are going to be able to handle more weight safely.
Smith machines should be constructed with heavy-duty frames, often from 11 or 12 gauge steel. The gauge number refers to the thickness of the steel and the lower the gauge, the thicker the metal.
Commercial machines have heavier-duty components than home models, but a 1000 lb limit should do the trick for most of us out there.
Warranty
I'm a stickler for warranties, I think they should be considered with all fitness equipment purchases. Smith machines are no different.
The warranties on these units will vary greatly. Longer is better of course. The great warranties out there will offer lifetime on everything.
The less than stellar warranties might be a year or two on the frame.
By the way, Smith machine warranties are often divided into frame and moving parts.
Attachments
Depending on what your needs are, you can go with a Smith machine that is loaded with additional attachments, giving you a fully functional home gym system.
Common attachments include:
Lat pulldown
Pec deck
Preacher curl
Leg developer
Adjustable bench
Weight stacks
Pull up bar
Dip station
Most manufacturers will offer their Smith machine as a part of several different packages, each including the base machine with different attachments included.
The more attachments you get, the higher the price (usually).
If you aren't interested in all the extras (and the extra cost that comes with them), you can opt for a simple machine without any attachments included.
You'll probably save some money by doing so- there are several great options included on this list.
Olympic vs Standard Plates
The type of weight plates you'll be using is something you should consider too while you're comparing models. Higher-end Smith machines tend to use Olympic plates because they're the gold standard for weight lifting.
Budget machines tend to use standard plates.
If you wondering what the difference is, it has to do with the size of the hole in the middle: standard weight plates have a 1″ diameter hole and Olympic plates have a 2″ diameter hole.
You need to keep an eye on this because the barbell itself will be a different size too. Barbells designed for Olympic plates have larger ends to fit the 2″ opening and vice versa.
There are Olympic adapter kits you can get that converts a standard bar to an Olympic bar (larger end that slides on the end of the standard bar).
Some Smith machines come with these, others don't.
Counter Balanced
A lot of the commercial grade machines are counter balanced. This means there's a pulley system built in that effectively reduces the weight of the bar.
This comes in handy if you ever need very low resistance for an exercise.
Most home Smith machines are not counter balanced. Although a few models offer this feature as an add-on that is purchased separately.
If you want a counter balanced machine, you're likely looking at a more expensive price tag.
Plates vs Stack
I wanna say that like 90% of Smith machines out there use weight plates. This is what we all think of when we think of these classic machines.
Although there are some out there though that use weight stacks for resistance.
As odd as this may sound, it does have its advantages.
With a weight stack, the resistance is built-into the machine. You don't have to buy plates separately or worry about having to store them somewhere.
You also don't have to worry about putting plates on and pulling them off, you can simply push a pin into the stack to select your resistance.
These models are usually a Smith machine/functional trainer hybrid.
One of these systems made it onto my list here as you'll see down below.
Price
I highly doubt price is the last factor you'd consider when purchasing a Smith machine, but on this list it's probably the least important.
That's because the other features above will dictate which price range your preferred machine will fall in.
Luckily, most of the top models won't completely destroy your budget.
I mentioned earlier that you really can't find a linear bearing Smith machine for under $700. That means the price range for the best machines is $700 and up.
Depending on how many extra features and attachments you want, you can easily drop $4000 on a Smith machine system. This would be for a complete gym system though with all the trimmings.
The cheapest Smith machine I've come across is around $400- it didn't make this list, but it does have some redeeming qualities.
Most of the best machines (the ones on this list) will run you somewhere in the $800 – $1000 range.
 
Linear Bearings?
Weight Capacity
Warranty
Attachments
Price
Valor Fitness BE-11
Yes
1000 lb
3-year frame
1-year hardware
No
$$
Deltech Fitness Linear Bearing Smith Machine
Yes
700 lb
Lifetime frame
No
$
Inspire Fitness Ft2 Functional Trainer
Yes
n/a
Lifetime everything
Yes
$$$$
Body Solid Series 7
Yes
600 lb
Lifetime everything
Yes
$$$
Yukon Fitness Caribou III
Sold separately
500 lb?
Lifetime frame?
Yes
$$
Marcy Diamond Elite
Yes
300 lb
2-year frame
Yes
$$
The 6 Best Home Smith Machines Of 2021
#1 Valor Fitness BE-11 Smith Machine
It was a tough call, but the Valor Fitness BE-11 landed the top spot because it's a solidly built, no-BS machine. It's a simple, straightforward Smith machine without any attachments whatsoever.
If this is what you're looking for, this machine has got ya covered.
First and foremost, the BE-11 does come with a linear bearing system for a smooth workout experience. The frame is constructed out of heavy-duty, 4″ x 2″ 12 gauge steel components.
The fact that this machine has a weight capacity of 1000 lb is an attestation to how well built it is.
The BE-11 is an Olympic system that requires Olympic weight plates. The 4 attached plate storage pegs will help you keep the weights well organized and off the floor.
This Smith machine does offer an optional counter balance system that can be purchased separately for about $100. It's a nice feature that they offer this upgrade- it'll be difficult finding a counter balance machine elsewhere for this price.
Valor backs this machine up with a 3-year frame warranty and a 1-year hardware warranty. This warranty isn't awful, but it would be nice if it was a little longer.
If the warranty was longer, this might just be the perfect machine.
Overall though, the BE-11 is a tough machine that's definitely built solid. It's gonna be hard to find a tougher model for under $1000. No doubt about it, this is a smart buy. See full review.

#2 Deltech Fitness Linear Bearing Smith Machine
It was a close call for me between this Deltech model and the BE-11 above. I ultimately went with the BE-11 as my top choice because of the 1000 lb weight limit, but this Smith machine by Deltech is very comparable and comes with a better warranty.
This is also the most budget friendly machine on this list.
The frame is designed with 11 and 14 gauge steel tubing parts, giving it a durable feel. The frame is built solidly enough to handle a max load of 700 lb, which is very respectable in the home fitness equipment realm.
The Deltech machine does come with a linear bearing system, a must to make it this high on my list. Users seem pleasantly surprised at how smoothly this machine actually works (considering the low price).
This machine actually gets the price for most affordable unit that still comes with linear bearings. Deltech challenges you to find a cheaper one- I tried and failed.
This is also an Olympic size bar, requiring Olympic plates.
Deltech included a straight pull up bar running across the front of the frame. Otherwise there aren't any other included attachments. Although you can purchase a lat bar and stack separately.
Deltech's Smith machine comes with a lifetime frame warranty, which is great for any machine, but especially awesome considering the price here.
Overall, there's no other Smith machine that can offer what Deltech's does in this price range. Finding a Smith machine with linear bearings and a lifetime frame warranty for $800 is unheard of.
Truly a great buy (maybe it should be tied for 1st place?). See full review.

#3 Inspire Fitness Ft2 Functional Trainer
I'm not sure it's completely fair to compare this functional trainer to the 2 classic Smith machines mentioned above, but I'll do it anyway.
After all, this is also a Smith machine, and one of the best on the market today. But the Ft2 has got a whole lot more going on than the Deltech and Valor machines.
That's because this is a functional trainer- a dual weight stack system that functions as a complete, stand alone home gym.
It also happens to have a Smith machine built into it. But this Smith mechanism is different than every other model on this list- this one uses dual weight stacks for the resistance instead of plates.
It too is built with a commercial grade frame and utilizes steel ball bearings to ensure smooth operation. The Smith bar also has built-in safeties and bar locks like any other machine.
The Ft2 basically gives you all the advantages of a traditional Smith machine and adds the ability to perform all kinds of other exercises with the multiple pulley systems and attachments (like 10 or so attachments to be exact).
Each weight stack is 165 lb, but the Smith bar can utilize an additional pulley attachment that doubles the resistance of each stack.
You can also buy 2 additional 50 lb stacks for extra resistance. This gives the Smith bar a max resistance of 460 lb.
To make things a little sweeter, Inspire Fitness gave the Ft2 a lifetime warranty on everything- frame, moving parts, hardware.
The Inspire Fitness Ft2 Functional Trainer is a home gym like no other. The integration of the Smith machine with the weight stack system is quite unique.
It doesn't come cheap, but if you decide to purchase, it'll be the only piece of strengthening equipment your gym ever needs. See full review.

#4 Body Solid Series 7 Smith Machine
The Body Solid Series 7 is another classic plate Smith machine with a few added attachments to give you more of a full home gym feel.
If you don't want the attachments, you can also get this machine stripped down for a lower price- the Smith mechanism itself is the same and still works great.
The Series 7 comes with a frame built out of 11 and 12 gauge steel. The sturdy construction allows this gym to safely handle weights up to 600 lb.
Not quite as robust as some of the other machines mentioned already, but still probably plenty for most of us out there.
This Smith machine also comes standard with a linear bearing system. The Series 7 use Olympic plates and comes with 6 storage pegs for easy weight organization.
One of the biggest perks of this system is that it can also function as a power rack. If you're unfamiliar, it's basically a rack that allows you to do free barbell exercises.
This system doesn't include the free weight barbell, but you can use your own to do free weight exercises as well as Smith machine moves. A great bonus.
This package includes several attachments, including: an adjustable bench, lat bar (with 210 lb weight stack), pec deck station, leg developer, and preacher curl station.
I also love the fact that this gym comes with a lifetime warranty on everything for residential use (it's also warranted for light commercial use).
If you're looking for a fully loaded Smith machine with attachments galore, the Body Solid Series 7 is a smart choice. It's built strong and backed by an amazing warranty. See full review.

#5 Yukon Fitness Caribou III Smith Machine
The Caribou III by Yukon Fitness is another classic Smith machine design with the ability to add optional attachments. The package I like comes with a handful of included attachments, but like the Series 7, you can opt for just the Smith portion if you prefer.
Like all of the machines on this list so far, the Caribou III has a sturdy steel frame. I had a hard time finding an exact weight capacity for this machine, but users state it can easily hold 500 lb.
The biggest flaw on this unit is that the linear bearing system is not included standard. It comes with "self-oiling bushings" that users agree doesn't particularly work under heavier loads.
The linear bearings have to be purchased separately for an additional $200.
With the linear bearings installed, this machine works as smoothly as the rest. I don't understand why Yukon didn't just include them from the beginning and adjust the asking price as needed.
The Caribou III also has a gunrack (power rack) on the outside of the frame that can be used with a free weight barbell.
The Smith bar on this machine works with standard weight plates, but Yukon includes a free Olympic adapter. This is a pretty good deal because it means this barbell is compatible with both standard and Olympic plates.
This package includes: a chin up bar, adjustable bench, dual lat station, and leg developer.
The warranty on this gym is a little questionable- Yukon states it's up to their "discretion" to repair machines with frame issues.
This is a little odd, but given their good customer service reputation, I would assume they're giving their frames a lifetime warranty (but I would contact them directly and ask before buying).
Overall, the Yukon Caribou III is a pretty solid home Smith machine that can function as a complete home gym with all the available attachments.
It's a pretty good buy for the price, but I highly recommend going in for the linear bearings. See full review.

#6 Marcy Diamond Elite Smith System
Finishing up our list is the Marcy Diamond Elite. This is another home gym type unit that comes with several attachments and some pulleys.
It's a very popular gym because of its extensive offering of exercise options as well as its reasonable asking price.
It just so happens to have a Smith machine as well.
This gym has a solidly built steel frame. This machine has the lowest weight capacity of the bunch at only 300 lb (on the bar). This gym wouldn't be appropriate for heavy lifters, but it should work just fine for the rest of us.
The Smith bar does come with linear bearings- which isn't a guarantee at this price range.
The Marcy Diamond Elite comes with the following attachments: adjustable bench, preacher curl station, leg developer, pec deck, and dual upper pulleys (great for cable crossovers).
There is no weight stack here, you have to use plates for all the pulley exercises.
The outside of the frame also doubles as a power rack, a nice bonus in case you don't always want to use the Smith bar. The Smith bar is compatible with Olympic plates and the frame comes with 6 built-in storage pegs.
Marcy backs this rig up with a 2 year frame warranty. This isn't the greatest warranty in the world, but users are generally satisfied with the quality of construction on this machine.
Overall, the Diamond Elite is a budget friendly Smith machine home gym with plenty of perks. It's far from perfect, but for the price it's hard to find a more complete home gym system. See full review.

Final Thoughts
Smith machines are versatile pieces of equipment that can help you perform a wide range of strengthening exercises safely. The attached barbell system with its ability to be locked out every few inches is like having a built-in spotter for every exercise you do.
Which is a great perk for those who are usually working out by themselves.
While they were once restricted to commercial use, these days there are plenty of home Smith machines to choose from. This is good for us, because it gives us options to choose from.
But we need to make sure we are choosing wisely.
When comparing Smith machines, I suggest you consider the following:
Linear bearings?
Weight capacity
Warranty
Available attachments
Olympic vs standard plates
Tracking these specs will help you find the best Smith machine for your needs. These are the same criteria I used to develop this list, but in case you don't see the right option for you here, you should now feel more confident in your search.
If not, drop a comment and I'll be glad to help.