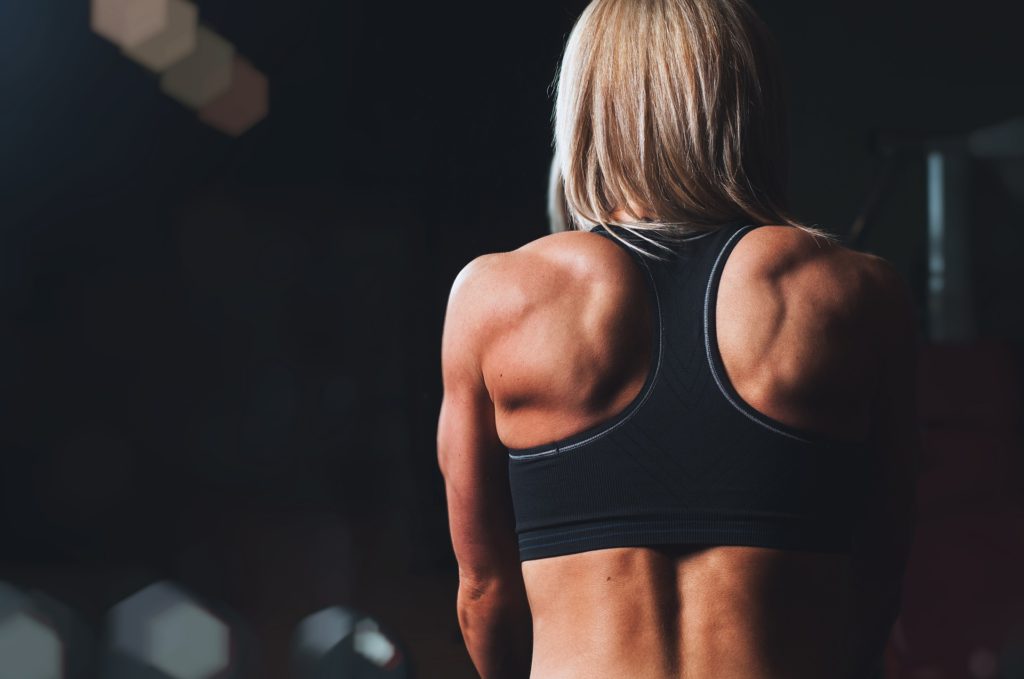 The XMark Functional Trainer Cable Machine looks like something you'd find at your local Gold's or YMCA – and I mean that as a compliment.
Anytime a piece of home fitness equipment could be mistaken for a commercial grade machine, it means somebody's doing something right.
And in this case, that somebody is XMark Fitness.
This cable machine is a true functional trainer. It doesn't include a Smith machine or power rack like many hybrid models are doing today.
But with dual stacks, dual adjustable pulleys, and a smorgasbord of attachments, the XMark Functional Trainer is more than capable of providing an endless array of exercises.
This review will take you through everything this machine has to offer, including the key specs you should always consider when buying a functional trainer.
Let's start from the beginning.
Choosing A Functional Trainer
By the way, "functional trainer" is just another name for these dual weight stack systems. They got that name because these machines are great for performing functional activities.
It all started in the rehab settings- therapists (like myself) use these machines to strengthen folks in preparation for returning to sport of daily activities.
Since these pulley machines offer unlimited range of motion, you can perform resistance exercises that mimic the movement you have to perform. For example, a golfer can perform golf swings with resistance.
They're also great because of all the diagonal movements you can do with them, which really target your core.
But before you start taking advantage of all their perks, you have to find the right one. Here are a few of the key specs and features I suggest you look at when comparing different home models:
Stack Weight
The nicer functional trainers will come with dual weight stacks. Budget models might still use plates. But when looking at these units, keep in mind different machines come with different amounts of resistance.
Some weight stacks may be 160 lb, others will be 200 or 300 lb.
I suggest you go for as much weight as you can afford because you have to keep in mind that using the pulley gives you a mechanical advantage. Lifting 100 lb on a cable machine isn't the same thing as lifting a 100 lb dumbbell.
The pulley on most of these machines works at a 2:1 ratio- meaning the actual resistance you are lifting is half the weight of the plates (100 lb on a stack is actually 50 lb of resistance for you).
This turns a 200 lb stack into 100 lb of functional resistance. Now that is 100 lb in each hand, which is still a lot of weight if you ask me. But keep this in mind when you are searching for a functional trainer that will meet your needs.
Pulley Positions
A true functional trainer should have 2 fully adjustable pulleys. This gives you the ability to place the pulleys at any height you need for comfortable use. Most quality cable machines allow you to adjust the pulleys every 2-3 inches or so.
This adjustability is gonna really increase the amount of exercises you can perform. In order to take advantage of all the upper and lower body moves, you need a set of pulleys that can act in both the upper and lower and positions (as well as everything in between).
If the machine you are considering only has 1 or 2 pulley positions, it's not going to offer the same flexibility.
The pulleys should also be easy to adjust. Most high-end trainers use a pull pin mechanism, giving you the ability to rapidly and effortlessly adjust the pulley to where ever you need it.
Warranty
You should always take the machine's warranty into consideration when looking for the right trainer. Most trainers come with frame and moving parts warranties. If your chosen trainer has no warranty, I'd think twice.
When it comes to warranties, longer is better.
A great frame warranty is lifetime, but depending on the price range you might see 5-10 years. Companies usually only offer 1-2 years on moving parts.
The XMark Functional Trainer Cable Machine (XM-7626)
XMark Fitness specializes in home strength training equipment. They pride themselves on using higher-quality materials than the competitors, while still trying to keep prices low.
Other than this functional trainer, they offer racks, power towers, and a full array of weight plates and dumbbells.
Pros
Heavy duty, steel frame
Dual weight stacks, each with 200 lb
2 fully adjustable pulleys
Pull up bar
7 attachments included
Attachment storage on frame
Lifetime frame warranty
Reasonable price
Cons
Assembly can be challenging
Construction/Features
XMark's functional trainer is constructed out of 11-gauge, 2″ x 3″ steel components. This heavy duty steel frame is what gives this machine the look and feel of a gym quality product.
It's also important to ensure everything feels sturdy during use- you won't have to worry about this frame wobbling or swaying during your workout.
This is a dual weight stack system and each stack is 200 lb. The weight goes up in 10 lb increments on each side, giving you plenty of control over your resistance.
Each pulley is fully adjustable, meaning you can adjust each one independently to any one of the 19 different positions along the height of the frame.
The positions are spaced out 3.5″ from one another, with the lowest pulley position being about an inch off the floor and the highest being 6'6″ off the ground.
This gives you a large variety of pulley positions, which should ensure that people of all heights can use this system comfortably.
In case you're wondering, each cable can extend 81″ from the pulley (almost 7 ft). This will give you plenty of room to work with in case you like to perform exercises that require you to stand a few steps away from the frame (like overhead tricep extensions or crunches).
I like that each pulley has a handle- makes it a lot easier to set the height. Each pulley is adjusted by pulling out the pin and sliding it up or down to your preferred height (just like the ones in the local gyms).
The two weight stacks are connect by the frame in the back. The space between the stacks is utilized with attachment storage pegs. This is a clever use of this otherwise wasted space.
With all the included handles, it'll definitely come in handy for keeping everything organized and off the floor.
XMark included a split pull up bar on the front of the frame. Again, this is reminiscent of the pull up bars we see in the commercial gyms.
The angled handles give you some options for hand placement. The addition of the pull up bar just adds another level of variety to your workout.
Overall, the XMark Functional Trainer is built out of durable materials and smooth acting pulleys. Users agree the operation of the pulleys and stacks is seamless, offering the feel of a commercial weight stack system.
Attachments
This cable machine comes with several attachments and handles, giving you the ability to perform dozens of exercises right out of the box. The following attachments are included with this package:
Pair of 8″ hand straps: classic handles used for most exercises
Pair of 17″ long hand straps: same classic handle with a longer strap, comes in handy if you need a little more distance from the frame
23″ triceps rope: one of my favorite attachments, this rope can be used for other things as well, like hammer curls and kneeling crunches
Sports handle: this short bar can be used when mimicking sports specific type movements, like swinging a bat or golf club, great for diagonal movements
42″ knurled long bar: connect the ends to the pulleys and mimic the feel of doing barbell exercises like bench press, squat, or bicep curls
Leg extension strap: can be used for doing leg exercises like hamstring curls and donkey kicks
Ankle strap: another leg attachment, comes in handy for doing hip strengthening moves like hip extension and hip abduction
XMark also throws in a wall poster that shows you how to do 36 different exercises using the above attachments. This is nice just in case your workouts turn stale and you need a little inspiration.
Assembly
This is a large, heavy machine with a lot of moving parts. As you can imagine, assembly is fairly involved. There are a ton of bolts and washers of different sizes involved and keeping them all straight can be challenging.
Assembly is where most users have complaints. Several users have complained that the directions are a little hard to follow and that some parts are mislabeled. There's also been complaints about pieces not fitting correctly on arrival.
The manual has some written instructions, but be prepared to use the diagrams to figure out each step. The most difficult part seems to be the routing of the cables (which is a common sentiment when it comes to functional trainers).
Luckily, XMark's customer service is very good and they are more than willing to send you replacement parts if something isn't fitting correctly. You can also contact them with general questions regarding assembly.
Expect to spend the better part of a day putting this trainer together. It's highly recommended to have a partner available to help, as this will speed up the process.
Although assembly can be challenging, users almost unanimously agree the end result is worth the ordeal.
Fully assembled, this machine has the following dimensions: 65″(W) x 43.5″(L) x 83″(H).
The 65″ width is something to take note of- this is a little wider than some of the other home units out there. If the width is too narrow, it's going to make moves like cable crossover feel awkward.
Users agree this machine's width is adequate enough for a comfortable cable crossover.
Warranty
XMark backs their functional trainer up with the following guarantee:
Lifetime frame warranty
1-year on moving parts and hardware
This is a great warranty for this product, especially given the price. In a perfect world the moving parts warranty would be at least 2 years, but I'm not complaining.
Price
Speaking of price, now's a great time to discuss it. Functional trainers come in all kinds of shapes and sizes and prices. For home use, you can find "cable stations" as low as a couple hundred bucks. You can also easily drop upwards of $4000 on an advanced functional trainer/Smith machine combo.
At roughly $2000, XMark's functional trainer falls somewhere in the mid-range. This is a good place to be because it's where you usually get your best bang for your buck.
Given the quality of build, the numerous attachments included, and the lifetime frame warranty, I think XMark has priced this machine fairly.
There are several similarly priced trainers out there- some are of higher quality than others. I think XMark's trainer is one of the better buys available personally.
Final Thoughts
The XMark Functional Trainer Cable Machine is a high-end home gym system. With the dual stacks, fully adjustable pulleys, and included attachments, it comes with everything you need for a versatile workout.
I like that each stack is 200 lb- the extra resistance will make it harder for you to outgrow this machine. I really like the lifetime frame warranty too.
It provides a little extra peace of mind, something that is appreciated when you're purchasing a piece of equipment as substantial as this one.
Overall, I think XMark has a great home gym here. It definitely has what it takes to be considered one of the best home trainers in my book.
If you're looking to give your home gym a commercial grade makeover, this is a great start.