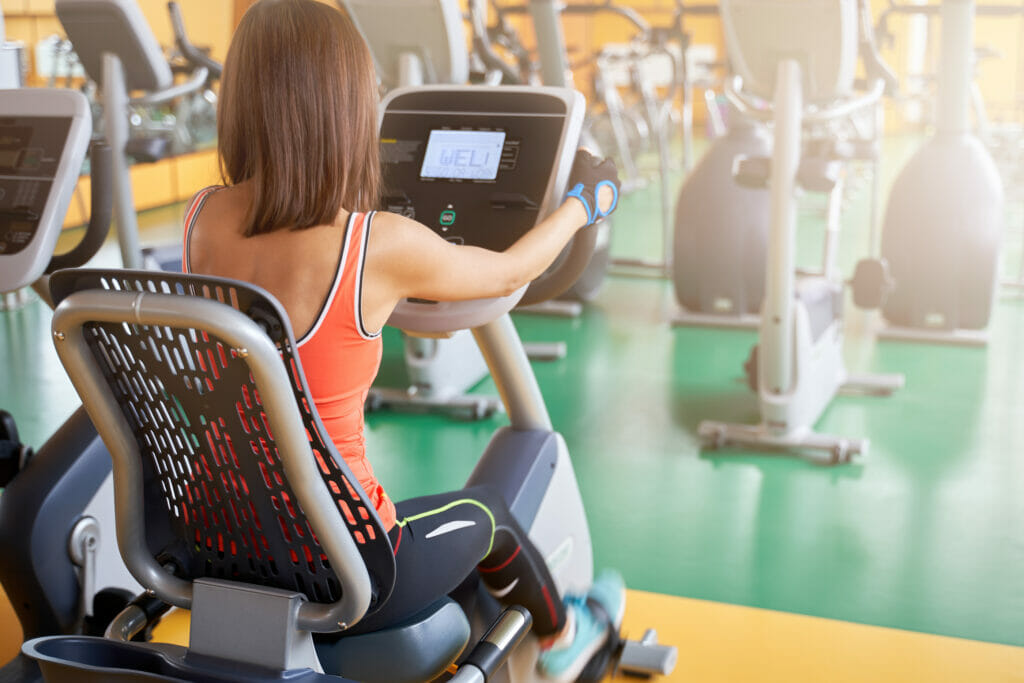 The Spirit Fitness XBR95 is a high-end recumbent bike that has a lot to be proud of. With a heavy-duty frame, massive flywheel, and literally the best warranty I've ever seen on an exercise bike, the XBR95 might just be the perfect recumbent bike.
Oh, and did I mention that it comes with a self-generating power system, so you don't have to worry about placing it near an outlet?
Yeah, this bike is legit.
And it's also priced fairly.
I know it's hard to tell by how subtle I'm being, but I really like the XBR95. I'd even go as far as to say it's probably the nicest home recumbent bike currently on the market.
But is it the right bike for your home gym?
Well, that's exactly what this article is here to help you figure out.
In this review, I'll go over all the key specs and features the XBR95 has to offer. After reading, you'll know everything you need to in order to make the right call.
Off we go.
The Spirit Fitness XBR95 Recumbent Bike
I'm a little embarrassed to admit this, but I have to be honest- I wasn't familiar with the Spirit Fitness brand until my readers started asking me questions about their products.
After the 3rd or 4th question about Spirit, I knew I had to check 'em out for myself and see what's up.
To my surprise, Spirit has been around since the early '80s. Sounds like they've been gradually expanding their lineup over the years, as well as gaining a stellar reputation.
Currently, they offer an extensive lineup of both residential and commercial grade equipment. They specialize in cardio equipment like treadmills, bikes, ellipticals, although they've got a functional trainer as well.
Spirit reminds me a lot of Sole Fitness, which has been my favorite home brand for the last few years.
Like Sole, Spirit concentrates on performance specs more so than fancy, hi-tech features. They also back their products with the some of the best warranties I've ever seen (even better than Sole).
The XBR95 is their highest-end recumbent bike designed for residential use, although it also comes with a generous commercial warranty.
Spirit's got 2 other impressive recumbents to choose from as well- the XBR55 and the slightly more affordable XBR25.
At the time of writing this, the XBR95 will cost ya just under $2000.
Pros
Heavy-duty frame
350 lb weight capacity
30 lb flywheel
40 magnetic resistance levels
Comfortable, adjustable seat
Self-generating power system
12 workout programs
7.5″ LCD backlit monitor
Wireless heart rate monitor included
Tablet holder
Swivel fan
MP3 audio jack
Amazing warranty
Cons
No bluetooth speakers/app compatibility
Frame
Let's start with the XBR95's frame. A quality recumbent bike should come with a durable base that won't move or wobble during use. It should also be strong enough to hold users of all sizes.
It can be tempting to look at a bike and try to decide how "good" it is based on appearances, but looks can be deceiving.
The best way to get an idea of how sturdy a bike feels is to jump on and go for a test drive- unfortunately, this is rarely doable (especially these days where we do most of our shopping online).
The best we can do is to look at the specs.
And when it comes to the frame, the best specs to look at are weight capacity and total machine weight- and heavier is better in both cases.
The XBR95 comes with a commercial-grade steel frame that's been powder coated to help protect it from dents and scratches. It comes with a weight capacity of 350 lb and weighs 147 lb fully assembled.
All of these numbers are impressive and quite promising.
Not only is a weight limit of 350 lb high enough to safely accommodate most folks out there, but it's also high enough to signify superior construction.
After all, a bike that can hold 350 lb has got to be stronger than a bike that can hold 250 lb, right?
Personally, I like to see at least a 300 lb weight limit, and the XBR95 easily surpasses this. A machine weight of 147 lb is also impressive.
I like heavier bikes because they tend to feel more stable during use- more commercial like.
Speaking of heavy, I want to mention that this recumbent comes with a 30 lb flywheel. We don't tend to talk about flywheels as much with recumbent bikes as we do with spin bikes, but if you ask me, we should.
Heavier flywheels tend to provide smoother operation, as well as more overall resistance.
With a 30 lb flywheel, the XBR95 is packing enough muscle to provide a smooth and challenging workout for anyone who sits down.
(For the same of comparison, a lot of home recumbent bikes come with flywheels that are under 20 lb).
Overall, Spirit's XBR95 scores very highly in the frame/flywheel department. The heavy-duty frame can handle larger users safely, and the heavy flywheel will provide a smooth workout experience.
Seat
I hate to make assumptions, but I think it's safe to say that most people who choose a recumbent bike do so for the added comfort during use.
Recumbent bikes come with larger, horizontally oriented seats, that are more comfortable to sit on than any other exercise machine.
This makes recumbent bikes a smart choice for people dealing with achy joints or other mobility deficits -which is why we see recumbents in therapy clinics and rehab settings, fyi.
Anyway, the XBR95 comes with a comfortable seat that's easy to adjust.
Not only can you adjust the horizontal position of the seat, but you can also adjust the incline setting of the backrest- which is a nice feature for folks dealing with back issues.
The backrest is mesh, which is suppose to help with airflow and keep ya cooler during your workouts (that's all fine and good, but I doubt it makes much of a difference).
The only complaint I have here (and it's a small one), is that the backrest is a little lacking in the lumbar support department. The adjustable back is great, but I'd like to see a little more lumbar support included for added comfort.
That said, users seem to agree that the large seat is comfortable during workouts and easy to adjust.
Features
The Spirit XBR95 comes with the following features:
40 magnetic resistance levels- this bike comes with a ton of resistance levels to use during your workouts. Having this many to choose from is a good thing, because you can make small incremental increases or decreases to really fine tune your workout intensity.
12 workout programs- this isn't a ton of options to choose from, but it's more than enough to get the job done. Workouts include all the classics, like hills, fat burn, cardio, etc.
Self-generating power system- yup, that means you don't have to plug this machine in. The XBR95 generates its own power as you pedal, so you can put this bad boy anywhere you want without having to strategically place it near an outlet.
7.5″ LCD monitor- the monitor is pretty simple, no HD touchscreens here, but it's large enough to see all your key workout metrics during use. It's backlit (blue), making it easy to see in all light conditions.
Wireless heart rate monitoring- not only does this recumbent offer telemetry heart rate monitoring, but a heart rate strap is included with purchase. There's also contact grip monitors in the handles.
MP3 audio jack- you can connect your mp3 player or phone up and listen to your favorite workout mixes through the built-in speakers.
Swivel fan- according to Spirit, they were the first fitness brand to include built-in fans in their equipment…who knew? Anyway, they're still doing it.
Tablet holder- the included tablet/reading rack makes it easy to watch your pad or read a book during your workout.
Water bottle holders- there are 2 large water bottle holders on the sides of the seat for convenient hydration.
Assembly
Putting the XBR95 together shouldn't be that challenging of a task. The process itself is a pretty straightforward procedure, although I must say Spirit's assembly manuals could use a little updating.
The images could use a little work- they could be larger and clearer.
I'd also recommend breaking the steps up a little. I'd rather see more total steps with less to do in each step than just a few steps with a whole lot going on in each one.
That said, most fairly-handy individuals should be able to assemble this bike pretty easily. Users agree the process isn't that bad.
Just keep in mind the weight of this machine- might be a good idea to have a second person around to make things easier.
Warranty
The Spirit XBR95 comes with the following residential warranty:
Lifetime frame
Lifetime brake
10 year parts
1 year labor
This is an amazing warranty from top to bottom, I have no complaints whatsoever.
You can't beat a lifetime guarantee on the frame and brake and 10 years is 2x as long as most high-end bikes offer (5 years). The year on labor is pretty standard operating procedure.
Not only is the residential warranty awesome, but Spirit also offers a commercial warranty on this bike:
Lifetime frame
5 year brake
3 year parts
1 year labor
As commercial warranties go, this is also more generous than most. Overall, you can't beat the warranties on the XBR95. Like I said at the beginning, this is the best guarantee I've ever seen on a recumbent bike.
Final Thoughts
That about does it for the Spirit XBR95 Recumbent Bike. If you read this review in its entirety, you probably noticed that my complaints were few and far between.
There's just not much to complain about here.
The XBR95 comes with a durable, heavy-duty frame and a great weight capacity. It also comes with a very heavy flywheel and a ton of resistance levels to work with.
I also like the idea of having a self-generating power system- complete flexibility in terms of bike placement.
But I hate to bust any bubbles out there, but no bike is perfect- not even the XBR95.
The only thing really missing here is bluetooth capabilities- it would be nice to see some bluetooth speakers and maybe some fitness app compatibility.
But neither is close to a deal breaker for me, especially considering how awesome that warranty is.
Long-story-short: the Spirit XBR95 is a home run.
I think the XBR95 is quite possibly the best recumbent bike around at the moment. It's a tough call between this and the Sole LCR, but this bike does have a better warranty.
Either way though, this is a fabulous bike. Highly recommended.