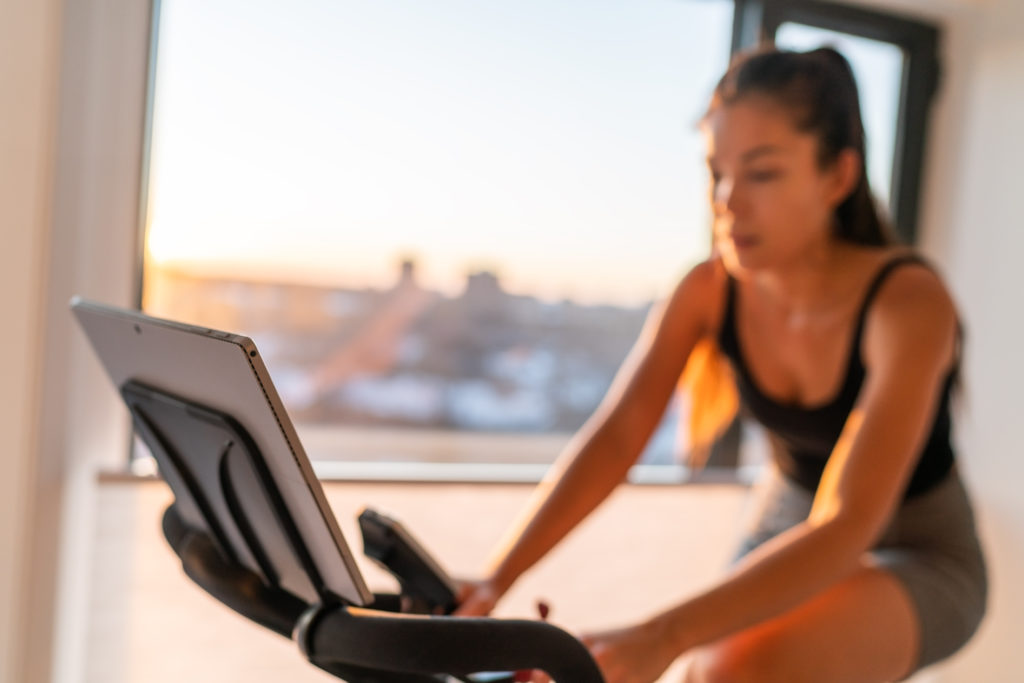 If you're looking for the feel of a commercial grade recumbent bike without the cost of one, Sole's LCR might just be the answer.
Designed to be used for light commercial use (hence the "LCR" name), this recumbent comes with a rock solid frame, a heavy flywheel, and a great warranty.
It also just so happens to be manufactured by one of the best brands in home fitness.
And as a moderately priced exercise bike, it won't obliterate your budget either.
Personally, I think the LCR is about as good as it gets in this price range, but there's no reason to simply take my word for it – the LCR can speak for itself.
This review will take you on an in-depth tour of everything the Sole LCR has to offer.
In doing so, we'll cover all the key specs and features that make this bike what it is.
We'll also discuss the areas where this bike could be improved.
After reading, you'll know everything you need to in order to decide for yourself whether or not this is the right bike for your home gym.
Let's roll.
Choosing A Recumbent Bike
I think it's always a good idea to know what you're looking for before you start looking. It also gives us a nice blueprint to make sure we're comparing the same things between bikes.
You know, comparing apples to apples and all that jazz.
When comparing recumbent bikes, here are my top 3 specs to consider:
Frame
Home recumbent bikes come in various shapes and sizes, but quality ones should always start with a solid frame.
How can you tell a sturdy frame from a lemon?
Well, sometimes you can kinda tell just by looking at it.
If the frame looks too skinny or lightweight, odds are it is. The more robust and thick a frame looks, the better.
A more objective way is to look at the assembled weight, because this literally tells you how heavy-duty the bike is.
It's also a good idea to look at the bike's weight capacity because higher capacities are also indicative of stronger bikes.
I suggest you aim for a bike with at least a 300 lb user weight capacity.
Even if you weigh 120 lb, getting a bike with a high weight limit like this will mean it will have a stronger, more durable frame (and will be less likely to shake and feel flimsy during use).
Seat
The point of getting a recumbent bike is to be able to exercise in a more comfortable position.
Maybe I'm wrong, but I think most people that are looking for a recumbent bike are doing so because they want a more comfortable way to exercise.
And by comfortable, I mean you're sitting in a position that puts less stress or discomfort through your back, hips, and knees.
If you're recumbent bike doesn't have a comfortable seat, it kind of defeats the purpose.
Recumbent bike seats should be large, cushioned, and preferably have an adjustable back rest. And remember, when it comes to seats, larger is better.
Warranty
A bike's warranty tells you a lot about it.
Specifically, low quality bikes come with short warranties and vice versa. Manufacturers are smart- they aren't going to put a long guarantee on a product they doubt will last.
Recumbent bike warranties are usually divided into 3 parts: frame, parts, and labor.
The frame warranty should be the longest and preferably will be lifetime.
The parts warranty can vary, but quality bikes should offer somewhere between 3-5 years.
Labor warranties are always the shortest.
One year is standard for nice bikes. Every once in a blue moon you'll see a 2 year labor warranty, but they're few and far between.
The Sole LCR Recumbent Bike
If you're familiar with my work, you might already know that Sole is one of my favorite home fitness brands.
I like them so much because their machines are straightforward and built to perform.
And as a self-proclaimed stickler for warranties, I appreciate the generous warranties they include with all of their products.
Anyway, the LCR is one of two recumbent bikes Sole currently offers, with the other being the more affordable R92.
The LCR is their highest-end model and is designed to handle light commercial use, although it's priced as and would make a fantastic option for a home gym.
By the way, light commercial use is defined as being able to handle 5 hours or less of use a day. These settings can include Physical Therapy clinics, apartment gyms, or fire stations.
Pros
Heavy-duty frame
350 lb weight capacity
31 lb flywheel
Large, comfortable seat
40 levels of resistance
10″ touchscreen console
Screen mirroring
Bluetooth speakers
Wireless charging
Tablet holder
Cooling fan
Wireless chest strap heart rate monitor compatible
Great warranty
Cons
Heart rate monitor not included
Frame
Sole starts things off right by giving the LCR a heavy-duty steel frame with an aluminum finish.
Looking at the frame on this bike, you can tell it just looks tough. It does look like a bike you'd see in a gym or therapy clinic.
The step-thru frame makes accessing the seat easy from either direction- a great feature if you or any family members have mobility issues.
More objectively, the LCR has a max weight capacity of 350 lb, which is impressive for any home bike.
I mentioned above that 300 lb is my cutoff for high quality.
Well, this bike easily surpasses that.
It's easy to see why this bike has such a high weight capacity when we look at the assembled weight.
With a weight of 152 lb, the LCR is about as heavy-duty as a home recumbent bike comes (and probably why this bike is rated to handle commercial use as well).
When it comes to performance, the LCR also scores highly.
Sole gave this bike a 31 lb flywheel, which is pretty rare for home recumbents.
We hear a lot about flywheel weights with regards to ellipticals and spin bikes, but no as much when it comes to recumbents.
My theory is that this is because most folks looking for a recumbent aren't as concerned with high-intensity training, which is what we usually relate to heavier flywheels.
But I think this is a mistake, because having a heavier flywheel is beneficial for any type of bike.
And that's because a heavier flywheel helps create a smoother pedal motion, which is important regardless of how intense your workouts are.
Either way, most home recumbent bikes are packing 13-20 lb flywheels, so the LCR's 31 lb flywheel is pretty massive by comparison.
Combined with Sole's 40 levels of magnetic resistance, this heavy flywheel will provide smooth and nearly silent operation.
Overall, the LCR scores very highly with it's heavy-duty frame, high weight capacity, and heavy flywheel.
Seat
The seat on this bike is large and well padded.
Look at the thickness of the seat and backrest. Again, it does look like a commercial bike.
The backrest on the LCR isn't adjustable, but I like that it has lumbar support built-in. I also like how tall the backrest is.
You might also notice that the backrest is placed in a few degrees of recline. This positioning allows you to sit a little more comfortably while you pedal.
Finally, the two stationary handles by the seat are where the grip heart rate monitors have been placed.
This is smart idea because it keeps you in a more comfortable position during your heart rate monitoring (more natural than having to reach in front to the handlebar in front of the console).
Overall, the LCR has a large seat that most users find comfortable to sit on during workouts.
Features
The Sole LCR comes with the following features:
10″ touchscreen console- Sole recently updated the LCR, giving it a 10″, Android-based touchscreen that makes it easy to choose all workouts and view all metrics and it even comes with some built-in entertainment apps too.
40 resistance levels- having this many levels of resistance gives you a lot of control over your workout intensity. The magnetic resistance and 31 lb flywheel make for a wicked combo. This bike has enough muscle to challenge even the most advanced cyclists.
Workout programs- this bike comes with several workout profiles to choose from, including a few fitness tests to help you gauge your progress over time.
Bluetooth speakers- use the bluetooth technology to listen to your favorite music wirelessly through the built-in speakers.
Wireless heart rate monitoring- this bike is compatible with wireless heart rate monitors, however one isn't included.
Wireless charging- this bike comes with a built-in wireless charging plate, allowing you to charge your devices while you exercise.
Built-in tablet holder- the tablet holder is conveniently located above the 10″ screen, so you don't have to block your workout data while watching your tablet.
Cooling fan- nothing too fancy here, but it'll help keep you comfortable during your more strenuous workouts.
Assembly
Sole did a great job with their owner's manual.
I like that they not only specify which hardware is used for each step, but also include a to scale image of each bolt and screw.
The most tedious part of assembling this equipment is usually trying to discern which screw or bolt should be used for each step.
Sole's instructions do a great job of eliminating this confusion by organizing the hardware for each step together.
Assembly on the LCR is very straightforward. There are only 4 steps, but the last step involves several parts. All of the necessary tools are included.
Overall, most users shouldn't have any problem putting the LCR together by themselves.
I would estimate most folks who are remotely handy could have this bike up and running within an hour.
Warranty
Sole backs their LCR with the following residential guarantee:
Lifetime frame
3 year parts (including electronics)
1 year labor
This is a really good warranty for a bike in this price range.
Lifetime is as good as it gets on the frame and 3 years is longer than the 2 years a lot of brands offer on parts.
A year on labor is pretty standard stuff.
Overall, a great warranty on this bike by Sole.
Oh, Sole also offers a light commercial warranty for this bike:
Lifetime frame
2 year parts
1 year labor
Their light commercial warranty is also amazing (well played Sole, well played).
Final Thoughts
If we look back to the specs I mentioned at the beginning, you can see why the Sole LCR Recumbent Bike is generally considered one of the best recumbents on the market.
This bike has a solid frame with a 350 lb weight capacity and is sporting an oversized, comfortable seat.
It's also backed by one of the best warranties around.
Going beyond those initial specs, this bike also comes with a heavy flywheel and 40 levels of resistance to give you complete control over your workouts.
And even though Sole isn't known for their high-tech features, their upgraded touchscreen consoles are catching them up with some of the other higher-tech brands in the game.
There isn't much to complain about here, although if you're looking for a recumbent bike specifically for workout streaming, this one probably isn't the best option.
But if you're like me and performance rules supreme, there's no finer option.
Overall, I think the LCR is a great recumbent bike. If you're looking for an affordable alternative to a commercial grade machine, there's no better choice. Highly recommended.