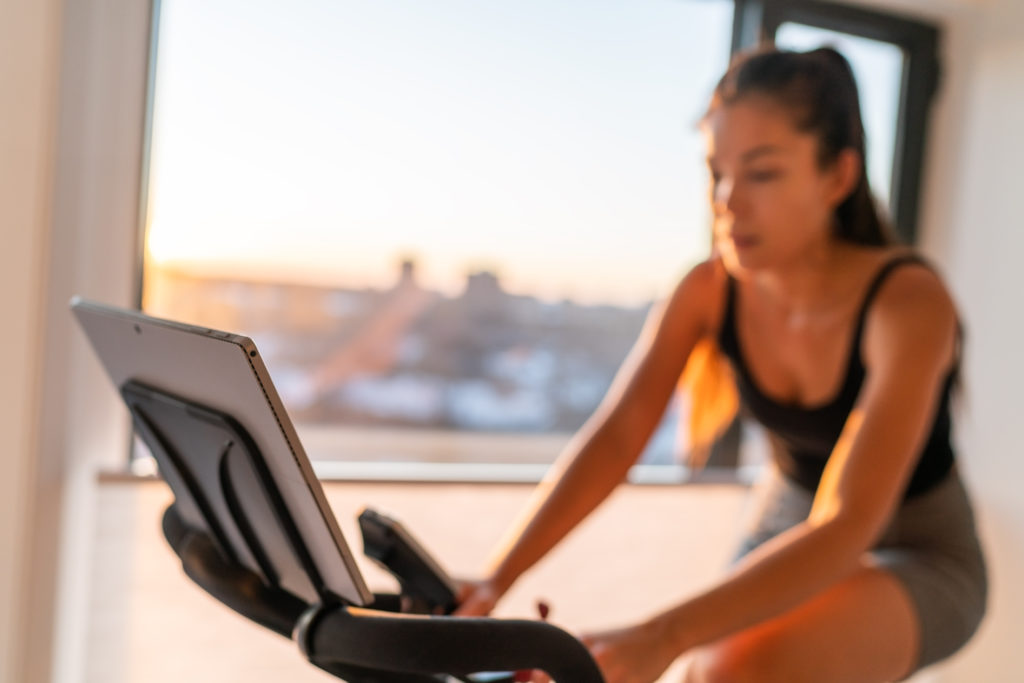 The 3G Cardio Elite RB boldly claims that it's the "most comfortable recumbent bike you will ever use". Well, that's a tough one to fact check, but this recumbent does have a lot going for it.
Highlights from the spec sheet include a fully adjustable seat, a solid compact frame, and a smooth belt-drive system that delivers a quiet and comfortable ride.
The Elite RB is also backed by an amazing home warranty as well as a limited commercial warranty.
Overall, I think this is one of the more impressive home recumbents around. But there's really no reason for you to just take my word for it.
This review will walk you through all the specs and features this bike has to offer. After reading, you'll have a better idea as to whether or not this is the right piece of equipment for your home gym.
Recumbents 101
Before I dive into the specifics on the Elite RB, I think it's a good idea to make sure we're all on the same page here when it comes to recumbent bikes.
Recumbent bikes are popular because their recumbent (reclined) position makes them a lot more comfortable to use than a lot of other cardio equipment.
These bikes are aligned in a more horizontal position than the more vertically aligned upright bikes and spin cycles.
I'm not an engineer or anything, but I do know that exercising in this horizontal position puts a lot less stress through your joints- which is key for people suffering from arthritis or other pain causing issues.
Another thing that makes these bikes more tolerable is their large seats. Recumbents have the largest seats of any of the exercise bikes.
And when it comes to seats- larger is better (or at least more comfortable).
Recumbents also come with back rests, which is crucial for extra comfort. A lot of folks with bad backs have a hard time with upright bikes or treadmills because the sitting position or pressure through the low back is just too much.
Since recumbent bikes have back rests, even people with back issues can usually use them fairly comfortably.
Some recumbents have adjustable back rests where you can change the angle of it, others don't.
If you have a bad back, it may be beneficial to find one that does so you can customize and hopefully find a comfortable sitting position (P.S.- the Elite RB has an adjustable backrest…just saying).
A common misconception I want to debunk right now is that recumbent bikes are "easy". That is, you can't get a good workout on one because you're sitting comfortably in a reclined position.
This isn't true.
There's a difference between comfortable and easy. Comfortable means you aren't experiencing discomfort during your workout. As long as the bike has enough resistance to challenge you, you can still get a great workout on one of these bikes.
When researching recumbent bikes, I usually concentrate on the seat, warranty, and weight capacity. These 3 specs tell you a lot about the quality of the product.
You'll want to consider other features like workout programs and bluetooth capabilities, but concentrating on the big 3 above will help guide you toward a quality bike.
Speaking of quality bikes, let's get to the Elite RB.
The 3G Cardio Elite RB Recumbent Bike
That's a mouthful of a name. You may not be that familiar with the 3G Cardio brand. They're certainly not as recognizable as say NordicTrack or Bowflex. But that shouldn't matter.
What does matter, is the kind of products they produce.
And 3G Cardio is known for providing exercise equipment that is simple to use and effective. They pride themselves on producing high-quality machines that are well priced because they skip out on all the unnecessary bells and whistles.
I think that's a really good way to describe the Elite RB too- highly effective, no BS.
Pros
Compact frame fits easier into tight spaces
Fully adjustable seat for added comfort
Max weight capacity of 350 lb
Smooth, quiet belt drive system
12 workout programs
16 magnetic resistance levels
Chest strap heart rate monitor included
Save up to 4 user profiles
Easy assembly
Amazing warranty
Cons
No fitness app compatibility
Frame
One of the coolest features of this bike is how compact its frame is. At only 49″ long and 27″ wide, the Elite RB is significantly shorter than most home models (the popular Schwinn 270 is 64″ long).
This shorter frame allows this bike to fit in areas other recumbents wouldn't stand a chance of fitting in.
Like all respectable recumbents, this bike has a a low step-thru frame that makes getting on and off the bike a lot easier. Although the frame is a lot shorter than most, so you don't notice as much open space between the seat and console.
At first glance, this frame looks pretty robust. And even though looks can be deceiving, in this case, they aren't. The Elite RB is designed to hold users who weigh up to 350 lb.
This is impressive for home bikes and gives us a good indication of build quality. The fact that this bike comes with a commercial warranty also shows this, but more on that later.
I couldn't find any specifics regarding the flywheel weight. This seems to be pretty common for recumbents and I'm not sure why.
Well, I know that cheaper bikes that have really light flywheels don't want to advertise that fact, but a lot of quality bikes that have decent flywheels also don't specify the weight.
It may be because most folks aren't as worried about recumbent flywheel weights as they would be with spin cycles flywheels.
Heavier flywheels, regardless of the type of exercise bike they're on, usually provide smoother rides and are capable of providing more overall resistance.
Regardless, users report the Elite RB operates very smoothly. The belt drive makes it really quiet too.
Seat
Claiming to be the most comfortable recumbent bike you'll ever use takes some big cajones. But if you read user reviews, it looks like they might not be exaggerating that much.
One thing that is evident, Cardio 3G put some thought into the design of their seat.
The cushion is oversized and the backrest is vented. This is nice, but it isn't exactly mind blowing- a lot of recumbent bikes have these features.
What sets this seat apart from most is the fact that it's fully adjustable- not only can you adjust the seat position for your height (by sliding the seat along the rail), but you can also customize the angle of the back rest as well as the angle of the seat itself.
This makes for a fully customizable fit and should ensure you can find a more comfortable position to exercise in.
And after all, the more comfortable you are during your workout, the more likely you are to actually exercise.
The Elite RB scores highly with its fully adjustable seat.
Features
The 3G Cardio Elite RB comes with the following features:
12 workout programs- this recumbent doesn't come with a ton of workout programs to choose from, but its got enough to get the job done. If you're looking for a simpler model that isn't distractingly loaded with options, you'll appreciate this.
16 levels of resistance- this allows you to fine tune the intensity of each workout. The quiet, magnetic resistance adjusts smoothly with the push of a button.
Chest strap heart rate monitor- this bike has hand held grip monitors, but it also comes with an included chest strap to help you gauge your heart rate during your workouts.
4 user profiles- this features lets you save the stats for 4 different users for more accurate workout data. It also saves you the time of having to input your data every time you go for a ride.
Simple console- the console is large enough to see and the turn dial makes it easy to make your selections.
Hand grip controls- not only can you measure your heart rate through the handle near the seat, but you can also conveniently make adjustments to your workouts through the buttons included on each handle.
Assembly
Assembly on the Elite RB is pretty straightforward. 3G Cardio did a great job with the assembly instructions- they're easy to follow and all the illustrations make sense.
Each image is large enough so you can actually tell which piece goes where, which is refreshing.
All the parts and hardware are clearly labeled so you know which bolt to use with which nut.
All of the necessary tools (Allen wrenches, wrench, screwdriver) are included, so if you don't have a toolbox, you should still be ok.
Depending on your level of handiness, I would guess that most users can have this bike out of the box and running in 30-60 minutes.
Warranty
The 3G Cardio Elite RB comes with the following warranty:
Lifetime frame
7 year parts
1 year labor
I think this is a fantastic warranty on this bike. Lifetime is obviously as good as it gets when it comes to the frame, but 7 years on parts is equally as impressive.
For comparison, many high-quality bikes come with 3-5 year parts warranties.
A year on labor is standard. It's rare to find a 2 year labor warranty, but every once and awhile you'll see them.
This bike also comes with a commercial warranty: 3 year parts, 1 year labor.
Overall, this is a great warranty on a great recumbent bike. 3G is known for great warranties and they certainly don't disappoint here.
Final Thoughts
3G Cardios' Elite RB is a straightforward little recumbent bike that isn't trying to impressive anyone. And by "little", I'm referring to the compact frame, which is awesome.
I love how understated this bike is. It doesn't have any fancy, hi-tech features or gimmicks (and no, I don't consider the most comfortable recumbent bike statement a gimmick- just a little good ol' fashioned hyperbole).
What it lacks in fanciness, it more than makes up for in comfort and function. And that fully adjustable seat is guaranteed to come in handy when trying to soothe those achy backs.
And I love the awesome warranty 3G Cardio backs this thing with.
Overall, if you're looking for a sturdy recumbent bike that is easy to use and built to last, the Elite RB is a great choice. Highly recommended.