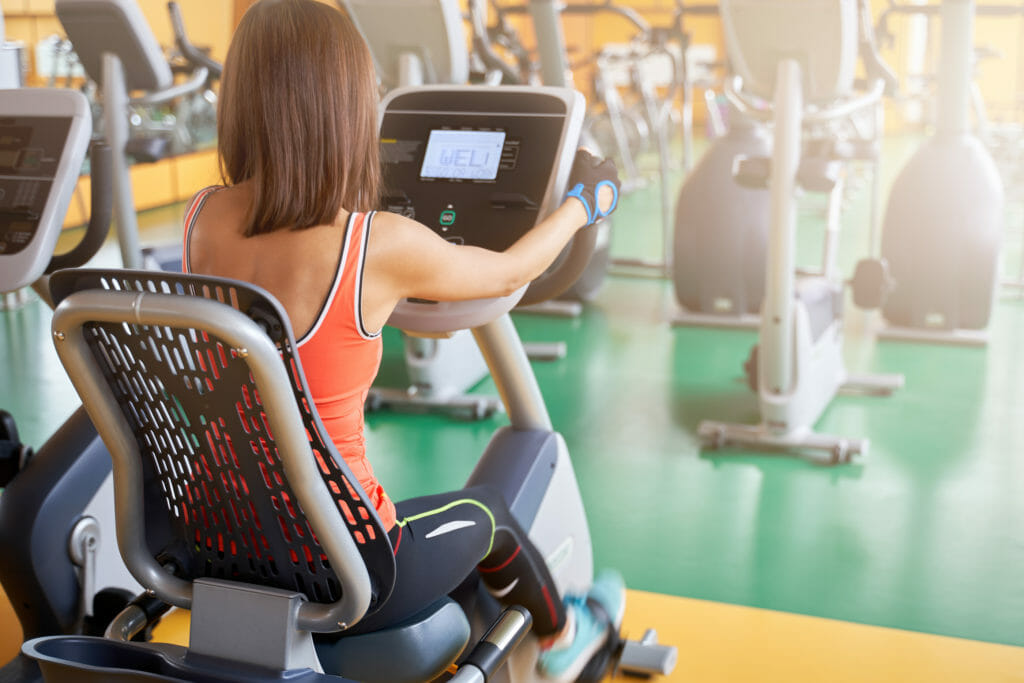 The 440 ES is a recumbent exercise bike from the popular home fitness brand ProForm. With 32 built-in programs and 25 resistance levels at your disposal, this bike has a lot going for it, especially for such an affordable price.
This exercise bike also comes with a heavy-duty frame, a decent flywheel, and a solid warranty.
But the real question is, is it worth investing in?
Well, that's what we're here to help you figure out.
In this review, I'll talk about all the components that come together to make this bike what it is. After reading, you'll know everything you need to in order to make an educated decision regarding whether it's the right model for your home gym or not.
So, let's begin!
The ProForm 440 ES Recumbent Exercise Bike
If you've been searching for a home exercise machine, you've probably come across ProForm before. They're a very popular home fitness brand (don't quote me, but I think they're one of the most popular brands).
ProForm is known for having a feature-rich lineup of quality and affordable machines. Their treadmills and HIIT trainers sell like pancakes, and their collection of cycle trainers and ellipticals are quite a steal too.
When you can get a sophisticated model that is fairly priced compared to other bigger brands in the industry, it's easy to see why ProForm has developed such an impressive reputation.
Although ProForm takes pride in creating machines with fancy features, the functionality and performance are still on point.
This is evident when you look at their consoles — aesthetically pleasing and definitely functional. They're not just there for the taking; they're meant for a purpose.
Of course, you can't expect these amazing advanced tech from their primitive and super cheap units. They'll surely get no HD, touch screen displays, or any of that jazz. 
A great example is their 300 SPX bike, which is just a good old fashioned exercise machine that works the way it's supposed to.
Now going back on track, the 440 ES has both style and functionality. Here's what you can expect from this machine that comes with a full retail price of $799 (although you can usually find if for a fraction of that price):
Pros:
Solid, heavy-duty frame

350 lb weight capacity

Ergonomic and adjustable seat

25 resistance levels

32 workout programs

iFit-compatible

5" backlit LCD display

Quick touch buttons

Pulse grip sensors

Chest strap heart rate monitor compatibility

Multi-grip handlebars
Cons:
Flywheel could be heavier
Flywheel
Like all home exercise bikes, recumbent bikes come with a wide range of available flywheel weights. Although we usually stress the importance of flywheel weight when talking about spin bikes, it's really an important spec to consider for any bike.
Traditionally, the thought is heavier is better because it makes for a smoother, more fluid feel during operation (the extra weight builds more momentum, limiting any drag between pedal strokes).
Although the brilliant minds behind the Keiser M3i would strongly disagree that heavier is better.
Anyway, flywheels can range anywhere from 8 – 50 lb. Recumbent bikes don't typically come with flywheels as heavy as spin bikes, but high end recumbents still often come with flywheels that are 20 lb and up.
The 440 ES has an 18 lb flywheel. This is a little light when compared to top home models (like Sole's LCR), but given the sale price of this model, I think it's pretty good.
What's also pretty good, is the 25 levels of magnetic resistance this bike comes with. This gives you a lot of control over the intensities of your workouts. ProForm's magnetic resistance is also known for being quiet during operation. 
You can easily change your resistance level digitally with its console buttons. This bike even comes with quick touch resistance buttons, allowing you to instantly set your resistance if you know exactly where you want it to be.
Overall, the 440 ES has an impressive flywheel for the price. You should enjoy a smooth operation with its 25 resistance levels.
Seat
When using traditional upright exercise bikes for the first time, the seat can make you feel uncomfortable. They're designed to be narrow and mimic the feel of riding outdoor bikes. But with habitual training, you can get the hang of it.
But that won't be the case with recumbent bikes.
Recumbent bikes are supposed to be more comfortable than other indoor bikes. 
A recumbent bike's seat should be large, padded, and preferably adjustable to maximize comfort during your workouts.
The 440 ES comes with a thick, padded, and contoured chair-like seat. It's adjustable so you can easily find your perfect fit.
Moreover, it's ergonomic and offers lumbar support which is very great as it lines up your posture so your back doesn't ache while you ride.
Its backrest offers better ventilation to keep you cool as you exercise. It's pretty standard these days, but it's still a nice feature that may improve overall comfort.
You built-in lumbar support may add a little extra support to folks with achy low backs as well.
Most users agree that the seat is comfortable. Overall, the 440 ES lives up to its reputation as a recumbent bike with a comfortable, adjustable, and ergonomic saddle.
Handlebars
Handlebars with multiple grip positions are preferable. This allows you to change your grip throughout your ride. It improves your comfort and balance.
Now let's check how the 440 ES stacks up.
The 440 ES comes with 2 pairs of handlebars located at the console and at the seat. The EKG pulse grip sensors are installed on the front handlebars, so if you want to monitor your heart rate, you can easily do so by gripping them.
So far, the handlebars of the 440 ES provide a better experience for users. They can change their hand positioning conveniently as the machine has multi-grip features.
Frame
One easy way to spot a quality machine is by looking at the frame.
High-quality bikes have a sturdy frame because it won't move or wobble as you exercise. It can support you throughout your workouts, whether it's a light routine or some hardcore training sessions.
I like heavier bikes because they're going to feel more like a machine you'd find in a gym. Heavier means more robust. And more robust means more stable.
For frames, aim for at least a 300 lb weight limit to ensure a durable frame construction.
The 440 ES comes with a rock-solid, step-thru frame that's easy to access from either side. It has a max weight capacity of 350 lb, which is very respectable for a bike in this price category. 
Most users should able to exercise comfortably at this capacity. But if your weight is nearing the benchmark, I always recommend my readers to look for machines with higher weight capacities.
Those heavier-duty machines can offer you better stability and safety.
Overall, the 440 ES scores highly in the frame department with its high weight limit.
Features
The ProForm 440 ES comes with the following features:
32 workout programs: The 440 ES comes with a boatload of workout programs to choose from. This should keep you motivated as you can enjoy different workouts every day. You can go for a month without repeating a program.
iFit-enabled: iFit is a paid subscription app that leads you to a world of fitness possibilities. You can access many interactive training programs, like having a virtual fitness coach, choose an exercise terrain with Google Maps, or challenge other iFit users for a friendly match.
5" backlit display: You can conveniently check your workout metrics, like speed, time, distance, RPM, pulse rate, and many more.
Quick touch buttons: This feature allows you to instantly set your resistance levels or programs without pushing the up or down button several times. This way, you can maintain your focus while enjoying higher levels with a single push of a button. 
Chest strap heart monitoring: Although I've mentioned earlier that the 440 ES has pulse grip sensors located on its handlebars, the machine is also telemetric for a better and more accurate cardio reading. It supports wireless heart monitoring, but the chest strap is sold separately. Still, it's a fantastic feature you couldn't easily find in this price range. 
Cooling fan: It can help keep you more comfortable during your workouts.
Water bottle: It's nothing fancy, but it does make hydration easier for users.
Tablet holder: You can watch your favorite shows on your tablet or multi-task as you exercise. It's placed above the console so it won't block your progress parameters and training buttons.
Assembly
When it comes to assembly, the directions for this model are clear and straightforward. There are written instructions as well as images for each step along the way.
To get the job done, you'll be responsible for attaching the front and rear stabilizers, connecting the console, pedals, handlebars, and seat.
The flywheel housing comes preassembled, so don't worry about having to mess with any of that stuff.
Make sure you don't pinch any of the wires as you snake them through to the console and you should be good to go.
Overall, there are several steps involved to put this bike together, but it's all pretty simple stuff. Most users should be ok getting the job done themselves.
I'd expect to spend an hour or so getting the 440 ES ready to roll.
Warranty
ProForm backs the 440 ES up with the following warranty:
Frame: 10 years

Parts: 3 years

Labor: 1 year
I think this is a good warranty for a bike in this price range. That said, there might be a little confusion here, because some sites report a lifetime warranty on the frame.
I think this is the case because ProForm used to offer lifetime frame warranties on pretty much all their equipment. But it seems though that they've decreased all of their frame warranties to 10 years (I'm not sure why).
A lifetime frame guarantee is obviously better, but for a bike you can get for $400 or so on sale, 10 years is fair.
When it comes to parts warranties, quality bikes in any price range will usually offer 3-5 years, so no problem there. A year on labor is pretty standard, regardless of price range.
Final Thoughts
ProForm's 440 ES is a pretty solid recumbent bike. I like how solid the frame is and that it comes with a 350 lb weight limit- this says a lot, especially for a budget machine.
Folks looking for a lot of workout variety will appreciate how many built-in workout programs this bike comes with. You've also got the option of going in for iFit and getting unlimited workouts, if you so choose.
The flywheel is a bit light if you're paying full price, but if you get this bike on sale (and you should), I think the flywheel weight is pretty good.
The warranty is also pretty good.
Overall, the 440 ES isn't one of the best recumbent bikes I've ever seen, but for the sale price, it's got a lot going for it. Those looking for a budget friendly recumbent will likely be pleased with this model (again, please don't pay full price for this one!)