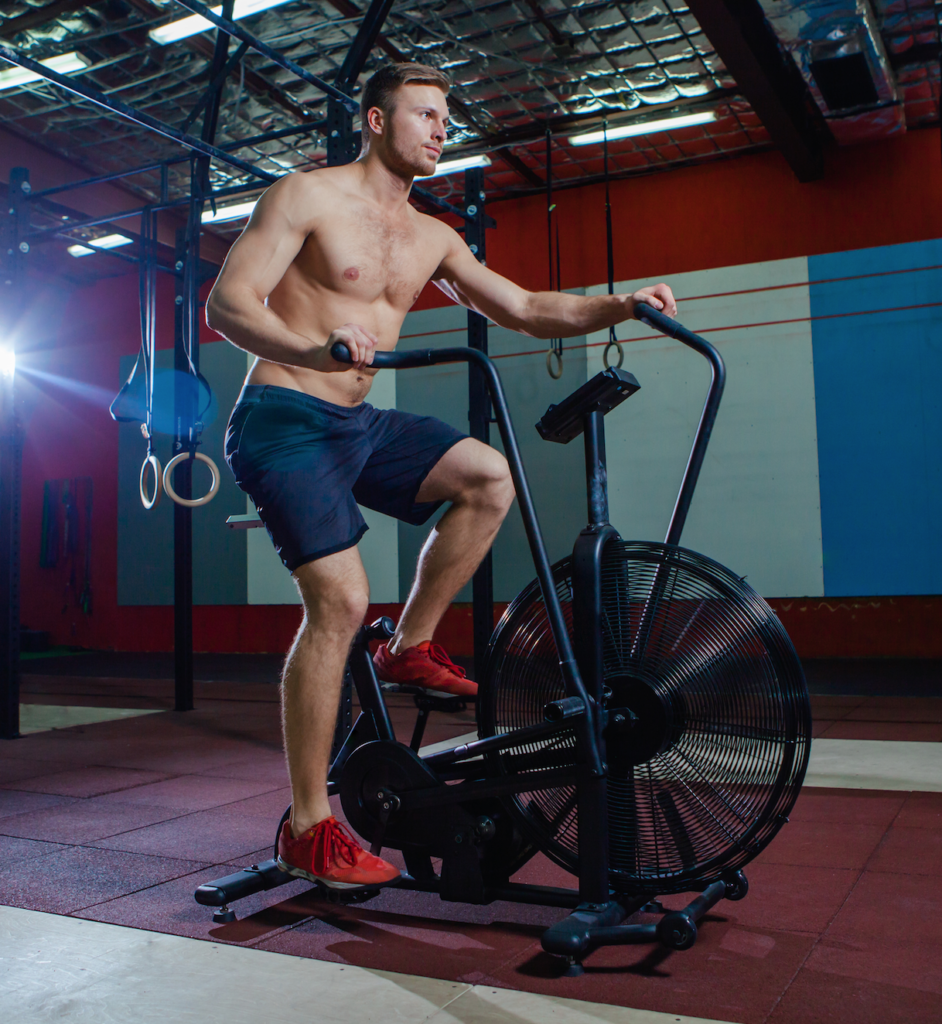 Air resistance exercise bikes have become increasingly popular over the last few years. This is probably due to the arrival of CrossFit and the plethora of evidence showing the many benefits of HIIT style exercise.
Adding an air bike to your home gym is a smart move if you're looking for a way to get a great workout without taking up too much floor space- but you have to know what to look for.
That's where I come in. By the end of this article, you will know exactly what to look for when comparing air bikes.
I will also present you with what I consider to be the best air resistance bikes currently on the market.
But before we start discussing specifics, I want to start out with some background info to make sure an air bike is the right decision for you to begin with.
What Is An Air Bike?
Air bikes, or air resistance bikes, get their name from the type of resistance system they utilize.
These bikes can use air to create resistance because there are fans attached to the flywheel (the part that spins when you pedal a bike).
As these fans spin, they are pushing through the air.
The faster they spin, the more resistance they meet from the air they are pushing against.
This is very similar to swimming or rowing in the water- the faster you push your arm (or oar) through the water, the more resistance you are going to feel- but the faster you are going to move.
This resistance system is great for exercise because it really gives you unlimited potential resistance.
There is no max resistance setting like a typical exercise bike or elliptical. The harder you pedal, the more resistance you will feel.
It's also great because there is no need to interrupt your workout to select your resistance. On air bikes, there are no electronic or manual resistance settings. If you want to feel more resistance, all you have to do is pedal faster.
Schwinn created the first air bike in 1979 and their airdyne lineup has been going strong ever since. You can get a cool Schwinn history lesson here.
That said, it feels like they kind of disappeared for awhile. I know my parents had an old airdyne when I was little. I remember it looking old and never being used…
Anyway, point of the story is that even though they've been around 40 years or so, they seem to have really taken off in the last decade.
And that's because of how awesome these bikes are for HIIT workouts.
Benefits Of An Air Bike
Ok, so air bikes are cool and have been around for a long time, but why are so many people interested in them now?
Well, that's probably largely due to CrossFit.
CrossFit athletes (and similar exercise programs) have started utilizing these exercise bikes because of their potential to burn tons of calories while providing a brutal full body workout.
Yes, I said full body workout… and yes, I am still talking about a bike.
Air bikes have moving handles that can be used to work your arms at the same time as your legs.
Or, you can isolate one body part at a time (most quality fan bikes have stationary foot pegs to prop your feet on when working isolating your arms).
Providing a full body workout allows these bikes to burn a lot more calories than traditional upright bikes.
Burning more calories we know, leads to burning more fat and losing more weight.
The high resistance levels available on an air bike make it possible to actually improve strength as well. Not to mention the cardiovascular benefits.
Another benefit of this type of fitness machine is that it is low impact.
There is very little impact on your joints when riding a stationary bike, making them a great choice for people with arthritis or achy joints.
To summarize, the benefits of air bikes include:
Unlimited resistance
Provide a full body workout
Burn more calories and fat
Provide a low-impact form of exercise
Great for your heart
Perfect for HIIT workouts
Who Should Consider Getting An Air Bike?
Really, anyone is looking for any of the above benefits.
Anyone can benefit from an air bike. You don't have to be doing Crossfit workouts to use a fan bike.
These bikes work perfectly for those types of workouts, but you can still ride one of these at a more casual pace. You don't have to only do intervals.
That said, if you are looking for a more casual workout, you may prefer another style of exercise bike.
You might even be able to save yourself a little cash along the way. Fan bikes aren't the most expensive form of home exercise equipment, but fan bikes do tend to cost more than traditional uprights.
If you are interested in doing HIIT style workouts from home, an air bike is a smart choice. The unlimited resistance is ideal for creating the intense intervals necessary for these workouts.
And like I mentioned above, there's no fumbling with the controls to increase or decrease the resistance level.
HIIT workouts have become so popular lately because there is a lot of research showing there are a ton of benefits associated with this type of exercise.
Some have been mentioned above, but improving blood pressure, lowering blood glucose levels, and improving endurance are all benefits of HIIT workouts.
What To Look For When Choosing An Air Bike
Comparing air bikes isn't that different than comparing other types of exercise bike. There are a few key features you should consider and they are listed below.
One thing I would like to say is that if an "air bike" has a resistance setting, it's not a true air bike- some of the budget bikes advertising themselves as "air bikes" are actually some kind of hybrid between air resistance and magnetic resistance- these aren't the real deal, so buyers beware.
When comparing air bikes, make sure to compare:
Seats- all bike seats are uncomfortable, but I suggest you look for a fully adjustable seat, where the horizontal position can be changed as well as the vertical. This will ensure a better fit.
Consoles- air bike consoles tend to be a little less impressive than other types of exercise bikes. Many don't offer any workout programs, but some do. Also don't expect a lot of HD displays and fancy screens. Most are pretty small and simple.
Warranties- you should always be comparing warranties when purchasing bikes or any other fitness equipment. The high-end air bikes should have a frame warranty in the 5-10 year range and a parts warranty somewhere in the 1-3 year range.
Weight capacity- this is another super important feature to consider. First of all you have to make sure the bike can safely hold you. Second, it tells you how well built the bike is. Higher is always better.
Depending on your budget and needs, you will also may want to consider bluetooth capabilities.
Four out of the five bikes listed here are compatible with bluetooth heart rate monitors.
Most of the higher end bikes are, budget bikes usually aren't.
The 6 Best Air Resistance Exercise Bikes
#1 The Assault Bike Classic
Honestly, it's a tough call between the Assault Bike, the Schwinn AD7, and the Echo Rogue. All are great bikes and there really is no wrong
answer when trying to pick a winner between the three.
Ultimately, I'm going with the Assault Bike as my number 1 pick because it is tried and tested by Cross Fit athletes all over the world.
And if you've ever watched any of the Cross Fit Games on tv, or participated in a Cross Fit workout, you know these are the fittest men and women in the world.
So, the fact that the Assault Bike can withstand their workouts should tell us that this is one tough bike.
This bike comes with a fully adjustable seat, so getting the right fit shouldn't be an issue.
The console is nothing fancy, but it's large enough to read all of your metrics on the same screen and it does have built-in workout programs (interval and target workouts).
Assault Fitness offers a 5 year warranty on the frame and a 2 year parts warranty, which is pretty average for this price range.
If Assault offered the same awesome warranty that Schwinn does, this bike would hands down be the best air bike around.
When it comes to performance, this bike has a max weight capacity of 300 lb, allowing most folks to safely use it.
It also comes with a 27″ fan, which is as large as fans come these days.
Overall, the Assault Bike Classic is a well-built machine more than capable of giving you the best workouts of your life.
And again, the fact that it's endorsed by Cross Fit and used by professional athletes and military personnel around the world says a lot.
It's also priced very competitively compared to some of the other bikes on this list. See full review.
P.S. – There are upgraded versions of the Assault Bike (the Assault AirBike Elite and Assault Bike Pro). The Elite is a bulked up version with a higher weight capacity and better warranty. It is without question a better bike, but considering the significantly higher asking price, I think the traditional version is the better buy for most users.

#2 The Schwinn AD7 Airdyne Bike
Schwinn started the whole air bike game 40 years ago and the AD7 is the end result of all the research and design changes. This bike definitely has a lot to offer and it finds itself at or near the top of every "best of" list.
You'll see a lot of people talking about the "Airdyne Pro"- the Pro and AD7 are the exact same bike, but the Pro is marketed as more of a commercial machine.
I prefer the AD7 because it's $100 cheaper.
Regardless, the AD7 does come with a fully adjustable seat. It's actually the only airdyne that does (not counting the Pro)- even the mid-grade AD6 can't adjust horizontally. This should be expected at this price range, but you never know.
The console on this bike is pretty impressive when compared to other air bikes. It's large, easy to read, and does come with built-in workouts.
It also has a pretty cool RPM meter at the top of the console which comes in handy to tell how fast you are pushing it during your workouts. Great for encouragement too.
The warranty department is where Schwinn really shines.
The AD7 comes with a 10 year frame, 2 year parts, and 6 month labor warranty. This is the best warranty I think I've come across on an air bike. Well done Schwinn, well done.
The AD7 also has a great weight capacity of 350 lb.
This high limit goes to show how durable this bike is. This would be a smart choice for the larger folks out there looking for an air bike.
This is also as high a weight limit as you are likely to find on an air bike.
Overall, the AD7 has a ton to offer. Considering the nice console, high weight capacity, and awesome warranty it's tough to beat. It also comes very highly rated by users.
It's priced a little higher than the AirBike, but then again, you are getting double the warranty. See full review.

#3 The Rogue Echo Bike
Rogue Fitness only produces one cardio machine and you're looking at it. When you get it right on the first try, I guess there's no need to do it again.
The brand specializes in power lifting and CrossFit gear, stuff like squat racks, barbells, and all the accessories you need for that equipment.
They've gained a lot of popularity for designing heavy-duty equipment and that's priced fairly and backed by good warranties.
Their Echo Bike is no different.
At first glance, it's obvious that this is a beast of a fan bike. The thick, steel frame with its powder coating offers a pleasant first impression, but it's all about function with this one.
This bike is heavy-duty from top to bottom. This is obvious when we note the total weight of the Echo- this thing weighs in at 127 lb fully assembled, roughly 30 lb heavier than the AirBike.
This hearty steel frame can hold people weighing up to 350 lb safely and comes with a fully adjustable seat.
The result is a cardio machine that can comfortably fit pretty much any user who steps up to it.
The console is fairly simple, but it's large and bright enough to see clearly during your workouts. It comes a few interval and target workouts to choose from and is heart rate monitor compatible (Polar).
It's also easy to assemble- the seat even comes pre-attached.
Like the AD7 above, the Echo also comes with a belt drive system, which should technically be a little quieter than the chain drive used by the AirBike.
The only room for improvement I see is in the warranty department – Rogue only backs this bike with a 2 year frame and parts warranty, which is surprising considering how heavy-duty the bike is.
Overall though, the Rogue Echo has more than earned its spot on this list. Honestly, the Echo could easily be in the #1 spot (and would be if the warranty were longer), as could the AD7.
If I wrote this on a different day, the order of the top 3 might be different. Or we could have a 3-way tie for 1st place, but we all know that would be lame. See full review.

#4 The Sunny Health & Fitness Tornado Air Bike
The Sunny Health & Fitness brand isn't nearly as recognizable as Schwinn, but they have really found a niche for themselves producing high quality, affordable fitness equipment.
Their Tornado Air Bike is a mid-range bike with stats that can compare with some of the big boys. If you're looking for a great bike that's a little easier on the wallet, this might be the bike for you.
For starters, the Tornado does come with a fully adjustable seat. This is impressive considering this bike costs roughly $400 less than the AD7. A lot of the cheaper options don't offer the fore and aft adjustments.
The console on the Tornado is also pretty impressive. It's large enough to display all of your workout metrics on the screen at the same time.
This is great because you don't have to sit there and wait for your desired outcome to scan across the screen (sorry AD2).
It also comes with 7 built-in workouts and is bluetooth heart rate monitor compatible. Impressive.
The warranty department is where we see a pretty significant drop off on the Tornado when compared against some of the other top picks. Sunny Health & Fitness offers a 3 year frame and 90 day labor warranty on this product.
This is pretty short when compared to the amazing warranty offered by Schwinn, but it's par for the course for this price range.
The Tornado Air Bike has a max weight capacity of 330 lb. I think this is very impressive for any price range. It shows quality of construction.
It also allows the Tornado to accommodate most users comfortably.
Overall, the Tornado Air Bike by Sunny Health & Fitness has a lot going for it. I'm a fan of this brand because they seem to make a real effort to offer quality products at budget prices.
The biggest downside to this bike is its warranty, but it does come with a fully adjustable seat and a great weight capacity.
There have been complaints about the L crank coming loose, but apparently Sunny is well aware and has fixed the design issue. See full review.

#5 Schwinn AD6 Airdyne Bike
Schwinn's AD6 is a smaller, less impressive version of the AD7. Even though it doesn't boast the impressive stats the AD7 does, it's still a respectable air bike in it's own right.
Like most of Schwinn's other products, the AD6 comes very highly rated by users.  This bike is about 300 bucks cheaper than the AD7, so if that one is a little out of your price range, this might be a good alternative.
My biggest problem with the AD6 is that the seat isn't fully adjustable. And an exercise bike at this price level really should have a fully adjustable seat.
There's no reason for it not other than the fact that Schwinn wants to have one more reason to upsell you on the AD7.
That said, even though you can't adjust the horizontal position of the seat that doesn't mean you won't be able to ride comfortably. You just won't be able to fine tune your positioning as much as other bikes allow.
The console on the AD6 is a little smaller than that of the AD7 and it doesn't have the same cool RPM meter (although it does show RPM), but it is large enough to display all your metrics at once.
It's nothing fancy, but it's definitely enough to get the job done. And let's face it, folks getting an airdyne bike are getting it for the console.
Schwinn offers a great warranty on this air bike, very similar to that offered on the more expensive AD7. The AD6 has a 10 year frame warranty, a 2 year parts warranty, 1 year electronics warranty, and 3 month labor.
This is an amazing warranty for any price range and definitely a perk of choosing this bike.
The AD6 has a max weight capacity of 300 lb, which is very respectable for it's price. This is sufficient enough to let us know it's well built and more than enough to handle most users.
Overall, the AD6 has definitely earned it's way onto this list. It has a nice console, solid weight capacity, and amazing warranty.
Not to mention it's made by Schwinn, the gold standard in cycling and exercise bikes. I wish it had a fully adjustable seat. If it did, it would have beaten out the Tornado for the #4 spot. See full review.

#6 Schwinn AD2 Airdyne Bike
Rounding out the list is, wait for it…another Schwinn airdyne. I know, I wish I could offer more variety, but they really are the best air bikes available.
When you consider price, warranty, and available features it's hard to deny that they've rightly earned all their accolades.
Anyway, back to the AD2.
The AD2 is the most budget friendly installment in their airdyne family. Coming in about $200 below the AD6, the AD2 will cost ya just under $400.
While there are budget air bikes cheaper than this, you have to be really careful when you start purchasing really cheap equipment.
Often times you are getting what you are paying for- no warranties, poor construction, and uncomfortable rides.
Not to say the AD2 is perfect (far from it), but it does have value.
Right off the bat, the AD2 does not have a fully adjustable seat. This should be expected since we know the AD6 doesn't either.
The seat on the AD2 is uncomfortable and can't be adjusted horizontally. This seat isn't even easily replaceable with one of your choice.
The console on this bike is tiny and only displays one metric at a time. You have to wait for which ever stat you're  looking for to scan on the display while you exercise.
Even though it's small, it does track all the usual stuff. Except for heart rate, the AD2 is not compatible with telemetry heart rate monitors (the AD6 and AD7 are).
Even though this is the cheapest airdyne bike by far, Schwinn still offers a very generous warranty. The AD2 comes with a 5 year warranty on the frame, 1 year on mechanical, and 90 day for parts and labor.
Again, this is a great warranty for a big this affordable and easily one of the AD2's most redeeming features.
The AD2 has a weight limit of 250 lb. This tells us that this is a smaller bike with a less structurally sound frame. For the price range, this isn't too out of the ordinary.
The AD2 is better suited for smaller users though.
Overall, it should be obvious that the AD2 can't stand toe to toe with the bikes at the beginning of this list. But for the price, you're not gonna find a more impressive specimen.
The warranty alone would probably earn the AD2 a spot on this list. But this bike is well designed and comes with a fully functional fan is more than capable of giving you a great workout.
If you're looking for a good air bike but are on a tight budget, the AD2 is a smart bet (although it's getting harder to find). See full review.

Final Thoughts
That about does it. Now you know what an air resistance exercise bike is and what to look for when comparing different bikes. I just realized I didn't mention anything about fan size.
Bigger is better because it will give you a more comfortable experience and will provide a smoother resistance.
Budget bikes have smaller fans, higher end bikes have larger ones (usually in the 25-26″ range).
If nothing else, make sure to note a bike's warranty and weight capacity before making a decision. These are important facts that will tell you a lot about the quality of the bike.
The Assault AirBike is my favorite of the bunch, but it's a really close race with the AD7 and the Echo-  they both use belt drives, which some users might prefer.
At the end of the day, there aren't any wrong answers when trying to pick a winner between the 3 (and it makes for some fun debates).
If you're looking for a more affordable choice, the Tornado Air Bike and AD2 are smart bets. Although I noticed the price on the Tornado might have gone up a little recently.
If you have any questions or comments, please leave them below and I'll get right back to you. Happy hunting!