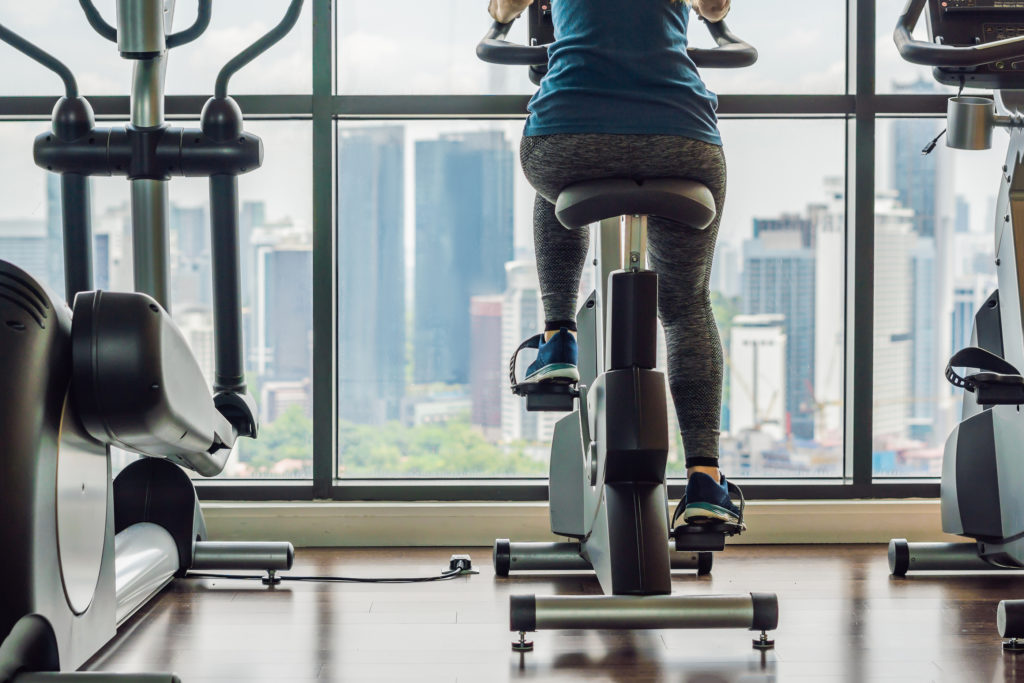 The LCB is Sole's most advanced upright model to date. So advanced in fact, that it's actually rated for light commercial use- meaning it can handle the stress of multiple users and up to 5 hours of daily operation.
Like pretty much all Sole products, the LCB is built to perform.
The spec sheet for this stationary bike is impressive, but highlights include a 30 lb flywheel, 40 resistance levels, and a quite generous warranty.
It also comes with some interesting tech features that add to overall enjoyment, including a 10″ touchscreen console, bluetooth speakers, wireless charging, and screen-mirroring capabilities.
Long story short- yes, the LCB is likely the best stationary exercise bike in its price class.
If you're looking for a durable upright bike that feels commercial grade, the Sole LCB is a smart choice. But you have to make sure it's the right bike for your home gym.
And that's where this review comes in.
In this article, I'll take you an up-close-and-personal tour of everything the LCB has to offer. After reading, you'll know everything you need to in order to make an educated decision for yourself.
Let's begin.
Sole LCB Upright Bike
I'm a sucker for the Sole brand.
Their products always end up on my "best of" lists each year (I swear I don't work for the company).
It's just that I'm a fan of their "performance first, everything else second" way of doing things.
Sole is probably most well-known for their home treadmills, but their exercise bikes are just as impressive.
Their bikes come highly recommended for their hardy frames, heavy flywheels, and great warranties.
They offer 2 traditional upright bikes, with the LCB being their highest-end model. Unsurprisingly, their more budget friendly B94 is also an impressive specimen.
Pros
30 lb flywheel
40 levels of magnetic resistance
Large, fully adjustable gel seat
Multi-grip handlebars
Heavy-duty steel frame
350 lb weight capacity
10″ touchscreen
Bluetooth speakers
Entertainment apps
Wireless charging
Screen mirroring
Integrated tablet holder
Cooling fan
Compatible with strap heart rate monitors
Easy assembly
Great warranty
Cons
Flywheel
Flywheel weight is usually more stressed when talking about spin cycles, but it's an important consideration when doing your research for any type of exercise bike.
The flywheel is the part of the bike that spins as you pedal, providing the "feel" of riding a real bicycle.
The idea is that heavier is better because the extra weight builds more momentum as it spins, which makes for a smoother ride.
It also makes sense that a heavier flywheel would be able to provide more overall resistance, but this depends a lot on the quality of the magnetic resistance system too.
Spin cycles stress flywheel weight because the heavier flywheels are supposed to more closely mimic the feel of riding a road bike outdoors.
Even though upright exercise bikes aren't as popular for the high intensity training that spin cycles are often used for, it doesn't mean that flywheel weight isn't as important.
Remember- regardless of what type of exercise bike it is, heavier flywheels usually provide smoother operation.
That said, the Sole LCB comes with a 30 lb flywheel, which is heavy enough to give a lot of spin cycles flywheel envy. With a flywheel this heavy, this bike is more than capable of providing a smooth, fluid ride.
This massive flywheel is paired with a quiet magnetic resistance system that offers 40 different levels of resistance for you to use at your disposal.
Having this many resistance levels gives you a ton of control over your workout intensity. You'll be able to fine tune how hard you work depending on the type of workout you're performing.
It also gives you a lot of wiggle room to progress your workouts as you get in better shape.
Overall, the LCB scores very highly with its heavy flywheel and high number of resistance levels.
Seat
One of the biggest benefits of choosing a traditional upright bike over a spin bike is the seat- upright seats are a lot more comfortable than spin cycle seats.
And that's because they're larger.
Like spin cycles, upright seats usually don't come a backrest either, so if you're worried about your back, you may be better off with a recumbent bike.
When comparing upright bike seats, the most important thing to look at is whether or not they're fully adjustable.
A fully adjustable bike seat allows you to adjust it both vertically (height) and horizontally (fore/aft).
Fully adjustable seats are preferred because they allow you to fully customize your fit, ensuring you find a more comfortable position to exercise in.
The LCB comes with a large, fully-adjustable gel seat that most users find comfortable. If you do decide on this bike, comfort shouldn't be an issue.
Handlebars
The handlebar positions probably aren't as crucial for an upright bike (when compared to a spin bike), but I still wanted to discuss 'em a little for the sake of thoroughness.
Some exercise bikes allow you to adjust the height (and or horizontal position) of the handlebars separately.
This isn't necessarily crucial to your workout enjoyment, but having more options to customize is usually a good thing because you can fine tune your fit a little more.
The LCB doesn't have adjustable handlebars, they're stationary.
But it does offer a nice variety of hand grips.
If you look at the handlebars in the above image, you'll notice that you have the option of using a narrow grip, a standard grip, or a wide grip at the top.
Regardless of how you like to ride, the LCB's handlebars should be able to accommodate. They're also padded and comfortable to use, which is a plus.
Frame
One of the most obvious signs of a sub-par exercise bike is a flimsy frame.
You know what I'm talking about here- the second you sit on it you start to worry whether or not you're gonna end up sitting on the floor before your workout is done.
Having a bike wobble during use (or fall apart) is a sure fired way of ruining a workout.
Luckily, this isn't something you'll have to worry about with the Sole LCB. This bike comes with a robust frame that is designed to withstand the stress of multiple users.
The heavy-duty steel frame can handle folks weighing up to 350 lb, which is impressive for any exercise bike.
And the bike itself weighs about 112 lb fully assembled, which is heavy for an upright model.
For comparison's sake, the popular Schwinn 170 (which is also a great bike for the price by the way), only weighs about 58 lb.
The extra weight is noticeable when you get on. This bike feels sturdy and stable, like something you'd find in your local commercial gym.
Features
The Sole LCB comes with the following features:
10″ touchscreen console- Sole recently upgraded this bike's console, giving it a 10″ touchscreen display. Not only does this make it easy to view all workouts and metrics, but it also makes it easier to make all selections.
Workout programs- the new console comes with several new workouts. This bike comes with all the classic profiles, as well as a few extra fitness tests and heart rate guided workout options.
Screen mirroring- and with the ability to screen the mirror from your phone or tablet, you can view any workout app you like through the touchscreen console.
Entertainment apps- the new console also comes loaded with popular entertainment apps like Netflix and Spotify, but you still need your own subscriptions.
Bluetooth speakers- you can connect wirelessly to the built-in speakers through bluetooth, making it easy to listen to your favorite workout jams or hear a movie through the console.
Fitness app- you can also use bluetooth to connect to the free Sole fitness app to track all your workout data (compatible with other popular fitness apps as well)
Wireless charging pad- you can charge your device during your workout to ensure it's fully charged and ready to go for the rest of the day.
Cooling fan- the built-in fan will help keep you cool and comfortable during your toughest workouts.
Water bottle holders- this bike comes with dual water bottle holders, giving you a convenient place to store your liquids during your workouts. They also work well for holding keys, remote controls, or any other small items that may need storing.
Integrated tablet holder- the tablet holder is conveniently located above the bike display, so you don't have to block your workout data to watch Netflix.
Strap heart rate monitoring- the LCB has grip heart rate monitors built into the handlebars, but it's also compatible with wireless monitoring (although one isn't included with purchase).
Assembly
Sole does a great job with their assembly manuals.
They lay out their directions in a manner that makes them easy to follow and the illustrations are large enough to see what goes where.
There are also written instructions for each step to accompany the illustrations.
I like that they give you a to-scale image of all the hardware for each step at the beginning- very helpful. The hardest part is usually figuring out which bolt or screw is supposed to be used for each step- Sole solves this problem before assembly even begins.
All of the necessary tools are included. Most fairly handy people should be able to assemble themselves and it shouldn't take much longer than an hour or so.
Overall, assembly is straightforward and the instructions are easy to follow.
Warranty
The Sole LCB Upright Bike comes with the following warranties:
Residential:
Lifetime frame
3 year parts and electronics
1 year labor
Light Commercial:
Lifetime frame
2 year parts and electronics
1 year labor
This is a blog about working out from home, so I'm more concerned with the residential warranty than the light commercial one (although it's a sign of quality that this bike is rated for light commercial use as well).
I think this is a fantastic warranty for this bike.
Lifetime on the frame is expected from a high-end bike in this price range, but you never know what you're gonna get in terms of parts.
And 3 years is pretty generous considering many competitors are offering 2-3 years.
The 1 year labor warranty is pretty standard operating procedure.
Overall, a great warranty from a brand that is known for their long guarantees.
Final Thoughts
Sole is one of the top home fitness equipment brands out there- and with products like the LCB Upright Bike, it's easy to see why.
This bike has a lot to offer, both in terms of performance specs and console tech.
I'm immediately drawn to the 30 lb flywheel.
This is heavy for a traditional upright bike where a lot of competitors are using 17-19 lb flywheels. The heavier flywheel is going to provide a smoother, more substantial ride.
I also like how heavy this bike is.
At over 2x the weight of some of the more affordable options, the LCB is going to provide the feel of  a commercial grade exercise bike.
The bluetooth compatibility and chest strap monitoring options are great, but it's the warranty that seals the deal for me.
Put it all together and you have the complete package and one of the best home exercise bikes available.
Overall, if you're looking for a high-end upright bike that will perform day-in and day-out for years to come, Sole's LCB is a great choice. Highly recommended.