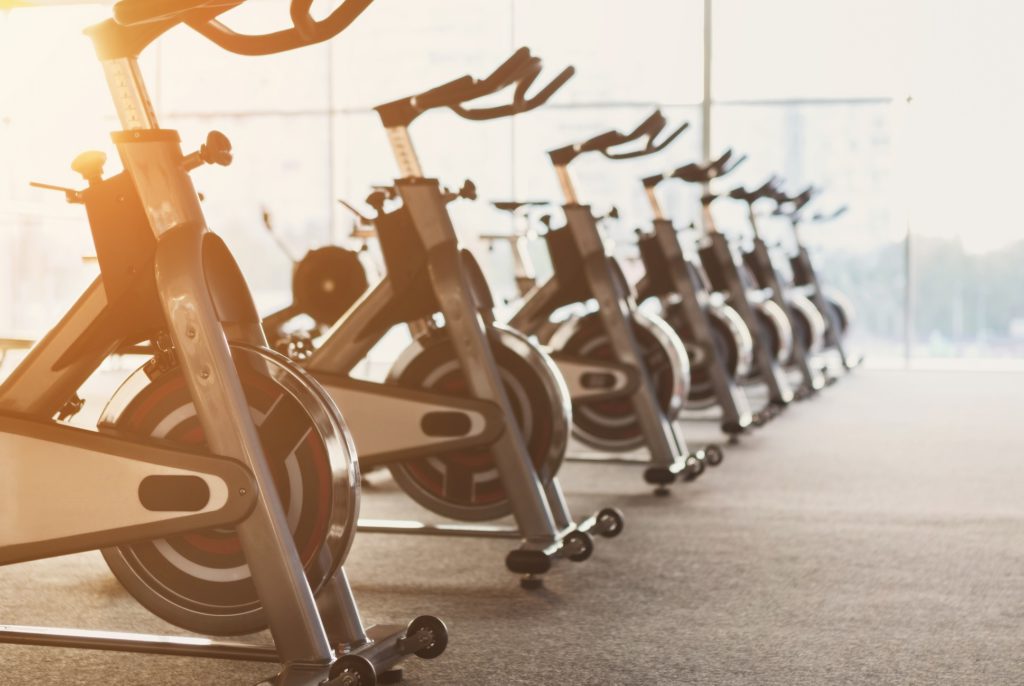 With their IC4 Indoor Cycling Bike, Schwinn has finally joined the race to capitalize on the ever-growing popularity of streaming exercise bikes.
But unlike a lot of other budget-friendly spin cycles, the IC4 really does have a lot going for it (besides the famous brand name it's sporting).
This bike comes with impressive specs for the price range, including a 40 lb flywheel, a heavy-duty frame, and bluetooth capabilities.
That's all fine and good, but the real star of the show here is the micro-adjustable resistance system, which gives you 100 resistance levels to work with (allowing the IC4 to pair nicely with the Peloton app).
So, long-story-short: Schwinn's IC4 is one of the best spin bikes in its price range and a great Peloton alternative for folks working with a smaller budget.
If you're interested in the longer story, keep reading.
The Schwinn IC4 Indoor Cycling Bike
The Schwinn name has been synonymous with biking and cycling for over a hundred years, so I think we can skip the intro portion of the review here.
I mean seriously, is there anyone out there who isn't familiar with this brand?
I highly doubt it.
So, moving on, the IC4 is the newest and most advanced model in their affordable spin cycle lineup. Unlike their commercial grade Schwinn AC Performance Plus, all of the "IC" models fall under $1000.
The IC2 and IC3 are both more traditional spin bikes. The IC4, however, is designed to be paired with the Peloton app for streaming workouts.
The idea is that you can use your own tablet to watch Peloton workouts while using the IC4. This method doesn't give you the full "Peloton experience", but it won't cost ya nearly $3000 either.
With an asking price of roughly $900, the IC4 is about 1/3 the cost of a Peloton bike, making it a significantly cheaper alternative for folks looking to join the streaming spinning craze.
Pros
40 lb flywheel
100 level, micro-adjustable magnetic resistance system
Pairs nicely with Peloton app (as well as others)
Fully adjustable seat
Fully adjustable, multi-grip handlebars
Heavy-duty frame
330 lb weight capacity
Dual-compatible pedals
Easy-to-read, LCD monitor
Bluetooth compatible
Bluetooth arm band heart rate monitor included
Good warranty
Cons
No built-in workouts
Console doesn't display output (watts)
Flywheel
I like to start my spin bike reviews with a discussion on the flywheel because that's one of (if not the) most important spec to consider.
To make sure we're all talking about the same thing here, the flywheel is the weighted wheel that spins as you pedal the bike. The flywheel is often in the front, but can also be in the rear.
Flywheel weight has become a hot topic, with most people agreeing that heavier is better.
Well, heavier is usually better when it comes to budget bikes anyway, because with proper design and engineering, it's possible to provide a great spinning experience with a light flywheel (as Keiser demonstrates perfectly).
Heavier is usually better because the extra weight builds more momentum as it spins- this extra momentum actually helps the flywheel continue spinning between pedal strokes.
This makes for a smoother workout experience for you.
Heavier is also better if you ask me, because the extra weight will make it harder to get moving from a cold start, as well as give the bike the ability to provide more overall resistance.
So heavy flywheels are a good thing.
With this in mind, Schwinn's IC4 comes with a 40 lb flywheel, which is impressive for any price range. Personally, I consider anything over 20 lb to be heavy enough to provide a smooth feel.
At 40 lb, the IC4 has more than enough muscle under the hood to provide a smooth pedaling feel. This heavy flywheel will also come in handy when it comes to cranking up the intensity.
Speaking of intensity, the best part of this entire bike is the micro-adjustable resistance system it has.
Modeled directly after the Peloton and it's resistance system, the intensity can be adjusted between 1-100 by turning the dial in the middle of the frame.
This is great for a couple of reasons- first, it gives you 100 resistance levels to work with (I'm a firm believer that more resistance levels is a good thing).
Second, it allows you to easily match the intensities of the Peloton workouts, which use the same resistance scale.
Overall, when it comes to the flywheel department, the IC4 scores very highly with its 40 lb flywheel and 100 levels of micro-adjustable resistance.
Seat
All spin bike seats are pretty uncomfortable until you get used to them. The good news is, with time you will get used to. And if you don't you can always pick up a cheap gel seat cover and that should do the trick.
The important thing to look at when checking out the seat isn't its comfort level, but how adjustable it is.
The IC4 comes with a fully adjustable seat, meaning you can adjust both the height of the seat as well as the horizontal position (fore/aft).
This is handy because it gives you more control over your fit, making it easier for you to find the most comfortable riding position.
The seat itself is a standard bike seat, which means you can easily swap it out for another seat if you have a favorite one already.
Handlebars
The handlebars on this bike are multi-grip and fully adjustable as well. This means like the seat, you can adjust both the vertical and horizontal position of the handlebars.
Having a fully adjustable seat and handlebars gives you a lot of play when it comes to your riding position (which is good, because that means there's a better chance of you finding a comfortable spot to ride in).
I mentioned that they're multi-grip, allowing you all the grip positions you'll need during your workouts (standard, narrow, wide).
The handlebars are also coated with a pretty thick coating, which is nice, because one thing I've learned from my own experience is that the thicker the handlebars are, the more comfortable they'll be during your rides).
Frame
I think it's a good idea to consider the frame integrity of any spin bike you're considering. By this, I mean how robust or heavy-duty the frame is.
A nice robust frame isn't going to wobble or move with you during your workouts, regardless of whether you're standing up or sitting.
A good way to determine this without trying the bike out, is to look at the weight capacity and the total weight of the bike- heavier is better in both cases, by the way.
Schwinn's IC4 comes with a weight capacity of 330 lb, which is impressive considering the average is 300 lb (for quality bikes anyway).
This tells us the IC4 has a nice, solid frame that can hold most users safely.
This bike also weighs just over 100 lb fully assembled, which is a good sign. Keep in mind 40 lb of this weight is in the flywheel, so be careful when moving it (use the transport wheels and you'll be fine).
Overall, I like that this bike comes with a heavier-than-usual max weight capacity, it's a good indicator of frame integrity.
Pedals
Spin bikes usually come with pedals that are designed to be used with cleats or those that are designed to be used with sneakers (referred to as toe cages).
Some bikes, like the IC4 here, come with dual-compatible pedals that can be used with both styles of shoe.
This is a great scenario because you can wear any type of shoe you like.
In terms of the cleats, the IC4 is compatible with SPD toe clips. And if you've never used cleats with a spin cycle before, I highly recommend it, especially if you're planning on more intense workouts.
Being clipped in allows you to spin faster and more efficiently, but if you don't have any (or don't want to mess with finding some), no worries. You can always use your sneakers with the toe cages on the other side of the pedals.
Overall, the dual-compatible pedals are a nice touch.
Monitor
The IC4 comes with a simple LCD monitor that is big enough and clear enough to read easily during your workouts. It displays all the normal metrics you'd expect, like speed, cadence, distance, etc.
You aren't going to find any fancy touchscreens or built-in workouts here, but that's because this bike is designed to be paired with the Peloton app (or any other streaming cycling app).
This means you'd be using your tablet to watch the workouts and following their lead anyway.
The monitor is bluetooth capable, allowing you to sync up with a wireless heart rate monitor (bluetooth arm band included) though, which is nice.
Having the small monitor is paramount though, when it comes to following these streaming workouts. Without the monitor (many spin bikes don't have one), you can't determine your cadence/resistance levels to effectively follow along.
The only downside here is that the monitor doesn't track your power output (wattage). It would be nice if it did because Peloton uses the power output for some of their workouts.
Overall though, the monitor on the IC4 is small and simple, but it does the job it was designed for. That said, it's more advanced than the monitor on Horizon's IC7.9.
Warranty
Schwinn's IC4 Indoor Cycling Bike comes with the following warranty:
Frame: 10 years
Parts/electronics: 3 years
Labor: 1 year
I think this is a very fair warranty, especially considering the price. A lifetime frame warranty is always preferred, but the 10 years offered here is 2x what Peloton offers on their luxury bike.
Three years on parts and electronics also beats the 1 year guarantee Peloton is offering.
A year on labor is pretty standard operating procedure, no complaints there.
Overall, a good warranty on this affordable spin cycle.
Final Thoughts
Schwinn is the biggest name in cycling and they've brought us a lot of great products over the years. And it's true, you shouldn't judge a bike by its cover, but in this case, the cover says it all.
In other words, I think the IC4 is a home run.
I love that it comes with such a heavy flywheel and I really love that it utilizes the 100 level micro-adjustable magnetic resistance system.
The console isn't perfect, but it's better than a lot of the ones on other spin bikes I've seen and it's definitely good enough if you'll be pairing with fitness apps.
Which, if you're thinking about buying this bike, you should definitely do because the IC4 is very well-equipped to pair with Peloton especially.
Overall, I think Schwinn's IC4 is a great bike for the price. It really is one of the best Peloton alternatives out there. Highly recommended.