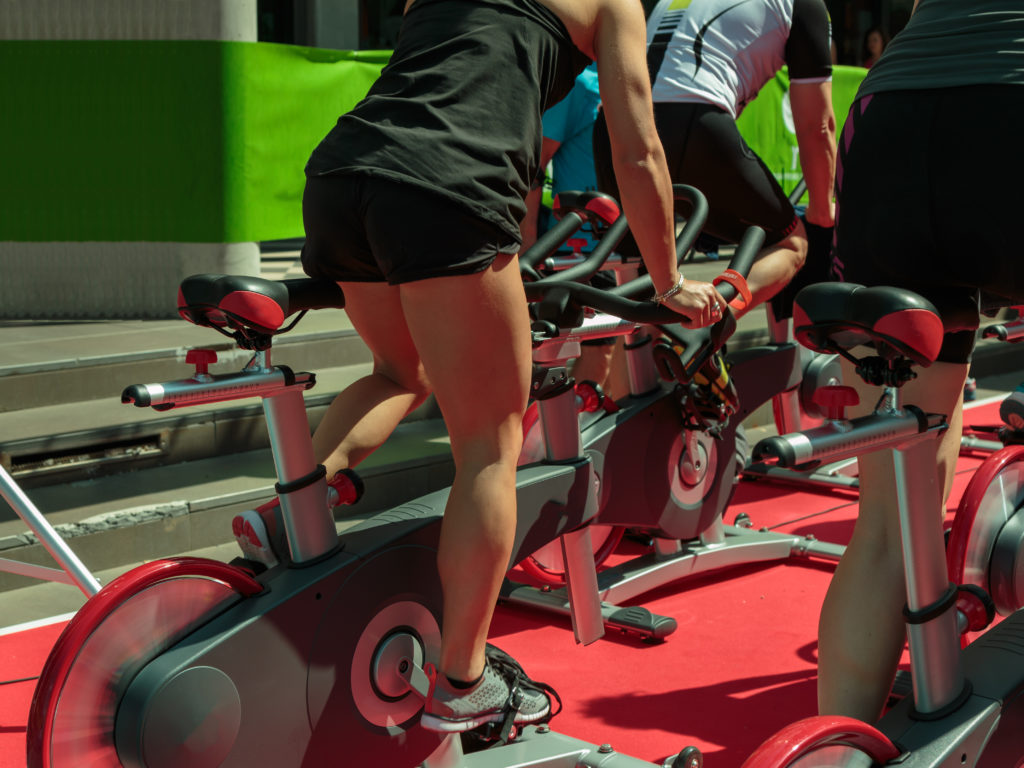 Keiser's M3i Indoor Bike usually finds itself in the conversation when the topic of best indoor cycle comes up.
I know it's almost certainly in every fitness blogger's "best of" list, usually somewhere near the top.
With a sleek, rear-mounted flywheel design, the M3i definitely looks the part, but remember- looks can be deceiving.
In order to figure out whether the M3i is legit or not, you have to examine the specs and features.
You also have to know what you should expect (in regards to these specs) from a high-end exercise bike in this price range in order to determine whether or not this bike is a good deal.
If this sounds like a lot of work, it kinda is.
Luckily, The Home Gym is here to help.
This comprehensive review will go over all the M3i's key features and compare them to the market norms. Hopefully after reading this, you will know whether or not this indoor cycle is the one for you.
A Brief Intro To Keiser
The M3i is pretty famous in the home fitness world, but otherwise you may not be familiar with Keiser as a brand. It certainly isn't as recognizable as Schwinn or Bowflex. Why is this the case?
Well, I doubt most people have heard of Keiser before because they are most known for their functional trainers and commercial strength machines that utilize their patented pneumatic resistance systems.
A lot of professional sports teams and sports medicine clinics are using their technologies because of the benefits of pneumatic resistance.
The biggest probably being that if gives the athletes the ability to perform their functional movements at game specific speeds.
Performing resistance training at faster speeds increases power and practicing at game speeds should theoretically improve neuromuscular responses, aka muscle memory.
The cool thing about their pneumatic resistance systems is that the resistance stays the same regardless of how fast you're performing the move.
This means you can't benefit from momentum like you can with standard plates and dumbbells.
Keiser has made a real name for themself in this market, but they've been gradually dipping into the home fitness arena too.
The M3i is probably their most well-known cardio machine, but they also offer an elliptical and a full body trainer that uses the same magnetic resistance system.
Something I respect about Keiser is how much emphasis they place on the science behind their products.
Research and design go hand in hand to create elegant looking products that work effectively. All their bikes are made in the USA too, which is pretty rare these days.
Alright, now that you're acquainted with the company, on to their most well known exercise bike, the M3i.
The Keiser M3i Indoor Bike
The M3i is one of the more expensive home indoor cycles you're gonna find.
It's right up there with the Peloton and the Schwinn AC Performance Plus in terms of asking price. Now I'm not opposed to expensive equipment as long as the expense is justified.
The trick is trying to figure out whether something is really worth the price.
In order to do this, I broke down the M3i in terms of the key features/specs you should consider when purchasing an indoor cycle.
Pros
Silent, magnetic resistance system
Durable, maintenance free belt drive train
Rear-mounted design keeps flywheel away from corrosive sweat
Fully adjustable seat
Fully adjustable, multi-grip handlebars
Bluetooth compatible monitor included
"V" shaped frame accommodates users anywhere from 4'10" to 7′ tall
Max weight capacity of 350 lb
Dual-compatible pedals that work with sneakers and cleats
Cons
Flywheel
When it comes to spin bikes, the flywheel is usually the first thing that comes up.
Well, technically it's the flywheel weight.
Most companies believe that using heavier flywheels is essential to providing a smooth, realistic experience.
The general idea is that heavy flywheels are smoother because the extra weight builds momentum and reduces the chances of your pedal strokes feeling choppy.
Most high-end indoor cycles offer flywheels in the 30-40 lb range. Notice I said "most" because Keiser disagrees with the whole "heavier is better" sentiment.
Instead, they use an 8 lb flywheel in their M3i.
They argue that a heavy flywheel isn't necessary due to the design of their belt drive and the quality of their magnetic resistance system.
There was a lot of key info in that statement so I'm gonna break it down a little more.
The M3i utilizes a belt drive train- this means that a belt (a Poly-V belt just like car engines use) is used instead of a chain to connect the pedals to the flywheel.
Belts are preferred to chains because they are quieter and require less maintenance. Belt drives are usually found on higher-end bikes because they cost a little more.
But what's really special about Keiser and their M3i, is that their light flywheel spins a whole lot faster than tradition cycles and their heavy flywheels.
I'm no physicist, but I know bikes can build up just as much momentum (and even more) by getting the flywheel spinning faster, regardless of weight.
Well, the M3i is designed so that the flywheel spins 11x for every full rotation of the pedals – yeah, I know, that's crazy fast.
With a light flywheel, you also don't have to worry as much about the added stress on your knees when slowing down or starting for a cold start.
The M3i uses a magnetic resistance system, which is pretty much a given in this price range, but instead of having set levels, it uses a micro-adjustable system allowing you to make very small changes to your intensity.
The resistance on the M3i is adjusted with the handlebar mounted shifter, which was placed there to make it easier to change resistance levels when standing.
Users pretty much unanimously agree that the M3i is incredibly smooth and silent during operation – looks like Keiser's lightweight flywheel works effectively.
Oh, I almost forgot one of the most notable features of the flywheel- it's located at the back of the bike.
Keiser was the first company to design their cycle this way in order to keep it safe from the corrosive properties of sweat.
Over the years, other companies have started copying them in this.
This design element looks dramatic, but it was done in order to protect the flywheel and keep it working optimally for years to come.
Seat
The M3i comes with a standard bicycle seat.
Bike seats are narrow and firm- in other words they're uncomfortable. This is to be expected on indoor cycles, who's focus is on providing a realistic riding experience.
The good news is that you can swap the standard seat that comes with it for any other upgraded seat you choose.
You could always just throw a gel cushion on there too, that helps.
The important feature to consider here is that the seat is fully adjustable, meaning you can adjust the horizontal position (fore/aft) as well as the vertical (height).
Fully adjustable seats should be expected on high-end and even mid-range bikes.
This features gives you a lot more control over your positioning and helps ensure you get a comfortable fit. A proper fit is important to reduce your chances of injury, especially over longer rides.
Handlebars
This bike also has fully adjustable handlebars, giving you the freedom to adjust the height and fore/aft positions independently.
This is a nice feature because it gives you a more custom fit. Most high-end bikes offer this, though the Peloton doesn't (only height adjustable).
The handlebars are also multi-grip, which makes it easier for you to find a comfortable position regardless of your riding position (seated or standing).
The curved design gives you the freedom to place your hands anywhere they comfortably fit.
Connected to the handlebars is a media tray, giving you a place to park your tablet or smart phone.
This comes in handy if you are using a fitness app to follow along with. Many users report using the M3i with the Peloton fitness app, which is totally doable.
The M3i also comes with a small monitor that tracks all the essential data (time, distance, cadence, heart rate).
It's also bluetooth compatible and can sync with your favorite fitness apps for data tracking. Keiser has their own free fitness app you can use as well.
The monitor is compatible with chest strap heart rate monitors, but one isn't included.
Not all high-end spin bikes come with a monitor (the Schwinn AC Performance Plus doesn't), so it's nice to see that Keiser is including one.
Frame
Keiser likes to market the uniqueness factor of their frame almost as much as their rear-mounted flywheel.
At first glance, it might look a little different, but it can be hard to put your finger on exactly how it's different than the rest. Turns out the M3i has a "V" shaped frame.
This shape gives the cycle a nice, minimalist look, but it also functions to mimic the frame sizes of different road bikes.
You'll notice that the seat bar and handlebars are set at an angle- this means that when you increase the height, you're actually increasing the horizontal distance between the seat and handlebars too.
The brilliant design element gives the M3i the capacity to comfortably hold users in a larger height range than most bikes.
Keiser actually reports this bike can accommodate people who are anywhere from 4'10" to 7′ tall. It also has a max weight capacity of 350 lb, which is 50 lb higher than the 300 lb norm.
The assembled dimensions of the M3i are as follows: 49″ (L) x 26″ (W) x 45″ (H).
It has a total weight of 92 lb when fully assembled, which is a lot lighter than most of the other indoor cycles that weight anywhere from 120 – 130 lb.
This is because a lot of weight is saved having the lighter flywheel.
Speaking of assembly, users agree it's pretty easy to put this bike together, and now Keiser makes it a little easier by including all the necessary tools with purchase.
Pedals
Indoor cycle pedals are usually either cage or clipless- cage being where you have the little basket and you wear sneakers, clipless being SPD or another style of cleat compatible.
The higher-end cycles can often accommodate both. The pedals on the M3i are compatible with both sneakers and cleats (SPD).
To take it a step farther, Keiser pedals have a curved design for added comfort during use.
The cage is also designed so that when you are using cleats, the cage doesn't hit the ground (you don't have to remove the cage for cleat use either, which is nice).
These pedals also have upgraded axles, stronger bearings, and stainless steel hardware. The result is a great looking pedal that's built to last- truly a commercial grade element.
Warranty
The M3i comes with the following residential warranty from Keiser:
10 year frame
3 year parts
90 day wearable parts (cage, pedal strap, seat upholstery)
If the M3i has an Achilles' heel, it's the warranty.
This warranty isn't bad for a mid-grade bike, but the M3i isn't priced (or built) as a mid-grade bike.
This is a high-end, elite indoor cycle and it's priced accordingly.
For this price, I'd like to see a lifetime frame warranty, but to be fair, those aren't that normal these days, even for $2k bikes.
Three years on parts also isn't awful, but I'd like to see at least 5 years, given the cost.
The 6 month wearable parts warranty is pretty par for the course.
Overall, not an awful warranty, but there is room for improvement here (hey, I gotta find something to complain about here).
Final Thoughts
After taking a close look at what the Keiser M3i Indoor Bike has to offer, it's pretty obvious why this bike always seems to find itself at the top of everyone's "best of" list (it definitely made my best indoor cycles of the year list).
With elite features like magnetic resistance, a belt drive train, fully adjustable seat and handlebars, and a bluetooth capable monitor, the M3i checks off all the requirements to be considered a high-end indoor cycle.
But I think it's the engineering and design elements that solidify this bike as a true contender for the greatest spin bike on the market.
From the rear-mounted flywheel and "V" shaped frame to the upgraded pedals, it's obvious that the effort was made to create a better bike – a bike that can comfortably fit almost anyone and withstand the stresses of commercial use.
Plus that fast spinning lightweight flywheel offers a smooth pedaling motion while also taking it a little easier on your joints.
If the M3i had a longer warranty it could be the perfect bike, but unfortunately, there's no such thing as perfect- although this bad boy is pretty darn close.
As for the cost, is this bike worth the almost $2000 price tag?
Based on the prices of the competition (Peloton, NordicTrack, ICG) I would say yes, the price is justified.
Remember, you get what you pay for and if you want one of the best indoor cycles on the planet, you'll have to pay for it. Highly recommended.