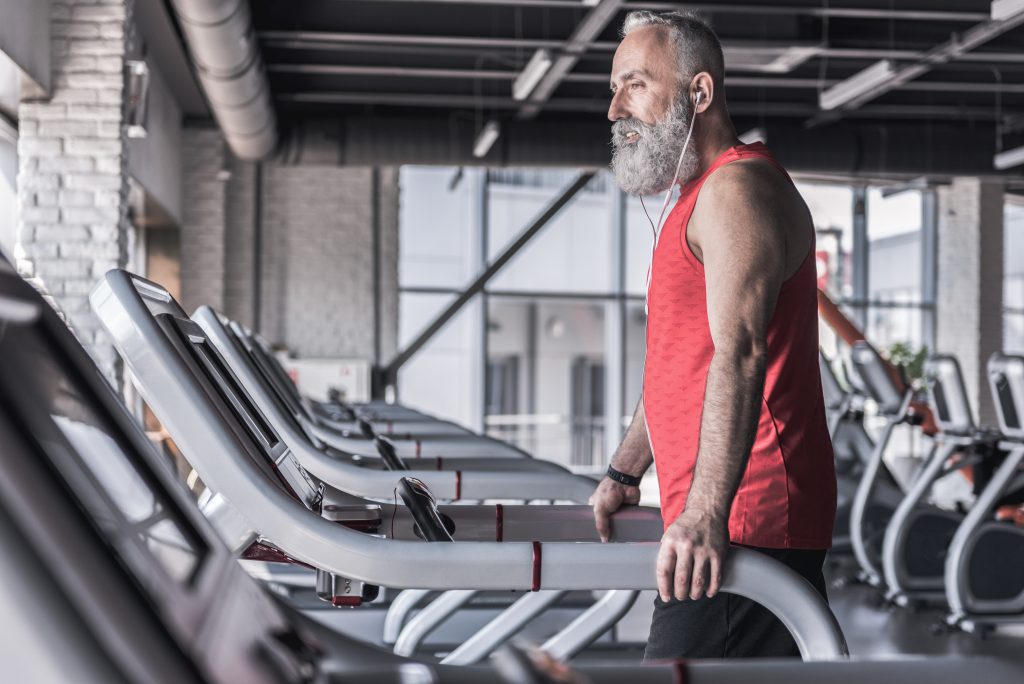 A treadmill can make a great addition to any home, regardless of age, and knowing what to look for and compare is crucial to finding the right model to meet your needs.
This is true for all of us, but it's especially true for our seniors.
I don't want to sound like I'm making assumptions here, because believe me, I know that we all age differently, but most seniors will likely benefit from a treadmill that's comfortable and easy to use.
And even though some seniors are still running and may need a more powerful treadmill with advanced features, most seniors are probably looking for a treadmill for the sake of walking.
Again, I hate to make assumptions.
Regardless, I'm here to help.
In this guide, I'll go over everything our seniors should know before buying a new treadmill and I'll also offer my top picks based on the specs we go over.
After reading, you'll be well-equipped to find the right treadmill for yourself or a senior in your life.
Let's start from the beginning though.
Running Surface
Motor
Warranty
Highlights
#1 Sole F63
20" x 60"
3.0 HP
Lifetime frame/motor
3 year parts
1 year labor
8" step-up height
10 workout programs
325 lb weight limit
#2 Horizon 7.0 AT
20" x 60"
3.0 HP
Lifetime frame/motor
3 year parts
1 year labor
Dial controls
Quick-touch buttons
325 lb weight limit
#3 LifeSpan TR2000e
20" x 56"
2.5 HP
10 year frame
2 year parts
1 year labor
Electric folding deck
21 workout programs
300 lb weight limit
#4 NordicTrack T 6.5 S
20" x 55"
2.6 HP
10 year frame
2 year parts
1 year labor
Adjustable shock
Quick-touch buttons
300 lb weight limit
#5 Nautilus T618
20" x 60"
3.5 HP
15 year frame/motor
5 year parts
2 year labor
Included heart rate strap
26 workout programs
350 lb weight limit
Never Stop Moving
As a geriatric physical therapist, I get a lot of first hand experience working with our aging population – it's an interesting and challenging job that I really enjoy.
I love meeting and working with different patients and their families.
Trust me, I hear some great stories, but it can also be challenging finding ways to adapt exercise to meet the needs of my aging patients.
And a common goal most of my patients share is the need to improve their ability to walk safely.
I see a lot of people that have been in the hospital for some medical reason and when they come home they are weaker and less stable on their feet.
I also treat a lot of folks with balance disorders that are referred to therapy to reduce their future fall risk.
As a therapist, I may have some "tricks" under my sleeve for helping my patients learn to walk more safely, but as I always tell my patients, the only way to get better at walking, is to practice walking.
This sounds really simple, but it's true.
I spend a lot of time just walking with my patients because it improves strength and endurance and it's a safe way for them to get the exercise they need.
Walking is equally important for our healthy seniors too though. Walking regularly has many benefits for seniors, including:
improved cardiovascular health
improved bone mass
improved functional mobility
improved strength
improved mental health
decreased pain levels
And these are just a few of the benefits walking can provide.
Unfortunately as we age, our lifestyle tends to become more sedentary. With time, this causes us to lose muscle mass, lose strength, and ultimately lose the ability to care for ourselves.
I believe one of the best things we can do for ourselves as we age is to continue staying active.
We all know the saying: "If you don't use it, you lose it" – well, this is very true and unfortunately, once you lose it, it's a whole lot harder to get it back.
So, besides all the health benefits listed above, the number one reason seniors should walk for exercise is to maintain the ability to safely walk.
If we walk regularly, our chances of continuing to be able to walk are much higher.
And I'm assuming that we all want to maintain our mobility as much as possible for as long as possible.
Well, turns out walking for exercise is one of the best ways most of us can do this.
Finding The Best Treadmills For Seniors
Walking can be done anywhere and you by no means need a treadmill to walk for exercise, but it's a nice tool because the weather is always nice inside your home.
You don't have to worry about walking around the uneven yard or driveway if you have a treadmill in your home.
A treadmill offers a nice, comfortable walking surface year-round. So although a treadmill isn't necessary, it can make things more convenient.
I'm always happy when my patients have a treadmill (or exercise bike). When they do, one of our goals is often to get them back to the point where they can start using their equipment safely again.
Finding the best treadmills for seniors might be a little different than finding a treadmill for the younger folks out there, but it isn't that much different.
It really boils down to what you want a treadmill for.
Again, I'm assuming most of the seniors reading this are looking for a nice walking treadmill, but that doesn't mean seniors can't still be running.
I've personally known several folks who were still running well into their 80's and beyond…incredible.
Most of the seniors I work with are also less interested in the high-tech features like bluetooth and streaming, but again, to each their own.
So, what should we be looking for when shopping for a senior friendly treadmill?
Running Surface
A treadmill's "running surface" refers to the physical dimensions of the belt and it tells you how much room you'll have when using the treadmill (whether you're running or walking).
The running surface is measured in inches and is usually written as "width x length".
Having a larger running surface is always a good thing because it makes for a more spacious feel, but it's especially important for taller runners.
Simply put, if the belt is too short, you could find yourself having to shorten your stride, which would make things feel less natural.
When comparing treadmills, it's a good idea to go with one with at least a 20″ width and if you plan on running, a 60″ length.
Walkers can get away with a shorter length, but it's still a good idea to try and find one with at least a 55″ length to ensure plenty of room.
Put that all together and it means you're looking for a running surface of at least 20″ x 55″.
Motor Strength
Motor strength isn't quite as essential if you're planning on walking only, but when in doubt, a stronger motor is always preferred.
Mostly because the stronger a motor is, the less it has to work to keep up with demand – which should make for a smoother feel.
Most home treadmills come with motors in the 2 – 4 CHP (continuous horsepower) range and if you plan on running, it's a good idea to go with a treadmill with at least a 3 CHP motor.
For walking only, 2- 3 CHP can usually get the job done just fine.
Warranty
This one's true for anybody looking to buy a treadmill, but it's so important, I figured I'd mention it here too.
Longer warranties are obviously always better and treadmill warranties will vary greatly depending on brand and cost.
Treadmill warranties are generally divided into the following sections:
Frame – this should be the longest and most nicer treadmills will come with lifetime frame guarantees
Motor- the best treadmills will often offer lifetime motor guarantees as well
Parts- this guarantee will vary depending on price, but expect anywhere from 1 – 5 years here
Labor- most brands only offer a year on labor, but some will offer up to 2 years here
Easy To Use
In my experience, most seniors who are looking for a treadmill want one that's easy to use.
Most don't want a lot of fancy screens and features they have to mess with every time they want to work out – instead, a simple console that's straightforward to navigate is preferred.
So, I would certainly compare console features when looking at different options.
Having a "quick start" button might be a nice perk because with this, you simply get on, push that button, and off you go.
Having quick touch buttons for the incline and speed settings is also nice because you simply touch the speed/incline you want and you don't have to mess with pushing up/down buttons.
Most treadmills come with at least a few built-in workout programs too, which can be nice to use.
Oh, a lot of home treadmills fold these days, so if space is limited, having a folding treadmill can be very helpful.
But if you worry about being able to physically fold the deck back up, you might want to find a treadmill with an automatic folding mechanism that takes care of it for ya with the push of a button.
Ok, that's about the gist of it, so let's take a look at the best senior friendly options currently on the market.
The 5 Best Treadmills For Seniors
#1 Sole F63
Sole's F63 checks off just about every characteristic I can think of that would make a treadmill a good fit for most seniors.
It has a spacious running surface, a powerful motor, a great warranty, and it's easy to use.
Oh, and with a price of only around $1k, it's also pretty affordable.
More specifically though, the F63 comes with a running surface of 20″ x 60″, allowing plenty of room for walking or running at any speed.
And with a 3.0 HP motor, there's more than enough muscle under the hood for smooth operation.
This treadmill also comes with a max speed of 12 mph, a max incline of 15%, and a heavy-duty frame that can handle folks weighing up to 325 lb.
But what I personally like about most of Sole's treadmills (and I think most seniors will also appreciate), is how straightforward their consoles are.
Sole obviously focuses more on their treadmills' performance than their console features because Sole's consoles are pretty basic – and I mean that in the best way possible.
The F63 is very easy to use and comes with large console buttons, making it easy to select workouts and the LCD screen is large enough to see all metrics clearly during use.
And Sole's warranties are second to few – this treadmill comes with a lifetime frame/motor warranty, 3 years on parts, and 1 year on labor.
Oh – and I didn't mention anything about step up height earlier, but the F63 only comes with an 8″ step up.
So, as long as you're ok stepping up an average sized step, you shouldn't have an issues getting on/off this treadmill.
Overall, the impressive performance specs and straightforward console make the F63 a great option for any senior looking for a quality treadmill. See full review.

#2 Horizon 7.0 AT
Horizon's another great brand with no-thrills cardio machines that perform very well for their respective price ranges.
I actually own their 7.8 AT and love it.
Anyway, the 7.0 AT is very similar to the F63 above, but it costs a little less and comes with an interesting dial feature for the controls.
You can basically adjust the speed and incline settings by turning a dial, as opposed to pushing "up/down" arrows – I know it sounds like a small thing, but I find it really convenient.
I think it makes it easier and faster to make adjustments, but again, it's a small thing.
The 7.0 AT comes with a 20″ x 60″ running surface and a 3.0 CHP motor that can reach a top speed of 12 mph and a top incline of 15%.
This is also a very heavy-duty treadmill that'll feel stable and secure during workouts and comes with a max weight limit of 325 lb.
The console on this treadmill is also remarkably easy to use, allowing you to simply hit "start" and off you go. It also comes with convenient quick touch buttons for the speed and incline settings.
But it's also bluetooth compatible with streaming apps, so if you do want to get your stream on, you can.
Horizon also offers a great warranty on this treadmill: lifetime frame/motor, 3 year parts, 1 year labor.
Overall, the 7.0 AT is another treadmill that would make a great option for seniors looking for an easy to use treadmill. See full review.
#3 Lifespan TR2000e Electric Folding Treadmill
I like the Lifespan TR2000e for seniors because of its electric folding mechanism – this is a really convenient feature that you don't see on many treadmills, even the more expensive ones.
As the name implies, this treadmill folds, but unlike most this treadmill will fold automatically with just the push of a button.
This is a great feature for seniors because they don't have to worry about bending over and fooling with folding the treadmill.
Simply push a button and the rest is taken care of.
Folding features aside, the TR2000e is a nice treadmill when it comes to performance as well.
With a running surface of 20″ x 56″, this treadmill is a little shorter, but most seniors should still have enough room for comfortable use.
And with a 2.5 CHP motor, this treadmill still has plenty of power for walking.


I also like the simplicity of the TR2000e's console. This treadmill actually has 21 built-in workouts, but it also has quickset buttons that make it easy to step on and start walking.
You can push the "quick start" button and off you go. It also has quickset buttons for speed and incline which makes it really easy for setting your preferences.
It also automatically counts your steps, which might come in handy for folks trying to track their daily movement.
Other highlights include an 8″ step-up height and a max weight limit of 300 lb.
The warranty on this treadmill isn't as generous as the models above, but it's not bad: 10 year frame, 2 year parts, 1 year labor.
Overall, the Lifespan TR2000e Electric Folding Treadmill has a lot to offer for seniors, especially ones that need an easy to fold option. See full review.

#4 NordicTrack T 6.5 S
NordicTrack's one of those brands that needs no introduction – they've been around forever and I assume we've all heard of 'em before.
Well, NordicTrack has gone all-in with fitness streaming these days and all of their new equipment comes with HD touchscreens and require monthly streaming fees to make the most of 'em.
But their older T 6.5 S does not.
Nope, this older model comes with a nice, straightforward LCD console that needs no streaming membership to use – and it also happens to be one of the best treadmills under $1k (for folks of all ages).
In terms of performance, the T 6.5 S comes with a 2.6 CHP motor and a 20″ x 55″ running surface.
It also comes with a max weight limit of 300 lb, a top speed of 10 mph, and a top incline of 10%.
The console on this treadmill is also very easy to use, coming with large "start" and "stop" buttons and convenient quick touch keys for both the speed and incline.
An interesting feature found on this treadmill is that it comes with an adjustable shock absorption system that lets you choose between a softer and more firm deck feeling.
It also comes with 20 pre-loaded workout profiles, so if you like the idea of having a lot of workout options, this could be a major perk.
The warranty isn't bad either, especially for a treadmill in this price range: 10 year frame, 2 year parts, 1 year labor.
Overall, I think the NordicTrack T 6.5 S treadmill is a great option for seniors. It has an easy to use console, large display screen, and adjustable cushioning system.
And at this price, this treadmill is tough to beat. See full review.

#5 Nautilus T618 Treadmill
Rounding out my list here is a treadmill by another brand that probably doesn't need much of an introduction.
And even though we don't hear much about Nautilus these days, they still offer some great fitness equipment that's very well priced.
The T618 is their highest-end treadmill to date and it comes with some great specs.
More specifically, we're talking a 20″ x 60″ running surface, a 3.5 CHP motor, and a sturdy frame that can hold folks weighing up to 350 lb.
It also comes with an easy to read LCD display that makes viewing all stats during workouts easy on the eyes and 26 built-in workouts to choose from.
There are also quick touch speed/incline buttons, as well as easy to access start/stop buttons.
Oh, and you can also control the speed/incline directly from the handrails, which is nice because it means you can make adjustments without having to let go of the rails (a nice safety feature).
Nautilus' warranty is no joke either: 15 year frame/motor, 5 year parts, and 2 year labor.
Another nice added feature I almost forgot is that Nautilus includes a strap heart rate monitor with purchase, making it easy to get accurate heart rate readings during workouts.
Overall, I think the T618 would make a great option for seniors looking for a high performing treadmill with lots of workout options. See full review.

Final Thoughts
Ok, I think that about does it.
It wasn't easy coming up with this list because there are a lot of great treadmills on the market right now and I had a hard time narrowing it down.
It ultimately came down to what I thought most seniors would be looking for out of a treadmill – a machine that's easy to use, dependable, and backed by a great warranty.
When looking for a treadmill, I encourage you to consider the running surface, motor strength, and warranties – these specs tell you a lot about a machine.
And if you're looking for a treadmill that's easy to use, I'd avoid touchscreens and streaming memberships – they can make things more complicated than they need to be.
Luckily, as I hope the above list illustrates, there are plenty of well-priced treadmills that check these boxes.
Anyway, I hope you found this guide helpful and maybe even a little entertaining.
And as always, if you have any questions or comments, please leave 'em below and I'll get right back to you.