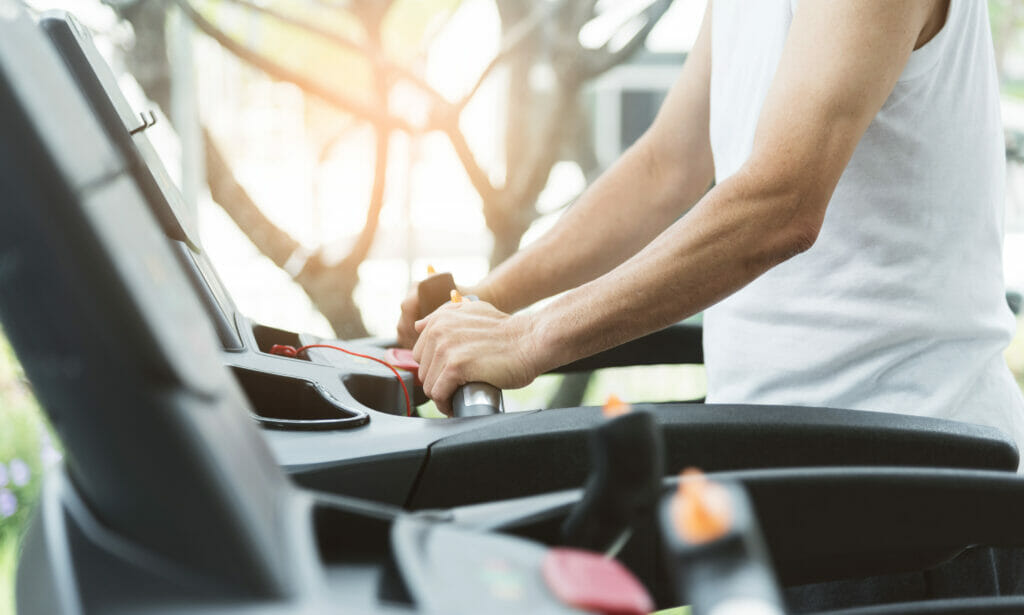 Training downhill on a treadmill is a great way to not only prepare for a road race, but also simply switch up a monotonous cardio routine.
And let's be real – using a treadmill can get real boring, real quick.
But as hi-tech and advanced as home treadmills have gotten these days, there still aren't a ton of options when it comes to decline features.
Brands seem to be too busy increasing their touchscreen console sizes and making sure we have access to 100,000 on-demand workouts instead.
Well, luckily there are still some great declining treadmills out there, you just have to know where to look and what to look for.
And I'm here to help.
In this guide, I'm going to go over what I consider to be the best declining treadmills currently on the market.
I'm also going to share what performance specs I think we should be comparing when choosing a new treadmill to begin with.
After reading, you'll know everything you need to in order to find the right declining treadmill for your home gym.
Decline
Running Surface
Motor
Warranty
Features
Price
#1 Sole TT8
-6%
22" x 60"
4.0 HP
3" rollers
Lifetime frame/motor
5 year parts
2 year labor
10" console
Bluetooth speakers
USB charging
$$
#2 NordicTrack Commercial X32i
-6%
22" x 65"
4.25 HP
2.5" rollers
10 year frame
2 year parts
1 year labor
32" HD console
40% incline
iFit

$$$
#3 LifeSpan TR5500iM
-2%
22" x 60"
4.0 HP
2.5" / 2" rollers
Lifetime frame/motor
5 year parts
1 year labor
10" console
13.5 mph top speed
50+ workouts

$$
#4 NordicTrack Commercial 2950
-3%
22" x 60"
4.25 HP
2.5" rollers
10 year frame
2 year parts
1 year labor
22" HD console
40+ workouts
iFit
$$
#5 ProForm Pro 2000
-3%
20" x 60"
3.25 HP
1.9" rollers
10 year frame
2 year parts
1 year labor
10" HD console
Bluetooth speakers
iFit
$
The 5 Best Treadmills That Decline
I realize that if you've found your way here and are reading this article, you probably already appreciate the benefits of running downhill, but I'm going to start with a real quick summary of why downhill training is beneficial anyway.
Sorry, it's the physical therapist in me…
The avid runners out there know that running downhill isn't as easy as one might think.
Yes, you get the advantage of your momentum helping you propel yourself, but running downhill is actually pretty challenging for the muscles in your legs.
Especially your quads.
When compared to running on flat ground (or uphill), running downhill requires a lot more eccentric control from the quads, meaning they're contracting as they lengthen.
Our bodies can handle far greater eccentric loads than concentric ones because in these situations, our muscles basically just have to control a force (instead of lifting it on their own).
Which makes eccentric training a great tool for strength training.
And running downhill is a potent eccentric strength training exercise for building stronger legs.
It's also a good way to mimic some of the real world situations you'll run into during outdoor races, pun intended.
And running downhill is quite different than running on flat surfaces when it comes to form and technique too.
When running downhill, you'll want to lean forward a little and take smaller strides, while aiming for a flatter, mid-foot strike (for more tips, check out this great downhill running article).
Ok, now that I got that out of my system, let's get to the good stuff.
#1 The Sole TT8
I'm a fan of pretty much everything Sole puts out, but when it comes to declining treadmills, their TT8 is kinda perfect.
This beast of a treadmill can reach a decline of 6%, as well as a max incline of 15%, giving you a lot of control over your training terrain.
But honestly, the incline capabilities aren't the most impressive feature on the TT8 – it's all the other over-built performance specs that set this model apart from most.
More specifically, this treadmill comes with a 22″ x 60″ running surface, a 4.0 HP motor, 3″ rollers, and a seriously heavy-duty frame (assembled weight 322 lb).
And even though Sole isn't known as being a particularly tech-savvy brand, the TT8 is no slouch when it comes to console features either.
Highlights include a 10″ LCD console, bluetooth speakers, USB charging, and a built-in cooling fan.
And Sole also happens to back the TT8 with one of the longest residential warranties in the biz, as well as a generous light-commercial warranty.
The only real downside to the TT8 is that it doesn't come with a ton of built-in workouts – it also doesn't fold, so if space is an issue, this might not be the best option.
But if you're looking for a no-BS treadmill that's built to perform, Sole's TT8 is the best declining treadmill around. See full review.

#2 The NordicTrack Commercial X32i
If you're looking for a more advanced console with streaming capabilities, NordicTrack's Commercial X32i might be more your speed.
It's hard to miss the 32″ HD touchscreen console on this behemoth (32″… that's insane!), but the X32i scores highly when it comes to performance too.
Now this treadmill is known more for it's ridiculous inclining capabilities than anything else (max of 40%), but it can also reach an impressive decline of 6%.
And it also comes with a strong, 4.25 CHP motor, a 22″ x 65″ running surface, and large, 2.5″ rollers.
All those performance specs are good, but let's get back to that 32″ console sitting up front and center – this the largest screen I've ever seen on a fitness machine (I'm not sure how they could get any bigger at this point).
That screen is there because the X32i is designed to pair with NordicTrack's streaming platform iFit.
Through iFit, you get access to thousands of workouts of all varieties, scenic runs, metric tracking, and the whole shebang, but there is a monthly fee to enjoy all these perks.
NordicTrack's warranty isn't as good as Sole's, but it's not bad either- 10 year frame, 2 year parts, 1 year labor.
The biggest downside to the X32i, other than the rather steep asking price, is how large this machine – you need a fairly generous plot of real estate to put this thing.
But if you're looking for a hi-tech treadmill that can reach crazy incline and decline angles, the X32i is a smart bet.

#3 The LifeSpan TR5500iM
I'm not sure LifeSpan gets the respect they deserve.
Maybe I'm wrong, but as a brand, it feels like they get forgotten about these days, what with all the streaming machines and all the bells and whistles…
LifeSpan is certainly understated – they don't have quite as much style and charisma as some of the other brands on this list, but when you stop and compare their specs, they can hang with the best of 'em.
The TR5500iM is their highest-end model marketed for home use and priced similarly to the TT8 above.
This treadmill doesn't offer as much decline as the 2 treadmills above (only 2 levels), but it scores highly with a 4.0 HP motor, a 22″ x 60″ running surface, and a max weight limit of 350 lb.
And the gifted runners out there will appreciate that the TR5500iM is faster than most home models, boasting a top speed of 13.5 mph.
The 10″ touchscreen console looks small compared to the giant found on the X32i, but it makes selecting your workouts and viewing all workout stats easy.
You can also screencast YouTube videos from your phone to the console for added entertainment.
Something else worth noting is that the TR5500iM comes with over 50 built-in workouts, so getting bored with the same old routine shouldn't be an issue here.
LifeSpan also backs this treadmill with a great warranty: lifetime frame/motor, 5 year parts, 1 year labor.
Overall, if you're looking for a quality declining treadmill and don't want to commit to monthly streaming payments, LifeSpan's TR5500iM is worth checking out. See full review.

#4 The NordicTrack Commercial 2950
NordicTrack offers several declining treadmills, giving you a few different options to choose from.
It actually wouldn't surprise me if they were one of the first brands of offer this feature – it kinda sounds like something NordicTrack would come up with.
Either way, the Commercial 2950 is still one of the best overall treadmills around.
This model can reach a 3% decline, which is about as much as most will want anyway, but it comes with some other great performance specs too.
Highlights include a 4.25 HP motor, 2.5″ rollers, a 22″ x 60″ running surface, a folding deck, and a comfortable shock absorbing system.
This being NordicTrack, the 2950 also comes with a large HD touchscreen console designed to pair with iFit, but this one's a respectable 22″.
iFit isn't mandatory though, and with 40 or so built-in workouts to choose from, you'll have plenty go keep ya busy whether you sign up for the streaming service or not.
NordicTracks backs this treadmill with the same decent warranty they provide on all their machines.
And now that NordicTrack has brought out newer models, you can find some great deals on the Commercial 2950.
Overall, if you like the idea of going with a streaming treadmill, few declining models offer a better bargain than the 2950. See full review.

#5 The ProForm Pro 2000
Finishing up our list here is an affordable treadmill from another well-known brand.
And here's a little fact for ya – ProForm and NordicTrack are owned by the same parent company, ICON Health & Fitness.
This is why ProForm and NordicTrack machines use the same streaming platform.
Moving on, the Pro 2000 has been around for awhile, but it's still a popular treadmill because it's full of cool features and comes with some legit specs for a treadmill in this price range.
Speaking of price, at the time of writing this, this model is on sale for around $1300 on Amazon, making it by far the most affordable model on this list.
The Pro 2000 comes with a power incline that can range between -3 – 12%, which is something you don't normally see on a treadmill this affordable.
It also comes with a 20″ x 60″ running surface, a 3.25 CHP motor, 1.9″ rollers, and a weight limit of 300 lb.
When it comes to features, the Pro 2000 is packing a 10″ HD touchscreen console, bluetooth speakers, quick touch speed/incline buttons and an EasyLift folding deck.
That console is designed for iFit of course, but that again, that's optional.
And ProForm backs their Pro 2000 with the same 10 year frame, 2 year part, and 1 year labor warranty that NordicTrack uses.
The biggest downside to this treadmill is that it isn't as powerful and heavy-duty as the previous models, but it doesn't cost nearly as much either.
If you're looking for a declining treadmill that takes it easy on the budget, the Pro 2000 is a smart bet. See full review.

Finding The Best Treadmill
Ultimately, what we're looking for in a treadmill can vary depending on the type of features and workouts we're interested in, but there's still some gold standard performance spec info you really should consider before purchasing.
Looking at this stuff might not be as interesting as comparing console sizes and bluetooth features, but in the long run it'll give you a better chance of being happy with your treadmill's performance.
And let's be real, if your treadmill breaks down or can't keep up with ya, it's not gonna matter how big that screen is.
So, when comparing treadmills (with or without a decline feature), there are a few key things to compare.
Here's a quick cheat sheet, but you can check out my full treadmill guide for a more in-depth discussion:
Running Surface
This spec tells you how how much room you'll have to work with during your workouts and should never be overlooked.
Having extra wiggle room with the width makes for a more comfortable experience, but if the deck isn't long enough, you could find yourself having to shorten your stride when running at faster speeds.
Most higher-end home treadmills are coming with a 20″ x 60″ running surface or larger these days.
And many are offering a wider, 22″ running surface as well.
If you're shorter, or only planning on walking, going with a shorter, 55″ long running surface can be fine too, but I wouldn't suggest going any smaller.
Motor
When comparing treadmills, it makes sense to compare the strength and capabilities of the motors.
Most home treadmills come with DC motors, but if you're working with a higher budget, AC motors could be on the table too.
AC motors are more expensive because they run more efficiently, allowing them to run for longer periods, which comes in handy for multiple users each day.
This is why most commercial treadmills use AC motors.
When comparing DC motors to DC motors, you'll want to compare horsepower.
This rule isn't written in stone, but when in doubt, I say go with the stronger motor.
A stronger motor will be able to get the job done without having to work quite as hard, which should make for a smoother feel.
Stronger motors can also accelerate faster than weaker ones, which is nice when doing sprinting intervals.
Most home treadmills come with motors in the 2 – 4 HP range; if you plan on running, I'd go with one packing at least a 3 HP  motor.
Rollers
The rollers are the parts that allow the belt to move across the deck and having larger ones is a good thing.
Larger rollers make more surface contact with the belt, which makes for smoother belt action, but it also puts less stress on the rollers and belt too.
Most home treadmills come with rollers somewhere between 1.9″ and 3″, which most higher-end models using rollers in the 2.5″ range.
Some treadmills have different sized rollers in the front and back; many are also tapered, which help keep the belt centered on the rollers.
When comparing treadmills, if all else is equal, go with the one with bigger rollers.
Assembled Weight/Weight Capacity
This spec might not sound as obvious, but I promise it's an important one.
Looking at a treadmill's assembled weight can give you a good idea as to how heavy-duty or stable it's going to feel.
Heavier treadmills are going to feel more secure and more commercial like, meaning they won't move or vibrate as much during workouts.
Not all brands share this spec willingly, but it's worth the effort it takes to find out.
Quality home treadmills should weigh over 200 lb, with the best options often weighing 300 lb+.
The weight limit also gives you an idea as to the overall build quality of the machine, with higher limits being a good thing and indicative of superior craftsmanship.
Quality treadmills should come with at least a 300 lb weight limit, with some going up as high as 400 lb+.
Warranty
And lastly, the warranty.
I know the warranty is pretty dull to think about, but it can tell you a lot about the machine and brand.
Simply put – better treadmills usually come with longer warranties.
This also corresponds with price of course, with more expensive treadmills often coming with longer warranties, but rule isn't written in stone either.
Treadmill warranties are often divided into the frame, parts, and labor.
The frame warranty should be the longest and many top brands offer a lifetime frame guarantee.
When it comes to parts, 2-3 years is average, with anything longer being exceptional.
One year is average for labor, although some brands will offer 2.
Final Thoughts
Alright, that about does it.
If you ask me, the above treadmills repress the best options when it comes to decline capabilities.
Again, you don't see a lot of treadmills that are able to decline, but training downhill can be a powerful training tool to improving your overall performance.
Running downhill can be a great way to improve lower body strength, as well as prepare for running conditions you'll likely face during a road race.
When comparing these (or any) treadmills, I encourage you to focus on those performance specs, while considering which console features you like.
I hope you found this guide helpful and entertaining.
As always, if you have any questions, comments, or know of a treadmill that deserves a spot on this list, please leave 'em below and I'll get right back to ya.