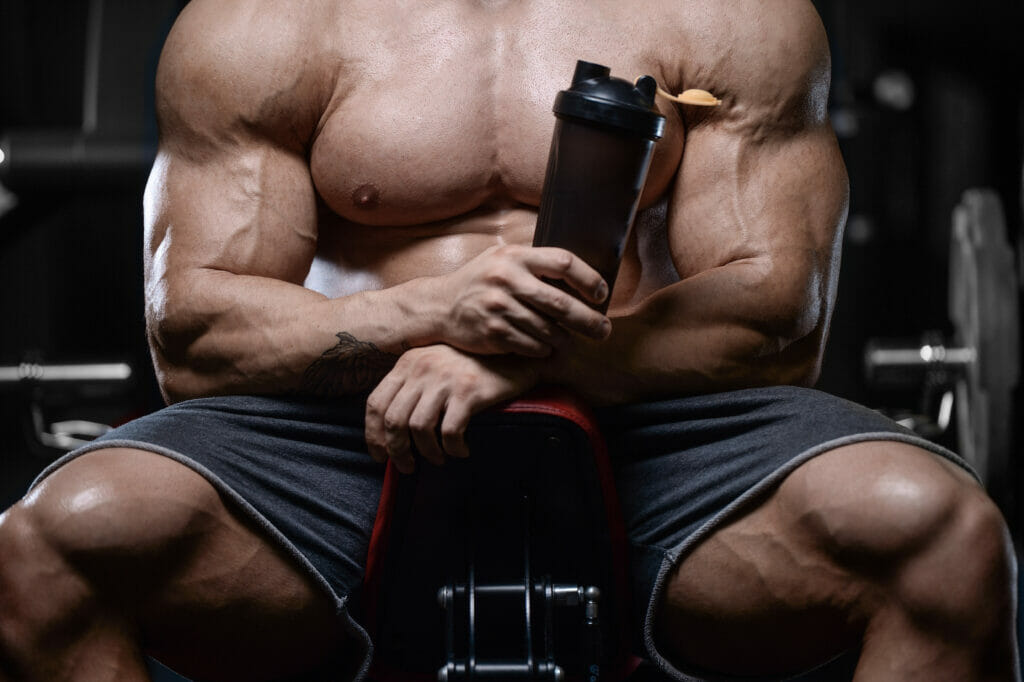 Force USA's G12 All-In-One Trainer combines the functions of a power rack, a Smith machine, and a functional trainer all into a single, fairly compact home gym machine.
They also throw in a dozen or so attachments, including a dip station, landmine station, and a vertical leg press attachment for an insane amount of workout variety.
Oh yeah, there's also a pair of 200 lb weight stacks included for the functional trainer, allowing you to conveniently adjust the resistance without having to switch out plates.
Add all this up and you've got the makings for one of the best all-in-one home gyms on the planet.
If you can't tell, I think the G12 is a pretty awesome gym, but this machine is far from cheap.
The real question is whether or not it's worth the investment.
And that's what I'm here to help you answer.
In this review, I'll go over all the in's and out's that make up the G12. I'll also discuss the advantages and disadvantages of investing in a system like this.
After reading, you should know everything you need to in order to decide whether or not the G12 is worth investing in.
Let's begin.
The Force USA G12 All-In-One Trainer
Force USA specializes in these combination home gym machines. They have a bunch of other bar and accessories to choose from, but I get the impression their all-in-one trainers are the real star of the show.
They've got 5 G-series machines to choose from and they vary greatly in terms of price and features.
On the low end of the scale, there's the weight plate loaded G3 and G9, which don't come with any included weight stacks.
On the higher-end are the G6, G12, and G20, all of which include dual weight stacks that are used with the functional trainers.
When comparing the different trainers, you'll find subtle differences, like pulley ratios and the addition of counterbalanced Smith bars.
The accessories that are included will also vary a little depending on the model.
Starting out with the G3 and working your way up, there's about a $1000 difference every time you go up to the next model, so it's important to pay attention to the smaller details when comparing.
The G12 is Force USA's second most elite gym machine (with only the commercial grade G20 being higher end) and will cost ya about $4500 before taking into account possible assembly costs (but more on that later).
But at least you get free shipping and can save an extra 5% by using the promo code "HOMEGYM5".
I figure the easiest way to organize this review would be to talk about each station separately, so I hope that works for you too.
That said, I want to start with a few thoughts on the frame.
Pros
Ton of workout variety
Fairly compact footprint
992 lb weight limit on power rack
772 lb weight limit on Smith machine
Counterbalanced Smith bar
Dual 200 lb weight stacks for functional trainer
1:1 pulley ratio
Vertical leg press attachment included
Multi-grip dip handles included
Land mine station
Ton of additional attachments/accessories included
Great warranty
Cons
Expensive
Challenging assembly
Bench/barbell not included
Frame
Most of these combo home gym machines don't provide the details regarding the gauge of steel being used for the frames.
This detail isn't crucial, as long as they provide the max weight capacities, but I still like think it's a good idea to consider it, so here ya go.
Force doesn't specify the gauge of steel used on the G12 (or any of their more affordable models either), but I think it's a pretty safe assumption that it's 12-gauge.
I say this, because 12-gauge is more affordable than the thicker 11-gauge steel they use for their heavier-duty G20 (which they make an effort to advertise).
Again, not a big deal to me, just know that 12-gauge systems aren't going to be quite as heavy-duty or sturdy as 11-gauge frames.
The G12 requires a floor space of a little under 7′ x 5′ to fit properly, but keep in mind you'll want a few extra feet in every direction to make sure you have enough room to access plates and move around comfortably.
And even though it's only about 7.5′ tall, you'll need a ceiling height of 8'3″ if you plan on doing pull ups (without banging your head into the ceiling that is).
Looking at these dimensions, the G12 obviously takes up more space than your typical treadmill, but considering how much exercise variety it offers, I still think it's pretty compact.
Power Rack
The power rack portion of the G12 allows you to do all the free weight exercises you want to using a barbell.
You can adjust the J-hooks along the uprights to comfortably perform any bench or shoulder press variety you prefer, as well as set the bar for comfortable squatting for users of all heights.
Force USA includes a pair of spotter arms too, ensuring you can safely lift by yourself as well.
The power rack station on the G12 comes with a max weight capacity of 992 lb, which is really high for a combo unit like this.
That said, you super-humans out there that can lift more than that will have to go with a heavier-duty rack.
The only thing missing from the power rack station is Westside hole spacing, which comes in especially handy for fine tuning the bar position for bench pressing.
Considering the price of the G12, I don't think it would've been asking too much for Force to include this feature, but instead they saved it for the G20 (surprisingly, the affordable G3 also has this feature).
Overall though, the power rack on the G12 scores highly with its high weight capacity and it's nice that they include all the attachments you'll need to start using it.
Smith Machine
I know a lot of old school lifters out there frown upon the use of Smith machines, but I love 'em.
A quality Smith machine allows you to lift safely and comfortably without a spotter, which is great for the folks out there that are like me and are usually exercising alone.
The Smith machine portion of the G12 comes with a 772 lb weight limit, which far exceeds the 300 – 600 lb limit found on most combo trainers.
The Smith bar is compatible with Olympic plates (none included, fyi) and the rotating safety latches make it easy to lock the bar along the uprights.
There are also included safety stops that can be set along the uprights to catch the bar in case you lose control- another key feature for folks lifting by themselves.
Something worth noting is that the G12 comes with a counterbalanced Smith machine- this means there's a little pulley attached to the bar that eliminates the weight of the bar during lifts.
This is good because it makes for a smoother bar action and it also allows you to do lifts against very little resistance, just keep in mind you won't add the bar weight when calculating how much weight you're lifting.
Otherwise, you can do pretty much any exercise on a Smith machine that you could do on a power rack, but the fixed bar makes 'em a little easier.
And the included vertical leg press attachment allows you to do the popular leg exercise without having to purchase an additional bulky attachment.
Overall, the Smith machine on the G12 can hold more weight than most and just adds another layer of versatility to your workouts.
Functional Trainer
A functional trainer is basically just a fancy term for a set of adjustable pulleys. You can buy stand alone functional trainers too, but you'll also find 'em included with many other gym systems like this.
And they're really versatile.
There are all kinds of exercise you can do with a quality set of pulleys. You can mimic any lifting, pushing, or pulling movement you want, not to mention all the isolation moves.
The G12 comes with 2, 200 lb weight stacks that provide the resistance for the pulleys (1 stack per pulley).
This in itself is a great feature, but what differentiates the G12 from the G6 is that the pulleys here come with a 1:1 ratio, meaning you're actually lifting the amount of weight you select on the stack.
Many functional trainers come with a 2:1 ratio, meaning you're lifting half the weight selected (100 lb on the stack feels like 50 lb).
This means the G12 is capable of offering up to 200 lb per arm on the functional trainer, which is a ton of resistance if you ask me.
This makes the G12 a great option for lifters who are looking for more resistance from their pulley system.
The pulleys are attached to the same uprights that are used for the power rack, so you might have to remove the J-hooks when adjusting the pulleys.
Attachments
I mentioned earlier that Force USA is very generous with the attachments they include. Well, time to get more specific. Here's a list of comes with the G12:
Multi-grip pull up bar
Pair of J-hooks
Pair of spotter arms
Land mine station (with handle)
Dip attachment bar (multi-grip)
Leg press attachment (for Smith machine)
Functional training bar
Lat pull down bar
Small grip bar
Pair of nylon stirrup handles
Pull down rope
Knee stabilizer for lat pull downs
Low row foot plate
Suspension trainer attachment area
Barbell storage
Attachment storage
Exercise chart
Olympic lock collars (x2)
Weight plate holders (x6)
Olympic spring clips (x6)
Extension chains (x2)
Spring snap clips (x4)
Yeah, that's a ton of stuff.
It's nice that Force includes all the clips to help keep the weight plates securely on the barbell, but it would be nice if they also included a barbell with purchase.
You'll also notice that a bench isn't included, so one would have to purchased separately.
The land mine station, dip attachment, and vertical leg press attachment are the stars of the show here for me- these accessories add a lot of workout variety.
Overall, it would be nice if a barbell and bench were included, but Force throws in everything else you'll need to get started on the right track from day 1.
Warranty
Force USA backs the G12 All-In-One Trainer with the following residential warranty:
Lifetime frame
2 year pulleys and cables
90 day wear items (attachments)
Overall, I think this is a great warranty. You can't beat a lifetime frame guarantee and 2 years on the pulleys and cables is pretty fair (although they should last a lot longer than that).
90 days on wear items isn't much, but that's pretty par for the course.
All things considered, I think Force USA does a nice job with their warranties.
Final Thoughts
Ok, so that's about all I got when it comes to the G12.
I think it's pretty easy to say this home gym has a lot to offer. I mean with the power rack, Smith machine, and functional trainer, there really isn't a strength training exercise you can't perform with this machine.
Especially when you consider all the attachments that come with it (as well as the ability to attach a suspension trainer to it).
The real question is whether or not it's worth $5k.
In terms of quality and features, I would say the G12 is of the caliber we should expect from a machine in this price range, especially when looking at the comps.
French Fitness' FSR90 is probably one of the G12's biggest competitors and it costs about a $1k less- it comes with comparable attachments, but the weight capacities are lower and it comes with a 2:1 pulley ratio.
The FSR90 doesn't come with a lifetime frame guarantee either.
If you're looking for a combo gym that can provide a lot of resistance, I think the G12 is worth investing in because I haven't come across any that can hold more weight or provide more resistance through the functional trainer.
That said, if you don't need upwards of 200 lb per pulley, you can save some serious cash and go with Force's G6.
The G6 also comes with dual weight stacks (220 lb each), but has a 2:1 pulley ratio, so it'll only feel like upwards of 110 lb per side.
The Smith machine on the G6 also isn't counterbalanced, but if you ask me, that isn't that big of a deal either way.
Overall, I think the G12 is a great home gym machine and probably worth the investment for serious lifters.
But if you won't need quite as much resistance on the pulleys, the G6 is probably the better buy.
P.S. – use the promo code HOMEGYM5 for an extra 5% off.