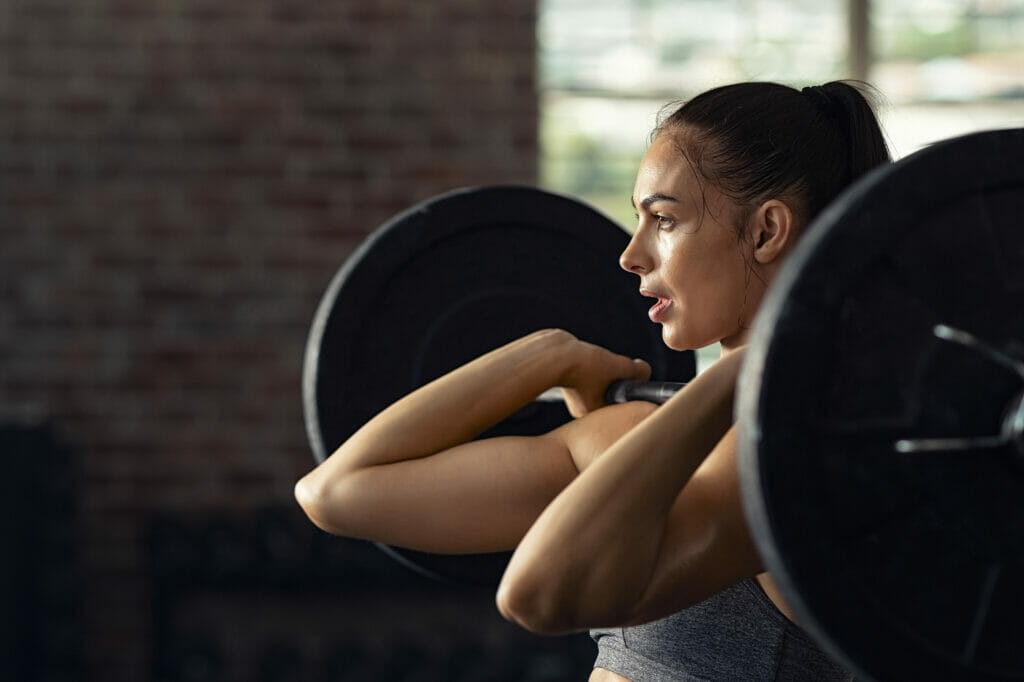 Force USA's G9 All-In-One Trainer is designed to combine a power rack, a Smith machine, and a functional trainer all into a single, fairly compact unit.
Add in a dozen or so attachments and built-in storage and you've got the makings for a highly effective strength trainer that can act as a stand alone home gym.
The G9 also happens to be backed by a lifetime frame warranty, which is a nice little bonus.
Long-story-short: if you're looking for a plate loaded all-in-one trainer, the G9 is one of the best options out there- few can compete with the exercise variety this gym machine offers.
If you're interested in the longer story, you'll have to keep reading.
In this review, I'll discuss everything the G9 does and doesn't have going for it. After reading, you'll know whether or not this is the right home gym for your home gym.
The G9 is no longer being offered by Force USA, but their upgraded G10 Pro is available for the same price, making it a good alternative.
The Force USA G9 All-In-One Trainer
Force USA offers a bunch of weight lifting accessories, like bars, benches, and bumper plates (I love alliteration), but I think it's their All-In-One Trainers that really put them on the map.
There's also their affordable MyRack which is pretty popular, but I stand by my original statement.
Anyway, these combo trainers are fairly unique because there just aren't that many in this price range that can do what they do.
There are a few cheaper varieties from other brands, but they can't hold nearly the weight that the Force USA trainers can hold, but that's a story for another day.
Back to what we're here to talk about, the G9.
The G9 is one of 2 plate loaded trainers in Force USA's lineup, with the other being the more affordable G3.
The G9 is an upgraded version of the G3, coming with a few more attachments and a different pulley ratio on the functional trainer, but more on that in a bit.
Force USA also offer a few trainers that come with weight stacks for the functional training stations for additional cost, which are more convenient if you have the funds.
Speaking of cost, at the time of writing this, the G9 goes for about $3000 (but prices change, so don't hate me if that isn't 100% accurate by the time you read this).
Pros
Ton of workout variety
Power rack station
Smith machine station
Multi-grip pull up bar
Fairly high weight capacities
Functional trainer with 1:1 pulley ratio
Dual adjustable pulleys
Comes with lots of attachments
Includes vertical leg press attachment
Dip station included
Land mine station included
Barbell storage
Weight plate storage
Fairly compact
Good warranty
Cons
Challenging assembly
Bench/barbell not included
Frame
When looking at squat or power racks, I think it's a good idea to consider what kind of steel is being used to construct them.
The most notable specs to look at when doing this are the size of the uprights and the thickness (or gauge) of the steel.
Having larger uprights is a good thing, because it makes for a stronger frame (and by "larger", I'm talking about the physical dimensions of the upright posts).
Many traditional home power racks come with 2″x2″ uprights, although the best power racks will come with larger, 3″x3″ uprights for even more load bearing capacity.
And when it comes to gauge, remember that smaller numbers are better because they indicate thicker steel.
All of this said, the G9 isn't just a power rack, it's a combo unit that includes a power rack feature. So I'm not sure it's fair to judge it by the same standards we would with other power racks…but I'm going to anyway.
Force USA doesn't provide the specifics regarding the gauge of steel and size of the uprights, which is a bummer.
They only provide that info for their most expensive trainer, the G20, which they make sure to note uses 11-gauge steel. This leads to me to think that the other trainers use 12-gauge steel.
Which isn't a bad thing really, but it's not as tough as the thicker 11-gauge steel found in the higher-end racks.
I can't find the dimensions of the uprights either, but best case, they look to be 2″ x 2″ to me. Again, I don't have these numbers to back this up, but I'm making a few assumptions.
Force does provide the max weight limits for the different components of the gym, which is what's most important, so I won't hold any of this against them (I'll provide these numbers in the following sections).
I also want to point out that you need a floor space of roughly 7′ x 5′ to fit the G9, as well as a minimum ceiling height of 8'3″ (if you plan on doing full pull ups, that is).
Overall, when it comes to the structural integrity of the frame, the G9 isn't as heavy-duty as the higher-end power racks (which will be evident when we talk weight capacities), but it should be tough enough to handle the weights most of use mortals would be racking on it.
Power Rack
Ok, let's talk about the different components of this trainer individually.
I hope that section above wasn't too confusing, I fear my thoughts were a bit rambling there- if it was, I apologize, but I think the following sections will make more sense.
The power rack station on the G9 allows you to do all the barbell exercises you can think of. We're talking, squats, bench presses, overhead presses, etc.
Technically, the G9 functions more like a squat stand, since you can't actually use the barbell inside the cage, but that's more semantics.
The G9 comes with the J-hooks and spotter arms you'll need to adjust the height of the barbell along the uprights.
The holes are spaced out around 2″ along the height of each upright, so there are plenty of positions to choose from, but unlike the G3, the G9 doesn't come with Westside spacing.
The power rack portion of the G9 is rated for a max capacity of 992 lb.
This is impressive, and a lot more than someone like myself would ever need, but for the sake of comparison, there are a lot of heavier-duty power racks that can hold 1,000 – 2,000 lb.
These racks don't come with all of the other features though.
Overall, the G9 isn't the best option for hardcore power lifters who can put over 900 lb on the bar, but for the rest of us the power rack on this trainer should suffice just fine.
Smith Machine
I'm a big fan of Smith machines because they allow you to perform a lot of barbell exercises safely by yourself.
Having the barbell attached to the rail ensures you won't lose control of the bar and the built in safety latches allow you to lock the bar in case you can't complete the lift.
It's like having a built-in spotter at all times.
Users agree the Smith machine on the G9 moves smoothly and is easy to adjust during workouts.
The bar is also counterbalanced, which some might like, but others might not.
A counterbalanced bar means there are small weights and a pulley that essentially eliminate the weight of the bar during your lifts.
This makes for a very smooth acting Smith machine and it allows you to work against really light weight for certain lifts, but it also means you aren't lifting the weight of the bar.
When lifting with the Smith machine, you won't include the extra 35 or 45 lb from the bar, like you would when working with a free barbell.
Folks used to lifting free weights might not like this, but it does technically make the math a little easier when adding up how much weight you're lifting.
The Smith machine on the G9 has a max weight capacity of 772 lb, which again is pretty darn good for most of us.
Overall, the Smith machine on this trainer is counterbalanced for extra smooth operation and comes with a very high weight capacity.
Functional Trainer
A functional trainer is just a fancy term for a pair of adjustable pulleys.
As simple as these devices are, they are incredibly versatile when it comes to strengthening exercises.
You can do pretty much any exercise you can think of with a quality functional trainer, including all kinds of lifting, twisting, and sport specific movements (hence the name "functional" trainer).
Many functional trainers use weight stacks for the resistance, but the G9 uses weight plates (none of which are included by the way).
There are 2 adjustable pulleys on the G9, each with 16 different positions.
The posts that you place the weight plates on for the functional trainer are each 12″ long, meaning you could fit a max of 12 2″ plates (6 on each side) on it, giving you a ton of resistance to work against.
Something worth noting is that the G9 uses a 1:1 pulley ratio, meaning that lifting 50 lb feels like lifting 50 lb.
Many functional trainers (the G3 included) use a 2:1 ratio, where you're actually lifting half the weight that's stacked.
This is a great feature because it means you can lift some serious weight through the G9's functional trainer feature.
The cables are rated to withstand 2,000 lb of force, which is great, but actually standard for all these types of machines.
Overall, having to rack plates on the functional trainer might seem less convenient that a weight stack (and it is), but it also allows you to load a lot more weight than you could with a weight stack.
And that 1:1 pulley ratio means you're lifting against every pound you rack.
Attachments
One of the best parts of going with a Force USA trainer is that they're very generous with the attachments and accessories that they include with purchase.
Here's a quick review of all the attachments included with the G9:
Multi-grip pull up bar
Suspension trainer ring (allows you to hook up a TRX)
Pair of J-hooks
Pair of spotter arms
Land mine station & handle (great for barbell rotational moves)
Functional training bar
Lat pull down bar
Small grip bar
Pair of standard handles
Pull down rope
Dip attachment
Leg press attachment
Pull down knee holder
Low row foot plate
Barbell holder
Storage for attachments
6 weight plate holders
Olympic spring clips x6
1 extension chain
Spring snap clips x2
Yeah, that's a lot of stuff.
The leg press attachment allows you to perform a vertical leg press with the Smith machine- pretty cool feature.
I also like that the G9 comes with an included dip attachment that can be adjusted for height and grip width- after all, dips are one of the best strengthening moves out there.
The only thing this gym doesn't come with is a barbell for the power rack and a bench. If Force decided to start throwing in an adjustable bench, the G9 might be the perfect home gym system.
Oh, keep in mind no weight plates are included either, you'll have to purchase them separately.
Warranty
Force USA backs their G9 All-In-One Trainer with the following warranty:
Lifetime frame
2 year cable and pulleys
90 day wear items
All things considered, I think this is a good warranty for this home gym system.
The lifetime frame guarantee is better than the 10 year warranty some brands offer. Two years on the cables and pulleys is pretty average (and you shouldn't have to worry about them breaking down that fast anyway).
90 days on the wear items is also standard operating procedure.
Overall, a solid guarantee.
Final Thoughts
Ok, that's about all I got when it comes to the G9.
I'm impressed with how much exercise variety this trainer can provide. I can't think of a strength training exercise you couldn't do with this system.
Combining a power rack, a Smith machine, and a functional trainer covers most of your bases right off the bat, but there's also a pull up bar, a land mine station, and an area where you can connect a suspension trainer.
I'm also impressed with how many attachments and accessories Force includes with the G9- this gym comes with everything you need to get going on the right foot.
Considering how much stuff this machine comes with, I think it's priced pretty fairly at around $3k too.
But if you're looking for a more affordable option, you should check out Force's G3 Trainer– it's very similar to the G9, but doesn't come with the dip attachment and the leg press attachment.
The biggest downside I see to getting the G9 is the assembly process- to put it bluntly, it would be a pain in the ass to build this machine.
Personally, I think it would be worth it to invest in professional assembly, but to each their own.
Overall though, I think the G9 is a very nice all-in-one trainer for the cost. Highly recommended.
P.S. – use the promo code HOMEGYM5 for an extra 5% off.
The G9 is no longer being offered by Force USA, but their upgraded G10 Pro is available for the same price, making it a good alternative.