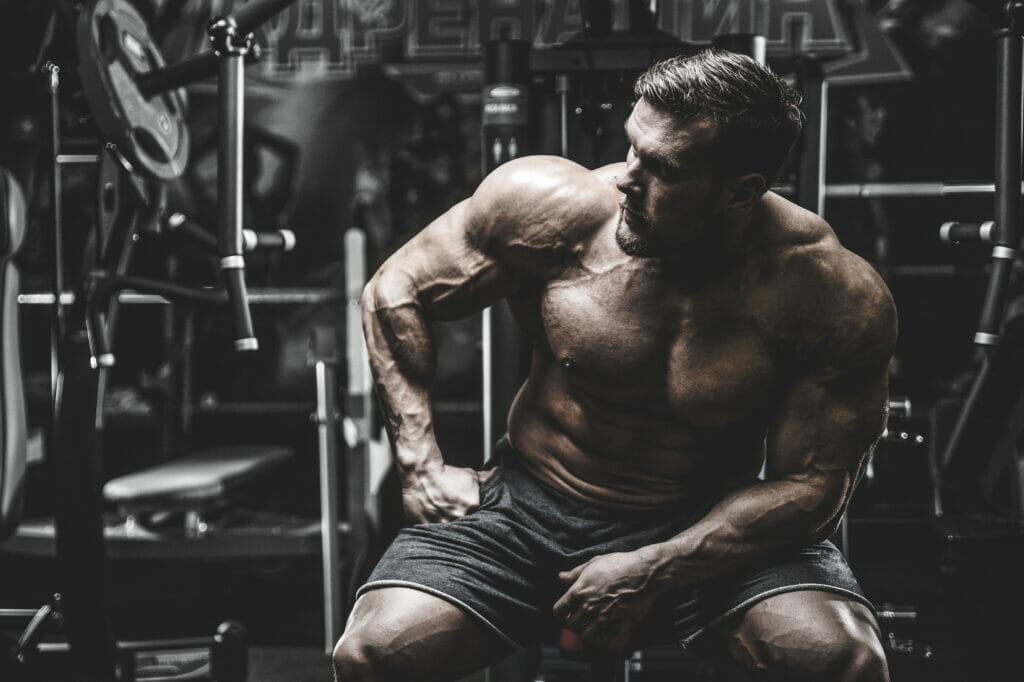 The G20 is Force USA's highest-end all-in-one trainer to date.
Like all of their other trainers, the G20 combines the functions of a power rack, Smith machine, and a functional trainer into a single machine, but it also comes with a few significant upgrades.
The most notable of which are an 11-gauge steel frame, dual 289 lb weight stacks, and Westside hole spacing on the power rack.
Force also includes a few dozen attachments, allowing you to perform hundreds of exercises with the G20 from day one.
This beast is also compatible with an optional lat row station that can be added to give you a 3rd weight stack, allowing multiple users to easily workout at the same time.
Overall, the G20 is a commercial grade fitness machine designed with serious lifters in mind. If you did purchase, it would likely be the last piece of equipment you ever buy.
That said, I think it's probably more gym than most home-gymers need… but I'm getting ahead of myself.
In this review, I'll go over everything the G20 has to offer, as well as the areas where it falls a bit short.
After reading, you'll know everything you need to in order to decide for yourself whether or not it's worth investing in.
The Force USA G20 All-In-One Trainer
Force USA is a respected brand that's made a name for themselves with their quality strength training gear.
They offer a lot of bars, weights, and accessories to choose from, but it's their all-in-one trainers that are the real stars of the show.
Well, their affordable MyRack is really popular too (it's actually one of the best power racks around if you ask me).
Anyway, Force offers a handful of all-in-one trainers to choose from and they vary greatly in terms of price and features.
On the low end, there's the weight plate loaded G3, that doesn't come with any weight stacks, and on the high end there's the G20 we're here to discuss.
The G6 and G12 also come with dual weight stacks for the functional trainer, but if you compare them you'll notice subtle differences in their specs.
Not only do the included attachments vary, but the pulley ratios vary too (with the more expensive models utilizing a 1:1 ratio).
As you go up the chain, there's about a $1000 increase in price every time you go to a more advanced model.
The G20 comes with an asking price of roughly $7000, making it Force's most expensive machine to date (as well as a sizable investment for any home gym).
Pros
Ridiculous amount of exercise variety
11-gauge steel frame
Westside spacing on power rack
J-hooks and safety bars included
992 lb weight capacity on power rack
794 lb weight capacity on Smith machine
High lockout position for Smith bar
Dual 289 lb weight stacks
1:1 pulley ratio for functional trainer
Ton of handles and attachments included
3 different pull up stations
Land mine station
Vertical leg press attachment included
Additional lat pulldown station compatible
Can accommodate multiple users at the same time
Good warranty
Cons
Expensive
Difficult assembly
Smith bar not counterbalanced
Frame
The G20 isn't any wider than the other Force trainers, but it is quite a bit deeper, giving you more room to work with inside the power rack.
This is a good thing when it comes to comfort, but it could be a problem if you're working with limited floor space.
As I write this, I feel I should point out that the G20 isn't a great option for homes with limited floor space. This machine takes up a footprint of roughly 6.5′ x 6′, but you'll also need additional space to move around, grab weights, and exercise.
I actually think this is pretty compact considering what this gym has to offer, but keep in mind this doesn't include the dimensions of a bench either.
Anyway, if you're considering the G20, just make sure you have plenty of dedicated space for it.
One of the biggest differences between this model and all the other trainers is that the G20 comes with an 11-gauge steel frame.
Force doesn't mention the gauge of steel for their other 4 trainers, so I have to assume it's 12-gauge.
Remember that when it comes to steel gauges, a lower number indicates thicker metal.
So that means the G20 comes with a thicker, heavier-duty base than any of the other trainers.
The G20 also comes with the ability to be bolted down to the floor for added stability, which is a great feature if multiple people will be using at the same time.
Power Rack
The power rack portion of the G20 isn't that much different than any of the other models- of course that says more for the other models, doesn't it?
Well, I take that back- the power rack on this trainer is constructed out of the heavier-duty 11-gauge steel, which in itself is fairly significant.
This power rack also comes with Westside spacing, giving you 51 different height positions to use at your disposal when selecting where to place your J-hooks.
Like with the other Force trainers, J-hooks and safety bars are included, but unlike the other models, Force also throws in a Monolift, which is pretty cool.
(The Monolift places the barbell a little farther forward, making it easier to lift off with exercises like bench and squat- it can come in especially handy when lifting heavy weight, because you don't have to step away from the rack to start your lift).
The power rack on the G20 has a max weight capacity of 992 lb, which is impressive for a combo unit like this, although all of Force's more affordable trainers also come with this weight limit.
Overall, the power rack on the G20 is heavy-duty and the Westside hole spacing allows for comfortable barbell placement regardless of height or exercise being performed.
Smith Machine
The Smith machine portion of the G20 can be used to really do any of the barbell exercises you would do with the power rack, but having the bar attached makes things a little safer (and easier) when lifting alone.
Users agree the bar glides smoothly along the rails (thanks in part to the ball bearings) and with 14 height adjustments it's easy to find a comfortable bar placement.
And with a 794 lb weight capacity, the Smith machine portion of the G20 can handle some serious weight too.
The Smith machine uses the rotating lock system that you'd expect and safety stops are also included.
One small feature that users might appreciate is that there's a final lock off position located at the very top of the machine, allowing you to place the Smith bar out of the way when using the power rack or functional trainer.
This gives you a little more internal room inside the rack, which could make for a more comfortable workout.
The only thing missing on this Smith machine is the counterbalanced bar- which I find a bit surprising given the cost of this model (and the fact that the more affordable G12 includes it).
Having the bar counterbalanced does eliminate some of the weight you're lifting, but it also usually makes for smoother bar motion too.
Functional Trainer
The functional trainer section on the G20 is where we see some of the most significant upgrades over the G12.
Like the G12, the G20 comes with 2 weight stacks that are dedicated to the functional trainer, but the stacks on the G20 are a whole lot heavier.
The G20 comes with 2, 289 lb stacks…
And the pulleys use a 1:1 ratio, meaning you're actually lifting every single pound you select on each stack.
This means you have up to 289 lb PER ARM at your disposal…
That's an insane amount of resistance and I'm not ashamed to say that's at least 2x as much resistance as I would ever need (even in the best shape of my life, which I'm not currently in).
You can adjust the pulleys easily along the uprights with the built-in handles and with 21 height positions to choose from, you shouldn't have any issues finding a comfortable lifting position.
The cables are high-end and rated to hold 2,000 lb, so no issues there.
The pulleys use the same uprights as the power rack, so you might find yourself having to remove J-hooks or safety arms to position the pulleys where you want 'em- not a big deal if you ask me.
Overall, the functional trainer on the G20 is no joke- it's capable of providing some serious resistance with 289 lb stacks and a 1:1 pulley ratio.
Attachments
I mentioned earlier that Force USA is very generous when it comes to the amount of attachments they include.
I was going to list 'em all down here, but then I figured it makes more sense to save my fingers the ache and just provide a link to Force USA's site where you can see them for yourself if you like.
Basically, they include every handle you'll need to perform any exercise with the functional trainer.
They also throw in a lot of collars and spring clips to keep the weights secure on your barbell.
I do want to point out a few key attachments that are worth calling out though.
One is the leg press attachment that allows you to perform a vertical leg press with the Smith bar- a very cool feature.
I also like that there's a land mine station included because that adds a wonderful layer of versatility to your workouts.
There's also a place where you can attach a suspension trainer (like TRX) to really up the ante on your home gym game. I already mentioned the Monolift feature.
There's also 3 different pull up stations on the G20: a traditional multi-grip bar in the front and then a globe handled bar on each side.
Oh, another big difference with the G20 is that it's also compatible with Force's Lat Row Station, which includes an independent lat pulldown/row station, as well as an adjustable grip dip station.
This lat attachment comes with it's own 289 lb weight stack, meaning your G20 would have 3 weight stacks if you chose to add this attachment.
The lat attachment costs $1000 and could easily be added later down the road, but personally I don't see any reason to add this unless you were planning on having more than 1 person exercising at the same time.
Which I think is a big advantage of the G20 in general, especially if you were a personal trainer who worked with clients out of their garage gym or something.
But more on that later.
Warranty
Force USA backs the G20 All-In-One Trainer with the following residential warranty:
Lifetime frame
2 year pulleys/cables
90 day wear items (accessories)
This is a great warranty, so I'm not complaining or anything, but this is the same warranty Force USA provides for all of their trainers.
Is it fair that their $2000 trainer comes with the same warranty as their $7000 trainer?
It's awesome for the affordable option (the G3), but I'd like to see the G20 come with a few extra years on the pulley's or parts or something considering the cost.
That said, I think the warranty here is pretty good.
Final Thoughts
Ok, wow, the G20 has a lot going on.
I think it's hard to deny that this thing is pretty freakin' awesome.
With the power rack, the Smith machine, the functional trainer, and all those attachments, there's really no strengthening exercise you can't do with this trainer.
And with 2 x 289 lb weight stacks (each with a 1:1 pulley ratio) dedicated to the functional trainer, the G20 is capable of providing enough resistance to challenge even the most gifted weight lifters out there.
But I think there's a limited population that could actually benefit from going all in with a machine like this.
What I mean is, I think most of us home-gymers could save a great deal of money and be just as well off with a less advanced trainer.
With the amount of resistance the G20 can provide and its ability to accommodate multiple users at the same time, I think this gym machine makes most sense in a light commercial environment.
As I mentioned briefly up above, I think this would be a great investment for folks who might be running small gyms out of their garages or homes (or other similar environments).
In these cases, I could see going all in on this trainer because the extra features could be useful.
But for everyone else, I think it makes more sense to go with a gym like Force's G12, which also comes with dual stacks and a 1:1 pulley ratio, but costs about $2k less.
Regardless, you have to admire the G20 – it really is a magnificent device.
P.S. – use the promo code HOMEGYM5 for an extra 5% off.