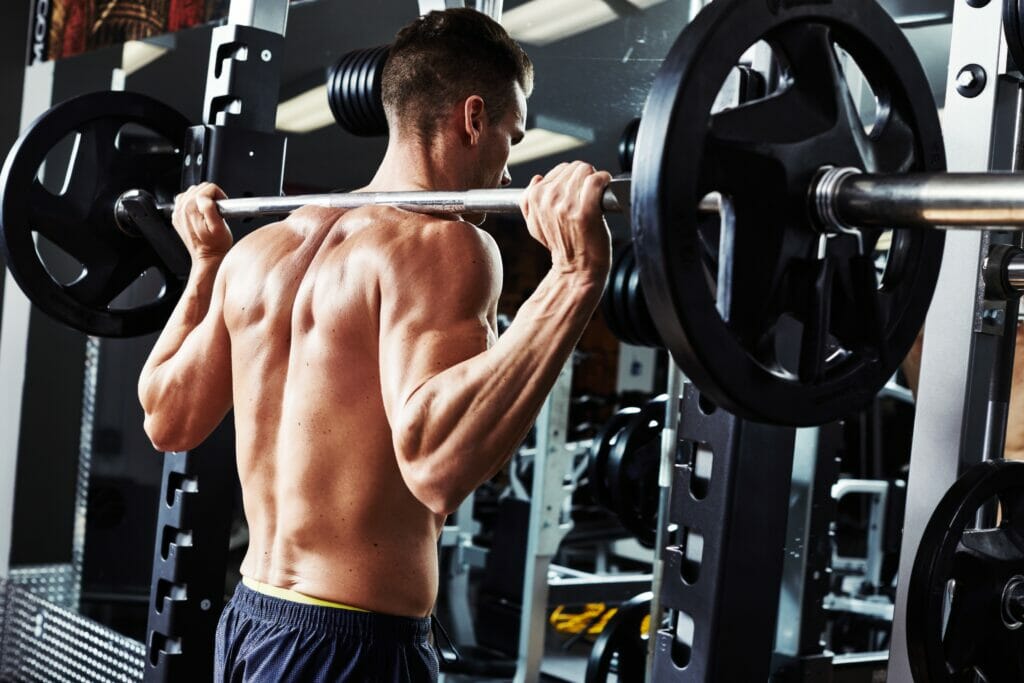 If you're looking to take your home gym to the next level, investing in a power rack is a great idea. With a quality rack, you get access to all of the classic strength training moves that were once only possible in commercial gyms.
We're talking squats, dead lifts, bench presses, pull ups… the list goes on.
But as you'd imagine, all racks aren't built the same- if you want to pleased with your purchase, you have to know what to look for.
And that's where I come in.
In this comprehensive guide, I'll go over all the key specs and features you should be on the look out for when searching for your new rack.
I'll also present my top picks for the best power racks currently available (based on the specs and features we discuss).
After reading, you'll be ready to roll when it comes to finding the right rack for your home gym.
Let's start from the beginning shall we?
Power Racks 101
If you've found your way here to this article, I'm inclined to assume that you already know what a power rack is, but I hate to make false assumptions, so I might as well cover all bases.
A power rack is a rig used for barbell exercises.
It consists of 4 vertical posts that are attached via horizontal bars, forming a "cage" for you to exercise in.
For this reason, power racks are also known as "power cages".
Personally, I like to differentiate between power racks (or cages) and squat racks (or half cages).
You can squat safely with either, but as the names imply, there's a significant difference between the 2 groups.
A squat rack is basically half of a power cage- there are only 2 uprights instead of 4, so you aren't exercising inside the "cage" with a squat rack.
Squat racks come in all shapes and sizes, so I don't want to generalize too much, but power racks tend to be heavier-duty and safer to use (especially when performing heavier lifts).
Power racks are nice for a few reasons.
For one, you can perform all your favorite barbell exercises on them and most have areas for plate storage too.
And depending on the model, you can add a wide variety of attachments to expand your exercise repertoire even more.
Another great thing is that with a power rack, you can set the safety bars to act as a built-in spotter, allowing you to exercise on your own safely.
Squat racks don't usually offer the same level of variety.
I'm not trying to hate on squat racks here because a quality squat rack can work great too- I just want to make sure we're all on the same page because this guide is only talking about full power racks.
Now that we're all talking about the same thing, let's go over the specs and features you should consider when searching for a quality rack.
How To Buy A Power Rack The Smart Way
There are a few key specs I encourage you to consider when comparing power racks.
When we're talking about performance specs for a rack, it's really all about strength and stability.
After all, these racks could be holding a good amount of weight and the last thing you want is for your rack to fail during use.
Not only would that put you at risk, but it could also damage your home or garage.
Upright Size
The uprights are the vertical posts on the rack – these posts are responsible for bearing all of the weight that you'll be loading on it.
For this reason, the uprights are the strongest part of the rack.
But even so, rack uprights come in different sizes.
Larger uprights are preferred because they are more structurally sound- they're stronger, allowing them to safely hold more weight when compared to smaller uprights.
The size of the uprights is written as the dimensions of the post- think of it like a  2 x 4 piece of wood that measures 2″ by 4″.
The uprights on home power racks usually come in 3 sizes: 2″ x 2″, 2″ x 3″, or 3″ x 3″.
I haven't come across any racks with uprights smaller than 2″ x 2″ and if I did I don't imagine I'd recommend anybody invest in them.
When thinking about your rack, you should think about the kind of weights you plan on lifting.
If you're a serious power lifter who plans on putting hundreds of pounds on the bar, go with a rack packing 3″ x 3″ uprights for the extra peace of mind.
If you're not planning on loading the bar as much and instead will be using lighter weights, you'll be just fine with smaller uprights.
By the way, cheaper racks usually come with smaller uprights and vice versa. After all, there are reasons why affordable racks are affordable to begin with.
Gauge of Steel
It's important to consider the gauge of steel being used in those uprights too. When talking about steel, the gauge refers to how thick it is.
So, just like having a larger upright makes for a stronger rack, using a thicker steel also makes for a more structurally sound piece of equipment.
The confusing thing about gauges is that it works opposite of what you'd expect- lower gauges mean thicker and higher gauges mean thinner.
Home power racks usually come in either 12-gauge or 11-gauge steel.
And honestly, most home gymers will do fine with either, but if you're an elite lifter who plans on putting some serious weight on your rack, it makes sense to go with the heavier-duty 11-gauge frame.
Plus, having a thicker gauge steel also adds more weight to the rack, making it less likely to wobble around during lifts.
When comparing models, you'll probably notice that more affordable racks tend to use 12-gauge uprights and higher-end, more expensive racks tend to use 11-gauge steel.
Just something to consider.
Weight Capacity
It's always a good idea to know what your rack's static weight limit is- that's how much weight the rack can safely hold (the static part refers to the barbell resting on the rack, as opposed to being dropped).
A rack's weight capacity relies greatly on the size and gauge of the uprights being used.
A rack with 3″ x 3″ 11-gauge uprights is likely going to have a higher weight capacity than another that uses 2″ x 2″ 12-gauge uprights.
The weight limit tells you exactly what's safe to load on your bars, but it also gives you a general idea as to how structurally sound the rack is.
And if you ask me, higher is always better.
Personally, I know I'll never lift anything near 800 lb, but if I had to choose between a rack with an 800 lb limit and one with a 1000 lb limit, you can probably guess which one I'd go with.
A lot of home racks come with a static weight capacity of 1000 lb or 2000 lb, other more affordable models with come with lower limits.
Attachments
One of the nice thing about a quality power rack is how versatile it is- you can really create an entire home gym around one of these things.
Many power racks are modular, meaning you can add additional attachments or pieces, gradually expanding what your rack can offer.
Available attachments vary greatly by brand, but common attachments include dip stations, pull up bars, lat towers, pulley systems, storage pins, landmines, and lever arms.
When comparing power racks, it's a good idea to think about which attachments are compatible with it because you never know how you might want to expand upon it in the future.
Size
This might sound like an obvious point, but I still think it's worth saying: you have to make sure you have enough room for your power rack!
These racks are great, but they can take up a lot of space.
Make sure you measure out your floor space so that you have a clear idea as to how much room you have for your new piece of equipment.
And this includes ceiling height!
Most of these racks are at least 90″ tall (7.5″) and many come in different sizes that are even taller.
If you have 8′ ceilings, this isn't gonna give you much room for pull ups… just sayin'.
Garages often make a good place for more rugged equipment like this, not to say you couldn't put a power rack in a home with ample room.
If space if very limited, you might want to look into getting a folding squat rack, which can fold out of the way against the wall when not in use.
The 5 Best Power Racks For Home Use 2023
#1 Rogue RM-3 Monster Rack 2.0
When it comes to home racks and rigs, there's really no better name than Rogue. Rogue Fitness has made a name for themselves in the industry by providing high-end, heavy-duty equipment for serious lifters.
And their Monster Racks are the epitome of what they stand for.
Rogue has a ton of different racks and rigs to choose from.
They can all look pretty similar after a while, but there are subtle differences in sizes and configurations with the different models.
I chose the RM-3 rack for this list because I think it offers the best combination of strength and size (and price) for use in most homes.
But if you have the extra space, Rogue offers larger racks that are just as well made.
The RM-3 scores highly from the get go with its 3″x3″, 11- gauge steel uprights.
I don't think I mentioned this above, but the size of the actual hardware used to attach the frame of these racks can vary too.
Most brands use traditional 5/8″ bolts, which is fine and definitely makes for a stable rack- but Rogue being Rogue, goes the extra step and uses huge, 1″ bolts on their Monster Racks.
The 1″ bolts, combined with the heavy-duty uprights makes for the most structurally sound rack you're gonna find in this price range.
When it comes to weight capacity, all Rogue racks are tested up to a 1000 lb, but I'd be surprised if the RM-3 couldn't hold more safely.
Structurally, this rack is amazing, but I also like all of the customization it comes with.
You can customize pretty much everything, from the color of the rack itself (12 colors to choose from) to the color of the hardware.
You also get to choose between options when it comes to the front pull up bar and the rear cross member. There are also different options for the type of J cups and safeties you prefer.
The RM-3 is compatible with all Monster attachments, allowing you to add a ton of exercise variety to your home gym.
There are too many attachments to mention here, but I will mention that you can even add a Rhino Belt Squat attachment that allows you to do squats without putting a bar on your shoulders…pretty cool.
The RM-3 is 30″ deep and comes in 3 different heights- 90″, 100″, or 108″.
I'd also like to mention that Rogue backs this rack up with a lifetime guarantee.
Overall, the RM-3 might be more rack than a lot of us need in our home, but if you're serious about lifting and want the best there is, you found it.

#2 Body-Solid Power Rack SPR1000
Body-Solid is another big name when it comes to strength training equipment.
Their lineup is quite extensive, offering many different styles of home gyms, racks, benches, and pretty much anything else associated with weight lifting.
Like Rogue, they have a good reputation for providing products that are well made and built to last.
Their SPR1000 rack doesn't come with quite as many customization options as the RM-3 above (and it's not quite as sharp looking), but in terms of strength and function, it's very similar.
This rack is also packing 3″x3″, 11-gauge steel uprights for the utmost in structural stability.
And just like the Rogue rack, the SPR1000 can statically hold 1000 lb safely.
The attachments available for the SPR1000 might not be quite as sophisticated as those that Rogue offers for their Monster series, but you get a lot to choose from.
There are plenty of pull up bar options, as well as holders for bars, plates, medicine balls, etc. You can also attach handles to create your own dip station.
There are also different options available when it comes to the J cups and safety straps.
You can even attach the SPR1000 to other racks via a set of monkey bars to create a serious commercial-grade rig for multiple users.
This rack takes up plenty of space, so you have to make sure you've got enough room for it- it has the following dimensions when assembled: 81″ L x 53″ W x 90″ H.
Body-Solid also backs this rack up with a lifetime guarantee.
Overall, the SPR1000 is another commercial grade rack that should be able to handle anything you can throw at it. It's very similar to the RM-3 in terms of specs and price. See full review.

#3 Rogue RML-3 Monster Lite
So yeah, there's another Rogue rack on this list- what can I say, I told ya they were the best.
I could easily have all 5 spots taken up by Rogue, but that would be kinda boring.
Anyway, the RML-3 is a smaller version of the RM-3 discussed above in the top slot.
If you like the RM-3, but might not quite have the budget or floor space for it, this Lite version could be a good compromise.
Like the 2 racks mentioned already, the RML-3 also comes with 3″x3″, 11-gauge uprights.
The only real structural difference between this and the heavier-duty RM-3 is found in the hardware used to bolt the components together.
The RML-3 only uses 5/8″ bolts, but don't worry- this rack is still tough enough to handle a static weight of 1000 lb.
Oh, I should mention that both this rack and the RM-3 above are designed to be bolted to the floor for maximum stability. If you don't like the sound of this, there's also a wall attachment kit you can get for this rack instead of bolting it down.
There aren't quite as many attachments that are compatible with the Monster Lite racks, but there are still plenty of options to choose from in terms of pull up bars, J cups, safety straps.
And, the RML-3 comes with Westside spacing for convenient bench pressing.
As I mentioned, the RML-3 is significantly smaller than either rack mentioned so far.
This rack only takes up a footprint of 53″ x 34″ and only has an interior depth of 24″ (it's 90″ tall too).
The smaller size (and smaller price tag) make this rack a great option for home gyms. Overall, a high quality rack that won't break your budget.

#4 Titan Series Power Rack
Titan Fitness is a more budget friendly alternative when it comes to strength training equipment.
Their racks and gear generally aren't quite as heavy-duty as some of the other brands already mentioned, but for the price, they're worth taking a look at.
That said, their Titan Series Power Rack is heavy-duty from top to bottom.
This is their highest-end rack to date and it looks like they took a few pages out of Rogue's book when developing.
This rack comes with 3″x3″, 11-gauge steel uprights as well and it's been tested to hold all the way up to 2000 lb statically- which is impressive for any rack.
Titan even followed Rogue's league and paired this rack with 1″ hardware all around- it might be overkill for most of us, but there's nothing wrong with a little extra peace of mind.
Titan doesn't offer nearly as many attachments as some of the other racks mentioned above, but you do get the option to customize a few features.
You get to pick your pull up bar, your rear cross member, your J cups, and your safety straps.
There are also several other attachments you can buy separately, including dip bars, benches, storage options, and even a 24″ extension kit that essentially increases the size of your cage.
In terms of size, you do get to choose between a 36″ or 42″ depth and a 90″ or 100″ height.
Titan doesn't say much about their warranties- the only thing I could find was the 1 year warranty offered on all products (which is awful if that's all they offer).
I will say that Titan is known as a budget brand and there are plenty of complaints from buyers about small imperfections in their welding and joints.
If you're particular about the way your rack looks (and why wouldn't you be), this is something to consider.
Overall, the Titan Series Power Rack is a heavy-duty piece of equipment with great specs.
But it's priced very similarly to Rogue's RM-3 and I see no reason to choose this one over that (unless you want that extra deep interior). See full review.

#5 Force USA MyRack Modular Power Rack
Rounding out our list is a more budget friendly alternative from Force USA. As the name implies, this is a US based brand and they're quite proud of it.
This is really the only true power rack that Force offers- they also have a folding version, which is intriguing for space saving reasons, but when you think about having to remove all the accessories and bar before folding, is it really worth the effort?
That's a bit besides the point, back to the MyRack.
This is by far the most affordable rack on this list and this is exactly what Force is going for. This rack is designed specifically to save people money.
It isn't nearly as heavy-duty as the other racks mentioned above, but it's still tough enough to handle most people's needs.
The MyRack comes with 2.4″ x 2.4″, 12-gauge steel uprights.
This means the uprights are smaller and thinner, which will make for a less structurally sound rack when compared to the other options above.
That said, the MyRack has still been tested to hold up to 2000 lb safely.
This rack isn't quite as heavy-duty, but when it comes to attachments, few can compete- Force USA has a ton of options to choose from.
They've got everything from pull up bars and bar storage to lat pull down stations and cable cross over add-ons.
You can even pick from a few different colors I believe too.
Something to consider though, is that the rack doesn't come with any attachments, you have to buy everything separately.
This can help keep the initial cost down and it also means you won't be paying for anything you don't want. But the MyRack doesn't even come with any J cups or anything, so keep that in mind.
This rack has the following dimensions fully assembled: 47″ W x 55″ D x 87″ H. It's also backed by a lifetime guarantee.
Overall, if you're looking for a more affordable option with tons of accessories to grow with over time, Force USA's MyRack is a great choice. See full review.

Final Thoughts
Well, there ya have it.
If you made it through all that, you should have a better idea as to what to look for when trying to find the right power rack for your home.
When comparing different models, I think it's a good idea to look at a few key specs, including the size of the uprights, the gauge of the steel used, and the total weight capacity.
Looking at these specs will give you a good idea of how structurally sound the rack is.
You'll also want to consider what kind and how many attachments are available, in case you want to expand upon your rack down the road.
Price and rack size are unfortunate necessities for most of us to consider too.
I don't think I mentioned in the buyer's guide above, but you should also take a look at the warranty.
Most of these racks should come with lifetime guarantees, but it's a good idea to check (I'm not sure what's up with Titan's warranty).
Overall, if you ask me, the above represent the 5 best power racks currently available, based on the specs mentioned.
Now that you know what to look for, it's just a matter of getting out there and finding the right rack.
Thanks for reading and happy hunting – if you have any questions or comments, feel free to leave 'em below and I'll get back to ya shortly.