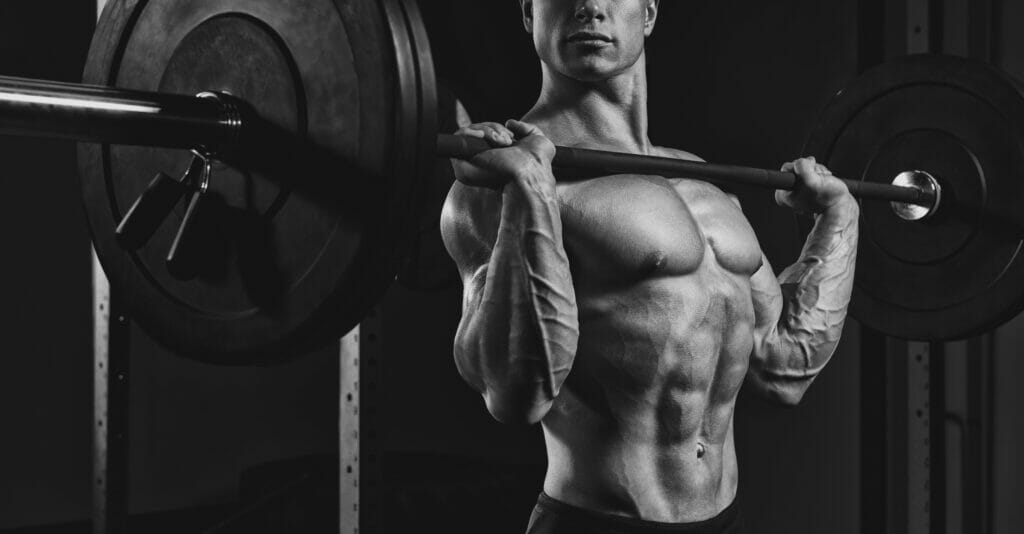 Even though the G3 is Force USA's most affordable all-in-one trainer, it doesn't mean this combo strength building machine skimps in the features department.
In other words, this rack is loaded from top to bottom with pretty much every piece of traditional strengthening training equipment you can think of.
When designing this rack, Force USA basically took a power rack and combined it with a Smith machine, and then threw in a functional trainer.
The result is one bad-ass machine that can stand alone as an entire home gym.
In case you can't tell, I think the G3 is a pretty darn good buy, but there's no reason to simply take my word for it.
Instead, you need to do your own home work and consider the pros and cons of investing in a gym like this.
But I can still help.
In this review, I'll discuss all the specs and features the G3 has to offer. I'll also throw in my 2 cents regarding the advantages and disadvantages that come with choosing this rack.
After reading, you'll know everything you need to in order to decide for yourself whether or not this is the right gym machine for your home gym.
Let's roll.
The Force USA G3 All-In-One Trainer
Force USA is a popular brand known primarily for their all-in-one trainers, although they also offer a few other racks, leg machines, and of course all the accessories you could ever need (plates, bars, benches, etc).
They offer several different combo trainers and the specs and features vary depending on the model.
The G3 (formally known as the Monster G3) is the most affordable trainer of the bunch and one of 2 models that depends entirely on weight plates (the other being the upgraded G10).
The other trainers use a combination of both weight plates and weight stacks to provide the resistance for all the moves you can perform.
And speaking of which, you can perform a lot of different strengthening exercises with any of these machines- the entry level G3 boasts the possibility to perform over 75 exercises alone.
As I'm writing this, the G3 comes with an asking price of around $2000, but Force USA is offering free shipping, which'll save ya a few hundred bucks.
And as a trusted reader, you can save an extra 5% with the promo code "HOMEGYM5".
Pros
Offers the ability to perform over 75 strength training exercises
Fairly compact
Comes with power rack
Includes full functioning Smith machine
Includes functional trainer for added workout variety
Includes a ton of attachments and accessories
Includes weight plate storage
Fairly high weight limits for power rack/Smith machine
Westside hole spacing
Band pegs for variable resistance training
Multi-grip pull up bar included
Great warranty
Reasonable price
Cons
Challenging assembly
Bench/barbell not included
Frame
There's a lot going on with the G3 and I have to admit I wasn't exactly sure how I wanted to organize my thoughts for this review.
Ultimately, I decided I wanted to talk a little about the frame in general first, and then break it down and talk about the major components separately.
I hope this makes sense for ya as you read this and if not, I apologize.
When looking at power racks, squat racks, Smith machines, or really any other type of rack or rig, I think it's a good idea to be aware of what it's made of.
All of these strength training racks will be made out of steel obviously, but I'm talking more about the size and gauge of the steel- especially for those who plan on throwing some serious weight on it.
For a refresher: remember that when it comes to gauge of steel, smaller numbers mean thicker metal (11-gauge steel is thicker than 12-gauge steel, etc).
Some manufacturers will provide this info, some won't.
It's my experience that more affordable gyms won't offer it and that's ok, I get it.
In these cases, I would assume 12-gauge steel is being used because it's a little cheaper than the thicker, 11-gauge steel.
I mention this only because I can't find these specifics for the G3 (although they make an effort to state that their highest-end G20 is made out of 11-gauge steel, so I would assume the G3 isn't).
I also don't see the measurements of the uprights listed anywhere (usually 2″x2″ or 3″x3″), but they look to be on the smaller side to me.
Fortunately, Force USA does provide the weight capacities for each component, which is probably the most important detail anyway, so I don't think we should complain too much.
I don't want to bore you by copying down the exact dimensions of each component here (you can see them for yourself on Force's website), but I do want to point out that the G3 requires a floorspace of roughly 7′ x 5′ to fit comfortably.
You should also have a minimum ceiling height of at least 8'4″ if you plan on doing pull ups with your head going completely over the bar.
Ok, now that I've got that off my chest, let's check out the main components of the G3.
Power Rack
I mentioned in the intro that the G3 is a combination of all the most popular strength training machines.
Well, one those key components happens to be a power rack.
A power rack is a rack that allows you to perform barbell exercises. They usually also have storage pins for storing weight plates too.
The base of the G3 is a power rack that has a max weight capacity of 992 lb, which is more than enough for most home lifters.
The power rack portion of this gym comes with 62 different placement holes on the uprights, giving you a ton of options for placement of the J-hooks or spotter arms (both of which are included by the way).
The holes are spaced 1″ apart the length of each upright (Westside spacing), giving you complete control over J-hook and safety bar placement.
The result is fully functional power rack station that allows for great barbell placement for squats and presses of all varieties.
Something worth mentioning is that the pulley arms for the functional trainer station are attached to the same uprights where the J-hooks attach.
This isn't a bad thing, it just means you'll have to remove the J-hooks and spotter arms if you want to adjust the pulleys to the lower positions.
Overall, the G3 has a fully functioning power rack station that can hold more than enough weight for most of us mortals.
Functional Trainer
The next major station on the G3 is its functional trainer.
If you aren't familiar with this term, it's just a fancy name for a cable machine. These machines are great because they allow you to perform a ton of exercises with a wide range of motion.
The G3 comes with 2 adjustable pulley stations, each utilizing its own weight plate resistance.
This means there aren't any weight stacks like you'll find on many functional trainers, instead you'll use the same plates that you use for the barbells.
(If you're interested in a weight stack functional trainer, you might want to check out their G6, which is their most affordable model that includes this feature).
Either way, the functional trainer is a great tool that adds crazy workout variety to your home gym.
Not only can you perform pretty much any strength training move with them, but you can also practice functional movements against resistance to improve sports performance (or even use for rehab purposes).
Think golf swings, swinging a bat, etc.
Not to mention all the great rotational core strengthening moves a functional trainer provides.
The cables included with the G3's functional trainer are tested to hold up to 2,000 lb- which sounds impressive (and it is), but all functional trainers use these cables, so it's not that unique.
And with 16 adjustment points on each side, folks of all sizes should be able to find comfortable positions for any move.
Overall though, having a functional trainer built-into the G3 is a huge perk.
Smith Machine
The last major component to the G3 is a Smith machine.
I know a lot of weight lifting purists don't care for Smith machines, but I think they're great- especially if you're like me and find yourself workout out alone most of the time.
A Smith machine is just a barbell that's attached to a rack.
Its motion is fixed, making it a little easier to do moves like squats and presses, but being attached also means you have a built-in spotter at all times.
The G3's Smith machine can handle up to 772 lb, which again, is more weight than most of us home-gymers will ever need.
The Smith machine is only compatible with Olympic plates, fyi, but the functional trainer is compatible with Olympic and standard plates.
The Smith machine allows you to safely perform pretty much all the same exercise you could do with the power rack, but it can also transform into a vertical leg press machine with the optional attachment (sold separately), which is pretty awesome.
The G3's Smith machine offers 12 different height positions, which is pretty good when it comes to versatility.
Overall, users agree the Smith machine works smoothly and the fact that Force USA was able to fit one into this rig is impressive in its own right.
Attachments
Ok, that about does it for the major components of the G3- I tell ya, this gym has a lot going on.
But we're not done yet- we still have to talk about all the attachments and accessories this thing comes with, which are about 20 or so:
Multi-grip pull up bar
Pair of J-hooks
Pair of spotter bars
Land mine station (plus handle)- great for rotational barbell exercises
Dual-hook straight bar
Small straight bar
Nylon handles
Tricep pulldown rope
Barbell storage pegs
Attachment storage
Band pegs (x4)- allows you to add intensity with variable resistance
Weight plate holders (x6)
Olympic spring clips (x10)
Olympic lock collars (x2)
Carabiners (x4)
Overall, that's a ton of included attachments and accessories. With this much included gear, the G3 is ready to roll once assembled.
Of course, keep in mind that no weight plates are included, so you'll have to supply your own.
There are also no benches or barbells included (other than the one attached via the Smith machine).
If all of that wasn't enough, there are also a few optional attachments that you can purchase separately:
Vertical leg press machine
Low row station
Dip station
Leg developer
Lat pulldown station
Jammer arms
The G3 comes with everything you need to start working out from day 1, but it can also grow with you and expand over time through the addition of extra attachments.
Warranty
Force USA backs their G3 All-In-One Trainer with the following residential warranty:
Lifetime frame
10 year cables and pulleys
1 year upholstery and attachments
Overall, I think this is a great warranty for a $2k gym.
You can't beat a lifetime frame guarantee and 10 years is awesome for the pulleys and cables (it's unlikely they would break down anyway).
A year is also pretty generous for the upholstery.
Overall, a great guarantee for the G3.
Final Thoughts
Ok, that about does it for the G3.
I think this gym has a lot to offer for the folks out there looking for a single piece of equipment that can fulfill pretty much any weight lifting need you'd ever have.
The G3 would also work well for lifters who are looking to get maximum variety for minimal cost.
That said, serious lifters should probably go for a heavier-duty rig that can hold more weight – 700 – 900 lb is a lot for most of us, but I know there are folks out there that can push more weight than this and the G3 isn't the right choice for these beasts.
I'm really impressed with how many attachments and accessories Force USA includes with this gym.
They are surprisingly generous for such an affordable rack.
And the fact that you can add additional attachments to it over time is awesome.
I don't think I mentioned it earlier, but the biggest downside I see to this gym is the assembly- this thing will be challenging to put together.
So, if you do decide to purchase it, I'd make sure you have at least a friend or 2 to help because putting the G3 together is a bit involved to say the least.
Overall though, I think the G3 is a great all-in-one home gym machine and well-priced at around $2000. Highly recommended.
P.S. – use the promo code HOMEGYM5 for an extra 5% off.