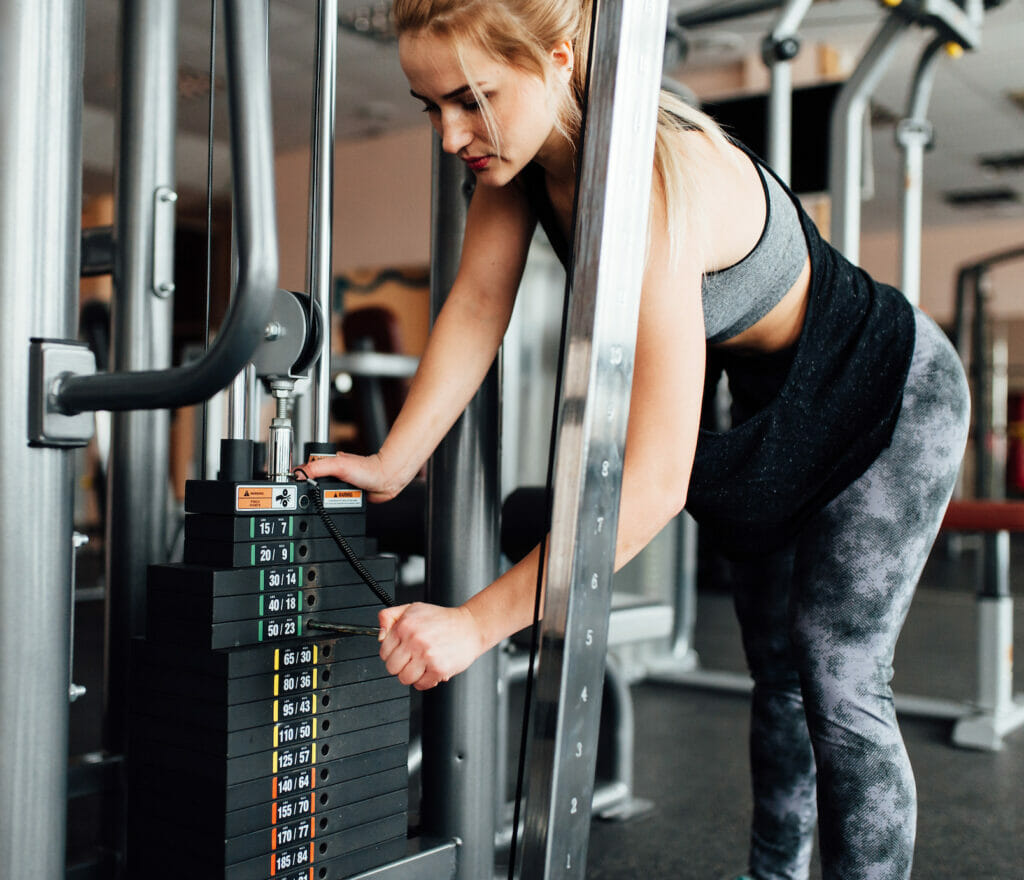 The G6 is Force USA's most affordable weight stack all-in-one trainer.
With dual weight stack resistance for the functional trainer, the G6 comes with an extra level of convenience, allowing users to adjust resistance rapidly when switching between moves.
This powerhouse of a home gym also comes with a fully functioning Smith machine and a power rack, allowing lifters to perform any barbell exercise you can think of.
Force USA also includes a long list of included attachments and accessories, adding to the G6's already versatile design.
Put all this together and you've got one hell of an all-in-one home gym machine, but is it really worth the investment?
Well, that's what I'm here to help you figure out.
In this review, I'll go over everything the Force USA G6 has to offer, including all the downsides you should know about before buying.
After reading, you'll know everything you need to in order to decide for yourself whether or not this is the right option for your home gym.
The Force USA G6 All-In-One Trainer
If you're looking for a single piece of equipment that can do the job of a gyms's worth of strength training equipment, an all-in-one trainer is a good idea.
Force USA specializes in these machines and personally, I think they offer some of the best bang for your buck options around.
The have 5 all-in-one trainers to choose from- 2 of which use only weight plates and 3 that come with dual weight stacks for the functional trainer component.
There are subtle differences between the 3 weight stack trainers (G6, G12, and the G20), including pulley ratios, included attachments, and even the weight of the stacks in the case of the G20.
But it's the G6 we're here to talk about today.
The G6 is the most affordable of this group, coming in with an asking price or around $3500, but with free shipping (and an additional 5% off by using the promo code "HOMEGYM5"), the savings start to rack up.
Anyway, as all-in-one trainers go, the G6 falls in the moderately priced range, but it's still a considerable investment for a home gym.
Pros
Fairly compact frame
Offers 100's of strengthening exercises
992 lb weight limit on power rack
772 lb weight limit on Smith machine
2 x 220 lb weight stacks for functional trainer
Includes vertical leg press attachment
Dip station included
Includes a ton of handles and attachments
Attachment point for suspension trainers
Landmine station
Great warranty
Cons
Challenging assembly
Bench/barbell not included
Frame
I want to start this review with a few remarks regarding the general makeup of the G6's frame.
My first impression is that this machine is pretty compact, considering it combines all the functions of a power rack, Smith machine, and functional trainer.
More specifically, you need a floor space of around 6′ x 5.5′ to fit this machine, but you'll also need a few extra feet of wiggle room to make sure you can move around and grab plates and accessories.
The G6 is 91″ (or about 7.5′) tall, but if you plan on doing pull ups, Force recommends a minimum ceiling height of 8'4″ to ensure safe head clearance.
So, this gym takes up more floor space than a treadmill or elliptical obviously, but not bad considering how much workout variety it offers.
I also want to mention that Force USA doesn't advertise what gauge of steel the G6's frame is constructed out of.
My guess is 12-gauge because if it were 11-gauge, Force would definitely make sure we're aware of it (recall that when it comes to steel, a lower gauge indicates thicker metal).
The G20 is made out of 11-gauge and as far as I can tell, that's their only model that is.
I don't necessarily think it's a bad thing that these trainers are made out of 12-gauge steel, it just means they aren't going to be quite as heavy-duty as ones that are.
Force USA does provide the max weight capacities for the Smith machine and power rack stations, which is what really matters anyway I guess.
And as you'll see, these weight limits are more than enough to accommodate most home users (but if you did need a higher weight limit, you'd be better off going with a heavier-duty, 11-gauge system…and you'd probably have to go with a stand alone power rack to get a system tough enough to handle those higher weights).
Power Rack
Let's take a look at the power rack station first.
A power rack is used with a barbell (barbell not included by the way) and it lets you do all the classic strength training moves you can think of, like squats, bench presses, shoulder presses, etc.
The rack on the G6 comes with a max weight capacity of 992 lb, which is very impressive for a combo machine like this.
It's also more weight than a guy like me could ever dream of lifting, but I know there are some serious power lifters out there that would need a more robust rack.
Again, if you need a system that can hold over 1000 lb, the G6 isn't the right rig for ya.
The G6 comes with a pair of J-hooks to let you place your barbell wherever you need it, as well as a pair of spotter arms to work as a built-in spotter.
The only thing really missing here is the Westside hole spacing, which makes placing the bar for bench presses more convenient.
But the traditional hole spacing should still allow most folks to get a comfortable starting position for most lifts.
Overall, the power rack on the G6 comes with everything you'll need to get started (except the barbell) right out of the box and it comes with an impressive weight limit for an all-in-one trainer.
Smith Machine
Power racks and Smith machines are usually sold as completely separate units, so it's pretty cool that the G6 includes both stations.
Smith machines basically do the same thing power racks do, but having the barbell attached to a set of rails allows you to perform exercises safely by yourself because there's always a built-in spotter with ya.
Having the barbell on a fixed path also makes the exercises a little easier, because you don't have to work as hard to control the motion of the bar.
The G6's Smith machine comes with an impressive weight limit of 772 lb and is compatible with Olympic plates.
You can easily rotate the bar to lock it in place along the rails with the safety locks (a nice feature in case you can't get the bar back to its original starting place during a lift) and the included safety catch ensures you can lift as heavy as you want with peace of mind.
Users seem to agree that the glide motion of the Smith machine is quite smooth, so you shouldn't have to worry about awkward motion during lifts.
Overall, the Smith machine on the G6 scores highly with a high weight capacity and smooth operation. The included safety hooks and safety catch make it easier to lift safely by yourself.
Functional Trainer
A functional trainer is really just a set of adjustable pulleys. These machines are simple, yes, but highly effective.
Not only can you do a ton of different isolation moves with a functional trainer, but you can also do pretty much any lifting, pushing, or pulling move you can thing of.
Hence the name, "functional" trainer.
The G6's functional trainer consists of 2 independent, adjustable pulleys that can be set at varying heights along the frame.
It's worth noting that the functional trainer is attached to the power rack portion of the frame, so you might have to move J-hooks/safeties to get the pulleys in your desired locations.
Not a big deal.
The cables on this trainer are the same high-quality cables pretty much all home gym machines use, which are rated to withstand 2,000 lb worth of force.
In other words, you shouldn't have to worry about a cable snapping during a workout.
The biggest deal though with the G6's functional trainer (and where the biggest upgrade is over the G9), is that there are 2 220 lb weight stacks being used for the resistance (1 stack for each pulley).
This means you don't have to worry about loading plates to use the pulleys.
This is awesome, but keep in mind the functional trainer on the G6 utilizes a 2:1 pulley ratio- this means you only feel like you're lifting half the weight you place on the stack.
For example: 100 lb worth of stack is actually only 50 lb worth of resistance.
This means you really only get 110 lb worth of resistance for each stack, but that'll still be more than enough for a lot of lifters (upgrading to the G12 gets you a 1:1 ratio).
Overall, the G6's functional trainer offers a ton of workout variety and users agree it works as smoothly as you'd expect from a high-end gym machine.
Attachments
The power rack, Smith machine, and functional trainer stations are great, but one of the things that I think really sets Force USA apart from most competitors is how generous they are with the attachments they include.
If you purchase the G6, you get the following attachments/accessories included:
Multi-grip pull up bar
Pair of J-hooks
Pair of spotter arms
Land mine station (and handle)
Functional training bar
Lat pulldown bar
Small grip bar
Close grip handle
Sport handle
V-bar
Metal stirrup handles
Pull down rope
Abdominal belt
Multi-grip dip handles (great addition)
Vertical leg press attachment (works with Smith machine)
Knee stabilizer (for lat pulldowns)
Exercise chart
Attachment storage
Barbell storage
Band pegs (x4)
Olympic lock collars (x2)
Weight plate holders (x6)
Olympic spring clips (x6)
Spring snap clips (x4)
Yeah, I told ya Force includes a lot of stuff.
There's also an attachment point for suspension trainers (like TRX), giving you the ability to add even more workout variety to this thing.
The only things not included are a barbell for the power rack and a bench- 2 things you'd definitely need if you get the G6.
Overall though, I'm very impressed with how many attachments come with this gym.
Warranty
Force USA backs their G6 All-In-One Trainer with the following residential warranty:
Lifetime frame
10 year cables and pulleys
1 year upholstery and attachments
Overall, I think this is a pretty good warranty for the G6.
You can't beat a lifetime warranty on the frame because that's as long as it gets (and better than the 10 years other brands will offer).
I also think 10 years on the cables and pulleys is great, although you shouldn't have any issues with them breaking down.
And a year on wear items is as long as we can really expect.
Overall, a great warranty.
Final Thoughts
That about does it for the G6.
Honestly, I don't have much to complain about here- this is a pretty awesome gym.
The combination of the power rack, Smith machine, and functional trainer, as well as all the attachments Force USA includes, provides almost unparalleled workout variety.
I mean seriously, you could perform 100's of different strength training moves with this thing.
And the dual weight stacks add an extra level of convenience when it comes to working out with the pulleys.
The quality of the build also looks good to me. The reported weight capacities are impressive for a combo unit like this and much more than most of us mere mortals will ever need.
That said, if you plan on putting 1000 lb on a barbell, you'll need a heavier-duty power rack.
The other biggest drawback I see is that the G6 is challenging to assemble- do you think all those cables come pre-routed?
Nope.
If you do plan on purchasing and assembling yourself, I would invite 2-3 buddies over, grab a case of beer, and make a day of it.
Otherwise, I think the G6 is a great buy. It's not cheap, but considering what you get, I think it's fairly priced and definitely worth the investment. Highly recommended.
P.S. – use the promo code HOMEGYM5 for an extra 5% off.