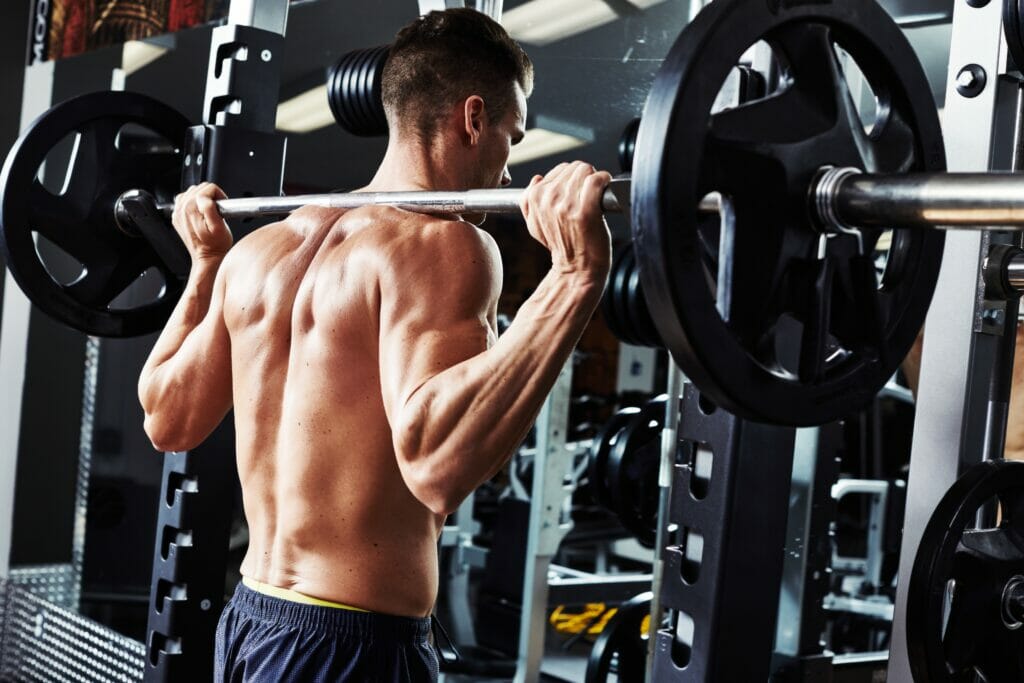 All-In-One gym systems can offer home gymers a compact and often more affordable way to access several strength training machines in a single unit.
By combining the functions of a Smith machine, a power rack, and a functional trainer, a quality all-in-one gym offers unparalleled exercise variety, as well as the ability to grow and expand over time.
The key there, of course, is finding a "quality" system to begin with.
If you're looking for an all-in-one home gym to add to your, uh, home gym, then you've come to the right place.
In this guide, I'll not only offer my top picks for the best combo home gym systems around, but I'll also share the different specs and features you should look for when deciding.
After reading, you'll know everything you need to in order to find the right gym system for your home gym (I promise that's the last time I'll do that).
Let's start with the good stuff first, but I encourage you to stick around and read the buyer's guide at the end too.
The 5 Best All-In-One Home Gyms
Before I start rolling with the gyms, we should probably set a few ground rules to make sure we're all talking about the same things here.
After all, there are a ton of different combo gym systems out there, with different stations, attachments, and accessories available.
But for the sake of this guide, I'm talking about a very specific type of system.
By "all-in-one" home gym, I'm talking about a unit that at least includes a Smith machine, a power rack, and a functional trainer.
As you'll see, all of the gyms listed in this guide come with a bunch of other features too, but these are the 3 requirements to be considered an all-in-one gym.
As a reminder:
A Smith machine has the barbell attached to a set of rails
A power rack is a rack that holds a barbell (free weight)
And a functional trainer is simply a set of pulleys
Ok, now that we're all on the same page, let's begin.
#1 Force USA G12
Force USA is mostly known for their all-in-one trainers and for good reason- they're awesome.
They offer several different models to choose from, with various differences in features, pulley ratios, and price, but something they all have in common is their impressive build quality.
The G12 isn't their highest-end model (it's second in line), but I think it's their best model for residential use (the more expensive G20 is better suited for multiple users at the same time).
The G12 is constructed out of 12-gauge steel (I believe) and comes with surprisingly high weight capacities when compared to the other machines on the market.
The Smith bar can safely hold 772 lb and the power rack can safely hold 992 lb, allowing this gym to accommodate and grow with even the most gifted lifters out there.
The functional trainer comes with 2, 200 lb weight stacks making it easy to rapidly select your resistance when using the pulleys.
And with a 1:1 pulley ratio, you're lifting every pound you select on each stack, giving you up to 200 lb worth of resistance per side.
The G12 also comes with a generous selection of included attachments and accessories (too many to list here), but the most notable include a leg press attachment, a land mine station, and a dip attachment.
It also comes with all the j-hooks, clips, and safety arms you'll need to get started (the only thing missing is a barbell and a bench).
And since this is Force USA we're talking about here, this combo unit comes with a lifetime frame warranty for added peace of mind.
The biggest downside to the G12 is the cost- it's certainly not cheap.
But if you're looking for the last piece of strength training equipment you'll ever have to buy, Force's G12 is a great choice. See full review.

#2 Force USA G6
If you like the G12 but are working with a smaller budget, Force's G6 might be a great fit.
The G6 is very similar to the G12, but with a few key differences.
For one, the G6's functional trainer uses a 2:1 pulley ratio, meaning that it feels like you're only lifting half the weight that's selected on each stack (100 lb feels like 50 lb).
This unit still comes with 2, 200 lb stacks though, so that means each pulley can max out at about 100 lb worth of resistance – which is still more than enough for most lifters.
Another difference is that the Smith bar on the G6 isn't counterbalanced like the one on the G12 is – again, not a huge deal if you ask me, but it won't feel quite as smooth (although you do get to lift the full weight of the bar).
Otherwise, this all-in-one trainer is very comparable to the impressive G12 that landed the top spot.
The G6 comes with the same impressive weight capacities (772 lb on Smith bar, 992 lb on power rack) and the same 12-gauge steel frame.
This gym even comes with many of the same attachments as the G12, like the vertical leg press attachment, the land mine station, dip handles, and a multi-grip pull up bar.
All necessary hooks, clips, and safety bars are also included.
The G6 even comes with the same awesome warranty as the G12 too.
Overall, with a price tag about $1000 less than the G12, the G6 is a great alternative for folks working with a slightly smaller budget.
The biggest difference is that 2:1 pulley ratio, but this gym still offers plenty of resistance to work with. See full review.

#3 French Fitness FSR90
The FSR90 is French Fitness's highest-end all-in-one trainer to date and like the Force systems mentioned above, it offers a ton of workout variety.
The FSR90 has a similar design as the 2 gyms already mentioned, although this model is a little bigger and bulkier, so if floor space is a concern, you'll want to double check your measurements.
The power rack on this unit comes with a max weight capacity between 550 lb (J-hooks) and 660 lb (bar catches), depending on which attachment is holding the bar.
And the Smith machine comes with an impressive 600 lb weight limit, allowing folks to safely work against some serious resistance.
Each pulley is fully adjustable and comes with its own dedicated 220 lb weight stack.
Like the G6, the FSR90 utilizes a 2:1 pulley ratio, so keep in mind you're really lifting half of what is racked on each stack (but 110 lb in each hand is still more than I'd ever need).
The FSR90 also comes with a ton of included attachments, like a vertical leg press plate, dip handles, land mine station, and pull up bar, but it's their jammer arms that really stand out.
The jammer arms allow you to perform barbell type exercises, but with having the added stability of having the bar attached to the frame.
But not like the Smith bar, instead each jammer bar is it's own handle.
They remind me of those Hammer Strength machines, but because you can adjust the height of where you place them, you can perform all kinds of moves- a very cool feature indeed.
French Fitness also backs the FSR90 with a generous, 10 year parts warranty in case anything starts malfunctioning.
Overall, the FSR90 isn't quite as heavy-duty as the Force gyms mentioned above, but it's got a lot to offer for the price (and I still think those jammer arms are awesome). See full review.

#4 Force USA G9
Yup, another Force USA gym- what can I say, they're the gold standard when it comes to these all-in-one trainers.
The G9 comes with the same impressive weight capacities and many of the same attachments as the other Force gyms already mentioned.
The biggest difference here is that the functional trainer on the G9 is plate loaded, so there are no weight stacks included.
This takes away a little from the convenience factor, but it also cuts a thousand bucks off the asking price, so you have to ask yourself how much that convenience is worth.
On the plus side, the functional trainer on the G9 uses a 1:1 pulley ratio, so you'll feel every pound you rack on those pulleys (each weight post is 12″ long, so you could theoretically place 6 plates on each one).
Another feature worth noting is that the Smith machine is counterbalanced – a nice feature because it adds an extra layer of smoothness and allows you to lift against very light resistances when necessary (but keep in mind you won't include the weight of the bar when calculating how much weight you're lifting).
Otherwise, the G9 is very similar to the other Force units already mentioned.
It comes with the same great warranty too.
Overall, if you're looking to save some cash and don't mind the plate loaded pulleys, the G9 is a smart buy. See full review.

#5 Marcy's Smith Machine/Cage System (SM-4033)
Rounding out our list here is a legit home gym system from Marcy.
The SM-4033 comes with all the components to make it an all-in-one trainer like the rest of the units previously mentioned, but this gym is significantly lighter duty.
The frame on this system is likely constructed out of 14-gauge steel, so it's not as tough as the 12-gauge frames seen above, but if you're not planning on throwing a ton of weight on there anyway it'll do just fine.
The power rack and Smith machine on the SM-4033 both come with a max weight limit of 300 lb, which is about half of what we saw on the gyms listed above.
But again, if you don't need to lift more than this, it won't matter.
The functional trainer here is plate loaded like the G9 and comes with a 150 lb limit for each side.
Unlike the G9, the adjustable pulleys on this rig utilize a 2:1 pulley ratio, so you're only lifting half the weight you rack up.
On the plus side, this gym comes with a built-in butterfly press attachment that uses a 1:1 pulley ratio; there's also a low pulley station (used often for rows) that also uses a 1:1 pulley ratio.
The SM-4033 comes with a lot of the same attachments as the other gyms mentioned, so there's no need to repeat them here.
The most notable difference though, is that this gym comes with an adjustable bench and a preacher curl attachment, so the only thing you'd have to purchase separately is the barbell (and weight plates of course).
The biggest downside to going with the Marcy system is the warranty: at only 2 years, it's a lot shorter than any other gym on this list.
But at half the cost of the G9, the SM-4033 is by far the most affordable gym on this list too.
Overall, if you're a beginning to moderate level lifter looking for a solid all-in-one trainer that won't break the budget, the SM-4033 is a good choice. See full review.

How To Buy An All-One Home Gym
Ok, so there ya have it – if you ask me, the above represent the best all-in-one gyms for home use.
In this section, I want to go over the key specs and features I used to choose the above gyms. That way, you'll understand why these gyms made the cut.
It also means you'll be able to do your own homework and find other gyms to meet your needs, in case none of the above models did just that.
Frames
When comparing these gyms, you have to obviously consider the size and footprint to ensure you have enough floor space at home to realistically hold them.
But I like to look at a few other things too.
Most notably, I like to see what gauge of steel the frame is made of.
With steel gauges, remember that smaller numbers represent thicker steel- so a 12-gauge frame would be thicker than a 14-gauge frame.
Most of these all-in-one gyms are made out of 12-gauge steel, but some of the cheaper ones are made out of 14-gauge steel.
And some of the more expensive units are even made with 11-gauge steel.
I've found that most brands don't advertise the steel gauge, unless of course they're showing off that their gym is made out of 11-gauge steel.
In that case, you can snoop around and do a lot of homework to try and find out, or just go by the weight capacities.
In the long run, the max weight limits are the most important thing anyway, because the thicker the steel, the higher those weight limits should be.
Power Racks
As I mentored briefly at the beginning, the power rack station allows you to perform all the barbell exercises you might want to do.
As you may have noticed, none of these gyms include a barbell, so you'll be responsible for purchasing one separately.
Most of these power racks can comfortably fit an Olympic barbell, but that's something you might want to double check before purchasing just to make sure.
The weight limit is the most important spec to think about with regards to the power rack- and as you saw above, these limits can vary greatly.
Some racks will also come with Westside hole spacing, which means the adjustment holes are 1″ apart instead of the standard 2″.
Westside spacing is a nice feature because it gives you more options for where to place the bar (especially for bench pressing), but I don't consider it a crucial feature.
A lot of the all-in-one trainers are designed so that the adjustable pulleys use the power rack's uprights, so you might find yourself having to remove J-hooks or moving them out of the way from time to time.
Smith Machines
Smith machines are great because you can perform pretty much all the same barbell exercises you could with the power rack, but having the bar attached to the rails adds an extra layer of safety.
Which comes in handy when exercising alone.
Smith bars are also great because you can lock 'em in place all along the rails- which comes in handy when you can't complete a rep.
Most also come with adjustable safety stoppers that act as built-in spotters in case you can't complete a rep.
It's a good idea to check out weight capacities for the Smith machine too.
Some Smith bars are counterbalanced, which means there's a pulley system with a weight connected to the bar, that eliminates the weight of the bar during your lift.
Counterbalanced bars work very smoothly and they're nice because you can lift against very little resistance.
Just keep in mind you won't include the bar's weight when calculating your total lift weights.
Functional Trainers
A functional trainer is just a fancy word for a pair of adjustable pulleys.
Pulley systems can add a ton of workout variety to a home gym. You can do all kinds of pulling, pushing, and rotational moves with pulleys, not to mention the classic isolation moves.
As you noticed above, functional trainers can be weight plate loaded or come with their own weight stacks.
The weight stacks can vary in weight, as can the max limits on plate loaded units.
More expensive gyms often come with 1:1 pulley ratios, meaning you feel every pound you rack.
This is opposed to gyms that utilize a 2:1 pulley ratio, which means you feel half of the weight you rack (100 lb feels like 50 lb).
Gyms that have multiple pulley systems might have different pulley ratios for different sections, as is the case for the SM-4033 discussed above.
Attachments
One of the great things about a quality all-in-one home gym is that they can adapt and grow with you over time.
This is largely done through the addition of attachments.
Most of these gyms come with comparable attachments. Pretty much all offer pull up bars, lat bars, standard handles, ankle cuffs, etc.
Most will also include all the J-hooks, safety bars, and clips you need.
More advanced systems will come with separate lat pulldown stations and stuff like that.
It's a good idea to check out and compare the different attachments that are included when comparing gym systems. All other things fairly equal, it could be the attachments that guide your decision.
Warranty
I'm a stickler for a quality warranty and I'm not ashamed to admit it.
I'm not saying the warranty should be the most important feature you consider, but I think it's somewhere near the top of the list.
A good warranty not only gives you peace of mind about your purchase (especially a purchase of this magnitude), but it also gives ya an idea as to how much confidence a manufacturer has in their product.
Generally speaking, more expensive gyms come with longer warranties – and this makes sense.
After all, there are reasons why affordable gyms are more affordable to begin with.
Home gym warranties are usually divided into frame, parts, and labor sections.
The frame warranty should be the longest and a lifetime guarantee is preferred.
Expect anywhere from 2-10 years on parts and 1 year on labor is pretty standard.
Other Stuff
Those are the big points to consider when comparing home gym systems, but realistically there are other things that'll come up too.
Like price of course.
All-in-one home gyms aren't cheap. After all, these units are basically combining 3 different fitness machines into a single unit, so of course they won't be cheap.
But with a quality one, you won't have to pay for a gym membership anymore and you probably won't have to invest in any other strength training gear either (unless you want to).
A quality home gym should also last you for years and years to come.
Something I didn't mention yet either is assembly.
You can always pay a professional to assemble for you (which I recommend for the Force USA gyms) for added cost, but know that if you decide to assemble yourself you'll have some work to do.
With all of the pulleys and just the sheer size and weight of these units, assembly isn't an easy task- definitely something to consider when planning out your budget.
Ok, that's about all I got.
I hope you found this guide helpful and if you have any questions or comments (or know of a gym that should've made this list but didn't) please leave 'em below and I'll get right back to ya.