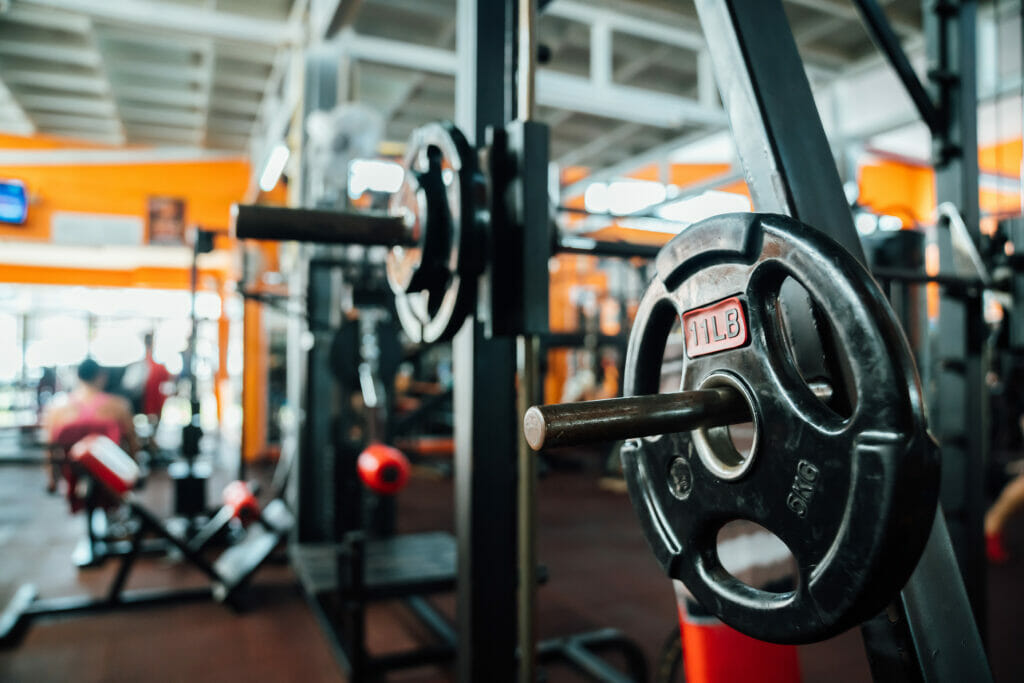 If you're looking to maximize workout possibilities with as little equipment as possible, a combo unit like Marcy's Smith Machine/Cage System could be a great choice.
As the name might imply, the SM-4033 includes a Smith machine and a power rack, allowing you to perform any barbell exercise you can think of.
But it also comes with 2 adjustable pulleys, an included adjustable bench, and all the handles/accessories you need to get started from day 1.
Overall, if you're in the market for an affordable all in one trainer, Marcy's Smith Machine/Cage System (SM-4033) is definitely worth considering.
But it certainly has its flaws too (like low weight capacities).
In this review, I'll go over all the perks and disadvantages of going with this home gym system. After reading, you'll be well equipped to decide for yourself whether or not this is the right option for your home gym.
Let's begin.
The Marcy Smith Machine/Cage System (SM-4033)
I want to start by acknowledging the elephant in the room here – this rack has an awful name.
I mean there's nothing catchy about it at all. It's awkward to write, it's awkward to say. Even the model number has a hyphen in it, making it more tedious to type.
Ha, ok, now that I got that off my chest, we can move on.
Marcy is a respected brand and they've got some really popular products in their lineup.
They're especially known for their single stack home gyms, but they've got several other racks and Smith machine combos to choose from.
They even have some cardio machines in their lineup too, although I have to say I've never really come across those before.
The SM-4033 is Marcy's highest-end all in one trainer to date and combines the functions of a Smith machine, a power rack, and a functional trainer in a single unit.
It also comes with a dedicated pec fly station and a low pulley designed for rows, but more on that in a bit.
And with a sales price well under $2000, it's a lot more affordable than most of the other combo units around.
Pros
Ton of exercise variety
Combines power rack, Smith machine, and functional trainer
Multi-grip pull up bar
Pec fly station
Low pulley for rows
Landmine station
Adjustable bench included
Preacher curl attachment
Plenty of handles/bars included
Affordable
Cons
Low weight capacities on rack and Smith machine (300 lb)
Pulley rails get in the way of racking weight plates flush with barbell (on power rack)
Short warranty
No Westside spacing on power rack
Frame
I want to start with a few comments on the frame in general.
When reviewing power racks or cages, I usually spend a little time talking about the size of the uprights and the gauge of the steel being used.
As a combo unit, the SM-4033 is a little different, but I still think it's worth considering.
Marcy doesn't mention any of this info in their product descriptions, but given the price and weight limits on this rack, I have to assume that this unit is constructed out of 14-gauge steel.
This is to be expected for the price range, just know that it isn't as heavy-duty as the 11-gauge steel frames used on more expensive equipment.
The SM-4033 takes up a floor space of roughly 6′ x 7′, not counting the bench.
Also keep in mind you'll want a couple extra feet of wiggle room on each side to access the plates and for comfortable use.
This isn't really what I'd consider a compact unit, although considering how many different exercises you can perform, it will save you from having to get multiple pieces of equipment (which could save some room in the long run).
You'll also notice that the power rack station is red- not that this adds anything to the quality of the rack, but it makes for a nice pop of color.
Power Rack
Ok, let's start with the power rack station of this machine.
With the power rack, you'll be able to perform all the classic barbell exercises you might want to do in your home gym – think squats, bench presses, shoulder presses, deadlifts, etc (barbell not included though).
The power rack station on this unit comes with a max weight limit of 300 lb (that's how much weight the J-hooks can safely hold).
This is pretty low for a power rack and won't be enough for a lot of serious lifters out there, so definitely something to consider.
It's also worth noting that the SM-4033 doesn't come with Westside spacing on the uprights. Westside spacing means the adjustment holds are 1″ apart, giving you a lot more options when it comes to where you can place the barbell.
Instead, the SM-4033 comes with a more standard 2″ spacing, which still allows for plenty of adjustments, but not as many as Westside spacing would provide.
Again, something more experienced or elite lifters might miss, but the rest of us probably wouldn't.
A pair of J-hooks are included with purchase, but safety bars are not. Users have complained that the J-hooks are very small too, when compared to higher-end racks.
Something else is that is a bit disappointing is that the rail for the functional trainer (pulleys) is right beside the uprights for the power rack.
This means the weight plates won't slide all the way onto an Olympic barbell because the pulley rail is in the way.
You may be able to fix this with the addition of a little spacer so that the plates would be flush with the end of the barbell, but this seems like a fairly significant design flaw from the get go.
Overall, the power rack on the SM-4033 is best suited for beginner to moderate lifters who won't be lifting over 300 lb for any exercise.
The fact that the weight plates can't be pushed flush on the barbell while resting on the J-hooks is disappointing, but not necessarily a deal breaker.
Smith Machine
The Smith machine allows you to do all the same exercises you would do with a barbell on the power rack, but having the bar attached to a rail system makes for safer lifting, especially when exercising alone.
You can easily rotate the bar during lifts to lock the bar back in place along the uprights and there are also 2 built-in safety stoppers that can be adjusted as well.
With a Smith machine, you basically always have a built-in spotter.
Having the barbell attached also makes lifts a little easier because you don't have to work as hard to control the movement.
The Smith machine on the SM-4033 also comes with a 300 lb weight limit, which is pretty low when compared to higher-end racks (like Force USA's G6 which comes with a 772 lb weight limit).
Overall, the Smith machine on this unit is light duty, but users agree it glides smoothly and is comfortable to use.
Pulleys
One of the biggest benefits of the SM-4033 is that it comes with a functional trainer station, which of course is just a fancy term for the pulleys.
With dual, adjustable pulleys, you can perform cable crossovers from any angle, but you can also perform a wide array of lifting, twisting, and isolation exercises.
You can pretty much do any move against resistance – hence the term "functional trainer".
The pulleys on the the SM-4033 are adjusted along their own rails, so you don't have to really worry about moving J-hooks out of the way, which is nice.
There aren't any weight stacks with this machine, instead the pulleys are weight plate loaded just like the Smith machine.
The pulleys come with a total weight capacity of 300 lb, of 150 lb per side, which is plenty of weight for most users.
Overall, most users seem pretty happy with the function of the pulleys, although a few have complained that they don't feel as smooth as they'd expect.
Attachments
Marcy is fairly generous when it comes to the attachments they include. With purchase, you get the following:
Multi-grip pull up bar
Built-in pec station
Low row station (lower pulley)
Adjustable bench
Preacher curl attachment
Short bar
Triceps rope
Lat bar
Dip handles
Pair of cable handles
Landmine station
Pair of J-hooks
Weight plate holders (x6)
Barbell storage
I like that Marcy includes a bench with purchase because many brands don't.
I also think it's nice that this unit comes with a built-in pec fly station as well as a low pulley station that can be used for rows and whatnot- this way you don't have to worry about adjusting the pulleys to perform these exercises.
Overall, Marcy is generous with the attachments they include. The only thing really missing are the safety arms for the power rack.
Warranty
Marcy backs their SM-4033 with the following residential warranty:
Yup, that's a really short frame warranty and there's no report of any warranty on the pulleys or anything else.
Force USA offers lifetime frame warranties and other higher end products might come with 10 year warranties, for the sake of comparison.
But, a short warranty is one of the reasons affordable equipment is affordable in the first place.
Marcy also offers a 30 day return policy, but you have to go through them to get in approved first.
Overall, the warranty on this gym is pretty weak, but that's how it goes with more affordable brands.
Final Thoughts
Alrighty, that's about all I've got when it comes to Marcy's Smith Machine/Cage System (I still hate that name).
The biggest advantage I see to getting this unit is that it provides a ton of workout variety for a relatively small investment (small compared to other similar units that is).
With a Smith machine, a power rack, a functional trainer, a pec fly station, a lower pulley, and a pull up bar, there isn't much you can't do on this gym.
Especially considering Marcy includes a bench and lots of other attachments to get you rollin' as soon as you assemble.
My biggest concern regarding this machine is that it's light duty and designed for handling lower weights.
A 300 lb weight capacity on the power rack and Smith machine is very low compared to higher-end gyms and simply won't be enough for a lot of lifters out there.
I also don't like that the design flaw that doesn't allow you to rack the plates all the way flush with the barbell when using the power rack.
Overall though, I think the SM-4033 has a lot of value for beginning to intermediate lifters who are looking for a budget friendly way to expand their home gyms.
But the folks out there looking for a heavy-duty rack should consider other options.