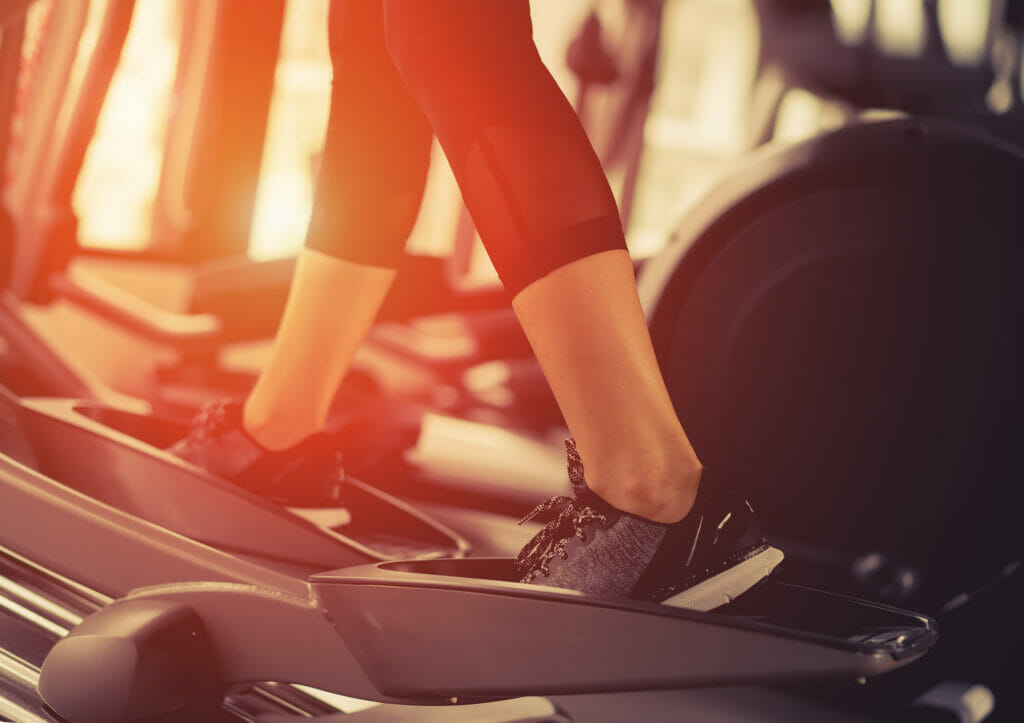 The E20 is Sole's entry- level elliptical and as budget models go, it's got a lot going for it.
I guess we shouldn't be surprised, I mean this is Sole we're talking about here.
Anyway, highlights of the E20 include an 18″ stride length, a 14.4 lb flywheel, and a surprisingly heavy-duty frame.
It also comes with a few extras that shouldn't be taken for granted in this price range, like 3 levels of incline (manually adjusted), built-in speakers, and a USB charging port.
It's also backed by a solid warranty.
Overall, if you're looking for a budget elliptical, the E20 is a pretty solid choice, but before you buy it's a good idea to learn as much as ya can to ensure it's really the best option.
And that's where I come in.
In this review, I'll go over everything the E20 does and doesn't have going for it.
After reading, you'll know once and for all whether or not this is the right elliptical for your home gym.
The Sole E20 Elliptical
I've been a fan of Sole for awhile now.
As a brand, I like that they keep their machines fairly simple and concentrate more on the performance specs.
I also love that they offer some of the best home warranties in the industry.
Sole has a nice selection of cardio machines to choose from, including several treadmills, bikes, and ellipticals. They even offer a rower and a climber too.
There are 7 ellipticals in their lineup, giving folks of all price ranges different options to choose from.
The E20 is Sole's most affordable elliptical of the bunch and will cost you around $650, give or take.
I had never seen the E20 before until recently, although I think it's been around for sometime (I just don't think it was offered online).
Pros
Affordable
Decent flywheel
Magnetic resistance system
Heavy-duty frame
300 lb weight limit
Bluetooth speakers
USB charging port
Chest strap heart rate monitor compatible
Tablet holder
Good warranty
Cons
Stride length might be too small for taller folks
Manually adjustable incline
Not many workout programs
Stride Length
With a sales price well under $1000, the E20 is definitely a budget elliptical, and as such, it's important to have realistic expectations.
But even so, you still have to look at the key performance specs to see how it stacks up.
And looking at the stride length is a great place to start.
An elliptical's stride length tells you how far apart your legs will separate with each step and it's a very important spec to consider before buying.
This spec gives you a good idea as to how comfortable the elliptical will be during workouts.
The goal is to find a stride length that allows you to stretch out comfortably with each stride, but that isn't too long and forcing you to overstretch.
A stride length that's too short is bad too, because it'll make you feel like you're marching in place.
Most high-end ellipticals come with a stride length of 20″ because this size tends to fit the majority of users fairly comfortably.
Shorter folks can often get away with smaller strides and individual preferences vary as well of course.
With all of this in mind, the E20 comes with an 18″ stride length.
This is a bit shorter than the 20″ gold standard, but it's not awful for such an affordable elliptical either.
Still, at only 18″, taller folks should beware – if you're over 6′ tall, don't expect to be able to stretch out fully with each stride.
The shorter folks out there will likely do just fine with this stride.
If we look at the comps, Schwinn's 411 costs about $100 less than the E20 and it too comes with an 18″ stride.
There's also ProForm's Carbon EL (which costs around $700) which comes with a 19″ stride length.
Overall, I'd say the E20's stride is pretty average for this price range, but something else worth noting is that this elliptical comes with an assembled weight of 175 lb.
This is very heavy-duty for a budget elliptical and this extra weight should make this machine feel a lot more stable (Schwinn's 411 weighs 100 lb).
It also comes with an impressive weight limit of 300 lb which again, is pretty solid for this price range.
Resistance
Let's move on and take a look at the E20's resistance system.
Like all ellipticals in this price range, the E20 uses a magnetic system – meaning the resistance is created by moving magnets closer to or farther away from the spinning metal flywheel.
This is how most spin bikes work too.
And like most spin bikes, home ellipticals usually benefit from having heavier flywheels.
This is because the extra weight builds more momentum as it spins, which in turn helps keep the pedals moving to a certain degree – and this makes for a smoother feel.
More expensive home ellipticals may come with flywheels in the 20 – 30 lb range (and I consider any elliptical flywheel over 20 lb to be considered "heavy").
With this in mind, the E20 comes with a 14.4 lb flywheel.
This falls short of what I'd consider heavy, but when compared to other similarly priced ellipticals, it holds up pretty well.
The Carbon EL mentioned earlier comes with a slightly heavier 15 lb flywheel, but I don't think the extra half pound will make any difference.
And Schwinn's 411 doesn't use a weighted flywheel (according to their reps), meaning it's really light.
Overall, I would say the flywheel on this elliptical is decent for the price.
This elliptical also comes with a manually adjustable incline, giving you 3 levels to choose from for extra difficulty.
Yes, manually adjustable inclines kinda suck, but unfortunately that's the best that can be expected in this price range.
Overall, the E20 scores fairly well in the resistance department. The flywheel is about as heavy as you'll find in this price range and it's paired with a smooth magnetic resistance system.
Features
The Sole E20 comes with the following features:
5.5″ LED console- the display on this model isn't fancy or anything, but it's backlit and large enough to see clearly during workouts.
8 workout programs- the E20 doesn't come with a ton of workout programs either, but it does include 6 basic profile workouts as well as 2 heart rate guided options.
Bluetooth speakers- this is a surprising feature considering how affordable this elliptical is, but you can listen to your music wirelessly through the built-in bluetooth speakers.
USB charging port- you can also charge your phone/tablet during workouts with the built-in USB charging port.
Heart rate monitoring- the elliptical comes with built-in grip heart rate monitors and is also compatible with strap monitors (although one isn't included with purchase).
Tablet holder- there's a tablet holder incorporated into the console, giving you a place to put your tablet during workouts.
Water bottle holder- this handy device holds your water bottle.
Assembly
If you do decide to purchase the E20, you shouldn't have to worry about the assembly process.
Sole makes it pretty easy.
The main unit of the elliptical comes pre-assembled, so you won't be messing with the internal components or anything like that.
You'll be responsible for attaching the front/rear stabilizers, attaching the mast, the console, and then the arms/handles.
There are also a few plastic covers to be attached, but that's about it.
All of the necessary tools/hardware are included and the assembly manual is pretty easy to follow.
I'd expect most folks can have the E20 unpackaged and assembled within an hour or so.
Warranty
Sole Fitness backs their E20 Elliptical with the following residential warranty:
Lifetime frame
3 year electronics
1 year parts
1 year labor
All things considered, I think this is a good warranty for the E20.
The most impressive part is the lifetime frame warranty – something you really don't see in this price range.
Three years on the console is also pretty impressive, given the price.
A year on parts and labor is pretty standard for this price range.
For the sake of comparison, ProForm and Schwinn both offer 10 years on their ellipticals' frames (although Schwinn does offer 2 years on parts).
Final Thoughts
Alrighty, I think it's about time to wrap this review up.
If you're in the market for a really affordable elliptical, I think Sole's E20 is a solid choice.
In terms of performance, it's packing a reasonably heavy flywheel for the price range and there's also the option to mess with the incline angle if you feel up to it.
More impressively though, is how heavy-duty the E20 (this is also what sets this elliptical apart from most in this price range).
It terms of features, it also scores pretty well.
The E20 only comes with a handful of workouts, but it does come with bluetooth speakers and a USB charging port.
And last, but not least, is that lifetime frame warranty.
Put it all together, and you've got yourself an impressive elliptical.
If you're looking for more workout options (or the ability to connect with iFit), you'd probably be better off with ProForm's Carbon EL.
But if you're just looking for an easy to use, affordable elliptical, I think Sole's E20 is about as good as it gets.