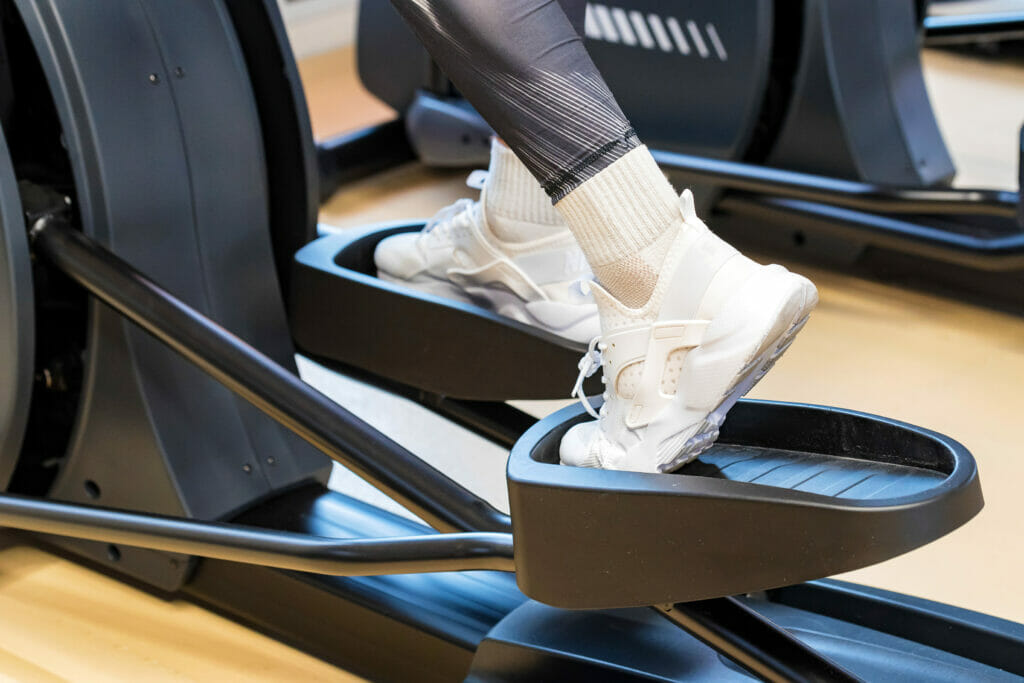 Schwinn's 430 is one of 3 budget friendly elliptical trainers currently being offered by the popular home fitness brand.
And considering this model comes with a sales price under $800, it actually has some fairly respectable performance specs given the price.
Highlights of this model include a 20″ stride length, 22 workout programs, and a 300 lb weight capacity.
It also comes with 20 levels of magnetic resistance to work with and the ability to save 2 user profiles.
If you're looking for an affordable elliptical machine that still has plenty to offer, Schwinn's 430 is a pretty solid choice.
But before you buy, it's a good idea to read this review in full because the Schwinn 430 is far from perfect.
In this article, I'll go over everything this elliptical machine has to offer. We're talking pros, cons, and everything else in between.
After reading, you'll know everything you need to in order to decide whether or not this is the right elliptical for your home gym.
The Schwinn 430 Elliptical
The Schwinn name goes back a long time- and by long time I mean like late 1800's. They gained their fame with their bicycles and even today, the Schwinn name is synonymous with bike.
The brand is still very popular for their road bikes, but they're also quite famous for their home fitness equipment too.
In the world of fitness gear, Schwinn is what I'd consider a budget brand.
Even though they do offer some more expensive, high-end machines (like their Airdyne AD7 and AC Performance Plus spin cycle, both of which are top of the line), most of their equipment comes with a price well under $1000.
And when it comes to home fitness machines, this makes them quite budget friendly.
Budget equipment is usually budget for good reason- these machines usually aren't quite as heavy-duty or backed by as good a warranties as the more expensive models.
That said, when it comes to budget equipment, Schwinn is one of the better options out there.
Their 430 Elliptical is 1 of 3 models you'll find on their website.
The 430 falls in the middle in terms of price and features, with the 470 being a little higher end and the 411 being lower grade.
Pros
20″ stride length
17 lb flywheel
20 levels of magnetic resistance
22 workout programs
2 user profiles
USB charging port
Audio jack
Cooling fan
Decent warranty
Cons
No bluetooth
User complaints regarding components breaking easily
Stride Length
If you ask me (and if you're reading this, that means that you are), an elliptical's stride length is the most important spec to consider when checking out a new machine.
This spec simply refers to how far the pedals move away from each other during use, but it tells you a lot more about the machine in general.
First of all, the stride length tells you whether or not you'll going to be comfortable using the machine- if the stride length is too short, you probably aren't going to feel that comfortable.
Cheaper ellipticals tend to come with shorter stride lengths.
If the stride length is too small, you're going to feel like you're jogging in place- something I know I wouldn't be looking for from a new elliptical.
Most higher-end ellipticals come with stride lengths in the 20-22″ range, allowing them to accommodate taller users.
Shorter users can probably get away with shorter stride lengths, but when in doubt, I think it's a good idea to go with a longer stride length (check out my stride length guide to see what your optimal stride length should be).
With this in mind, Schwinn's 430 comes with a 20″ stride length.
This is good for an elliptical in this price range, where it's not uncommon to see 16-18″ stride lengths.
At 20″, the 430 is a little longer than many, allowing it to comfortably hold taller folks.
This machine also comes with a 300 lb weight capacity, which is again, pretty good for this price range. With the longer stride length and higher weight capacity, the 430 is able to hold folks many cheaper models can't.
Flywheel
The flywheel on an elliptical is essential for creating the resistance you pedal against, as well as the overall "feel" of your workouts.
As you pedal, the flywheel spins. In a magnetic resistance system, you've got a magnet or series of magnets around this metal flywheel.
The magnets are moved closer or farther from the flywheel to create the resistance you workout against.
Now, it's generally agreed on that having a heavier flywheel is beneficial.
One reason is that the heavier flywheel will produce more momentum as it spins, which results in a smoother pedal action during use.
A heavier flywheel should theoretically be able to produce more overall resistance than a lighter flywheel too.
For home ellipticals, I think any flywheel weighing 20 lb or heavier is pretty good. At this weight, it should be heavy enough to provide a smooth, substantial workout.
The thing is, it's not always easy to tell how heavy the flywheel is- especially on budget machines.
If the flywheel is heavy, the brand will usually advertise it; if the flywheel is light, the brand will often omit flywheel weight all together.
In the case of the Schwinn 430, the weight of the flywheel is no where to be found, but I reached out to a sales rep and was told that the flywheel weighs 17.3 lb.
This is lighter than the 20 lb+ flywheels we like to see on higher-end models, but for a budget-friendly elliptical, this is actually pretty good.
I'm surprised Schwinn doesn't make more of an effort to mention this in their marketing.
Especially considering a lot of affordable ellipticals come with flywheels in the 10-15 lb range.
So, the flywheel is pretty heavy for this price range, but it also comes with 20 levels of magnetic resistance to work with, which gives you a lot of play on the intensity levels of your workouts.
This elliptical also comes with 6 levels of manual adjustable incline- this means you have to physically get off the elliptical to change the incline setting and then get back on.
Manual inclines are pretty tedious to use. My guess is that you'd set the incline before your workout and keep it the same throughout.
I guess a manual incline system is better than no incline system, but only marginally so.
Overall, the 430 doesn't come with the heaviest flywheel around or anything, but it's reasonably large for its price range.
I like that it comes with so many resistance levels too, but the manual incline system is likely to be cumbersome during workouts.
Features
The Schwinn 430 comes with the following features:
22 workout programs- one thing this elliptical does have going for it is exercise variety. This is a ton of preprogrammed workouts to choose from, which could be a selling point for people looking for a large workout library.
2 user profiles- you can save info for 2 separate profiles, making it easy to save your stats for more accurate metric tracking.
Dual LCD screens- the console on this elliptical is far from fancy, but it does come with 2 small LCD screens that make it easy to see all of your workout stats at the same time.
USB port- you can plug your phone or tablet in and charge it during your workouts.
Audio jack- this feature allows you to plug your phone or mp3 player into the elliptical and listen to your music through the built-in speakers.
Cooling fan- the 3 speed fan can help keep ya comfortable during your workouts.
Water bottle holder- this feature is pretty self-explanatory.
Assembly
The assembly process for the 430 should be fairly straightforward for most folks- of course it does help if you're a little handy in general.
The process itself isn't too complicated and Schwinn's assembly manual is pretty easy to follow. The images are large, making it pretty easy to tell which piece of hardware is used to attach which piece.
Having a second person around will make the process a little easier, especially when it comes to attaching the stabilizer legs.
Overall, most users found the assembly process to be pretty easy. I'd expect to spend an hour or so getting the job done.
Warranty
Schwinn backs the 430 Elliptical with the following residential warranty:
10 year frame
2 year parts
90 day labor
The warranty on this elliptical is short when compared to high-end machines, but this isn't a high-end machine, so I don't think it makes sense to compare it to them.
When compared to other budget ellipticals, the warranty actually holds up pretty well.
A lifetime frame guarantee is optimal, but unrealistic in this price range. And 2 years on parts is quite good for the price range. 90 days on labor is short, considering 1 year is industry standard.
Overall, the warranty on the 430 is pretty good for a budget machine.
That said, there have been several complaints from users about parts breaking during use- like handles and bolts and stuff like that.
Others have complained about loud noises during operation.
Schwinn's customer service doesn't exactly have a great reputation either.
Final Thoughts
That about does it for Schwinn's 430.
I think it's important to be realistic about what you should expect from an elliptical of this caliber.
The 430 is a budget elliptical and when compared to other budget ellipticals in its price range, it holds up pretty well. It has a stride length longer than most in this price range and it's loaded with workout programs.
And it's warranty is actually better than most in this price range too.
But would I consider this to be a "nice" elliptical?
No, I wouldn't go that far.
This is an affordable elliptical that might work ok for lighter intensity workouts, but I wouldn't count on getting more than a few years out of it if you're lucky.
As I mentioned, there've been more than a few complaints about this model breaking down after a few months.
But again, that's kinda what you should expect from any elliptical in this price range- and like I said above, the 430 is about as good as it gets in this price range.
Overall, if you're looking for an affordable elliptical to help you get moving more, Schwinn's 430 could make sense.
But if you're looking for a more substantial machine that'll last, you might want to increase you budget a little and go with the Sole E25 (for an extra $200 you get a 20 lb flywheel, power incline, and a lifetime frame warranty).
Just sayin'.