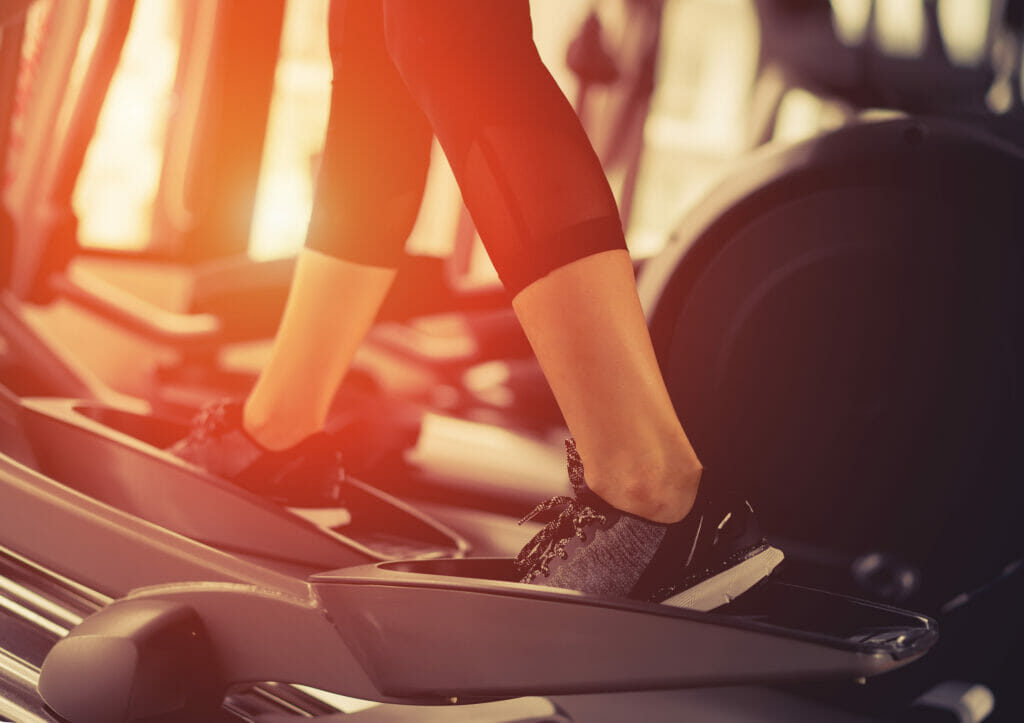 Sole is one of the best home fitness brands around, so if you're looking for a quality elliptical, they're a great place to start. They offer a great selection of treadmills, ellipticals, and exercise bikes to choose from.
And when it comes to ellipticals, both their E25 and E35 are 2 of the top models around in their respective price ranges.
The E35 is an upgraded version of the budget-friendly E25- as such, it comes with a heavier flywheel, longer warranty, and heavier-duty frame.
There's really no debating the fact that the E35 is a higher-end elliptical, but the real question is whether or not these upgrades are worth the extra $500.
And that's exactly what I'm hoping to help you answer.
In this comparative review, I'll go over all the key differences between the Sole E25 and the E35.
After reading, you'll know which model is best suited for your home gym.
Sole E25
Sole E35
Stride Length
20"
20"
Resistance
20 lb flywheel
20 levels of resistance
20 levels of incline
25 lb flywheel
20 levels of resistance
20 levels of incline
Frame
212 lb assembled weight
350 lb weight capacity
231 lb assembled weight
375 lb weight capacity
Warranty
Lifetime frame
3 year parts
1 year labor
Lifetime frame
5 year parts
2 year labor
Features
10 workout programs
Bluetooth
Chest strap included
10 workout programs
Bluetooth
Chest strap included
Adjustable pedals
Multi-grip handles
Price
$999
$1499
The Sole E25 vs The E35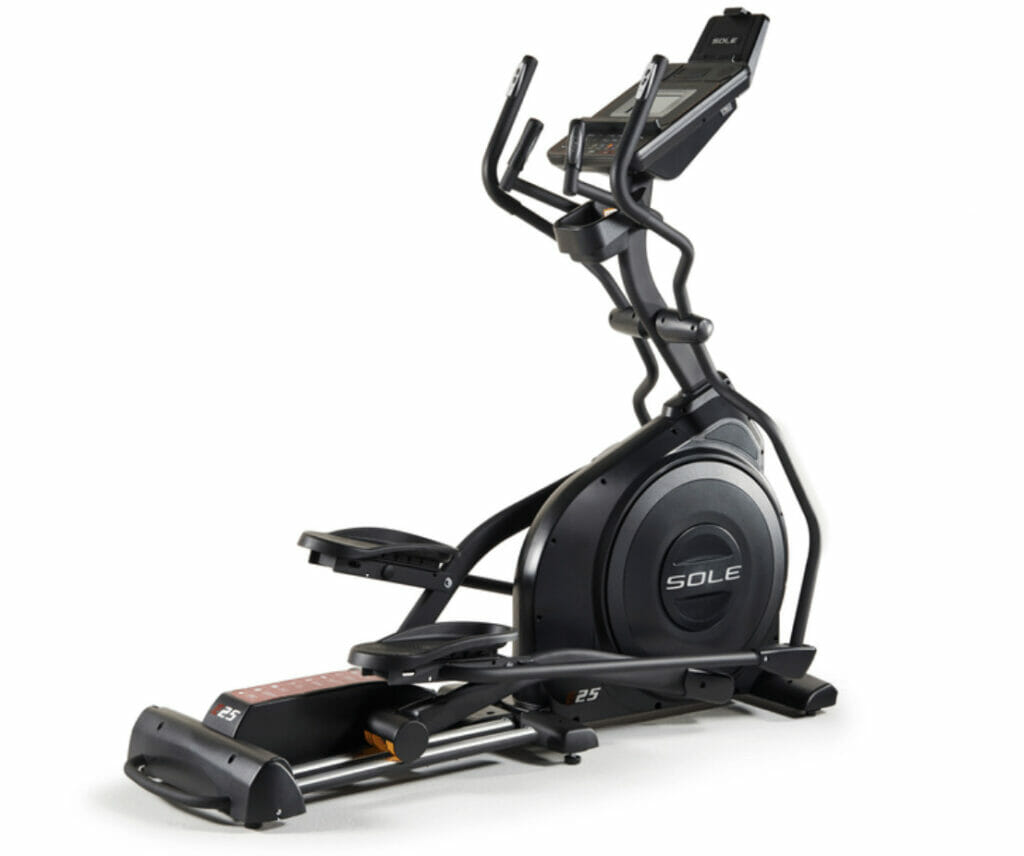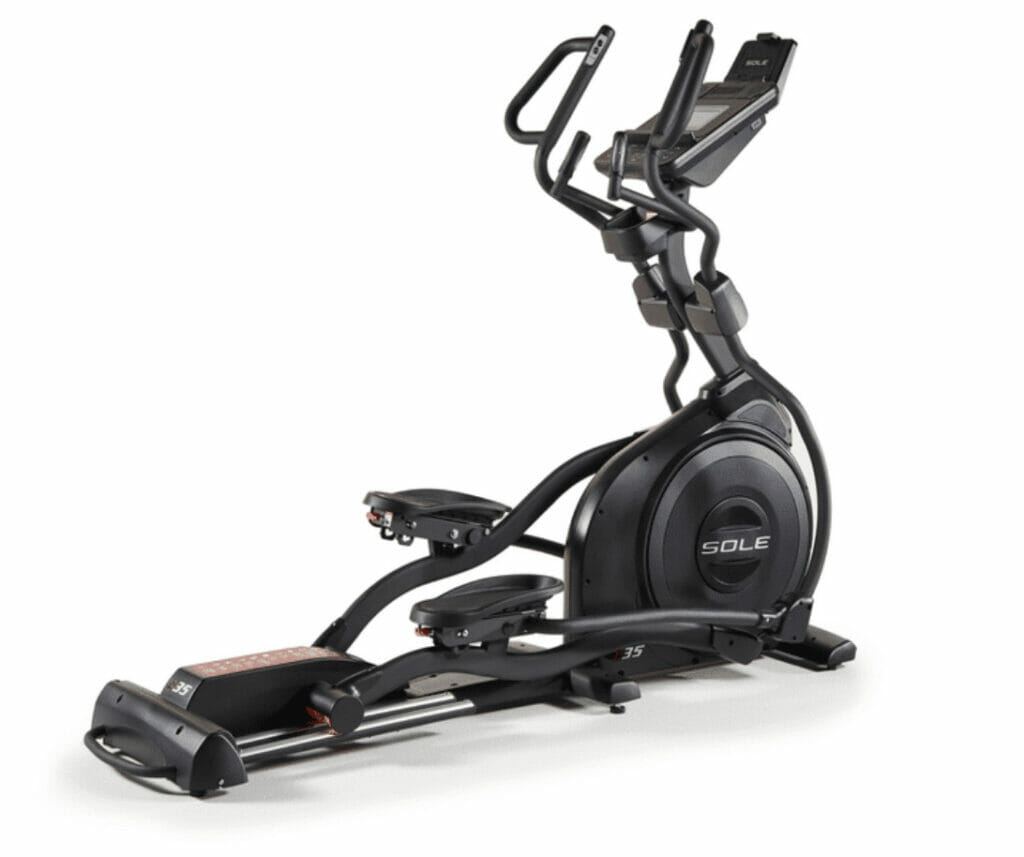 Above images courtesy of Sole Fitness
I really can't say enough good things about Sole Fitness (and I promise I don't secretly work for them). Personally, I think they are the perfect home fitness brand.
Their machines are durable, easy to use, and fairly priced… I mean really, what more could you want?
Well, I will say that if you're looking for workout streaming or fancier consoles, Sole probably isn't your best bet. As I said, Sole products are easy to use.
But if you aren't concerned with that stuff and simply want a durable product that's designed for optimal performance, Sole is a smart choice.
Sole has a pretty extensive collection of cardio machines to choose from too.
Even though they're probably best know for their treadmills, their ellipticals and exercise bikes are just as high-quality (they also have a rower and a climber in their lineup).
Something all Sole products have in common is a generous warranty, another reason I like this brand so much.
When it comes to their ellipticals, Sole has 6 to choose from (and all the model numbers conveniently start with an "E", followed by a number- the higher the number, the more expensive the model).
The E25 is their entry-level elliptical and the E35 is the next model up, both in terms of price and features.
When comparing these 2 ellipticals, I think it makes sense to start with the performance aspect of things and then move on to the console features.
I hope this works for ya, cause that's how I've decided to organize this review.
If you want to see a comparison of all Sole ellipticals, check my complete Sole Elliptical Guide.
Stride Length
The stride length is easily one of the most important specs to consider when looking at any elliptical, so this is probably the best place to start.
By the way, the stride length refers to how far your feet move apart (front to back) during use.
This is going to be a pretty short discussion, since the E25 and the E35 both come with the same 20″ stride length, but if you're interested in hearing more, check out my article on how to find the best stride length based on your height.
So yeah, both of these ellipticals come with the same stride length, so this spec won't play into your decision making process.
And a 20″ stride length is optimal for folks of most heights, meaning pretty much everyone should be able to comfortably use both the E25 and the E35 (although if you're especially short or tall, you should check out my above link).
A 20″ stride length is the gold standard for quality home ellipticals, so both models score highly here.
Resistance
Ok, moving on. Let's see how the resistance systems for these 2 ellipticals stack up.
An ellipticals resistance system is based largely on 2 components- the flywheel and the magnetic system.
The flywheels found in ellipticals is very similar to the flywheels found in spin bikes. And just like in spin bikes, having a heavier flywheel in an elliptical is beneficial.
A heavier flywheel creates more momentum as it spins, which results in a smoother feel during use.
The E25 comes with a 20 lb flywheel, which is very respectable for an elliptical under $1000.
The E35 comes with a 25 lb flywheel, which is respectable for an elliptical in any price range.
Personally, I consider any flywheel 20 lb and up to be considered "heavy", so I would argue both models come with a heavy flywheel.
With the E35, the extra 5 lb is going to make for a smoother, more substantial workout. And by this, I mean you'll be able to work against more overall resistance.
I didn't mention this above, but heavier flywheels are able to provide more total resistance too- after all, it takes more energy to get the extra weight moving.
Both ellipticals use the same magnetic resistance system, which comes with 20 levels of resistance to work with.
Both models also come with 20 levels of power incline, so no big difference there either.
The 5 lb difference in flywheel weight is the only real difference when it comes to the resistance systems between the E25 and the E35, which in itself is fairly significant.
Frame
Let's move on and take a look at the frames for each elliptical.
I like the idea of having a heavy-duty frame, especially if I'm looking to do higher-intensity workouts. That's because a heavier frame is going to be less likely to shimmy or wobble during use.
When trying to get an idea as to how heavy-duty a machine is, I like to look at the assembled weight and the max weight capacity.
Seeing high numbers in both categories is a good sign.
The E25 weighs about 212 lb fully assembled and comes with a max weight limit of 350 lb- both of which are outstanding for an elliptical in this price range.
The E35 weighs 231 lb fully assembled and comes with a max weight limit of 375 lb- again, very impressive.
Looking at these 2 numbers gives us an idea that the E35 is a heavier elliptical, capable of holding folks that are a little larger than those the E25 can handle.
Something else worth noting is the difference in size between these 2 ellipticals- the E35 is about a foot longer and about 6″ wider than the E25.
If you're working with limited floor space, this could be an issue, making the E25 a better option.
But if you're looking for a heavier-duty machine, the E35 is certainly this.
Overall, the E35 is a larger, heavier model than the E25, allowing it to accommodate even larger folks safely.
Warranty
I mentioned at the beginning that Sole is renowned for their generous warranties. Let's take a look and compare the guarantees offered on these 2 ellipticals.
The E25 comes with the following warranty:
Lifetime frame
3 year parts/electronics
1 year labor
The E35 comes with the following warranty:
Lifetime frame
5 year parts/electronics
2 year labor
Seeing the warranties beside each other like this makes it easy to point out any differences. Here, we see the E35 comes with an extended parts and labor guarantees.
I think the warranty on the E25 is great though- there are many significantly more expensive ellipticals that don't offer a warranty that generous.
And the E35 comes with one of the best elliptical warranties you'll find, regardless of price range (Spirit Fitness is the only brand that regularly offers longer parts warranties).
Overall, there's a significant difference between the parts/labor warranties here.
Features
That about does it for the performance side of things, time to switch over to the features you'll find on each model.
I think a nice chart is the easiest way to display this info (and save my fingers from any unnecessary typing), so let's give that a whirl.
Here ya go:
| | E25 | E35 |
| --- | --- | --- |
| Display | 6.5" white backlit LCD | 7.5" white backlit LCD |
| Workouts | 10 | 10 |
| Bluetooth | Yes | Yes |
| Bluetooth speakers | Yes | Yes |
| Chest strap included | Yes | Yes |
| USB charging port | Yes | Yes |
| Cooling fan | Yes | Yes |
| Adjustable pedals | No | Yes |
| Handles | Standard | Multi-grip |
As you can see, the included features for these 2 ellipticals are very similar.
The E35 comes with a slightly larger LCD screen, making it a little easier to read during workouts. Both ellipticals come with bluetooth speakers, a USB charging port, cooling fan, water bottle holder, and all that jazz.
The E35 also comes with adjustable position pedals (3 positions) and multi-grip handles, something the E25 doesn't offer.
Otherwise, both ellipticals come with the same number of workout programs and both even include a chest strap heart rate monitor.
Final Thoughts
Ok, I think that about does it for the Sole's E25 and E35.
As I write this, I'm reminded of how impressive the E25 really is for the price range. I'm also reminded why I chose the E25 as my top choice for ellipticals under $1000.
The E35 is also easily one of the best ellipticals $1500 can get ya.
Comparing the 2, a few key differences can be found:
The E35 comes with a flywheel that's 5 lb heavier
The E35 comes with a weight limit 25 lb higher (and a larger, heavier frame)
The E35 comes with a longer parts/labor warranty
The E35 comes a larger display and adjustable pedal positions
So, do these differences warrant the extra $500 in cost?
Well, that'a more of a personal question, but allow me to provide my 2 cents on the situation.
I would say yes, the upgrades you get with the E35 are significant enough to justify the additional cost. That said, I don't think everyone would necessarily benefit from them.
Smaller folks or people more at the beginner fitness level will do just fine with the E25, especially if they're the only one in their home that'll be using the elliptical.
Larger folks, or more advanced users, may benefit from investing a little more and going with the E35- the heavier frame and heavier flywheel will be able to hold up against more strenuous use.
Homes with multiple users will also benefit from a larger, heavier-duty machine (as well as the extended warranties).
If you're working with limited space, you might want to go with the E25, considering it's about a foot shorter than the E35.
Well, I hope you found this review helpful. If you're still stuck between these 2 models, at least you can rest assured that both are awesome ellipticals.