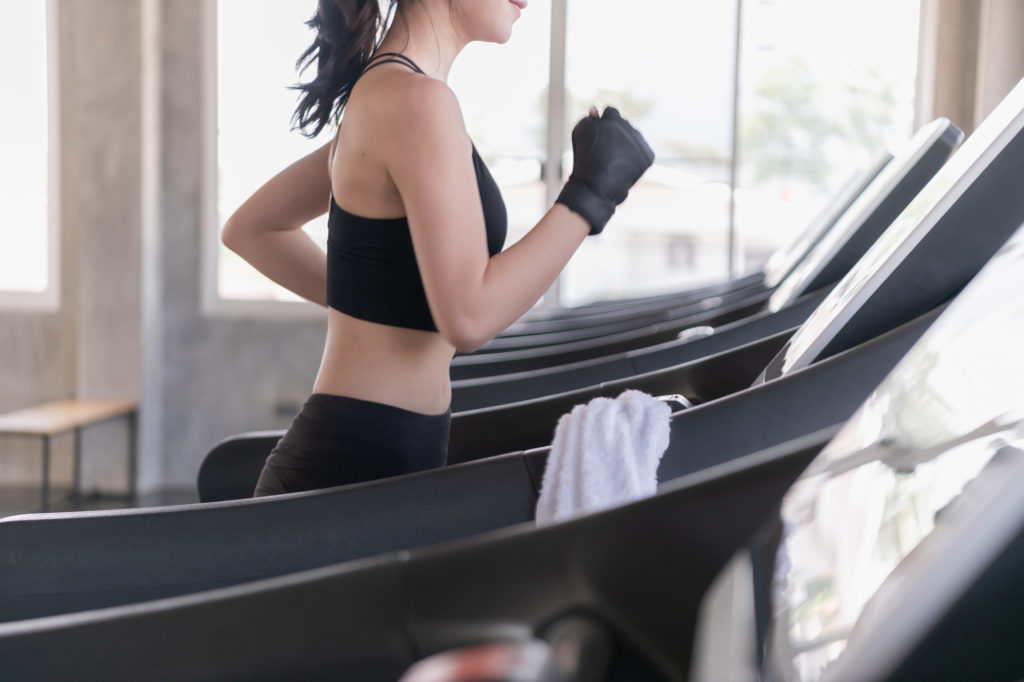 The NordicTrack T 7.5 S Treadmill has a legitimate bid for the title of best budget treadmill. With a strong motor, spacious running surface, and excellent warranty, there's no doubt it has a lot going for it. And with a large HD touchscreen monitor, this might just be the perfect choice for those looking for a hi-tech home treadmill.
Especially considering it all comes with a sale price of under $1000.
This review will take you through a comprehensive walk-through of everything the T 7.5 S has to offer in order to help you decide whether or not this is the right treadmill for your home gym.
I want to start with a quick intro to NordicTrack because I think it's important to be familiar with a company's reputation before considering any of their products.
NordicTrack 101
Having a recognizable brand name doesn't necessarily mean your products are better than anyone else's. There are plenty of lesser known brands offering great fitness equipment. But the truth is, there's usually a reason why well-known brands are well-known.
It takes years of work and a whole lot of happy customers.
Both of which NordicTrack has in their pocket.
NordicTrack has been in the fitness game for about 25 years or so. It all began with their skiers- those wooden devices that mimicked cross-country skiing. Looking back at them now, they looked kinda goofy, but in their day they were state-of-the art.
They also provided one heck of a workout. I have patients I work with now that STILL have working NordicTrack skiers in their homes – that's what I call durability.
The obviously branched out and now offer a little bit of everything fitness related.
They're also part of the ICON Health & Fitness family, that includes other well-known brands like ProForm, Weider, Free Motion, and Gold's Gym.
NordicTrack has earned a reputation for producing high-quality home fitness equipment and backing them with awesome warranties- a great combination for earning the public's trust.
Their treadmills are often amongst the highest-rated home treadmills each year. They offer several different varieties, aimed at pleasing folks with different skill levels and goals. They even offer a few treadmill desks now.
The NordicTrack T 7.5 S Treadmill
The T 7.5 S is one of NordicTrack's most budget friendly treadmills (second only to the more affordable T6.5S). They offer several models, many of which are commercial grade. They also have an interesting "incline trainer" series that includes some unique features.
One thing pretty much all NordicTrack treadmills have in common is their compatibility with iFit, the interactive fitness app. I believe ICON owns iFit and that would make a lot of sense considering how much time they spend promoting the app. Anyway, more on that in a second.
There are 4 machines in NordicTrack's "T Series" lineup. The differences in price largely reflect differences in screen size and strength of motor.
Pros
Spacious, 20″ x 60″ running surface
3.0 CHP motor
12 mph top speed
0-12% incline settings
Folding deck (with EasyLift Assist)
FlexSelect Cushioning system
300 lb weight capacity
7″ HD touchscreen display
iFit compatible (comes with 1 year free subscription)
50 built-in workouts
Bluetooth speakers
Great warranty
Affordable price
Cons
Some user complaints about iFit interface
Running Surface
Running surface describes the actual size of the treadmill belt- how much room you actually have to work with while walking or running. This is a very important spec to consider because it will have a lot to do with how comfortable you are while using said treadmill.
If the treadmill is too short (or too narrow) you'll feel cramped- you might not be able to stretch out completely during a sprint or you might just feel like you're running on a balance beam. Both situations should be avoided.
The T 7.5 S has a 20″ x 60″ running surface. This is the gold standard for home treadmills because it's been shown to fit most users comfortably, regardless of height.
This means most folks should be able to walk or run comfortably without having to adjust the natural stride length. I say "most" because if you are significantly taller than 6′, you might have to shorten your stride a little.
To help keep your running or walking more comfortable, NordicTrack has included their patented FlexSelect Cushioning system. This is their shock absorption technology. It's designed so you can actually select how much cushion the deck provides by turning each of the 3 dampeners under the belt.
More cushioning will reduce the strain through your joints, less will more closely mimic the feel of running on the road (which comes in handy if you're preparing your body for a road race).
The T 7.5 S is also a folding treadmill, meaning the deck can fold vertically for storage. The hydraulic "EasyLift Assist" mechanism ensures smooth folding. This feature comes in handy if space is limited- bringing the deck vertical can save you about 40″ of floor space when not in use.
This treadmill comes with a 300 lb weight capacity. This is pretty standard for quality home treadmills. Some offer upwards of 350 lb, but most users should be able to use this treadmill safely.
Motor
The T 7.5 S comes standard with a 3.0 continuous horse power (CHP) DurX motor, capable of reaching a top speed of 12 mph. Most home treadmills come with motors in the 2.0 – 4.0 CHP range. Anything below 3 HP and running might be a struggle.
This treadmill also comes with power incline, capable of reaching a 12% slope for added workout intensity.
At 3.0 CHP, this treadmill has enough muscle to comfortably sustain running at higher speeds without risk of the motor overheating or giving out. NordicTrack's motor is designed to "self cool", giving it a longer life span.
NordicTrack uses 1.9″ rollers on this machine. The rollers are long tubes that make contact with the belt and cause it to move. Larger is better, as it increases the amount of surface contact between the tube and the belt, making for a smoother feel.
2.5″ rollers are preferred for home treadmills, but at 1.9″, the T 7.5 S isn't too far off. There have been few complaints from users regarding the operation of the belt.
Overall, this treadmill comes with a strong, quality motor capable of offering a smooth experience.
Features
7″ HD touchscreen display- one of the biggest perks of the T 7.5 S is its tech. The 7″ touchscreen display makes it easy to see all your workout stats and make selections. The HD display is designed to pair perfectly with iFit, their workout app.
iFit Compatible- through iFit, you get access to unlimited workouts and interactive personal training. The large HD screen makes it easy to follow along with the workouts. Know that iFit is a paid subscription app, I think it costs $15/month for unlimited access. NordicTrack gives you a 1-year subscription with purchase of the T 7.5 S.
50 On-board workout programs- yeah, that's a ton of workout options. In case you don't want to pay the monthly fee for iFit, you'll still have a boat load of workouts to choose from.
Bluetooth speakers- this treadmill has 2 bluetooth compatible speakers built into the console. This gives you the option of syncing your phone with it and jamming out to your favorite music as you run. Users seem impressed by their sound quality.
One Touch controls- this features makes it easy to set your speed and incline settings if you know exactly where you want them to be. Touch the preset buttons and set each one instantly.
AutoBreeze cooling fan- the built-in fan will help keep you cool and comfortable while you workout
Water bottle holders- nothing fancy here, but it's nice to have a place to set your water bottle during your run
Assembly
Most users agree assembly is straightforward and definitely doable yourself (assuming you are someone in your home is at least a little handy). The instructions are well written and easy to follow. Expect to spend a couple hours completing the job.
Keep in mind this treadmill weighs about 250 lb when it's delivered. Most delivery services will deliver to your door, but aren't allowed to help you bring it into your home.
It would be a good idea to have some help when this machine is delivered to make sure you can get it it's final resting place- especially if that means going up stairs.
Warranty
I mentioned at the beginning that NordicTrack is known for offering generous warranties. They offer the following guarantees on the T 7.5 S:
Lifetime frame
Lifetime motor
3-year parts
1-year labor
I think this is a great warranty, especially on a treadmill that costs under $1000. The lifetime guarantees on both the frame and motor say a lot for the quality of parts NordicTrack is using on their treadmills.
Three years on parts is pretty good and 1 year labor is standard for a quality machine. Overall, a great warranty here.
Final Thoughts
The T 7.5 S has a lot going for it from the get go, not to mention having one of the most respected names in fitness printed on its side. This treadmill scores highly for its large running surface, strong motor, and great warranty.
But what really sets this treadmill apart in my opinion is the technology.
Few treadmills in this price range have anything that can compete with the 7″ HD touchscreen display. Most budget treadmills have budget displays that can only handle showing your workout stats.
I think this treadmill makes a lot of sense if you are planning on using the iFit subscription or you want a treadmill with a ton of workout programs. Again, for the price, the T 7.5 S can't be beat when it comes to this stuff.
If you aren't interested in using iFit or all of the built-in workout programs, you might want to check out the Sole F63– it's priced identically, but has a slightly higher weight capacity and uses larger rollers (but isn't nearly as fancy).
Overall though, the NordicTrack T 7.5 S is easily one of the best budget treadmills around. A great buy.