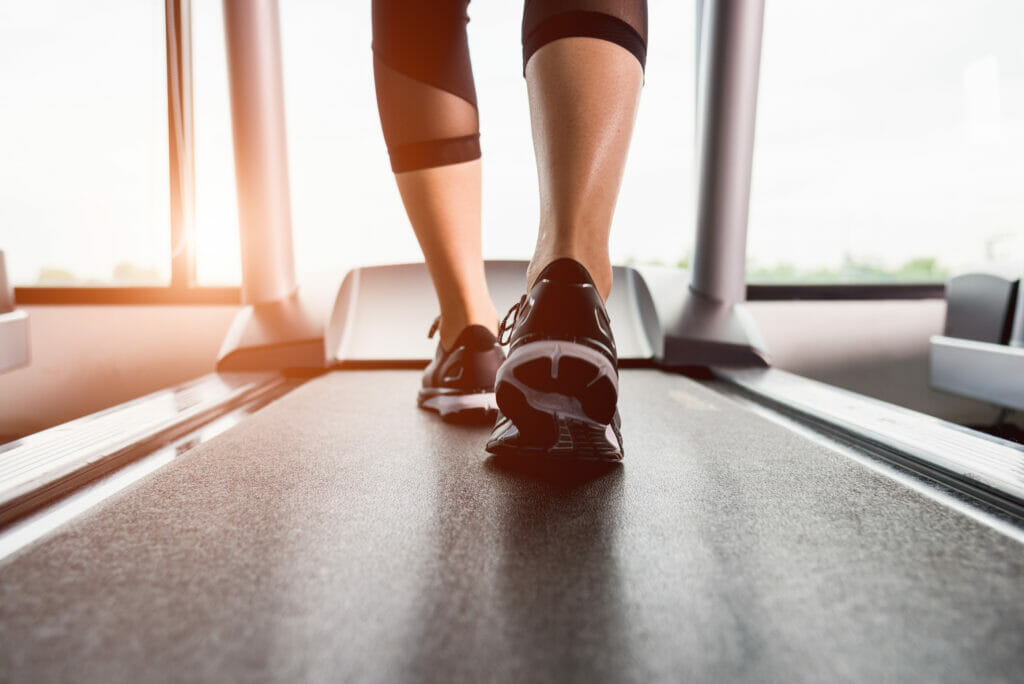 The Carbon TLX is one of ProForm's newest treadmills to hit the market and it has everything it needs to be an instant success.
Folks looking for an affordable streaming treadmill will appreciate its iFit compatibility (via bluetooth and your own tablet), but unlike some other streaming models, it comes with legit performance specs too.
With a 20″x 60″ running surface and a 3.0 CHP motor, the Carbon TLX is sporting some pretty serious numbers for such an affordable treadmill.
And with a top speed of 12 mph and a top incline of 12%, it's better equipped for challenging workouts than many in this class.
It's not the heaviest-duty treadmill around and ProForm's warranty could be longer, but overall, I think the Carbon TLX has what it takes to be one of the best treadmills under $1k.
But let's slow down a little because it's important to know the whole story before making a decision – and that's what I'm here to help with.
In this thorough review, I'll go over everything the Carbon TLX has going for it (as well as where it falls a little short), but I'll also compare it to some of the other top treadmills in this price range.
This way, you'll have all the information necessary to decide for yourself whether or not this treadmill is worth investing in.
Well, let's get started.
The ProForm Carbon TLX Treadmill
ProForm's a solid budget-friendly fitness brand with some nice treadmills to choose from.
They don't create the heaviest-duty or highest-performing machines, but when it comes to streaming treadmills, you're not going to find a better deal.
They also switch their lineups up regularly, as does NordicTrack, tweaking and updating features on basically an annual basis.
This is great in the sense that they keep their lineups fresh, but it sure makes for a lot of work for us fitness bloggers… but hey, that's what I'm here for.
Anyway, the Carbon TLX is one of their newer models and it looks as if it's replacing the Carbon T10 and/or Carbon T14.
ProForm still has the Carbon T7 as well, although it's out of stock as I'm writing this.
Regardless, in terms of price, the Carbon TLX falls in the middle of ProForm's lineup and as I'm writing this, is going for $999.
Let's start this review off with a look at the key performance specs this treadmill has to offer.
Pros
20″ x 60″ running surface
3.0 CHP motor
Top speed of 12 mph
Top incline of 12%
300 lb weight limit
Folding frame
iFit compatible
Bluetooth speakers
Quick-touch speed/incline buttons
Low step-up height
Cooling fan
Reasonably-priced
Cons
Pretty basic console
Warranty could be longer
Lot of competition in this price range
Running Surface
The running surface tells us how much space we'll have at our disposal and personally, I think this is a really important consideration to make before buying anything.
I'm not an overly tall dude (I'm 6'1″), but I still want as much space as possible when walking or jogging on a treadmill.
Basically, if the running surface is too short, tall people might find themselves having to shorten their stride a little when running.
And if the treadmill is too narrow, you won't have much room to sway from side to side (something I tend to do a lot of, especially when watching tv).
With this in mind, the Carbon TLX comes with a running surface that measures 20″ x 60″.
Not only is this large enough to handle runners of all sizes, but it's also as large as you're going to find in this price range.
Horizon's 7.0 AT, which I generally consider to be the best treadmill in this price range, comes with the same 20″ x 60″ running surface; as does Sole's slightly more expensive F63.
So, in terms of size, well done ProForm.
The Carbon TLX is average sized for a home treadmill, so there's nothing too crazy to talk about regarding its footprint and it comes with ProForm's ProShox Cushioning system to provide a softer landing on the deck.
More importantly, I want to talk about its weight.
I like to look at the assembled weight for any treadmill I'm researching because this spec can give us a good idea as to how robust or "heavy-duty" we can expect it to feel.
It also gives us a nice objective way to compare treadmills against each.
ProForm (and NordicTrack) don't give us the assembled weights, but instead choose to provide the "in-box weights" for their products.
This weight obviously includes the weight of the box and packaging too, so in order to find the true assembled weight, we have to do a little light math.
I don't have the exact figure for how much ProForm's packaging weighs, but I think subtracting 40 lb is a nice conservative estimate.
Doing this, the Carbon TLX comes with an estimated assembled weight somewhere around 210 lb (give or take a few pounds).
Based on other treadmills in this price range, I bet our estimate is pretty accurate.
This is pretty average for a $1k treadmill, but there are certainly heavier-duty options out there.
For example, Horizon's 7.0 AT weighs in at 277 lb and Sole's F63 weighs around 224 lb; XTERRA's TRX3500 weighs a bit more at around 214 lb.
Having a heavier treadmill is nice because it gives a more solid feel, but it also makes it harder to move, which can be a concern.
Anyway, the Carbon TLX also comes with a weight limit of 300 lb, which again, is pretty average for a treadmill in this price range.
The treadmills just mentioned come with higher weight limits, ranging from 325 – 350 lb, but the TLX will still be able to hold most users safely.
Overall, I really like that this treadmill comes with a 20″ x 60″ running surface; the frame could be heavier-duty, but I wouldn't necessarily consider this a dealbreaker.
Motor
The Carbon TLX comes with a 3.0 CHP motor that can reach a top speed of 12 mph and a top incline setting of 12%.
In terms of power, this is good for a $1k treadmill.
Actually, it's quite good, I can't think of any similarly-priced treadmill packing a more powerful motor – but there are many coming with weaker ones.
All the top models in this price range (mentioned above) come with 3.0 CHP motors, so the TLX has as much power as any treadmill in its class.
And having more power is always a good thing, especially if you like to run or do interval training.
Not only can stronger motors maintain faster speeds more smoothly, but they can also accelerate faster, making it more convenient to switch between walking and running speeds.
The top speed of 12 mph is pretty common for home treadmills, although some in this price range do top out at only 10 mph.
Personally, I could never get anywhere near 12 mph on a treadmill, but it's still nice knowing you've got that speed in case you ever need it.
The 12% incline setting is pretty good too, although the 7.4 AT and F63 can both reach 15% inclines.
But to be fair, most treadmills in this price range come with inclines in the 10 – 12% range.
The last thing I want to mention here are the rollers.
The Carbon TLX comes with 1.9″ rollers, which are pretty average-sized for this price range.
FYI, having larger rollers is always nice because they reduce stress on the belt and generally make for a heavier-duty machine.
More expensive models usually come with rollers in the 2 – 3″ range, but again, 1.9″ is typical for this price range.
That said, Horizon's 7.4 AT comes with 2.36″/1.8″ tapered rollers, but that says more about Horizon than it does anything else.
Overall though, the Carbon TLX scores highly with its powerful motor and generous speed/incline ranges.
Features
The ProForm Carbon TLX comes with the following features:
7″ console- the console on this treadmill is of the simple LCD variety, which is a little surprising because most of ProForm's machines these days come with touchscreens of one size or another. Personally, I think it's smart for them to keep simpler consoles in their lineups because it makes this machine usable in case you decide to discontinue your iFit membership (or decide never to get one in the first place).
iFit ready- speaking of iFit, the Carbon TLX is iFit compatible, but since it doesn't have a touchscreen, it means you'll have to use your phone or tablet to open the iFit app and sync with the treadmill via bluetooth. Doing this will let iFit track your workouts and it will also let you take advantage of the Automatic Trainer Control feature that lets the instructors adjust your speed/incline to match their instructions. ProForm includes a free 30-day trial of iFit with purchase and then you'd be responsible for the monthly streaming fee if you want to continue.
Bluetooth speakers- you can listen to your music wirelessly through the built-in speakers in the console via bluetooth.
Quick touch buttons- this is a convenient console feature that lets you instantly set the speed and/or incline without having to keep pushing the 'up/down' buttons. Very handy for interval training.
Cooling fan- there's an adjustable speed fan built into the console to help keep ya comfortable during more strenuous workouts.
Low step-up height- the Carbon TLX has a step-up height of only 7.75″, making it a little lower than most home treadmills. For the sake of comparison, most treadmills have a step-up height of 8 – 8.5″. Not a huge difference, but if you or a family member have mobility issues, this treadmill could be a little easier to get on/off of.
Tablet holder- there's a little shelf right in the middle of the console, giving you a place to put your tablet or phone, but it'll block your view of the console if you put a tablet there.
Water bottle holders- and yes, there's a place to put a water bottle or any other small item on each side of the console.
Assembly
The assembly process for the Carbon TLX is pretty straightforward and ProForm has a really helpful video that walks you through the whole process.
Like all treadmills, you have to attach the two uprights to the deck, which includes snaking the console wires through the right upright.
Then it's a matter of connecting the cross-bar, attaching the console base, hooking up the console, and attaching a few covers.
There are a few extra steps on this one that involve attaching the hydraulic lift under the deck, but it's not complicated stuff.
Overall, if you're comfortable following basic directions, you shouldn't have any issues with putting this treadmill together.
I do want to mention that once you get it hooked up and turned on, the console will need to be unlocked.
If you're signing up with iFit, you can unlock it by doing that – if you don't want to sign up for iFit, you can press and hold the 'iFit' button on the console and hold it for 15-30 seconds, which will also unlock it.
Warranty
ProForm covers their Carbon TLX Treadmill with the following home warranty:
10 year frame
1 year parts
1 year labor
Ok, not an awful warranty for this price range, but there is room for improvement here.
10 years on the frame is solid, but Sole, Horizon, and XTERRA all offer lifetime frame guarantees on their similarly-priced models, so it could be better.
It's the 1 year parts warranty that's most disappointing here though.
NordicTrack offers 2 years on parts for their T 6.5 S, Sole offers 2 years for parts on their F63, and Horizon beats 'em all with a 3 year parts guarantee on their 7.0 AT.
So come on ProForm.
A year on labor is normal, no complaints there.
Overall, not an embarrassing warranty, but it could be better.
Final Thoughts
Alright, that'll about do it for the specs and features this treadmill has to offer.
To sum things up here, the Carbon TLX comes with a spacious running surface and a strong motor and its speed and incline capabilities are impressive.
It comes with a pretty basic console, but it does have bluetooth speakers and is iFit compatible via bluetooth as well.
The warranty could certainly be longer, but for a budget-friendly treadmill, it isn't awful.
This all sounds pretty good (and it is), but as I've eluded to throughout this review, there are some other great treadmills in this price range.
Horizon's 7.0 AT is priced identically and it comes with the same size running surface, the same size motor, a heavier-duty frame, a nicer console, and much better warranty.
There's also Sole's F63, which is a little more expensive, but everything I said above regarding the 7.0 AT applies to this treadmill as well.
But neither of these treadmills is designed to pair up with iFit, so if you're actively looking for a streaming treadmill, this could be reason enough to choose the Carbon TLX over these other options.
But if iFit is what you're looking for, you might want to compare prices with NordicTrack's T-Series machines on Amazon.
The T 6.5 S mentioned earlier usually goes for around $800 and it's iFit compatible and comes with a better parts warranty.
Although it does come with a smaller running surface, a smaller motor, and less impressive inclining capabilities.
Certainly something to think about.
All things considered, the Carbon TLX isn't the highest-performing treadmill in this price range, but it might just be the best iFit treadmill $1k will get ya.