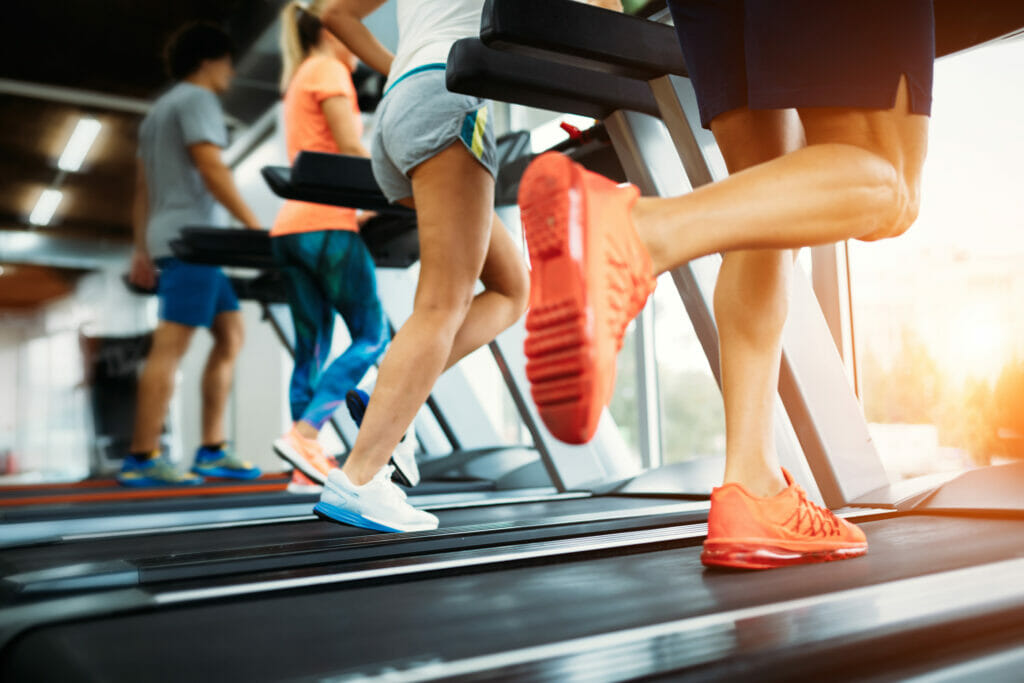 Sole has become one of the most popular names in home fitness. They offer a lot of great cardio machines to choose from, but it's probably their treadmills that are most responsible for their growing success.
And that's because Sole treadmills have earned a reputation for being amongst the best in their respective price ranges.
Heavy-duty frames, powerful motors, and amazing warranties are what Sole treadmills are all about- I guess it's no wonder these things see like hot cakes.
If you're looking for a quality home treadmill, going with a Sole is a smart choice, but it can get a little confusing trying to find the right model.
After all, the differences between some of these machines are very subtle.
Well, that's why I decided to write this guide.
In this article, I'll provide a head-to-head comparison of every treadmill currently being offered by Sole.
I'll compare the models based on the most important performance specs and features, as well as price.
After reading, you should know everything you need to in order to find the best Sole treadmill for your home gym.
Running Surface
Motor/Rollers
Weight Capacity
Warranty
Price
Sole F63
20" x 60"
3.0 HP
2.5" rollers
325 lb
Lifetime frame
Lifetime motor
2 year deck/parts
1 year labor
$
Sole F65
22" x 60"
3.0 HP
2.36" rollers
330 lb
Lifetime frame
Lifetime motor
2 year deck/parts
1 year labor


$$
Sole F80
22" x 60"
3.5 HP
2.36" rollers
350 lb
Lifetime frame
Lifetime motor
3 year parts
1 year labor
$$
Sole S77
22" x 60"
4.0 HP
2.75" rollers
400 lb
Lifetime frame
Lifetime motor
Lifetime deck
5 year parts
2 year labor
$$
Sole F85
22" x 60"
4.0 HP
2.75"/2.36"
375 lb
Lifetime frame
Lifetime motor
3 year parts
1 year labor
$$
Sole TT8
22" x 60"
4.0 HP
3" rollers
400 lb
Lifetime frame
Lifetime motor
Lifetime deck
5 year parts
2 year labor
* Plus light commercial
$$$
Sole ST90
20" x 60"
2.0 HP AC
2.36" rollers
330 lb
5 year frame/motor
3 year deck/electronics
1 year parts/labor
$$$$
Sole Treadmills
Before Sole was one of the most popular home fitness brands, they specialized in providing high-end treadmills to hotel chains around the country.
This is where they started earning a reputation for their high standards of quality and started being recognized specifically for their treadmills.
Their branching out into residential fitness seems inevitable and the rest, as they say, is history.
When they entered the world of home fitness, they gradually branched out even more, offering other popular equipment like ellipticals, exercise bikes, and a rower.
Even though all of their cardio equipment is built to the same level of quality, I feel like their treadmills are still what they're known best for.
The great thing about Sole treadmills is that they're built to last and they're priced fairly.
They're also backed by some of the best warranties on the market.
In other words, these are some of the best home treadmills around.
Sole currently offers 6 different treadmills in their lineup. Their models are all numerically numbered, with higher numbers indicating higher-end (and more expensive) machines.
When looking at Sole treadmills, there are a few key differences you'll see when going from one model to another. These include:
Running Surface
The running surface is a really important spec to consider and it's always the first thing I check out when looking at a new treadmill.
This spec refers to the size of the belt and is usually written as "width x length" (and measured in inches here in the States).
Larger is better, because it ensures you'll have enough room to stretch out fully while running at faster speeds- that is, if you plan on running in the first place.
Walkers and shorter folks can get away with smaller running surfaces without having to worry about running out of space.
The gold standard for a quality home treadmill is a running surface of 20″ x 60″- at this size, most people will be able to run comfortably without having to shorten their stride.
A lot of affordable treadmills come with significantly smaller running surfaces because making the treadmill smaller is a quick way to cut back on expenses.
Luckily, with Sole you won't have to worry about the running surfaces that much because most of them come with the same measurement.
5/6 of their treadmills are packing a 22″ x 60″ running surface- only their most affordable model, the F60, comes with a slightly smaller, 20″ x 60″ measurement.
Either way, the running surface is definitely a spec you should consider when looking for the right model for your home.
Motor Strength
The strength of the treadmill's motor is another key spec that needs to be considered when making a choice. As you might expect, stronger is better, but how strong you really need depends on how you plan on using your treadmill.
Most home treadmills are packing motors in the 1.5 – 4.0 HP range.
If you only plan on walking or maybe doing a little light jogging, you'll likely be fine with a motor in the 2 – 3 HP range.
But if you plan on running regularly, I suggest you opt for a treadmill with 3 HP or more under the hood.
The extra power will ensure smooth operation when working out at higher speeds.
Keep in mind a stronger motor should last longer too- a stronger motor won't have to work as hard to maintain the same speed.
For example: a treadmill with a 3 HP motor and a treadmill with a 4 HP motor may both be able to reach a max speed of 12 mph, but the one with 4 HP will be able to do so more efficiently, making for a smoother (and probably quieter) experience.
Sole treadmill motors vary between 3 – 4 HP depending on the model, and sometimes the only real difference between 2 models is a subtle change in the strength of the motor.
Weight Capacity
I'm a stickler for checking weight limits on all home equipment because I think this spec tells us a lot about the build quality. Simply put- stronger, sturdier machines come with higher weight capacities.
A treadmill that can hold 400 lb users has to be more structurally sound than one that can hold 300 lb users.
Treadmills with higher weight capacities are usually heavier themselves too- you can check this by looking at the assembled weight of a machine.
I like heavy machines because they feel more stable during use and are gonna be less likely to rock or feel flimsy.
All Sole treadmills come with pretty impressive weight capacities and higher than average assembled weights, indicating superior frame strength.
Depending on the model, Sole's treadmills will be able to hold users weighing 300 – 400 lb safely.
Roller Size
You might not be as familiar with this spec, but I think it's another important thing to look at when considering a new treadmill.
A treadmill's rollers are the parts that allow the belt to glide smoothly across the deck. They make direct contact with the belt, propelling it along it's way during your workouts.
Rollers come in varying sizes and having larger ones is preferred.
This is because larger rollers will make more surface contact with the belt, which makes for smoother belt action. It turns out this also ends up putting less stress on both the roller itself and the belt.
And since the belt is moving more efficiently, it actually puts less stress on the motor too.
Budget treadmill tend to use smaller rollers that are less than 2″, while higher-end models tend to use larger rollers, often between 2 – 3″ in diameter.
Sole being Sole, doesn't use anything smaller than 2″.  And higher-end models will come with even larger rollers.
Features
While Sole is well-known for their high-end performance specs, they aren't particularly recognized for having sophisticated console features.
Some have even gone as far as saying their consoles are a bit dated.
This might be true- they certainly don't look as high-tech as some, but in terms of features they aren't that outdated.
Sole treadmills don't offer a ton of workouts to choose from (most come with 6-12 workouts), but they do come with bluetooth speakers and wireless heart rate monitoring.
And even though the screens aren't touchscreens, they're pretty large, well-lit, and easy to use.
The features on Sole treadmills don't really vary that much from model to model. Although the F85 has been updated with more workout options and screen mirroring capabilities.
Overall, Sole treadmills are smart choices for people who are more worried about performance specs than fancy console features. You won't find any large, touchscreen displays or video streaming here.
The Sole F63
The F63 is the smallest, most affordable model in Sole's lineup, but it still has a ton going for it.
And even though it's priced right around $1000, it's still packing a 20″ x 60″ running surface, making it large enough to accommodate most folks comfortably.
Under the hood it's packing a 3.0 HP motor that can reach a top speed of 12 mph. It also has 15 levels of incline at its disposal for added workout variety.
All of this so far is impressive, but the F63 also comes with 2.5″ rollers, which is rare for a treadmill in this price range.
As is the 325 lb weight capacity.
And when you consider that this treadmill comes with a lifetime frame/motor guarantee and a 2 year parts warranty, it's hard to deny that the F63 is one of the best budget treadmills in the world.
Additional features include 10 workout programs, a folding frame, bluetooth, and the console is compatible with heart rate monitors.
Overall, if you're looking for a heavy-duty treadmill that won't break your budget, Sole's F63 is about as good as it gets. See full review.

The Sole F65
The F65 is an upgraded version of the F63, although the upgrades are fairly subtle.
The F65 comes with a slightly larger console (9″ vs 6.5″ screen), although the features themselves are pretty identical to the F63.
But back to performance.
The F65 comes with a 22″ x 60″ running surface. The wider belt will feel a little roomier than the one found on the F63, allowing for a bit more wiggle room during workouts.
The motor, however, is 3.0 HP, making it identical to the one found on the F63.
This treadmill also comes with a top speed of 12 mph and 15 levels of incline to play with. The rollers on the F65 are 2.36″, so they're actually a bit smaller than what's found on the F63.
This model is a little heavier-duty, weighing 13 lb more than the F63 and coming with an impressive weight capacity of 330 lb.
The warranty on this model is similar to that found on the F63: lifetime frame/motor, 2 year deck/parts, 1 year labor.
And there aren't really any differences in the features (other than the larger screen), the F65 also folds, comes with bluetooth, and is heart rate monitor compatible.
Overall, when compared to the F63, the F65 comes with a larger running surface, a heavier-duty frame, and a larger console (and will cost ya about $500 more). See full review.

The Sole F80
The F80 is one of Sole's mid-range treadmills, both in price and specs. As such, we see more upgrades in all of the specs we've been following above.
This treadmill comes with a 3.5 HP motor, making it a half a horse stronger than the F65 and F63 already mentioned.
It still has a top speed of 12 mph and 15 incline levels and it too comes with 2.36″ rollers, so no real differences there.
The F80 is a little heavier than the F65, with an assembled weight of 274 lb, making this a quite substantial machine. The extra weight allows it to hold even larger users, with a max weight limit of 350 lb.
The running surface on this model is still 22″ x 60″, so no differences in terms of usable size.
In terms of features, the screen on the F80 is a little larger at 10.1″ and it's also a touchscreen that gives you a lot of options to play with.
This treadmill comes with several built-in entertainment apps (like Netflix, Disney+, Hulu, etc), but it can also screen mirror from your phone or tablet, letting you watch anything you want through its console.
When it comes to the warranty, we do see a slight increase with the F80 – Sole backs this treadmill with a lifetime frame/motor, a 3 year parts, and a 1 year labor guarantee.
Overall, the F80 is a stronger treadmill with a significantly more advanced console and it also comes with an extra year of coverage on parts. See full review.

The Sole S77
The S77 is kind of an interesting model in Sole's lineup.
This is one of the only non-folding models they offer, so if you're looking for a space saver when not in use, this isn't the treadmill you're going to want.
Price wise, I think it falls in kind of a funky place too, because it's only $100 cheaper than the F85, which does fold and has a few other upgrades that are worth the extra cash (which I'll get to just below).
So, if you have the budget for the S77, then you probably have the budget for the F85, which I think most people are going to prefer.
But if you're looking specifically for a non-folding treadmill, then the S77 might be the right fit.
Comparisons to the F85 aside, the S77 is one hell of a treadmill.
It comes with a 22″ x 60″ running surface, a 4.0 HP motor, and 2.75″ rollers. Like all the models discussed so far, it too has a max speed of 12 mph and 15 incline levels.
In terms of assembled weight, the S77 is actually a few pounds lighter than the F83, however it comes with a higher weight capacity of 400 lb.
The extra stability comes from the fact that this treadmill doesn't fold.
When it comes to features, the LCD screen on the S77 is even bigger at 10.1″, but there really aren't any other new surprises.
Sole backs this treadmill up with the same awesome warranty seen on the F80.
Overall, the S77 is another heavy-duty model with upgraded performance specs over the F80, but it's priced very similarly to the F85, which I think will be the better buy for most folks. See full review.
Sole doesn't offer the S77 directly anymore, but you may still be able to find it through other retailers.

The Sole F85
The F85 is one of Sole's most popular models, second probably only to the budget-friendly F60. And personally, I think this is Sole's best treadmill.
The F85 basically takes the S77, adds the folding frame, and upgrades the console significantly.
And with a sales price just north of $2k, it's pretty reasonably priced too.
Performance wise, this model is almost identical to the S77: 22″ x 60″ running surface, 4.0 HP motor, and a 375 lb weight capacity.
The F85 weighs significantly more however- with an assembled weight of just over 300 lb, this model is about 50 lb heavier than the S77.
Another little difference is seen in the rollers- the F85 has 2.75″ rollers in the front and 2.36″ rollers in the back.
A lot of treadmills do this where they have bigger rollers in the front and smaller rollers in the back, and even at 2.36″ the F85's rear rollers are still pretty large, but I'm not sure why they decided to put smaller rollers on the back of this one.
The biggest upgrade over the S77 is seen in the console though.
Sole significantly upgraded their console for this treadmill, giving it a 15.6″ touchscreen display.
Like the F80, you can access entertainment apps and screen mirror anything from your phone you like – this screen is just a bit larger.
Oh, and with the F85 you also get 6 levels of power decline to work with, giving you the option to train downhill when the mood strikes.
Overall, if you're looking for a more tech-savy Sole treadmill, the F85 is the best choice. Easily one of the best treadmills for around $2000. See full review.

The Sole TT8
The TT8 is one of their most expensive models and the highest-end traditional option they offer.
This is their biggest, heaviest-duty treadmill to date and it also comes with a light commercial warranty (less than 5 hrs of use/day).
And with a sales price of roughly $2500, this is one of the more affordable commercial grade treadmills around.
Like most of the models mentioned above, the TT8 also comes with a 22″ x 60″ running surface, so no big differences seen there.
And it's packing the same 4.0 HP motor seen on the F85 and the S77.
But with a weight of 322 lb, the TT8 is the heaviest machine they offer and it has the largest rollers of them all at 3.0″.
The other biggest difference with this model is the fact that it can offer decline training.
Unlike any of Sole's other treadmills, the TT8 comes with 6 levels of decline (as well as 15 incline levels), allowing folks to train walking/running downhill.
This can be beneficial when training for outdoor races or when simply looking to shake up a workout routine.
The console on this model is large at 10.1″ and it too is a touchscreen with access to apps and instructor-led workouts.
The TT8 comes with an awesome residential warranty  (lifetime frame/motor/deck, 5 year parts, 2 year labor) and it also comes with a generous light commercial guarantee (lifetime frame, 5 year motor/deck, 3 year electronics, 1 year labor).
If you're interested in a heavy-duty treadmill that can handle multiple users operating it for hours a day, the TT8 is probably the model you're looking for. See full review.

The Sole ST90
The ST90 is the latest addition to Sole's treadmill lineup and with it, Sole changed things up pretty significantly.
Unlike any of Sole's other treadmills to date, the ST90 is a slat-belt model, coming with the added low-impact and increased durability benefits that this design brings to the table.
This treadmill comes with a 20″ x 60″ running surface and a ridiculously heavy-duty frame (assembled weight 376 lb), but it's also packing a 2.0 HP AC motor.
AC motors are usually reserved for commercial treadmills because they can run longer and more efficiently, so the fact that the ST90 comes with one is pretty special in its own right.
This treadmill also comes with Sole's Android based touchscreen console that lets you access their streaming platform, STUDIO, for instructor-led workouts and metric tracking.
The ST90 is also heart rate strap and bluetooth compatible and packed with tons of built-in workouts.
Oh, and with that slat belt, you can also use the free mode that essentially turns the ST90 into a manual treadmill, adding even more variety to your routines.
The biggest downside to the ST90 is probably the warranty, Sole doesn't back this model with as generous a guarantee as they normally do: 5 year frame/motor, 1 year parts, 1 year labor.
But if you're looking for an affordable slat-belt treadmill with some impressive specs and features, the ST90 is certainly worth checking out. See full review.

Final Thoughts
Well, there ya go.
The above represent all of the treadmills Sole currently offers. When you stop and take a look at the fine details, you can see a nice progression, mostly in terms of the performance specs.
Starting with the F60, we see gradual increases in motor strength and weight capacity up through the S77.
With the S77, the motor strength and weight limits plateau, and the differences between the remaining models are found more in the features department.
The S77 and TT8 stand out as the only 2 non-folding treadmills in the lineup and the TT8 stands out even further as the only one warranted for light commercial use.
The ST90 is also in a league of its own, being the only slat-belt model Sole offers.
The F60 is an instant stand out as the most budget-friendly of the bunch, but I think it's the F85 that really steals the show- especially now that its console has gotten a makeover.
Regardless of which model you go for, rest assured- there aren't any wrong answers when it comes to Sole.
All of their treadmills are rock solid and backed by great warranties – it's no wonder all of their models find their way onto "best of" lists in their respective price ranges each year.
Sole also happens to be one of my favorite fitness brands, so there's that too (for whatever that might be worth).
Anyway, I hope you found this guide helpful.
If you have any questions or comments, please leave 'em below and I'll get right back to ya.