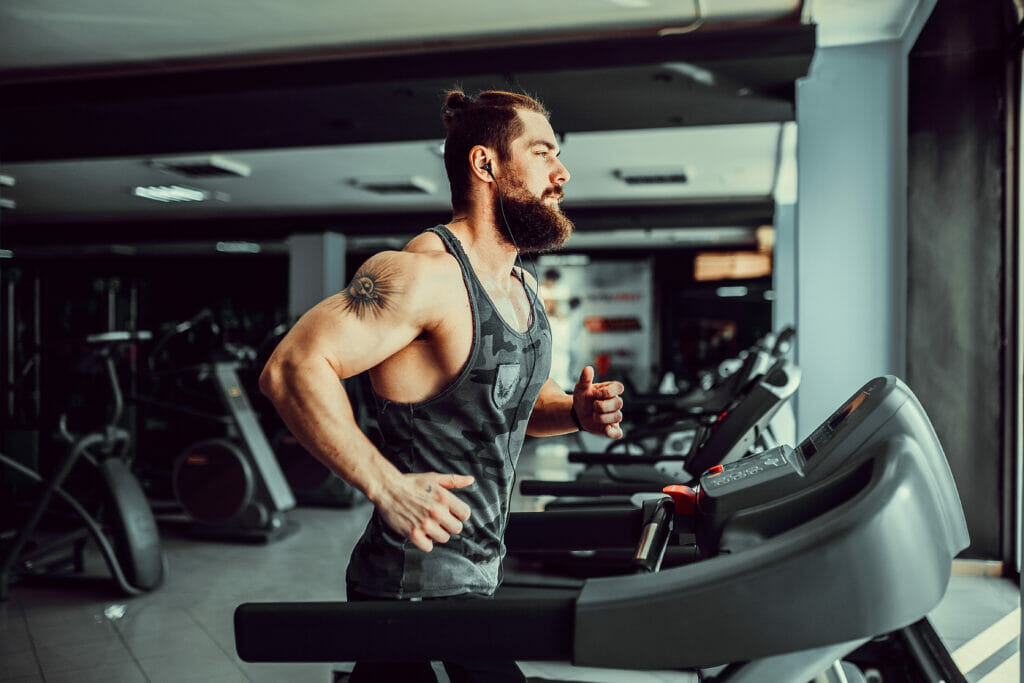 The ST90 is the newest addition to Sole's impressive lineup of treadmills and with it, they've once again risen the bar for what should be expected from moderately priced home treadmills.
Not only is the ST90 one of the most affordable treadmills to come with an AC motor, but it's also packing a slat belt, a 20″x60″ running surface, and a 10″ touchscreen display.
And since this is Sole Fitness we're talking about here, of course it comes with a generous home warranty.
All things considered, I think Sole's ST90 would be a great option for runners looking for a treadmill that can handle some serious mileage.
But before you buy, you gotta know what to expect – and that's where I can help.
In this review, I'll go over all the specs and features this treadmill has to offer. I'll also try to compare it to some of the other top treadmills in it's price range to see how it stacks up.
After reading, you'll be well-equipped to decide for yourself whether or not the ST90 is worth investing in.
Let's do this.
The Sole ST90 Treadmill
It's no secret I'm a Sole aficionado.
I praise pretty much all their products and you'll usually find one of their machines at the top of my "best of" lists each year.
And no, Sole doesn't secretly pay me off to do this – I do it because I like how straight forward Sole machines are.
Sole products are heavy-duty, easy to use, and usually packing better performance stats than any other machine in its respective price range.
Plus I appreciate the extended warranties Sole offers, but more on that in a little bit.
Even though I think Sole's bikes and ellipticals are just as high-end, it's their treadmills that usually get the most attention.
This might be because Sole started out as a treadmill provider, but who knows.
Anyway, as I mentioned above, the ST90 is their newest treadmill, as well as their most expensive to date. Although with a price of around $3k, I'd argue it's still priced very effectively for home use.
Pros
20″ x 60″ running surface
2.0 CHP AC motor
Slat belt
Heavy-duty frame
330 lb weight limit
Top speed of 12.5 mph
15 levels of incline
Manual mode
10.1″ touchscreen console
29 built-in workout programs
Access to Studio streaming platform
Convenient rail speed/incline controls
Bluetooth speakers
USB charging port
Strap heart rate monitor compatible
Tablet holder
Easy assembly
Cons
Sole's software can be glitchy
No cooling fan
Warranty could be longer
Running Surface
A treadmill's running surface is a simple spec that tells us exactly how much room we'll have while using said treadmill.
Personally, I think this is the most important spec to consider because it instantly tells me whether or not I should be interested in this treadmill.
And if the running surface is too small, I won't even look at the other specs.
And that's because regardless of how powerful the motor is or how many great features a treadmill has, if it's too small for me to comfortably stretch out on while running, I know I won't be happy.
Most higher-quality treadmills come with a running surface of at least 20″ x 60″ because at this size, most folks of all heights will be able to comfortable run as fast as they want without running out of space (pun intended).
And the ST90 comes with a running surface that measures 20″ x 60″, so space shouldn't be an issue.
More interestingly though, is the fact that the ST90 comes with a slat belt.
We see slat belts on all the top curved manual treadmills, but there haven't been that many traditional motorized treadmills taking advantage of 'em yet.
Woodway comes to mind – they might've actually been the first ones to use slat belts… I think the original Peloton Tread also came with a slat belt, but it's been changed so much I can't remember.
Slat belts are generally considered a step up from traditional belts because they're better at shock absorption and help reduce strain through joints.
They also tend to provide better grip with shoes, resulting in a more comfortable running (or walking experience).
Slat belts are made up of individual slabs of rubber, which are usually thicker than traditional belts, allowing the slat belts to last longer as well.
With a spacious, slat belt, the ST90 could be a smart choice for folks looking for a comfortable, durable treadmill.
Folks prone to injury or dealing with aching joints will likely appreciate the thicker, softer belt.
Something else worth noting is how ridiculously heavy-duty this treadmill is.
With an assembled weight of 376 lb, you shouldn't have to worry about this treadmill feeling anything but rock solid and stable during workouts.
It also comes with a max weight limit of 330 lb, which is high enough to accommodate most users, but I'm kinda surprised it isn't higher considering how robust this treadmill is.
Especially considering most of their other treadmills max out at a 400 lb limit.
My guess is it has something to do with the slat belt itself?
Either way, I still think the ST90 scores highly with its large, slat belt and heavy-duty frame.
Motor
Ok, so the ST90 scores highly in the running surface department, but let's switch over and talk motors.
The ST90 comes with a 2.0 CHP AC motor that can reach a top speed of 12.5 mph and 15 levels of power incline.
With a 2.0 CHP rating, you might conclude that this treadmill is weaker than most of the other top home treadmills, but we're talking about an AC motor here.
Most home treadmills come with a DC motor – especially at this price range.
DC motors are found in most home treadmills because they're more affordable; AC motors are found in most commercial treadmills though, because they're more efficient and better able to tolerate prolonged running.
AC motors are designed to run for hours at a time without overheating, making them a smart choice for commercial gyms where it could be under repeated use by multiple users.
An AC motor could also come in handy for homes where there are multiple family members using the same treadmill or a single user who may run for hours at a time.
Like marathon runners.
Giving a treadmill an AC motor usually immediately sets the price over $4k, making the ST90's $3k price even more special.
It's also interesting that this treadmill has a top speed of 12.5 mph, considering most top out at 12 mph.
Just another detail making the ST90 very well-equipped for elite runners and sprinters.
Sole doesn't mention the roller size for this treadmill, which is surprising since they do for all their other models, but I reached out to 'em and found out that this model comes with 2.36″ (60 mm) rollers.
By the way, the rollers are what the belt makes contact with, allowing it to glide smoothly over the deck.
Having larger rollers is a good thing because it makes for a smoother feel, while putting less stress on the belt.
And Sole usually prides itself in using very large rollers.
Most of their other treadmills come with rollers somewhere in the 2.5 – 3″ range, so the rollers on the ST90 are a little smaller than those found on their other high-end treadmills, but the fact that this is a slat belt machine might have something to do with this.
Overall though, I think the fact that the ST90 comes with an AC motor is pretty spectacular, given the price.
With an AC motor, this treadmill is capable of running smoothly for longer durations, making it a great choice for long distance runners or homes with multiple users.
Features
The ST90 Treadmill comes with the following included features:
10.1″ touchscreen- the ST90 comes with a large, Android based touchscreen console, making it easy to select and view all workouts. And now that Sole has their own streaming workout platform (Studio), you can access over 3,000 on-demand, instructor-led workouts directly through the console (monthly fee required). Full disclosure –  the F85 also uses a 10″ touchscreen console and there have been some complaints regarding it's software being kinda glitchy. Sole seems to be aware of this, but it's uncertain whether or not they've fixed it yet.
29 workout programs- the ST90 comes with a lot of built-in workouts too though, so if you don't want to sign up for Studio, no worries. These include 10 standard workout profiles, 12 custom workouts, and 7 heart rate guided options.
Free mode- this feature turns off the motor and essentially turns the ST90 into a manual treadmill, adding an extra level of difficulty to your workouts.
Rail controls- you can control both the speed and incline through the conveniently located controls on the side rails.
Bluetooth speakers- you can listen to your workout jams wirelessly through the built-in bluetooth speakers.
USB charging- you can also keep your phone/tablet charged via the built-in charging port.
Heart rate monitoring- you can get an estimate of what your heart rate is with the built-in grip monitors or get a more accurate reading with a strap heart rate monitor (one not included).
WiFi- the console is wifi compatible, so no need to plug in to access the Studio streaming material.
Tablet holder- the tablet holder's located above the console, so you don't have to worry about blogging your view of it while watching your tablet.
Water bottle holder- yup, there's a place to store your beverage of choice too.
Assembly
If you decide to purchase the ST90, you won't have to worry about the assembly process – it's very straightforward.
The main deck comes preassembled, so you'd only be responsible for attaching 2 uprights, the middle section, the console, and the tablet holder.
Everything is simply bolted on.
You have to make sure not to pinch any console wires of course.
The only thing to keep in mind is how heavy this treadmill is – remember, this thing weighs almost 400 lb, so moving it to its desired location might be harder than assembling it.
It's also a good idea to have a second person available for when it comes time to attach that middle section (the part that holds the console).
Overall though, assembly should be pretty easy. Sole also offers white glove installation for those who don't want to mess with assembly.
Warranty
Sole backs their ST90 with the following residential warranty:
5 year frame
5 year motor
3 year deck/electronics
1 year parts/labor
Sole's warranty on this treadmill isn't quite as generous as some of their other guarantees and I'm not sure why.
They originally offered the same lifetime frame/motor warranty on this treadmill that they offer on their other higher-end models, but that's no longer the case.
5 years on the frame and motor is actually pretty short for a treadmill in this price range, as is one year on parts.
And a year on labor is pretty standard for any treadmill (although again, Sole normally offers 2 years).
Overall, I'm not sure why Sole doesn't back the ST90 with their standard warranty…I wonder if they're giving this treadmill a little time to see how it holds up.
Final Thoughts
Ok, that about does it for the ST90.
As I mentioned in the intro, I think this treadmill has a lot going for it.
The slat belt is a huge perk, but for me this treadmill's most redeeming feature is that AC motor – there aren't many treadmills under $4000 that come with one.
It's also awesome how heavy-duty this thing is.
I don't have many complaints to speak of, although I mentioned there have been some known issues with Sole's software on their touchscreen consoles.
And I can't believe I'm saying this about a Sole treadmill, but that warranty could be a lot better.
Something else worth noting is that this treadmill doesn't fold, so you have to make sure you have enough dedicated floor space.
There also isn't a cooling fan, but I don't consider that a serious offense.
In terms of comps, you've got plenty of great treadmills to choose from with a $3k budget- there's Sole's own TT8, which is built like a proverbial tank and I also like Spirit's XT685 which is big, powerful, and backed by a great warranty.
Overall, I think the ST90 would make a great choice for a serious runner or a home where multiple folks would be using on a regular base.
Of course it would also work great for someone simply looking for a high-end, comfortable treadmill. Highly recommended.