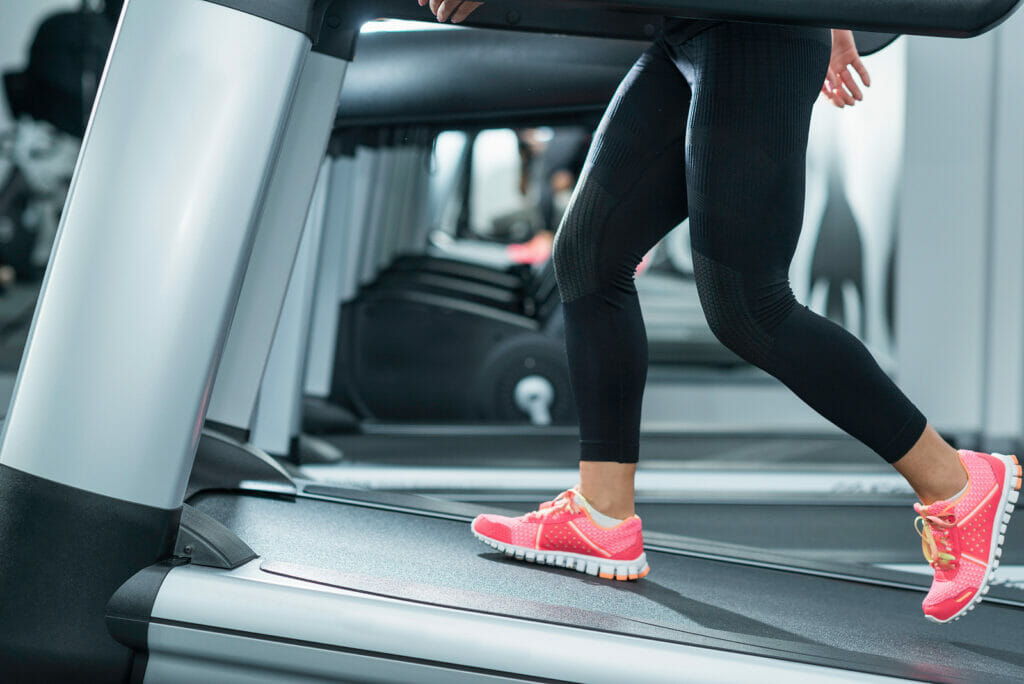 There's really no room for debate that running on a treadmill is a great way to burn calories, lose weight, and just improve overall cardiovascular health in general.
But all of us aren't built for running.
Fortunately, there are other great ways to use a home treadmill – like walking against a steeper incline.
Incline walking puts less stress on our joints and can be more comfortable than jogging or running at fasters speeds and depending on the angle, you can even burn more calories walking against an incline than you can running.
This all sounds great (and if you've found your way here, you're probably already sold on the merits of incline walking), but all incline treadmills aren't built equally.
Some treadmills are much better equipped for incline training than others.
And that's exactly what we'll be discussing in this article.
In this guide, I'll go over all the specs and features you should look for when choosing a treadmill for incline walking to add to your home gym.
I'll also share my picks for the best incline treadmills currently on the market, based on the specs and features discussed.
After reading, you'll know everything you need to in order to choose the right option for your home gym.
Let's start from the beginning.
How To Choose An Incline Treadmill
Choosing a treadmill for incline training purposes isn't really that different from picking any other home treadmill – the only real exception being that you'll be paying more attention to how steep its incline settings can go.
That said, there are other things you should be looking for too.
With a few exceptions (as you'll see on this list), most home treadmills max out with a 15% incline, but that still doesn't mean all of these treadmills are equal when it comes to incline training.
Other specs, like motor strength, roller size, and running surface size should also be considered and we'll be going through each of these on their own.
Additional features, like consoles, bluetooth, and workout programs are obviously worth considering too, but that all depends on what you're looking for.
And of course, price and warranty are always big considerations too.
If you're looking for more general treadmill buying info, you might want to check out my complete treadmill guide, but for now, let's get back to incline treadmills.
Incline Settings
Home treadmills can come with manually adjustable or power adjustable inclines.
Manually adjusted inclines are found on budget models and you normally only get a few settings to choose from.
With this setup, you have to adjust your incline setting before you start working out (and have to stop and get off the treadmill any time you want to adjust it).
Power adjustable inclines are found on most mid-range to higher-end treadmills and with these, you can control the incline throughout workouts from the console.
The incline range available will vary from treadmill to treadmill, but most home models max out at a 15% incline.
NordicTrack is an exception though, and has a few treadmills that can reach 40% inclines (and FreeMotion has some that can reach 30% I believe, but they're crazy expensive).
Some treadmills also offer decline settings, allowing you to mimic the feel of walking downhill.
Honestly, this isn't a sensation I particularly enjoy on a treadmill, but to each their own.
Motor
If you want a treadmill that can reach crazy incline settings, then it makes sense to compare incline levels between treadmills, but I would argue that it makes sense to compare motor strengths too.
Regardless of what incline setting you're at, having a stronger motor is going to make for a smoother overall experience.
And that's because stronger motors work more efficiently than weaker ones.
Basically, the more horsepower a motor has, the less it has to work to keep up with demand – which makes for a smoother feel and often a quieter workout.
Strong motors can usually accelerate faster too, meaning you can go from a slow speed to a faster speed more rapidly – a trait that can come in handy when doing interval training.
Most home treadmills come with motors in the 2.0 – 4.0 HP range, but if you're looking for a serious incline trainer, I suggest going with one with at least 3.0 HP under the hood.
Just like with running, that extra strength is going to come in handy when walking against steeper inclines and it'll give you more peace of mind that your treadmill will be able to keep up with your workouts.
Rollers
Roller size probably doesn't get the respect it should, but I'm on a mission to change that.
In case you aren't familiar with this one, a treadmill's rollers are the pieces that allow the belt to move across the deck.
And having larger rollers is always a good thing.
Larger rollers make more contact wit the belt, which not only puts less stress on the belt (and rollers themselves), but it also tends to make for a smoother feel.
Having larger rollers also just adds to the overall heavy-dutiness of the treadmill, making for a more durable piece of equipment.
Home treadmills often come with rollers somewhere in the 1.9″ – 3″ range, with higher-end treadmills usually coming with 2.5″ or larger rollers.
Roller size probably shouldn't be the first priority when choosing an incline trainer, but for me, it's certainly near the top.
Running Surface
As is running surface size.
This spec isn't specific to incline trainers, but it's important for all treadmills, so it's worth mentioning here.
This spec refers to the physical dimensions of the treadmill's belt, essentially telling you how much usable space you'll have during your workouts.
And having a larger running surface is never a bad thing, unless I guess you prefer the cramped feel of a small treadmill.
Comfort is important, but if a treadmill's running surface is too small, you might actually find yourself having to shorten your stride to make sure you don't step off the edge of the belt.
And that will almost certainly deduct from your overall workout enjoyment.
Running surfaces are measured in inches (in this country anyway) and usually written as "width x length".
Most higher-end treadmills will come with running surfaces in the 20″ x 60″ range because this size fits most users comfortably, but there is some variance from brand to brand.
Just keep in mind, that going with a larger running surface typically increases the overall footprint of the treadmill – so if your floorspace is limited, you might have to go with a more compact option.
Ok, I think that covers our bases regarding which specs are most important to look for when comparing incline treadmills.
You'll also want to consider warranty of course, but again, that's universal for any treadmill (and don't worry, I kept warranty in mind as I came up with this list).
So, without further ado, here we go…
The 7 Best Incline Treadmills For Home Use
 #1 The NordicTrack Commercial X22i
When it comes to incline trainers, I had to put a NordicTrack machine in the top spot because there really aren't any other brands that I'm aware of that offer a complete incline training series.
Especially in this price range.
Plus, it doesn't hurt that NordicTrack's a legit brand either.
Anyway, the Commercial X22i is one of a couple incline trainers in NordicTrack's lineup and honestly, any one of these trainers could've landed this top spot.
Ultimately, I went with the X22i because I think it offers a great combinations of specs and features for the price, but there's no wrong answers here.
First and foremost, the X22i can reach a top incline setting of 40%, which is the highest incline setting I've come across on any treadmill.
But it can also reach a decline setting of – 6%, allowing folks to train downhill as well.
Under the hood, the X22i is packing a 4.0 CHP motor, so motor strength won't be an issue at all with this model.
It also comes with large, 2.5″ rollers to help protect the belt and maintain smooth operation over time.
And with a 22″ x 60″ running surface, users of all heights will be able to walk or run as fast as they like without having to shorten their stride.
The X22i comes with impressive performance specs, but it's also loaded with additional features too, including a 22″ HD touchscreen console, iFit workout streaming, AutoAdjust incline/speed control, bluetooth, and plenty more.
This treadmill is designed for streaming, but if you don't like the idea of an ongoing membership fee, you can still use it without an iFit membership too (just know some features won't be available).
The biggest downside is that NordicTrack's warranty could be a little longer (10 year frame, 2 year parts, 1 year labor), but if you're looking for a serious incline treadmill with awesome console features, the Commercial X22i is a great choice. See full review.

#2 The NordicTrack Commercial X32i
Yup, another NordicTrack treadmill made the list… hey, I told ya they dominate this category.
Anyway, the Commerical X32i is basically the big brother to the X22i mentioned above and even though it's technically a bigger, badder version of the X22i, I did decide to rank it in the #2 spot.
I did this mostly because the size (and price) of this treadmill are likely going to make it undoable for a lot of home gyms.
Plus, I don't think the upgrades necessarily improve the overall experience.
Sure, the 32″ HD touchscreen is massively huge, but 22″ will still get the job done for most of us.
But looking past the ginormous console, there's no denying the X32i is an impressive machine.
At 22″ x 65″, the X32i literally comes with one of the largest running surfaces I've ever seen.
This is great for tall users, but it also means the X32i is a solid 6.5″ longer than the X22i – so like I said, this isn't a treadmill for compact spaces.
When it comes to inclining, the X32i can reach the same astounding 40% incline and it too can decline down to – 6%.
Under the hood, this treadmill is packing an even stronger, 4.25 CHP motor that can easily reach a top speed of 12 mph.
The X32i also comes with 2.5″ rollers, so no real differences there.
And it comes with the same 300 lb weight limit and same warranty mentioned above.
Like all NordicTrack treadmills, the X32i is designed to pair with iFit, giving you access to all the workouts, metric tracking, and other goodies that entails.
The biggest downside here is the cost – there's no getting around the fact the X32i is quite pricey.
But if you're looking for a jumbo sized treadmill with crazy incline capabilities, it could make a lot of sense. See full review.

#3 The Sole TT8
We're switching things up a little and moving on to another great brand, Sole Fitness.
That's a bit of an understatement really, I'd go as far as saying Sole's one of my favorite home brands.
And that's mostly because Sole creates heavy-duty machines that are easy to use and built to last.
It doesn't hurt that they back 'em with amazing warranties either.
Anyway, when it comes to treadmills the TT8 is one of their highest-end models to date.
This treadmill can't reach the crazy angles the NordicTrack incline trainers mentioned above can, but with a max incline up to 15% and the ability to decline down to -6%, the TT8 can still hold its own with most home treadmills.
Especially when you consider it's got a 4.0 HP motor under the hood, 3″ rollers, and a 22″ x 60″ running surface.
And with an assembled weight of well over 300 lb and a weight capacity of 400 lb, the TT8 is easily one of the heaviest-duty treadmills in this price range.
Speaking of price, this treadmill is quite a bit cheaper than both incline treadmills mentioned above, falling well under the $3k price point
And now that Sole has upgraded their consoles, you don't have to choose so much between performance and features.
The TT8 now comes with a 15.6″ touchscreen console that gives you access to apps, as well as built-in workouts.
Other features include bluetooth speakers, wireless charging, screen mirroring, and heart rate monitoring compatibility.
And as I said, Sole's warranties are no joke.
The TT8 is backed with the following home guarantee: lifetime frame/motor, 3 year parts, and 1 year labor.
It's also backed by a light commercial warranty too.
Overall, if you're looking for a heavy-duty treadmill that won't destroy your budget, Sole's TT8 would make a wonderful incline trainer. See full review.

#4 The Horizon 7.8 AT
I'm gonna be honest, once we get into the middle of a list like this, it gets harder and harder to really rank these treadmills because they start to become more similar.
Regardless, Horizon's 7.8 AT is a wonderful treadmill that easily deserves a spot on this list.
I also happen to have this treadmill in my personal home gym as we speak and can attest to how well it works for incline training.
This treadmill scores highly with its 22″ x 60″ running surface and 4.0 CHP motor, but it's also ridiculously heavy-duty for a $2k treadmill (this beast weighs in at around 318 lb and has a weight capacity of 350 lb).
The 7.8 AT comes with a top speed of 12 mph and a top incline of 15%, so it's definitely got what it takes to challenge users of all skill levels.
These performance specs are great, but what really makes this treadmill convenient for incline training are the quick touch buttons and dial speed/incline controls.
With the quick touch buttons, you can instantly jump to preset inclines (and/or speeds) rapidly, but I find myself using the dial control more because they're almost as fast.
I know it's a small thing, but it's the small things that make all the difference, right?
Anyway, Horizon offers a great warranty on this treadmill too – lifetime frame/motor, 5 year parts, 2 year labor.
The console on this treadmill isn't HD or touchscreen, but it's brightly-lit and very user-friendly and comes with several nicer features (like bluetooth, USB charging, and several built-in workouts).
Overall, if you're looking for a heavy-duty, convenient incline treadmill that won't destroy your budget, Horizon's 7.8 AT is a smart choice. See full review.
#5 The Sole F85
The F85 is very similar to the 7.8 AT in most every way and I wouldn't say there's any clear cut winner between the two – I happen to own the 7.8 AT, so I ranked it a spot higher, but there's really no wrong answer here.
In terms of performance the F85 is pretty identical to the 7.8 AT.
It too comes with a 22″ x 60″ running surface, a 4.0 CHP motor, and a really heavy-duty frame.
And the F85 has the same 12 mph top speed and 15% max incline found on the previous treadmill.
The rollers one the F85 are actually a bit larger than the 7.8 AT's, but the biggest difference between these 2 treadmills is found in the consoles.
Sole upgraded the console the F85, giving it a 15.6″ touchscreen display that's Android based and comes with built-in entertainment apps, as well as the new Sole+ app that gives you access to metric tracking across machines.
And with screen mirroring, you can connect your phone to the F85 and view any entertainment/fitness app you want through the console's screen.
There have been some complaints about Sole's software in the past, but Sole seems to be fixing some of the bugs that users complained about with earlier versions.
The F85 is also backed by a great warranty (lifetime frame/motor, 3 year parts, 1 year labor), so no concerns there.
Overall, there's not much not to complain about here.
The F85 is considered by most to be one of the best home treadmills on the planet and I agree whole heartedly.
If you're looking for a rock-solid incline trainer with more a more sophisticated console, this one could make a lot of sense. See full review.

#6 The ProForm Pro 9000
The Pro 9000 is ProForm's most advanced treadmill to date and it comes with a pretty impressive bang for your buck ratio.
ProForm is owned by the same parent company that owns NordicTrack, so the Pro 9000 (and all other ProForm treadmills) is also equipped for workout streaming through iFit.
More specifically, this treadmill is rocking a 22″ HD touchscreen console, making it very easy to view all workouts and metrics during workouts.
Not bad for a treadmill around $2k.
And when it comes to performance, the Pro 9000 is no slouch either.
This treadmill comes with a 3.6 CHP motor, a top speed of 12 mph, and a 20″ x 60″ running surface.
And even though the Pro 9000 only tops out at a 12% incline, it can also reach a -3% decline for downhill walking – something most treadmills can't offer.
It also gets bonus points for the interactive training feature that allows the iFit instructors to automatically control the incline/speed settings during your workouts.
ProForm offers the same home warranty NordicTrack does (10 year frame, 2 year parts, 1 year labor), which isn't awful, but it's not nearly as generous as the Horizon and Sole guarantees just mentioned.
Overall, the Pro 9000 isn't as heavy-duty as the treadmills mentioned above, but if you're looking for a more affordable way to access iFit, it could still be a great option. See full review.

#7 The Horizon 7.4 AT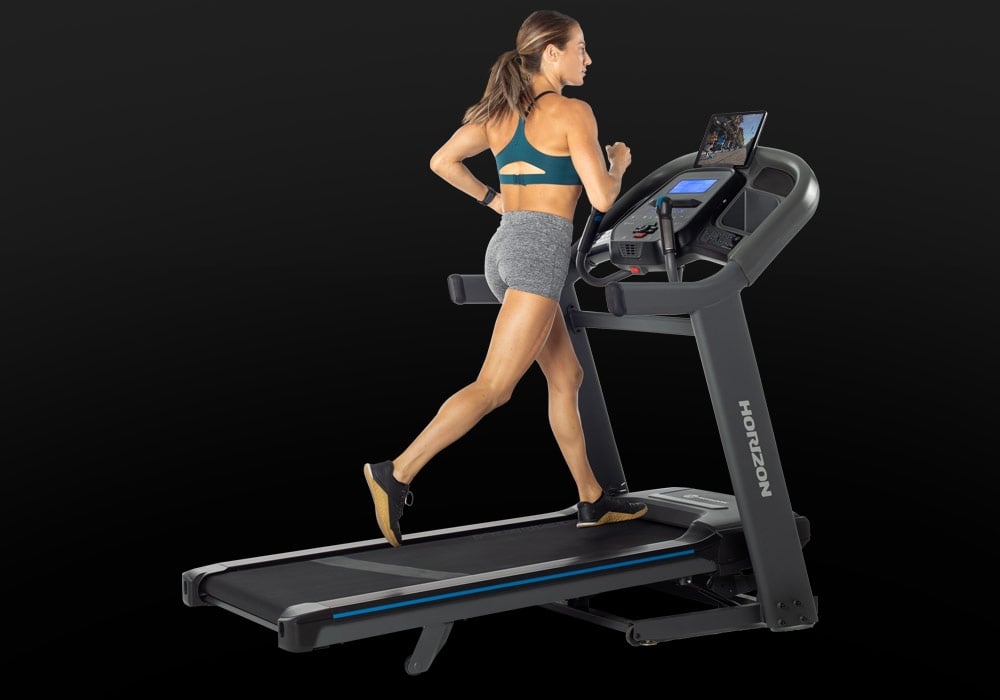 Rounding out my list is another great Horizon treadmill.
The 7.4 AT is lot like the 7.8 AT mentioned earlier, but with a few subtle downgrades and an even smaller asking price.
As I'm writing this, this treadmill is selling for around $1600 and for that price, it has a lot to offer.
When it comes to performance, the 7.4 AT comes with a 3.5 CHP motor that can reach a top speed of 12 mph and a top incline of 15%.
It's running surface is the same 22″ x 60″ found on the higher-end 7.8 AT, so it'll offer plenty of room for walkers and runners of all sizes.
It's rollers are a little smaller, measuring in at 2.36″/1.81″, but given everything else it has going for it, this isn't even close to a deal-breaker in my book.
This treadmill isn't quite as heavy-duty as the 7.8 AT, but it can still safely hold folks weighing upwards of 350 lb, which is great for a treadmill in this price range.
And even though this treadmill is lacking the generous media tray found on the 7.8 AT, it still offers a lot of the console features found on that model.
Including the dial controls, bluetooth speakers, USB charging, and quick-touch buttons.
Oh, and Horizon backs the 7.4 AT with the same great warranty – lifetime frame/motor, 5 year parts, 2 year labor.
So, if you're looking for a powerful incline treadmill that's easy to use and easy on the wallet, Horizon's 7.4 AT is certainly worth checking out. See full review.

Final Thoughts
Well, I guess that about does it.
When it comes to incline treadmills, if you're looking for insane slopes, NordicTrack is likely your best bet – their incline trainers can reach much higher inclines than any other home treadmill I've come across.
If you're not as concerned with sheer steepness, you've got a little more thinking to do.
Horizon and Sole both offer several great, moderately priced treadmills that are backed by great warranties and ProForm offers more affordable access to iFit streaming.
Regardless of which treadmill you go with, I encourage you to do your homework and consider all the important performance specs mentioned above.
It's not a bad idea to think about overall brand reputation either, but luckily, all of the brands included above come with pretty positive reputations.
Anyway, I hope you found this guide helpful and if nothing else, I hope this shows there are plenty of great incline treadmills to choose from.
If you have any questions, comments, or know of a great incline treadmill that deserves a spot on this list, please leave a message below and I'll get right back to ya.
Now get out there and start climbing those slopes!