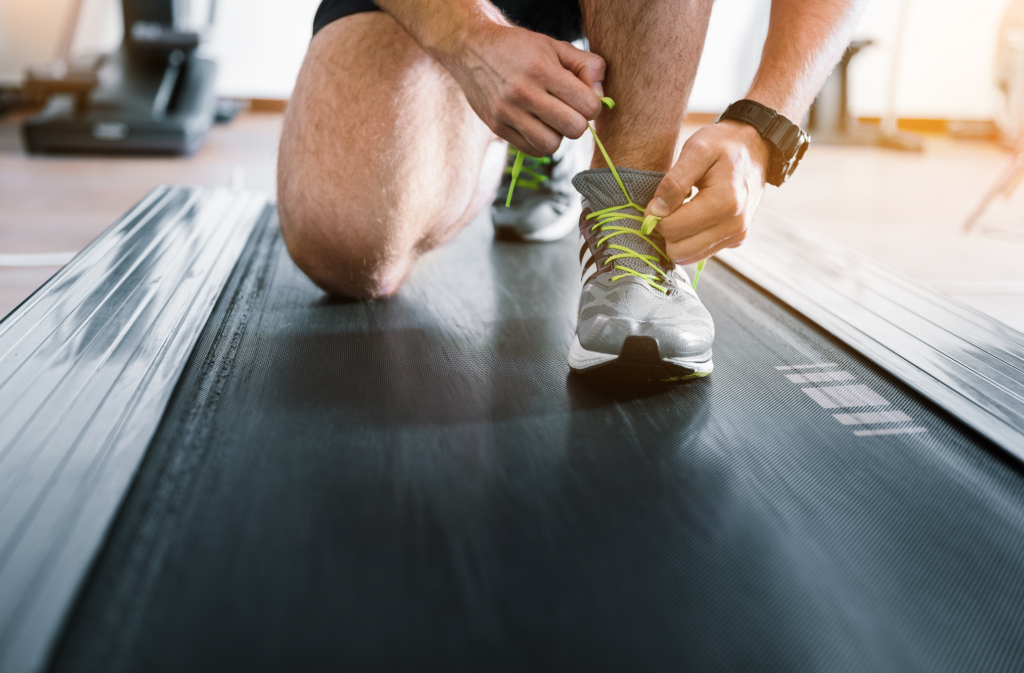 ProForm is a leader in the home treadmill game and their SMART Pro 9000 shines as their most advanced treadmill to date. If you're looking for a powerful treadmill with hi-tech features, it's gonna be hard to find a smarter option in this price range.
Highlights include a 4.0 CHP motor, a 22″ x 60″ running surface, and a 10″ HD touchscreen display.
The SMART Pro 9000 also comes loaded with 40 different workout programs, which some folks might find comforting if they don't wanna go all-in with an iFit subscription.
As a moderately priced treadmill though, it's got some serious competition (like Sole and NordicTrack).
This review is here to help you sort through all the specs and features and figure out whether or not the SMART Pro 9000 is the smartest option for your home gym (see what I did there?).
We'll take a look at all the important features to consider. I'll also provide a brief comparison to some of the biggest competitors in this price range to see how the Pro 9000 stands up.
Ok, if you're ready to roll, let's get to the good stuff.
ProForm SMART Pro 9000 Treadmill
ProForm is a popular home fitness brand that's probably most well-known for their treadmills. Well, I take that back, their ellipticals and HIIT trainers are pretty awesome too.
Anyway, when it comes to treadmills, they're definitely one of the most well-known home brands.
Their treadmills come in 3 different series: Performance, Power, and Pro. Each lineup has their own emphasis- the Performance series does have touchscreens, but the motors and running surfaces are much smaller.
Treadmills in the Power series (as the name may imply) come with stronger motors and more of an emphasis on performance than tech.
The Pro series, which the SMART Pro 9000 is a member of, is ProForm's most advanced lineup and combines the best features of the other 2 series- touchscreen displays, strong motors, and larger running surfaces.
The 9000 is the most advanced treadmill ProForm offers, but the differences between the different Pro treadmills are surprisingly small.
Screen size and motor strength are really the only differences between the different models.
As the most advanced option, the 9000 has the strongest motor and largest screen option they offer. Otherwise, all the other features, including warranty, are pretty identical.
Speaking of warranty, I think this is where the Pro 9000 could use the most work, but more on that in a bit.
Pros
22″ x 60″ running surface
4.0 CHP motor
40 workout programs
10″ HD touchscreen display
ProShox Cushioning system
-3 – 15% incline
2.5″ rollers
1 year iFit subscription included
Chest strap HR monitor included
EasyLift Assist folding deck
QuickSpeed buttons
Cons
Warranty could be longer
Some user complaints regarding customer service
Running Surface
If you've ever read any of my other treadmill reviews, you know I'm a stickler for running surface size. I think it's the most important feature to consider when looking for a treadmill.
And that's because if the running surface is too small, you're going to feel cramped. And no matter how strong the motor is or how many cool features the treadmill comes with, you're still going to be uncomfortable.
And if you're uncomfortable, you're not gonna use your new treadmill.
So, comfort comes first in my book. Most high-quality treadmills will come with a 20″ x 60″ running surface, meaning the belt is 20″ wide and 60″ long.
This is kind of the gold standard because most people can comfortably run on a treadmill of this size.
The Pro 9000 comes with a running surface of 22″ x 60″.
The extra wide belt is nice because it's just going to give you a little extra wiggle room. If you're like me, you may not be great at running in a perfectly straight line.
Having the room to sway a little from side to side without worrying about falling off is nice. It'll also give you a more commercial grade feel.
The 60″ length is good too because even taller users should be able to stretch out completely while running without having to shorten their stride.
The Pro 9000 also comes with ProForm's patented ProShox Cushioning system. This is their shock absorbing technology that is designed to reduce stress through your joints during your workouts.
ProForm treadmills are popular in part due to this technology. Users usually agree that the deck feels comfortable to run on.
Speaking of the deck, the Pro 9000 comes with a 300 lb weight limit. This is pretty average and maybe even a little low for a treadmill in this price range.
There are plenty of comparable treadmills that offer 350 – 400 lb weight limits.
Higher weight limits suggest heavier-duty, more durable frames. But if you fall well under the 300 lb limit, you shouldn't have any issues with using this treadmill.
Overall, the Pro 9000 scores pretty highly with its spacious running surface and high-end shock absorbing system.
Motor
After running surface, I suggest you consider the motor strength. Having a stronger motor is beneficial because it means the motor won't have to work as hard as a weaker one would to sustain the same work load.
This means stronger motors should be quieter and smoother. It also means they should last longer, since they aren't being stressed as much during each use.
Stronger is better, but it also depends on what you'll be doing on your treadmill. If you're gonna be running a lot, then it makes sense to go for a stronger motor.
If you'll be walking most of the time, you won't have to worry as much about horsepower. You'll be able to safe yourself some cash and go with a slightly smaller motor.
I think 3.0 CHP is a smart cutoff for running- if you'll be doing much running, I suggest you go with a motor that has at least 3.0 CHP.
The Pro 9000 comes with a 4.0 CHP Mach Z Commercial Plus motor. Most of that is just what ProForm calls their motor. The important part is that it's 4.0 CHP.
That's a lot of horsepower for a home treadmill. With this much power under the hood, you shouldn't have any trouble reaching and maintaining higher speeds.
This would be a lot of treadmill for someone simply looking to walk- but I could see why a walker would want this machine, considering the -3 – 15% incline and loads of workout options.
This treadmill has a max speed of 12 mph, by the way. This is pretty standard, but the motor itself is one of the strongest motors you're going to find on a home unit.
ProForm also gave this treadmill 2.5″ rollers to help that motor provide as smooth an operation as possible.
Rollers are the part that propels the belt down the deck. Larger is better because it puts less stress on both the rollers and the belt, prolonging the life of both.
High-end treadmills use 2.5″ rollers and larger.
Overall, the Pro 9000 comes with a beast of a motor and large rollers- a perfect combination for a smooth ride. It also makes this a great treadmill for runners.
Features
The ProForm SMART Pro 9000 comes with the following features:
40 workout programs- this treadmill comes with a complete library of workouts to choose from. There's really no excuse to get bored with your workouts on this machine (even if you don't use the iFit subscription).
10″ HD touchscreen display- one of the biggest perks of this treadmill is its huge, elegant touchscreen display. This display pairs perfectly with iFit, but it works equally well with the included workouts. The touchscreen allows you to swipe easily to see all stats during your workouts.
1 year iFit subscription included- iFit is ProForm's fitness app. It gives you access to personal training and unlimited workouts right from your treadmill. The only kicker? You have to pay the monthly subscription. ProForm gives you a free year when you purchase.
Chest strap HR monitor- this treadmill comes with an included chest strap, which is perfect for giving you a more accurate heart rate reading, especially during running.
QuickSpeed buttons- these buttons allow you to instantly set the speed or incline without having to tap the up and down arrows a hundred times. Very convenient for interval training.
EasyLift Assist- I don't think I mentioned it earlier, but the Pro 9000 is also a folding treadmill. The EasyLift Assist is a hydraulic system that makes folding a lot easier.
Audio port- you can connect your mp3 player or smart phone up to the console and listen to your music through the built-in 3″ speakers.
Tablet holder- the integrated tablet holder is conveniently located above the touchscreen so you don't have to block your view to watch Netflix or anything else from your tablet.
Workout fan- the included fan has 2 speeds to help you stay comfortable during your more strenuous workouts.
Assembly
ProForm does a pretty good job with their assembly instructions. I like that they include a to scale image of each screw and bolt at the beginning of the instructions.
It would be nice if they showed a to scale image of the hardware for each step, but most assembly instructions don't do this.
Assembly itself isn't that complicated, but there are a lot of steps. It's probably doable as a one man job, but it would be easier with 2 people.
I'd expect to spend a few hours getting this treadmill assembled.
Many users suggested paying for professional assembly- probably not a bad idea if you have the extra cash for it and want to save yourself a little headache.
Warranty
The ProForm SMART Pro 9000 comes with the following warranty:
10 year frame
2 year parts
1 year labor
The warranty department is where ProForm falls a little short. I'd expect to see a lifetime warranty on both the frame and the motor for a treadmill of this quality and in this price range.
Two years on parts is also short- I'd expect to see 3-5 years based on price.
The labor warranty is par for the course, few brands offer more than a year on labor.
Overall, the warranty is kinda weak.
The Competition
Ok, so we've taken a pretty close look at the Pro 9000. Now I want to provide a quick comparison to 2 other treadmills in this price range.
First, let's see how it compares to one of my personal favorites, the Sole F80. The F80 is in the same price range but doesn't offer as much technology as the Pro 9000.
The F80 has a slightly less powerful motor at 3.5 CHP and has the same spacious running surface. The Pro 9000 has the Sole beat in terms of workouts- 40 vs 10.
But the F80 destroys the Pro 9000 in the warranty department- lifetime frame, motor, and deck; 5 year parts; 2 year labor.
So, these two treadmills are very different: the Pro 9000 has a lot more to offer in the tech and workout departments, but the Sole F80 offers a much better warranty.
Next, let's compare it to the NordicTrack Commercial 1750. This treadmill also has a 10″ HD touchscreen display and is also iFit ready. The Commercial 1750 also comes with 50 workout programs, which is pretty insane.
The Pro 9000 just barely beats out the NordicTrack in the motor department (4.0 CHP vs 3.75 CHP) and both models have the same running surface.
Both treadmills also offer the same warranty and weight capacity and are in the same price range.
The Pro 9000 and Commercial 1750 are very similar and are both designed with the tech fan in mind. These 2 treadmills are actually provided by the same parent company- ICON Fitness.
Overall, the Pro 9000 can hold its own with the other best treadmills in its price range. All depends on what features you feel are more important: warranty or tech.
Final Thoughts
After going through all the specs and features, it's pretty easy to see why the ProForm SMART Pro 9000 has become one of the top home treadmills.
It's got a killer combination with the 4.0 CHP motor and the large, 22″ x 60″ running surface. These are perfect conditions for a smooth, comfortable workout.
It's also got a ridiculous library of workout programs to choose from. If you're looking for a treadmill with loads of workouts to choose from, the Pro 9000 makes sense.
And then there's the HD touchscreen display.
My only concern is the lackluster warranty- it could definitely be longer.
But if you're looking for a fairly affordable treadmill with a high-tech console and enough muscle for even the most advanced runners, this is a pretty smart choice. This treadmill can definitely hang with the other big names in this price range.
P.S.- if you like the Pro 9000 but want to save a little cash, you should check out the SMART Pro 2000. It has the same running surface and warranty- the only difference is the motor is a little smaller (3.5 CHP) and the display is a little smaller (7″).