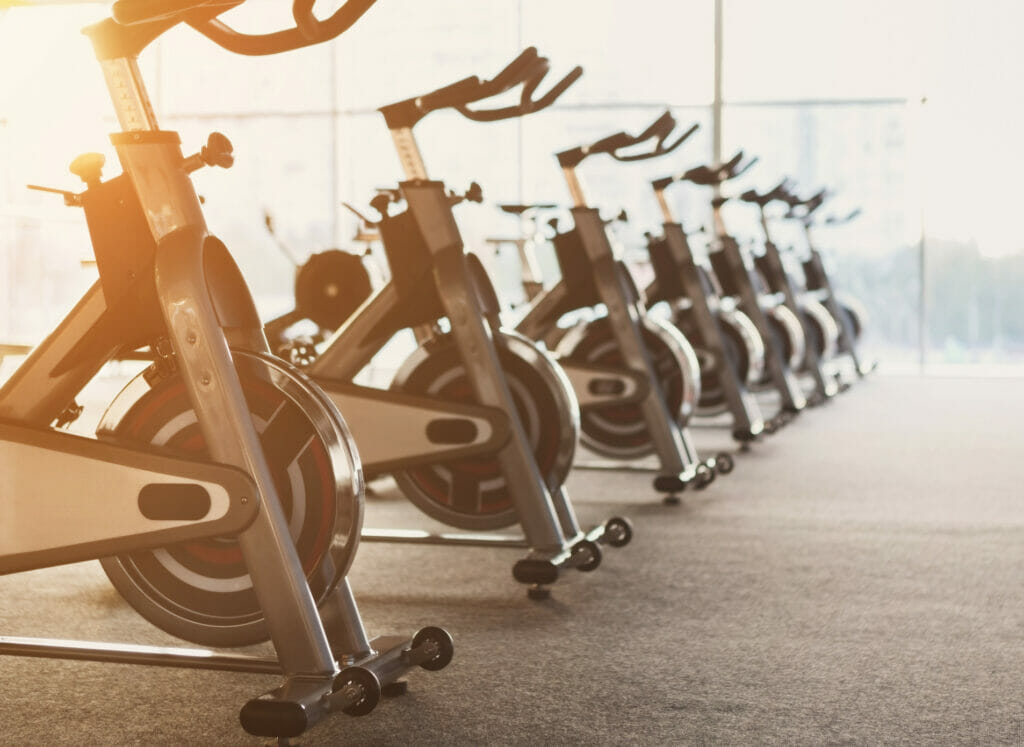 Indoor cycles (aka spin bikes) can be great for home gyms because they can offer intense workouts while taking up very little floorspace.
They're also some of the most affordable fitness machines around, which is always a plus for the folks working with limited budgets.
There are a ton of spin bikes on the market that cost well under $500- the key of course, is knowing what to look for.
And that's where I can help.
In this guide, I'll present my top picks for spin bikes in the $500 price range, but I'll also share the specs and features I use to compare 'em.
That way, if you don't find a bike to your liking, you'll know what to look for in order to find the best bike to meet your needs.
Let's start with the fun stuff first (but I encourage you to read the buyer's guide info toward the end too!)
JOROTO X2
The Cyclace
Ancheer Indoor Cycle
Yosuda Indoor Cycle
Echelon EX-15
Pooboo Indoor Cycle
Resistance
35 lb flywheel
Magnetic system
36 lb flywheel
Friction brake resistance
49 lb flywheel
Friction brake resistance
35 lb flywheel
Friction brake resistance
15 lb flywheel
Magnetic resistance (32 levels)
25 lb flywheel
Friction brake resistance
Assembled weight
94 lb
86 lb
94 lb
73 lb
90 lb
75 lb
Weight capacity
300 lb
330 lb
330 lb
270 lb
300 lb
220 lb
Features
Small console
Fully adjustable seat
Toe cage pedals
Small console
Fully adjustable seat
Toe cage pedals
Drop handle grips
Small console
Fully adjustable seat
Toe cage pedals
Grip heart rate monitors
Small console
Fully adjustable seat
Toe cage pedals
Access to streaming workouts (membership)
Fully adjustable seat
Toe cage pedals
Small console
Fully adjustable seat
Toe cage pedals
The 6 Best Spin Bikes Under $500
#1 The JOROTO X2 Magnetic Spin Bike
The JOROTO X2 takes my top spot because I think it has a great combination of performance specs for the price.
Speaking of which, at the time of writing this the X2 was going for just over $300, putting it well under our $500 ceiling.
The star of the show for this cycle is the magnetic resistance system. There aren't many $300 indoor cycles that come with magnetic resistance to begin with, so this in itself is an immediate advantage.
Most bikes in this price range, as you'll notice below, come with friction brake resistance, which is fine, but magnetic systems just feel a little smoother.
The X2 also comes with a heavy, 35 lb flywheel and a belt drive system, making it well-equipped to provide smooth pedal action and heavy resistances for you to work against.
I also like that it comes with a heavier-duty frame (weighing in at 94 lb) and a higher weight capacity than many in this price range (300 lb).
Other nice features include a fully adjustable seat, fully adjustable handlebars, and dual water bottle holders.
The warranty and the console suck, but that goes for every bike on this list, so I can't hold that against the X2.
Overall, I think this magnetic bike has a lot to offer for such an affordable cycle. See full review.

#2 The Cyclace Indoor Cycling Bike
The next bike on our list comes with impressive specs, but I'd by lying if I said the cool name didn't help land it the #2 spot.
"Cyclace" still sounds more like a Greek villain to me than an exercise machine…
Anyway, the Cyclace is about the same price as the X2, so still well under our max budget for this guide, but unlike the X2 it comes with a more traditional brake pad resistance system.
That brake pad is capable of providing a ton of resistance, especially when paired with a 36 lb flywheel, but it won't feel quite as smooth as the magnetic system on the bike above.
The Cyclace gets bonus points for it's heavy-dutiness though.
With an assembled weight of 86 lb and a max weight limit of 330 lb, this bike is going to feel more stable than most in its price range.
It's also capable of holding larger folks than most other bikes at this price point- not only with the high weight capacity, but also because it can comfortably hold people who are up to 6'5″ tall.
The Cyclace also uses a belt drive for smoother, quieter operation and also comes with a fully adjustable seat.
The handlebars on this cycle are only height adjustable, but the multi-grip handles offer the drop handle position as well, which is rare.
Overall, the Cyclace has a lot more to offer than just a cool name. It's an especially good choice for the bigger and taller crowd looking for a budget cycle. See full review.

#3 The Ancheer Indoor Cycle
The Ancheer cycle has an interesting combination of features.  It's most impressive specs are the crazy heavy, 49 lb flywheel and a heavy-duty frame that can folks weighing up to 330 lb.
But it can also only hold people up to 6'2″ tall, so the taller folks are better off with the Cyclace mentioned above.
The Ancheer is another friction brake resistance bike, so you get the advantages of having unlimited resistance levels to work with.
Another surprising feature this cycle boasts are the built-in grip heart rate monitors (I say "surprising" because not many bikes in this price range offer this).
These grip monitors allow you to grab your handles and get an estimate of your heart rate during workouts- they aren't the most accurate readings in the world, but still better than nothing.
The Ancheer also comes with a fully adjustable seat, toe cage pedals, and a small console that can display the most basic of workout stats.
Overall, if you're looking for a heavy-duty cycle with a massive flywheel, the Ancheer is going to be hard to beat in this price range. See full review.

#4 The Yosuda Indoor Cycling Bike
The Yosuda is one of the most popular budget cycles on the market.
And I don't mean like generally speaking, at one time this bike was the #1 selling exercise bike on Amazon (at the time of writing this, it's ranked in the #2 spot…still pretty freakin' good).
It's overwhelming popularity is probably enough reason to check this bike out, but when you do, it's pretty easy to see why it's gained so much notoriety.
Not only does the Yosuda cycle cost under $300, but it comes with a 35 lb flywheel and a belt drive.
This bike uses a resistance friction pad resistance system, but again, this is to be expected for such an affordable bike.
The biggest downside to the Yosuda (and why it's not ranked higher in my list) is the lightweight frame- this cycle only weighs about 73 lb assembled.
Being lightweight is a good thing when it comes to moving this bike around your home, but heavier is better when it comes to overall stability.
The Yosuda can only hold users weighing up to 270 lb too, which is lower than many of the other bikes on this list.
Other features include a fully adjustable seat, multi-grip handlebars, and a simple LCD monitor.
Overall, if you're of smaller stature and looking for a really affordable spin bike, the Yosuda is easily one of the best in its class. See full review.

#5 The Echelon EX-15 Smart Connect Bike
Ah, now we've come to a brand name you guys might actually recognize.
Echelon made a name for themselves by offering a budget-friendlier option to the Peloton. They started off with bikes that didn't come with consoles, allowing you to save money by connecting your own tablet to the bike.
That was a smart concept in my opinion, but then they started making more expensive bikes that did come with HD consoles, putting them in direct competition with Peloton (which I didn't think was a very good idea).
Anyway, the EX-15 is Echelon's most affordable model.
You can only find it on retail sites like Amazon and Wal-Mart, as Echelon doesn't sell it directly through their site.
Funny story: the EX-15 was originally named the "Prime" and to only be sold on Amazon- turns out Amazon wasn't cool with that, so Echelon had to change the name of the bike.
Ouch.
The EX-15 is the most expensive bike on this list and comes with a sales price right at $500.
And honestly, I don't love this bike, but it does offer a very affordable way to access streaming workouts.
This bike comes with a 15 lb flywheel, which is very light, but it does come with a more advanced magnetic resistance system with 32 levels to choose from.
The frame is fairly heavy duty too, with an assembled weight of 90 lb and a 300 lb weight capacity.
Being the most affordable Echelon model, this bike doesn't come with a console at all- instead, it's designed to connect to your phone or tablet via bluetooth.
Through an Echelon membership ($39/month), you can access unlimited on-demand and live workouts, including cycling routines as well as a bunch of other non-cycling related workouts.
The kicker being you have to be connected to the app to see any metrics, including what resistance level you're on.
Users have complained (myself included) that connecting the bike with the app isn't always the easiest thing in the world, but again, this is what we get with affordable streaming bikes.
Overall, if you're interested in joining the world of streaming without breaking the budget, the Echelon EX-15 is a pretty solid option, but make sure you're cool with that monthly subscription fee. See full review.

#6 The Pooboo Indoor Cycling Bike (D525)
Rounding out my list is this hilariously named cycle called the Pooboo.
I'd like to formally apologize for my immaturity, but that's just a funny sounding name to me… what can I say…
Moving on, the Pooboo is another super affordable cycle that's sleeker looking then most in this price range.
This cycle comes with a 25 lb flywheel, which isn't nearly as heavy as some of the other bikes on this list, but still heavy enough to provide a fairly smooth feel.
This flywheel is paired with a friction brake resistance system and a belt drive, making for quiet operation.
With an assembled weight of 75 lb and a weight capacity of only 220 lb, this is a very lightweight bike designed for smaller riders.
But as long as you fit under those requirements, you should do just fine.
This bike also comes with a fully adjustable seat, toe cage pedals, and a simple LCD console that can display simple metrics like time, distance, speed, and calories.
Something else worth noting about the Pooboo is that users have been surprisingly happy with their customer service- something we don't see often from any fitness brand regardless of price range.
Overall, if you're smaller and looking for a quality indoor cycle, this Pooboo model is a smart buy (and if you do choose this bike, think of how much fun you'll have saying "time to go ride my Pooboo"). See full review.

Affordable Spin Bikes 101
Ok, there ya have it – the above cycles represent the best spin bikes $500 will get ya.
I wanted to finish this guide off with a some additional info regarding the key specs I used to choose the bikes that made this list.
Because the way I see it, there's no reason you should just take my word that these bikes are worth investing in.
I like to think I'm a pretty trustworthy guy, but these days you can never be too sure about who you take advice from.
So, to cover all our bases, let's go over the key performance specs I used to select the cycles mentioned above. Personally, I think it's a good idea to concentrate more on the performance side of things over the tech features and whatnot.
But when talking about bikes that cost under $500, this isn't really an issue because they don't really have any tech features to begin with.
Resistance System
You probably noticed I quoted flywheel weights for each bike listed above. This isn't a coincidence, I think this is one of the most important considerations when choosing a spin bike in any price range.
Generally speaking, having a heavier flywheel is a good thing because it's going to help ensure the bike is able to provide a smooth pedaling motion.
This is especially true for cycles in this price range where most of them are using friction brake resistance mechanisms.
Heavier flywheels build more momentum as they spin. This extra momentum helps keep the flywheel (and pedals) moving, which reduces lag between pedal strokes.
The result is a smoother feel during workouts.
These days, even the really affordable cycles are coming with heavy flywheels, so there shouldn't be any issues with finding a heavy flywheel.
Anything weighing over 20 lb is pretty good, but as you might have noticed, most are coming with flywheels over 30 lb now.
Flywheel weight is important, but it's a good idea to consider the resistance mechanism too.
Most bikes in this price range come with friction brake systems, meaning there's a felt or wool pad that makes contact with the flywheel to create the resistance.
These systems are nice because they're so affordable, but they don't feel as smooth as magnetic systems do.
With magnetic systems, the resistance is created by placing magnets near the metal flywheel. These systems are preferred because there's no contact with the flywheel, which creates a smoother feel.
You also don't have to replace anything with magnetic systems (with friction brakes, you'll have to replace the brake pad from time to time as it breaks down).
Overall, when comparing bikes in this price range: heavier flywheels are preferred and magnetic resistance is preferred to friction brakes.
Frame
I think it's also a good idea to consider how heavy-duty the bike is too when deciding.
The best way to tell how heavy-duty a bike is (or is going to feel) without getting your hands on it first, is to look at the assembled weight and weight capacity.
Seeing higher numbers in these specs is a good thing.
Heavier bikes are going to be less likely to wobble or move during workouts, making for a more stable feel. This is especially important if you plan on standing and exercising against higher resistances.
The weight capacity is a more indirect way of judging stability because assembled weight and weight limit don't always coincide directly.
But heavier bikes usually come with higher weight limits.
Speaking of weight limits, I recommend going for a bike with at least a 300 lb capacity when possible because these bikes are more likely to feel sturdy and stable.
Smaller users can get away with lower weight limits, and I'm sure you noticed there are some bikes on this list with limits under 300 lb.
In this price range, it's normal to see weight limits in the 270 lb range, although there are plenty with 300 – 330 lb limits too.
When it comes to assembled weight, many bikes in this price range weigh 70-80 lb. The heavier-duty bikes will weigh upwards of 90 lb+.
Features
The resistance system and the frame are the 2 most important specs I like to look at when comparing budget cycles, but there are a few other considerations to look for too.
Most of these bikes will come with belt drives these days, although some are still using chain drives.
Belt drives are preferred, because they're a little quieter and a little more responsive, but I don't think it's a deal breaker either way (chain drives aren't that loud to begin with).
Pretty much all indoor cycles will come with fully adjustable seats (meaning you can adjust the height and fore/aft position), but still something to check.
Some cycles will come with fully adjustable handlebars too, but most will only allow you to adjust the height- again, not a deal breaker in my book either way.
Most affordable bikes will come with a very small, very simple console that can only track stuff like time, distance, speed, and calories.
None of these bikes can track cadence, which is disappointing if you're trying to follow Peloton or other streaming workouts, but this can be solved by getting a cadence sensor separately.
Don't expect any bluetooth compatibility or built-in workouts from bikes in this price range- ain't gonna happen.
Other Stuff
I usually stress the importance of comparing warranties for more expensive bikes, but this isn't necessary in this price range.
That's because all of these bikes come with the same crappy 1 year parts guarantee.
The lack of a solid warranty is disappointing, but like they say- you get what you pay for.
The truth is, there are good reasons why affordable bikes are affordable to begin with. And the lack of a warranty is one of these reasons.
When buying a bike in this price range, there is some risk involved. Without a warranty backing it up, you'll be responsible for any repairs or replacements that take place after a year.
This just goes with the territory.
You never know- some bikes might last a decade, others might last a couple of years.
Unfortunately, some might break down sooner, but looking at the specs we've discussed is the best way to find a bike that should last longer.
Well, that's about all I got on the subject, so I'll go ahead and wrap this guide up.
As always, if you have any questions or concerns, please leave a comment and I'll get back to ya soon. And, if there are any cycles you feel should've made the list, please let me know.
(I love Sunny Health & Fitness as a brand and they also have a ton of great affordable cycles to choose from- a few almost made this list, but ultimately I decided against it based on the specs).