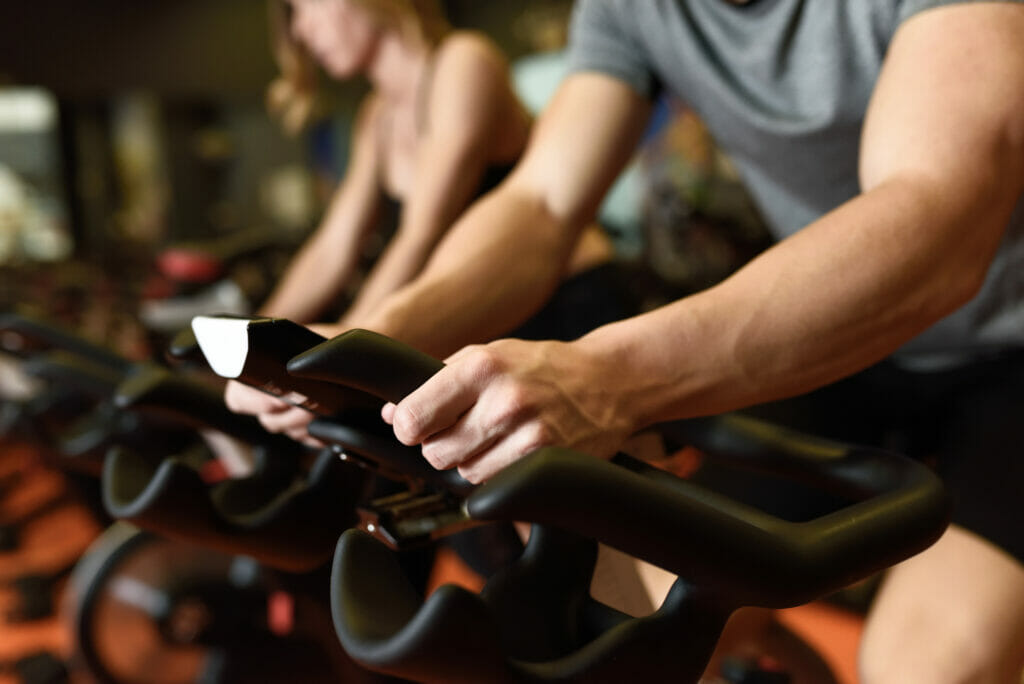 There are tons of affordable indoor cycles to choose from these days, but few come with as many stellar user reviews as the Pooboo Indoor Cycling Bike (model number D525).
Highlights of this cycle include easy assembly, quiet operation, and surprisingly efficient customer service.
It also comes with a jazzy looking flywheel, which doesn't hurt either.
Overall, I think the Pooboo cycle has some redeeming features for a bike under $300, but as I mentioned above, there are a lot of similar cycles in this price range.
Does this bike have what it takes to distinguish itself from the rest of the pack?
Well, that's what we're here to answer.
In this review, I'll discuss all the key specs and features this bike has to offer. I'll also compare the Pooboo to some of the competition in this price range to see how it stacks up.
After reading, you'll know everything you need to in order to decide whether or not this is the right bike for your home gym.
The Pooboo Indoor Cycling Bike (D525)
I'd like to start out by stating the obvious- Pooboo is a pretty hilarious brand name. I have no idea what it means or where it came from, but it's kinda fun to say, so kudos to that.
In terms of history, it looks like the brand has been around since the early 2000's.
You'll find these bikes on retail sites like Amazon and Wal-Mart and like a lot of the other really affordable cycles (Yosuda, JOROTO, etc), Pooboo bikes appear to be made in China.
Not that that's necessarily a bad thing, but that's where most of these cheaper bikes come from.
Pooboo offers several different cycles to choose from and it can be hard to differentiate the different models from each other.
But if you look closely enough, you'll notice subtle differences in the specs and prices.
The D525 is one of their most affordable spin bikes and will cost ya around $270 depending on where you purchase.
Pros
Very affordable
Compact size
Easy to assemble
Built-in tablet holder
Grip heart rate monitor
Fully adjustable seat
Great customer service
Cons
Fairly light flywheel
Friction brake resistance system
Light frame
Small weight capacity
Resistance
Spin bikes are great because they can provide pretty intense cardio workouts while taking up very little floorspace.
That said, in order to provide a great cardio workout they need a resistance system that allows you to pedal against adequate resistance to get that heart rate up.
A quality cycle should also feel smooth during use, because if it doesn't, odds are you won't be using it for long.
The best way to get an idea of how a bike's resistance is going to feel (without being able to take it for a test spin) is to check out the flywheel weight and the type of resistance it's using.
Heavier flywheels are usually better, especially in cheaper bikes, because the extra weight builds more momentum as the flywheel spins.
This extra momentum helps keep the pedals moving, which helps reduce any lag between your pedal strokes (especially when pedaling against higher resistances).
With this in mind, the Pooboo D525 comes with a 25 lb flywheel, which believe it or not, is actually kinda light even for spin bikes in this price range.
Sunny Health & Fitness has cycles in the same price range that are packing 30 – 40 lb flywheels, just sayin'.
Oh, this reminds me of something else too- you can't always trust the specs you see displayed on Amazon! Many times these specs are a little off.
When comparing flywheel weights and weight capacities, it's always a good idea to go directly to the brand's own website to check details (when possible).
Of course you could always trust a reputable fitness blogger like yours truly as well 🙂
I say this, because this bike is reported to have somewhere between a 30 – 35 lb flywheel on Amazon, but Pooboo states it has a 25 lb flywheel.
When in doubt, I would trust the manufacturer.
So, at 25 lb, the flywheel on this bike is on the lighter side when compared to similar cycles, but we also need to consider the type of resistance system it's using.
The D525 uses a friction brake pad to provide the resistance, as opposed to a magnetic system.
Friction brakes are nice because they're cheaper, but magnetic systems are preferred because they're smoother and don't require replacing a felt pad every once and awhile.
With the brake pad, you can make as many micro-adjustments as you like, but there are no resistance "levels" that are displayed on the console.
Instead, you have to depend on feel alone to adjust your intensity.
Even with the lighter flywheel and friction brake resistance, most users agree the bike feels pretty smooth during workouts. They also agree that it's very quiet, which is a good thing.
Overall, the Pooboo cycle is pretty average in terms of flywheel weight and it's use of a friction brake pad, but users are overwhelmingly happy with how it performs.
Frame
I always like to consider how "heavy-duty" a bike is when researching it too.
I think a heavier or bulkier bike is a good thing because it's going to feel more stable during workouts. You know, be less likely to wobble or shake when standing and riding against heavier resistances.
The best way to get an idea as to how heavy-duty a bike is is to literally look at how heavy it is.
Most manufacturers will provide the bike's assembled weight and it's a great place to start when thinking about structural integrity.
The D525 comes with an assembled weight of about 75 lb ,which is quite light for a spin cycle.
It's true, cheaper bikes are usually lighter (because there are legit reasons why affordable bikes are affordable in the first place), but even so, there are other bikes in this price range that weigh upwards of 90+ lb.
It's also a good idea to look at the weight capacity- with higher numbers indicating superior frame strength.
The D525 comes with a weight capacity of 220 lb, which is really low for a bike in any price range (again, this is different than the 270 lb limit stated on Amazon, but I'm going directly from the Pooboo site).
With a 75 lb assembled weight and a 220 lb weight capacity, it's obvious that this Pooboo cycle is a very lightweight cycle designed for smaller users.
Smaller folks that fit well under that weight limit will likely do just fine, but a larger gent like myself that's right around that 200 lb mark will be better off going with a bulkier bike.
Seat
One of the biggest complaints about spin bikes is that the seats are uncomfortable.
This is pretty true for all cycles. After all, these bikes are designed to mimic the feel of road bikes, which come with small, firm, uncomfortable seats.
That said, users seem to agree the seat on the Pooboo bike is pretty uncomfortable too.
Like I said, that's normal for any indoor cycle, so I wouldn't hold that against the Pooboo.
What's more important, is that this bike does come with a fully adjustable seat which allows you to adjust both the height and horizontal position.
This is good because it makes it a lot more likely that you'll be able to find a comfortable riding position.
Handlebars
I don't have a lot to say about handlebars, but I do want to point out that the Pooboo comes with multi-grip handles that allow you alter your grip during your workouts.
The wide grips are especially important, because most people use these when standing.
The handlebars on this bike are height adjustable, but you can't adjust the horizontal position.
Personally, I don't think that's that big a deal, considering you can adjust the fore/aft position of the seat.
Overall though, the handlebars on the Pooboo are pretty standard.
Pedals
Indoor cycles can come with pedals that are designed to be used with cleats of varying styles or ones that are designed to be used with sneakers (toe cages)- others comes with dual compatible pedals that include both.
Most affordable cycles come with toes cages and the Pooboo cycle is no exception.
Toe cages are convenient, especially for the casual rider, because you can hop on and ride regardless of what kind of shoes you're wearing.
Not having to change into cleats is nice, but clicking in really does improve the efficiency of your rides.
Luckily, if you did want to swap out the pedals for cleat compatible ones, it wouldn't be that difficult.
Console
You really shouldn't be expecting much in the console department from a bike that costs under $300. If you are, you'll be disappointed with the simple LCD monitor that comes with this bike.
Like pretty much all bikes in this price range, the Pooboo comes with a small display that will track the most basic metrics, including time, distance, speed, and calories.
One pleasant surprise is that there are grip pulse monitors built-into the handles, allowing the console to display an estimate of your heart rate.
The biggest disadvantage of a basic console like this is that it can't measure your cadence during workouts, but that can be solved pretty affordably with the purchase of a cadence sensor.
The console on this bike also comes with a tablet holder, which is nice if you want to access fitness apps or watch Netflix during your ride.
Warranty
The Pooboo D525 Indoor Cycle comes with the following warranty:
Yeah, that's it.
Not much to write home about, but hey, that's what you get with a cycle in this price range.
The short warranty is a bummer, but on a positive note Pooboo's customer service gets great reviews from users.
Final Thoughts
Well, I think it's about time for me to wrap this up and cut to the chase already.
Is the Pooboo cycle a good buy?
Not really.
Pooboo's D525 Indoor Cycle is a very budget friendly spin bike with some decent features for smaller users, but for the price, I think there are better options.
I like Sunny's SF-B901 better because it comes with a much heavier-duty frame and a 40 lb flywheel.
I also like the Yosuda Cycle I mentioned briefly better because it too comes with a much heavier flywheel and is priced almost identically.
If you want to stick with the Pooboo brand (or are immature like me and just like saying it), you might want to check out their magnetic version of this bike– it only costs a few bucks more and the magnetic resistance would offer a smoother feel.