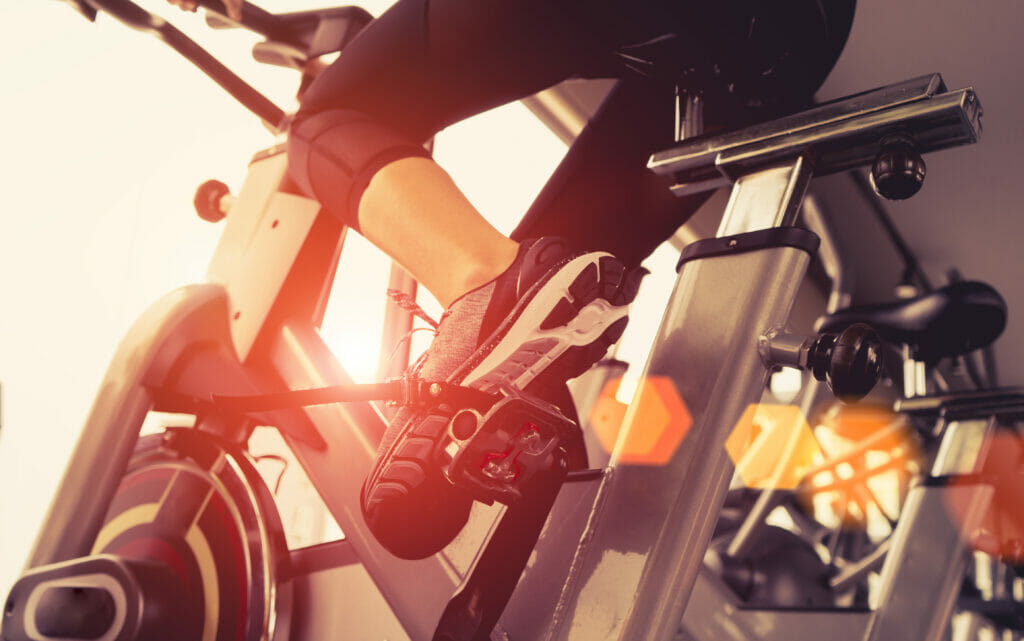 When it comes to very affordable indoor cycles, you have a ton of options to choose from. That said, few brands have become as popular as Yosuda has.
Yosuda's Indoor Stationary Cycling Bike has gained quite a following on sites like Amazon, which in itself is quite a feat given how many cheap, generic indoor cycles you'll find there.
At first glance, it's easy to see why this Yosuda bike has become so popular.
Not only does it cost well under $300, but it's packing a heavy flywheel, a belt drive system, and a fully adjustable seat.
All things considered, I agree it has a lot to offer for such an affordable cycle, but like any bike in this price range, it has its fair share of drawbacks too.
In this review, I'll go over all the key specs and features the popular Yosuda cycle has to offer.
After reading, you'll know everything you need to in order to decide for yourself whether or not this bike is worth investing in.
The Yosuda Indoor Stationary Cycling Bike (YB001)
Yosuda is a fairly new brand, only starting a couple of years ago, but in that time they've certainly made a name for themselves.
The star of their lineup is the indoor cycle we're here to talk about today, but they seem to be gradually expanding their lineup- they've recently added an under desk bike and an adjustable dumbbell, but I have a feeling we'll be seeing more from them in the future.
There's actually 2 Yosuda cycles available: the YB001 and the YB007A.
It's hard to tell the difference between these bikes from appearance or name, but the YB007A comes with a few subtle upgrades over the YB001.
And since they basically cost the same thing, I think it makes more sense to go with the YB007A, but more on that in a bit.
The YB001 is their original indoor cycle and it's the one that's gained so much popularity on Amazon.
That's actually a bit of an understatement- this Yosuda cycle is currently the best selling exercise bike on Amazon (well, at the time of writing this anyway).
Which is quite the feat given how much competition there is. And not only does it sell, but it's been getting rave reviews from users.
I'll be honest- I usually ignore the cheap, generic looking cycles, but given its level of popularity, I figured it was time for me to take a closer look at what Yosuda had to offer.
So, off we go.
Pros
Very affordable
35 lb flywheel
Belt drive train
Fully adjustable seat
Multi-grip handlebars
Basic LCD monitor included
Compact, easy to move
Cons
Lightweight frame
270 lb weight limit
Very short warranty
Resistance
When it comes to spin bikes, it's easy to get carried away with flywheel weights (myself included).
It's generally true that for most bikes, having a heavier flywheel is a good thing because they tend to provide a smoother feel- more weight equals more momentum, which helps keep the flywheel moving, avoiding any awkward phases of the pedal stroke.
But these days, pretty much all indoor cycles come with heavy flywheels.
And by "heavy", I'm talking about flywheels casually weighing 30 – 40+ lb.
Believe it or not, this is becoming the norm for even super affordable cycles. Which is a great thing for us, because that means a lot of these affordable bikes are going to provide a pretty smooth workout.
But there's more to a bike's resistance system than the flywheel.
You should also consider what type of mechanism is being paired with that flywheel to create the resistance.
With spin bikes, it's going to be either a friction brake or a magnetic system.
Pretty much all bikes in this price range (under $300) are going to come with a friction brake system because this is the more affordable option of the 2.
With a friction brake, you have a brake of some kind (usually made out of felt) that is pushed against the spinning flywheel to create the resistance.
Pushing the brake pad further against the flywheel increases resistance, while pulling it away reduces it.
These systems have the advantage of offering "unlimited" resistance levels because you can turn the dial in very small increments to fine tune your intensity level.
But they don't tend to be nearly as smooth as magnetic resistance systems, which use magnets to create the resistance.
Plus, with felt pads, you have to replace them periodically- which isn't a complicated procedure or anything, but it's still more maintenance than is required for magnetic systems.
With all of this background info in mind, let's finally get to the Yosuda cycle.
The YB001 comes with a 35 lb flywheel, which is easily heavy-enough to provide a smooth pedal motion, so no concerns there.
And as expected, this bike utilizes a felt friction brake resistance system, which isn't necessarily a bad thing, but it does mean you'll be responsible for replacing that felt pad as needed (Yosuda includes an extra pad with purchase, which is nice).
I prefer the feel of a magnetic system, but again, in this price range you can't expect magnetic resistance.
And users are in the most part very happy with the feel of the YB001 during use.
Resistance on this bike is easily adjusted by turning the red resistance dial in front, which also acts as an emergency brake to stop the flywheel from spinning when pushed down.
Since this is a friction brake bike, there are no resistance levels, so you'll have to depend on feel to gauge the intensity of your workouts.
Overall, I think the Yosuda cycle scores highly in this department. It comes with a friction brake resistance system, but it's also packing a heavy flywheel (and I like that they throw in an extra felt pad so you'll be prepared when you need it).
Frame
A bike's resistance system is very important, but so is its frame.
A quality bike should come with a secure frame that feels stable during rides- especially if you plan on standing and climbing against higher resistances.
Appearances can be misleading, making it difficult to judge how "heavy-duty" a bike is without taking it for a test spin first.
The best way to get an objective idea otherwise is to look at the bike's assembled weight and weight capacity- seeing higher numbers in these 2 specs will indicate a heavier-duty frame.
The Yosuda cycle comes with an assembled weight of 73 lb, which is very light-weight considering literally half of that weight is coming from the flywheel alone.
For the sake of comparison, the popular Schwinn IC3 weighs in at 100 lb – and it's flywheel is only 5 lb heavier than the Yosuda's.
Of course, the IC3 also costs 2x as much.
There are reasons affordable bikes are more affordable and lightweight frames are one of 'em.
Moving on, the Yosuda comes with a weight limit of 270 lb, which is also lower than the 300 lb limit we see on a lot of indoor cycles.
Again, this is an indicator that this is a lighter-weight bike best suited for smaller users.
Overall, looking at the assembled weight and weight capacity of this bike shows us this is a light weight cycle – larger folks might want to consider a bulkier bike.
Seat
Most indoor cycles come with standard road bike seats that are firm and fairly uncomfortable. This is just one of the truths about indoor cycling, so there isn't a lot to say about it.
That said, the seat on the Yosuda cycle is softer and more "cushiony" than your standard bike seats.
So, if you're interested in a more comfortable seat, this is a good thing. However, if you're looking to more closely mimic the feel of riding outdoors, you might not appreciate the softer seat.
Many users seem to find the seat quite comfortable during workouts (which is surprising for any spin bike), but it's a subjective thing, so everyone's a little different.
The important thing to consider with the seat though, is that it's fully adjustable, meaning you can adjust both the height and the horizontal (fore/aft) position.
This is important to make sure you can find a comfortable riding position.
Overall, the YB001 scores highly with its more comfortable than usual, fully adjustable seat.
Handlebars
There isn't a lot to say about a bike's handlebars either.
But I do want to mention that the YB001 comes with multi-grip handles that allow you to change your grip during your workouts, depending on your riding position.
Most folks will use the wide grips when standing, and the more narrow grips when seated, but it's really up to you.
The handlebars aren't fully adjustable- you can only adjust the height, not the fore/aft position.
I don't think this is that big a deal (my Peloton doesn't have fully adjustable handlebars either), but Yosuda's marketing is a bit misleading when they say the handlebars are "2 way adjustable).
Technically, I guess being able to go both up and down is "2 way", but whatever.
Overall, nothing too special going on in this department.
Pedals
Spin bikes can come with pedals designed to be used with sneakers (toe cages) or cleats of varying designs.
Some bikes will also come with dual-compatible pedals, that have a toe cage on one side and are cleat compatible on the other.
The YB001 comes with toe cages, meaning you don't have to worry about purchasing riding cleats to use this bike.
If you already have cleats, or are interested in getting some, it wouldn't be difficult to swap the pedals out for the ones of your choice.
By the way, riding with cleats has its advantages.
Being connected to the pedals allows you to pedal more efficiently and reach those faster cadences more effectively.
Console
We shouldn't expect much from a bike in this price range when it comes to the console (or even expect the bike to come with one for that manner).
But the Yosuda cycle does come with a small LCD monitor that can track your workout time, distance, speed, and calories burned.
The monitor isn't backlit, so it won't have the best visibility in darker lighting situations and it isn't compatible with any bluetooth or heart rate monitoring devices either.
There also aren't any workout programs or anything like that.
No, just a simple display that will show your basic metrics during your workouts.
There's also a small tablet holder, but some folks have complained that it's not really big enough to securely hold a full size tablet.
Overall, this console is as basic as they come, but for the price it's par for the course.
Warranty
When shopping for cycles in this price range, we shouldn't expect much in the warranty department, and the Yosuda cycle is no exception.
Yosuda offers the following warranty on the YB001:
Yeah, that's not much of a warranty, but that's how it goes with bikes in this price range unfortunately.
They do also offer a 30 day return policy for any reason, minus shipping costs.
But the really short warranty is definitely one of the biggest drawbacks of this bike.
That, plus if you do have problems with your bike, you'll be working with the customer service department in China, which can pose it's own logistical issues.
Final Thoughts
Alrighty, that's about all I've got regarding the Yosuda Indoor Cycle.
All things considered, I think this is a pretty good buy.
I'm not a fan of friction brake bikes, but that's what you get with any bike in this price range- but I do like that this cycle comes with a nice heavy flywheel, a belt drive, and a fully adjustable seat.
Based on the lightweight frame and low weight capacity, I would say this bike is better suited for smaller folks…
Oh, that reminds me, I forgot about the other Yosuda cycle!
The YB007A is the upgraded version of the YB001 and it comes with a 40 lb flywheel, a 330 lb weight capacity, and a heavier assembled weight of 86 lb.
The YB007A is usually about $65 more expensive, but as I'm writing this Amazon has it on sale for the exact same price as the YB001.
I would say the YB007A is worth the extra few bucks anyway, but if they're the same price it's a no-brainer.
Overall, considering the overwhelming popularity and performance specs of these bikes, I think either Yosuda cycle is a good option in the $300 price range.
But the upgraded YB007A is a better option if you ask me.