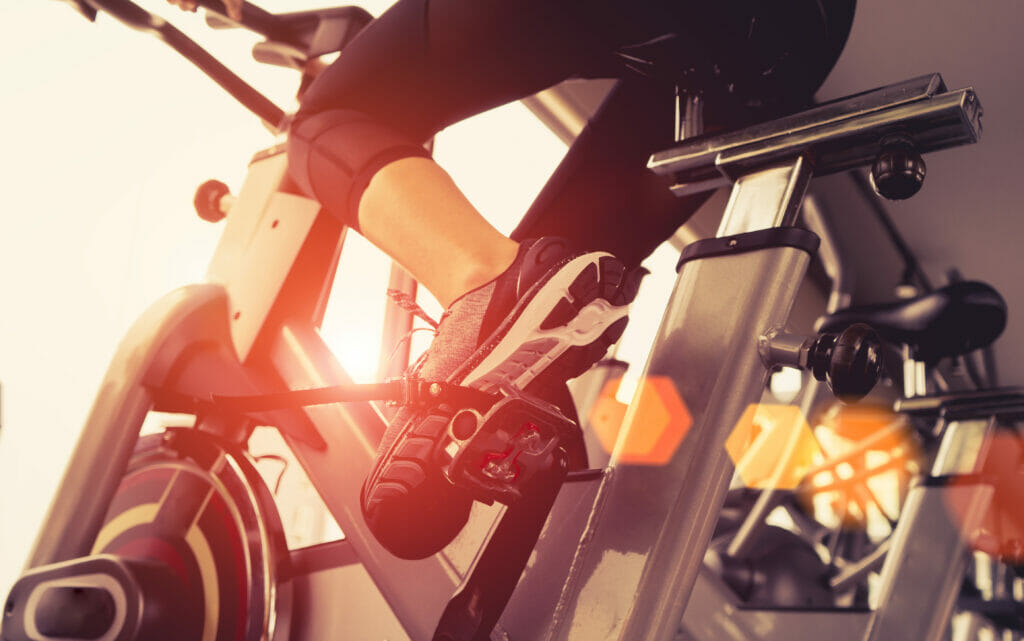 With a sales price of around $500, the EX-15 is the most affordable indoor cycle Echelon offers.
So, if you're interested in joining the world of streaming spinning classes, this is one of the most budget friendly ways of doing just that.
This affordable streaming bike has several redeeming qualities, including 32 levels of magnetic resistance, a belt drive, and bluetooth connectivity to the Echelon app that gives you access to thousands of instructor-led workouts.
That said, this bike is far from perfect.
Downsides include a light flywheel, a short warranty, and the lack of a monitor.
Overall, I think the EX-15 can make sense for people who want to stream workouts on a budget, but before you buy, you definitely need to do your homework.
And that's where I come in.
In this review, I'll go over all the key specs, features, and qualities you should be aware of before deciding.
After reading, you'll know everything you need to in order to decide for yourself whether or not this is the right bike for your home gym.
The Echelon EX-15 Smart Connect Bike
Echelon made a name for themselves by offering a more affordable alternative to Peloton.
They did this mostly by creating spin bikes that were designed to pair with the smart phones and tablets you already owned, instead of coming with large consoles themselves.
The idea being you download the Echelon app, connect your Echelon bike with it, and away you go.
Echelon still offers a few bikes like this (the EX-15 included), but now they also offer bikes that come with their own large HD consoles too, putting them in direct competition with Peloton.
And since there isn't that much of a difference in price between Echelon's higher-end models and the Peloton, I personally see no reason to choose Echelon over Peloton… but that's a story for another day.
We're here to discuss the EX-15, which is boat loads cheaper than the Peloton.
You won't find the EX-15 on Echelon's site, but it's still being sole on retail sites like Amazon and Wal-Mart.
P.S.- the EX-15 used to be called the "Prime", but Amazon didn't like that so they had to change it.
Pros
32 levels of magnetic resistance
Smooth belt drive
Heavy duty frame for the price range
300 lb weight capacity
Fully adjustable seat
Access to streaming workouts via membership
Affordable price
Cons
Light flywheel
No monitor included
Connecting with app can be inconsistent
Echelon membership a bit pricey
Resistance
In order for a spin bike to provide a good workout, it's gotta be capable of providing enough resistance to challenge you sufficiently.
And since the resistance on these bikes is created through the spinning flywheel and whatever resistance mechanism the bike is using, I figure these are good points to start with.
The EX-15 comes with roughly a 15 lb flywheel, which I'm assuming is where the name came from?
I had to find this info on one of Echelon's forums, because the company doesn't make it easy to access the specifics about this bike.
In my research, I found other sites stating other various weights for the flywheel, ranging between 20 – 28 lb, but I'm inclined to believe the answer on the forum.
And again, that would make sense with the model name.
As flywheels go, 15 lb is very light.
Heavier flywheels are usually preferred because they build more momentum as they spin, which actually helps keep the pedals moving as you pedal.
The result is a smoother pedal motion during workouts.
Even though the flywheel on the EX-15 is lighter than most other indoor cycles, users tend to agree that it feels pretty smooth during operation.
This is in part due to the belt drive train, but also to the magnetic resistance system.
Magnetic systems are preferred to the friction brake systems because they feel smoother and you don't have to worry about replacing felt pads periodically.
At $500, the EX-15 is in a price range where you could see both magnetic and friction brake systems being used (anything cheaper will almost certainly be a friction brake).
The EX-15 comes with 32 resistance levels to work with, which gives you a nice range of intensity levels to use during workouts.
Overall, the light flywheel is disappointing, but I like that this bike comes with so many magnetic resistance levels to work with.
Frame
One of the biggest downsides to a really affordable cycle is the lightweight frame that can feel a bit unstable during workouts.
It can be hard to determine how heavy-duty a bike's gonna feel without taking it for a spin first and looks can be deceiving. The best way I've found to get an idea of heavy-dutiness is to look at the assembled weight and weight capacity.
Seeing higher numbers with both specs is a good sign that the bike will feel stable during workouts.
The EX-15 comes with an assembled weight of around 90 lb, which is pretty good for a spin bike in this price range.
It also comes with a 300 lb weight capacity, which is also pretty solid for such an affordable bike.
For the sake of comparison, most bikes in this price range will come with weight limits in the 270 – 330 lb range, so the EX-15 falls right in the middle.
User reviews are generally very positive regarding this bike, especially when it comes to stability and feel during workouts.
Seat
I mentioned that most user comments regarding the EX-15 are positive. Well, those positive remarks rarely extend to the issue of the seat.
A lot of folks find the seat on this bike to be quite hard and uncomfortable.
But this doesn't surprise me in the slightest.
To be fair, most spin bike seats are uncomfortable, regardless of price.
After all, these bikes are designed to replicate the experience of riding a road bike. And road bikes come with small, hard, uncomfortable seats.
The good news is you can easily swap the seat out for a more comfortable one if you want to or you can always try a gel overlay for extra cushioning.
The more important thing to consider is that the EX-15 comes with a fully adjustable seat, meaning you can adjust both the height and the horizontal position.
Having a fully adjustable seat is a good thing because it makes it a lot more likely that you'll be able to find a comfortable riding position.
Handlebars
The handlebars on this bike are height adjustable, but you can't adjust the horizontal position.
I don't think this is that big of a deal, since you can still adjust the horizontal placement of the seat, so I think most folks will still be able to find a comfortable riding position fairly easily.
Some bikes come with fully adjustable handles, but many don't (this goes for all price ranges).
The handlebars are multi-grip, allowing for all the common hand positions you'd be likely to use during your workouts.
There's also a tablet holder located right in the middle of them making it easy to see your phone or tablet during workouts.
Otherwise, nothing too crazy going on in this department.
Pedals
The EX-15 comes with toe-cage pedals, meaning they are designed to be used with sneakers and not cleats.
This is a good thing if you don't want to use cleats anyway, but you can easily swap 'em out for SPD or other compatible pedals if you prefer.
If you've never ridden with cleats, you should definitely consider giving it a try- it certainly makes your pedal motion more efficient.
Some users have complained of pedals popping off during use, but it's hard to tell how many of these are from incorrect assembly in the first place.
Console
Ok, so the EX-15 doesn't come with a console, not even a small little LCD monitor to track time.
This means you have to sign up for the Echelon app to see your workout stats (cadence, speed, distance, time, etc).
Now you don't have to sign up for a subscription to see these stats- you can ride in manual mode under the Freestyle area for free and be able to see all your workout metrics during your workouts, but these stats won't be saved unless you have a paid membership.
A paid membership is like $39/month (or a little cheaper if you pay by the year) and it gives you access to unlimited on-demand and live workouts.
Like most other streaming services, Echelon has other non-cycling workouts to choose from too.
I used to have an Echelon EX-3 a while back and with that model I had some issues getting the bike to connect to the app.
And based on users' comments regarding the EX-15, it sounds like I'm not the only one.
Several folks have complained that connecting with and staying connected with the Echelon app can be difficult.
Personally, I wish Echelon would take a page out of the Schwinn IC4's playbook and place a small LCD monitor on the bike that'll show your basic metrics without having to use the app.
That way, you could use the app if you want to for workouts, but you wouldn't have to use it just to see your resistance level and whatnot.
Overall, when working, the Echelon app can be great, but it isn't the most reliable service.
Warranty
The Echelon EX-15 comes with the following residential warranty:
1 year parts
1 year labor
Ok, so this isn't a very long guarantee, I think it's pretty safe to say that.
But for a $500 exercise bike, this is to be expected – all of the top affordable cycles come with the same 1 year parts warranty.
Overall, a year warranty is really short, but if you want longer you'll have to move up to a higher price range.
Final Thoughts
The EX-15 finds itself in an interesting price range.
It's a little more expensive than all of the super affordable spin bikes in the $300-$400 range, but it's still cheaper than the next grade of cycles that starts around $650.
It's also got an interesting collection of specs and features to offer.
It comes with a really light flywheel, which is disappointing, but it also comes with a nice magnetic resistance system and belt drive.
When deciding on this bike, I think it's all going to come down to whether or not you want access to the streaming workouts.
If you're looking for an affordable way to get your stream on, then the EX-15 could make sense, but you have to make sure you're comfortable using your own tablet as the console.
Keep in mind you could always go with a cheaper bike like the JOROTO X2 and join Peloton's Digital app for an even more affordable streaming experience (just sayin').
Overall, the EX-15 is a tough one for me. I'm not generally a big fan of Echelon, but this bike does offer affordable access to streaming.
All things considered, I think it's a decent buy, but there are better spin bikes in this price range.