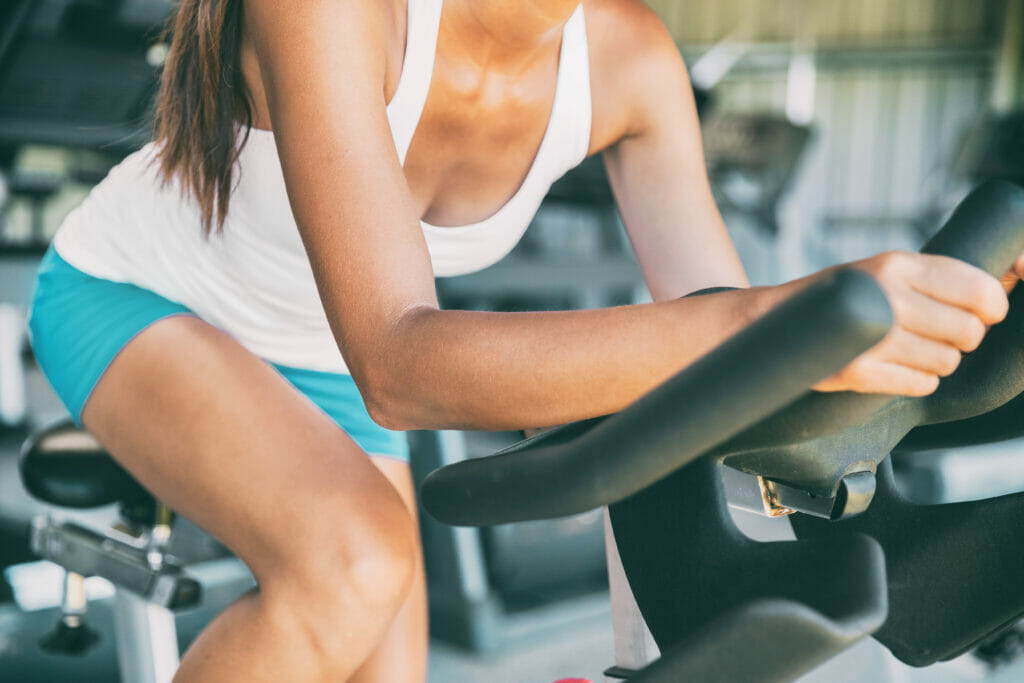 The Cyclace is another super affordable indoor cycle that's been gaining fame on retail sites like Amazon and Wal-Mart.
Years ago, the budget price alone might be reason enough to check this bike out, but with so many affordable options to choose from these days, does this bike have what it takes to stand out from the pack?
Well, that's what I'm here to help you figure out.
In this review, I'll go over all the key specs and features the Cyclace Indoor Cycle has to offer. I'll also compare it to some of the other top bikes in this price range to see how it stacks up.
After reading, you'll know everything you need to in order to decide whether or not this is the right bike for your home gym.
The Cyclace Indoor Cycling Bike
First and foremost, I'd like to give this bike kudos for the cool name: "Cyclace" is awesome, sounds more like a Greek villain than an exercise machine.
I also think this bike is pretty snazzy looking, especially for a bike in this price range where it's not uncommon to see tacky paint schemes.
Jokes aside, I feel like the market for super affordable spin bikes has exploded recently. There are a ton of these spin bikes available to us these days and it's hard to tell a lot of them apart.
Most are coming directly from China, allowing them to keep costs very low, which is a good thing for the buyer, but it can make you think 2x about quality control.
When it comes to Cyclace, I can't find any info about the brand itself that isn't available through Amazon.
They don't have a website that I was able to find and I don't see that this brand offers any other products.
As far as I can tell, this indoor cycle is the only Cyclace product there is.
That said, it's gained a lot of popularity through Amazon and users seem to be happy with it.
The Cyclace bike goes for just over $300, making it very affordable in the world of exercise bikes.
Pros
36 lb flywheel
Belt drive system
Fairly heavy-duty frame
330 lb weight capacity
Fits users up to 6'5″
Fully adjustable seat
Drop handles included on handlebars
Very affordable
Cons
Friction brake resistance system
Very basic console
Short warranty
Resistance
I like to start my exercise bike reviews with a rundown on the resistance system because I think this is the most important aspect to consider before buying.
If you bike can't provide a smooth, substantial workout, you probably aren't going to be happy with it.
Indoor cycles are known for their heavy flywheels, so that's probably a good place to start.
The Cyclace comes with a 36 lb flywheel, which is pretty impressive for any price range. Of course these days, even the most affordable bikes are coming with massive flywheels, so this isn't that uncommon.
We're seeing heavy flywheels everywhere now because it's an affordable way to provide a fairly smooth ride- the extra weight these flywheels are packing builds more momentum during use, resulting in less lag between pedal strokes.
At 36 lb, the Cyclace is definitely packing enough muscle to provide a smooth pedal stroke.
This flywheel is paired with a felt, friction brake resistance system.
Personally, I prefer magnetic resistance because it feels a bit smoother (and doesn't require the replacing of felt pads), but friction brake systems do have their benefits.
With a friction brake, you get "unlimited" resistance levels because you can make very small changes to the resistance (by turning the resistance knob).
This gives you a lot of room to fine tune the intensity of your workouts.
A disadvantage, however, is that you don't get any "resistance levels" to gauge your intensity by. This means you can't just go to level 8 for example, and know that this is a moderately challenging place for ya.
Instead, you have to go by how the resistance feels to gauge your intensity level.
This isn't a huge deal for most folks and it's to be expected from a bike in this price range.
The Cyclace also uses a belt drive, which is nice because belts are a little quieter than chain drives and they provide a very smooth and even feel.
Overall, when it comes to the resistance system, the Cyclace scores well with a heavy flywheel and belt drive. The felt brake pad is to be expected for this price range, but I still prefer magnetic.
Frame
If the resistance system is always the first thing I examine, the robustness of the frame is always the second.
One of the biggest drawbacks to a lot of these really affordable bikes is how lightweight they are.
True, being lightweight is a good thing when it comes to moving them around the house, but it's not a good thing when your bike feels flimsy and shaky during workouts.
When trying to find a "heavy-duty" bike, I think it's a good idea to literally look at how heavy it is.
A bike that weighs more is going to provide a more stable base. It should also mean it'll be less likely to wobble or move during workouts, especially if you plan on standing and climbing against heavier resistances.
The Cyclace comes in with an assembled weight of 86 lb, which isn't bad for a budget spin bike.
This puts this model in the mid-range of expected weights for bikes like this.
It's quite a bit heavier than the Pooboo Bike that weighs about 75 lb, but it's not as heavy-duty as the JOROTO that weighs in at 94 lb.
I also think it's a good idea to look at the weight capacity to get an idea as to how durable the bike is- higher weight limits indicate a more structurally sound bike.
The Cyclace scores surprisingly high in this category with a max weight limit of 330 lb, which is impressive for a spin bike in any price range.
This, combined with the fact that this bike is designed to fit people who are up to 6'5″ tall, makes it a good option for the big and tall crowd.
Overall, the Cyclace falls in the mid-range category in terms of heavy-dutiness for this price range, but its weight limit is higher than most.
Seat
Most indoor cycles come with seats that are, hmm how should I put this…really uncomfortable.
Yeah, there's really no way to sugar coat it.
This is just how it is. Remember, indoor cycles are designed to mimic the experience of riding a road bike and road bikes are also pretty uncomfortable for people who don't ride regularly.
The good news is that your butt will eventually get used to the small, firm seat (and if it doesn't you can always get a gel seat cover to help).
I say all of this because if you look at the user reviews, you'll see the census is split on the issue of seat comfort.
Comfort is subjective and depends a lot on what you're used to or expecting out of your bike seat.
Although I will say that the seat on the Cyclace is larger than most traditional seats (with an 8″ width) and most beginner riders usually find larger seats more comfortable.
Comfort aside, the important thing to notice with regards to the seat is that it's fully adjustable- meaning you can adjust both the height and horizontal (fore/aft) position.
This is key to finding the right riding position to ensure a comfortable workout.
True, this feature should be a given for any self-respecting indoor cycle, but in this price range we can't take anything for granted.
Handlebars
The Cyclace comes with height adjustable handlebars, so you can't adjust the fore/aft position of them, but I don't really see this as that big a deal since you can adjust the seat.
Some bikes come with fully adjustable handlebars, some don't- this is true for all price ranges (the Peloton doesn't come with fully adjustable handlebars either).
The handles are multi-grip though and you'll notice that they even offer the drop handle position, which you don't see on that many bikes.
With all of these grip options, you should be able to find a comfortable hand position regardless of your riding style.
Overall, the handlebars aren't fully adjustable, but the presence of the drop handles is a nice touch.
Pedals
Exercise bike pedals usually come in 2 varieties: toe cages or cleat compatible (some offer dual-compatible pedals that work with both).
Each type has its own advantages and it really depends on what your preferences are.
The Cyclace comes with toe cage pedals, so you can wear your choice of sneaker or shoe during workouts.
And if you prefer clip in pedals, you can swap these out easily for some that are compatible with cleats.
Console
Calling the small LCD screen that the Cyclace comes with a "console" is a bit of an exaggeration.
Like all the other cheaper cycles out there, the Cyclace comes with a simple monitor that displays the most basic of workout stats: time, distance, speed, calories, and odometer.
You'll notice this console doesn't calculate cadence, which is a bummer, but to be fair, none of the other popular budget cycles do either.
If you do go with the Cyclace, you can always get yourself an affordable cadence sensor that'll track your rpm's.
There aren't any built-in workouts or heart rate monitoring features on this bike.
Overall, a very basic console that will only track a few simple metrics, but at least it'll keep time for ya.
Warranty
Honestly, we shouldn't expect much in the warranty department from a $300 spin bike because let's be real- there are legit reasons these bikes are more affordable than others.
And the Cyclace is no exception.
This bike comes with the following home warranty:
Yeah, that's not much to speak of, but that's to be expected in this price range.
On a positive note, a lot of users report good experiences with their customer service.
Final Thoughts
Well, that's about all I got for the Cyclace Indoor Cycle.
As budget spin bikes go, I think this one is a pretty solid choice.
It's pretty average in the flywheel department and it uses a friction brake resistance system like most in this price range, but its ability to fit the larger and taller crowd is a definite perk.
I also like that it's a little heavier than a lot of the other bikes in this price range.
In terms of the comps, I like the JOROTO X2 a little better because it uses a magnetic resistance system and is a bit heavier-duty.
But that said, I still consider the Cyclace to be one of the best spin bikes under $500. Especially if you're looking for a bike that can comfortably fit taller folks.