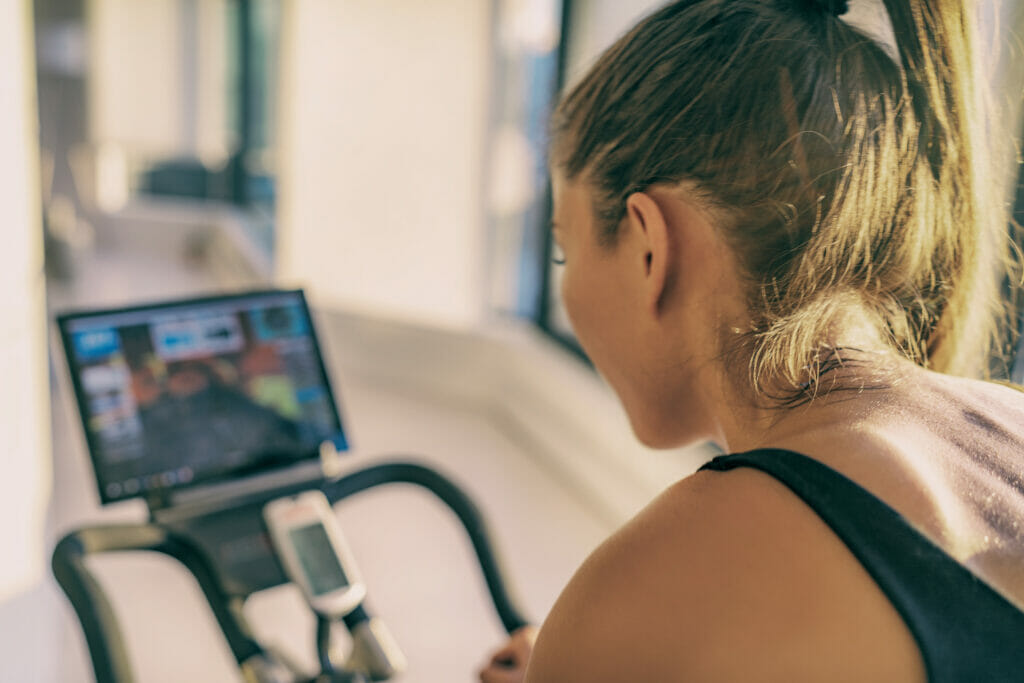 Ancheer's Indoor Cycling Bike is a very budget friendly model that offers users access to the world of indoor cycling without having to completely break the bank.
Highlights of the Ancheer Cycle include a 49 lb flywheel, a fully adjustable seat, built-in grip heart rate monitors, and a pretty heavy-duty frame (for the price).
Long-story-short: if you're in the market for a really affordable spin bike, Ancheer isn't a bad option, but there's a lot of competition in this price range.
In this review, I'll go over everything you should know about this cycle, including all the key performance specs and features you should consider.
I'll also compare the Ancheer to a few of the other top choices in this price range to see how it stacks up.
After reading, you'll be well prepared to decide for yourself whether or not the Ancheer Cycle is worth investing in.
Let's roll.
The Ancheer Indoor Cycling Bike
Ancheer is kind of an interesting brand. They offer a limited selection of home fitness products to choose from, but it would seem they mostly specialize in electric bicycles.
They have several e-bikes to choose from, of both the road and mountain variety, and I have to be honest- I don't know a thing about e-bikes.
But I still kinda want one.
I mean seriously, these things look awesome. Some of them even fold!
But back to fitness gear.
If you go to Ancheer's website, they have a few random pieces to select from, including 1 indoor cycle (which we're here today to talk about), 1 treadmill, and an under desk stepper.
I think they've had other exercise bikes to choose from in the past, and some of those older models may still be available through other retail sites.
But for now, they've only got the one offered directly through them.
Their Indoor Cycling Bike goes for around $300 give or take, putting it in the very affordable price category.
Pros
49 lb flywheel
Heavy-duty frame
330 lb weight limit
Fully adjustable seat
Heart rate monitor built-into handlebars
Fairly comfortable seat
Affordable price
Cons
Friction pad resistance system
Only fits users up to 6'2″
Very short warranty
Customer service can be difficult
Resistance
Let's talk resistance first.
If you're looking for an indoor cycle in the first place, you probably want a bike that's capable of providing a solid workout. I could be wrong of course, but that's the reason most of us are interested in these bikes.
The resistance a spin bike is able to provide is crucial for being able to get a great workout in. I mean, if a bike can't provide enough resistance to challenge you, you probably aren't gonna get much out of using it.
Anyway, when it comes to spin bikes, you'll hear a lot of talk about flywheel weights, and for good reason too- this spec is paramount in determining how smooth your workouts are going to feel.
Heavier flywheels provide a smoother pedal motion because the extra weight helps keep the flywheel spinning between pedal strokes (this is especially important for budget bikes).
Most spin bikes these days, even budget ones, are packing flywheels over 30 lb.
With this in mind, the Ancheer cycle comes in with a 49 lb flywheel. This is massive for any exercise bike, especially one in this price range.
All of this extra weight is going to help provide a smooth pedal motion during workouts.
But there's more to a spin bike than just the flywheel- you also have to consider the type of resistance mechanism it's using: indoor cycles use either magnetic systems or friction brake systems.
As the name implies, magnetic systems use magnets to create the resistance and friction brake systems use felt or wool covered brake pads.
These brake pads make physical contact with the spinning flywheel, which creates the resistance for you to work against.
I prefer magnetic systems because they tend to feel smoother, but friction brakes do have their advantages too.
For one, they're a lot more affordable, which is why most of these budget cycles utilize them.
And 2, they offer unlimited ability to fine tune your resistance. The drawback being of course, that there are no distinct "resistance levels" to choose from.
Instead, you have to rely on the feel of the resistance to gauge you intensity level.
The Ancheer Bike comes with one of these felt friction brake resistance systems which is what we should expect for the most part in this price range (although there are some, like the JOROTO X2, that do use a magnetic system).
Oh, another thing about friction brakes- you'll eventually have to replace the felt pad as it breaks down with use. Not a big deal, but that's more maintenance then would be necessary with a magnetic bike.
The Ancheer Bike uses a belt drive, which is generally preferred to a chain drive because it's quieter and a little more responsive.
Overall, this bike scores highly with such a heavy flywheel. A magnetic resistance system would be better in my book, but brake pads are the norm in this price range.
Frame
When scoping out a new bike, I always like to get an idea as to how "heavy-duty" it is.
This can be hard without getting the chance to take it for a test spin, but there are a few things you can look for to get an idea without doing that.
I like to look at the assembled weight and the weight capacity because these numbers will tell you a lot about what you can expect.
And seeing higher numbers in both categories is a good thing because it indicates that the bike will feel more stable and less likely to wobble around during workouts.
The Ancheer comes with an assembled weight of about 94 lb, which is heavy for a bike in this price range.
For the sake of comparison, the highly popular Yosuda Cycle only weighs in at 73 lb, which is more average for really affordable spin bikes.
Some of the extra weight comes from the heavy flywheel, but the rest is the frame.
This bike also comes with a weight capacity of 330 lb, which again is impressive (for any spin bike really).
A quick note on the weight limit: if you check Ancheer's website, it states that this bike has a weight limit of 380 lb- this sounds too good to be true for a bike like this and frankly, I don't trust it.
Users have stated that their user manual states a max weight limit of 150 kg (or about 330 lb) and that sounds a lot more legit.
Either way, 330 lb is a great weight capacity for such an affordable bike.
Ancheer also states that this bike can safely handle folks who are up to 6'2″ tall, so if you're taller than that, this probably isn't the right bike for you (in that case, check out the Cyclace– it can hold folks up to 6'5″).
Seat
The Ancheer Bike comes with a fully adjustable seat, meaning you can adjust both the height and horizontal (fore/aft) position easily.
This is a good thing because it makes it a lot more likely that you'll be able to find a comfortable riding position.
Spin bikes are notorious for having rather uncomfortable seats. This makes more sense when you consider that these bikes are designed to mimic riding road bikes (which have really uncomfortable seats).
That said, many users find the seat on the Ancheer surprisingly comfortable.
That's probably because the seat on this bike is a little wider than many, at almost 8″ in width.
Handlebars
This bike comes with traditional multi-grip handlebars that offer all the standard hand grips during workouts (there aren't any drop handles though).
The handles aren't fully adjustable, but you can easily adjust the height to help find a comfortable position.
Something the Ancheer Bike does have though, that many in this price range don't, are a pair of hand grip heart rate monitors built into the handles.
These monitors aren't known for being especially accurate, but they can still give ya an idea as to what your heart rate is during workouts.
There's also a built-in tablet holder integrated within the handlebars, making it more convenient to access fitness apps or entertainment during workouts.
Pedals
Most bikes in this price range come with toe cages as opposed to cleat compatible pedals- and the Ancheer Bike is no different.
Toe cage pedals are convenient because you don't have to use riding cleats to use it. Instead, you can hop on and ride with any shoe you like.
If you were interested in using cleats, you could always swap these pedals for a cleat compatible one of your choice.
And if you've never used riding cleats before, I highly recommend them- they make reaching and maintain those higher cadences more efficient.
Otherwise, nothing else too interesting going on in this department.
Console
Calling the tiny screen that comes with this bike a "console" is a bit much. Instead, it's just a simple LCD screen that can display your time, distance, speed, and heart rate.
Again, most other bikes in this price range can't display the heart rate, so that's something.
There aren't any built-in workout profiles or any other higher function features like that to speak of.
Just an itty-bitty screen with a few numbers.
To be fair, all the other bikes in this price range come with the same very basic consoles.
You'll notice that this bike can't measure your cadence (something all of these budget bikes have in common)- this can be a let down, but you can purchase cadence sensors separately that can track this for you if you're interested.
Warranty
The Ancheer Indoor Cycling Bike comes with the following warranty:
Yup, that warranty sucks, but that's all we can expect from a $300 spin bike.
Like I've said in the past- there are reasons why some bikes are so affordable and the lack of a good warranty is definitely one of those reasons.
And if you do purchase this bike and have to deal with customer service, don't expect that experience to be fun either.
Word on the street is their customer service kinda sucks too.
Final Thoughts
That about does it for the Ancheer Indoor Cycle.
All things considered, I think this bike has some respectable qualities for such an affordable model.
The folks out there looking for a bike with a massive flywheel will by happy with the 49 lb monster attached to the front on this bike- I haven't come across many in this price range packing more muscle than that.
This bike is also surprisingly heavy-duty, weighing more than the 70- 80 lb bikes that are so common in this price range.
The biggest drawbacks are the friction brake resistance and the crappy warranty, but these are problems pretty much every bike in this price range is going to share.
Personally, I like the JOROTO X2 a little better because it uses a magnetic resistance system instead of a felt pad, but that model's a little more expensive too.
Overall, yes, I think the Ancheer is worth buying and is actually one of the better buys in the under $500 price range.
P.S. – if you're interested in purchasing, I'd compare prices, it's often cheaper going directly through Ancheer.