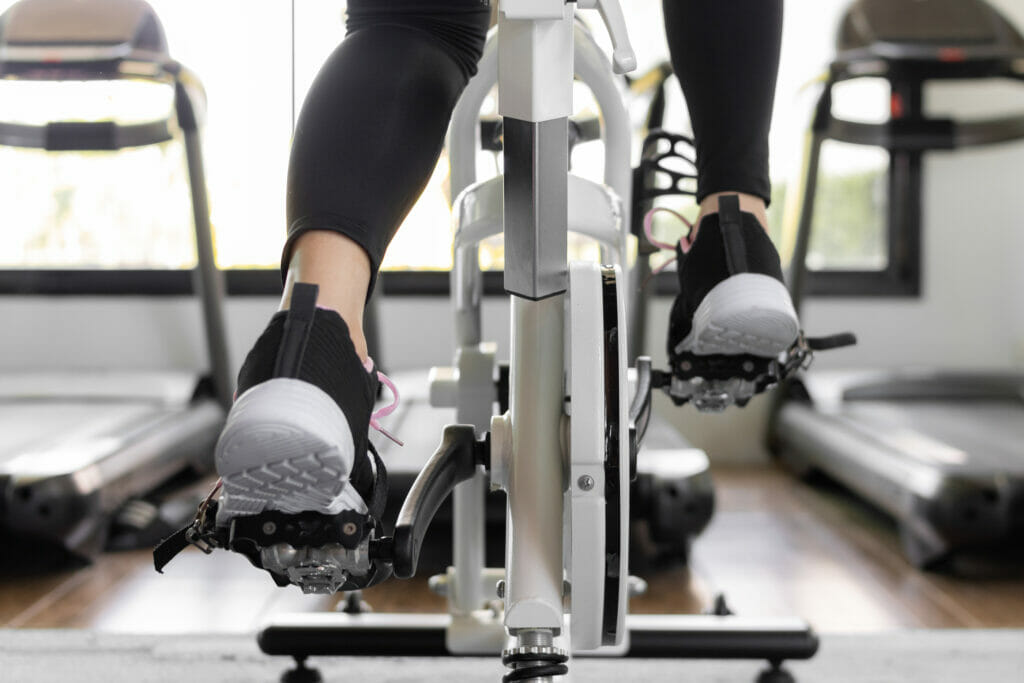 The JOROTO X2 is an affordable magnetic indoor cycle that's been rapidly gaining popularity on sites like Amazon.
And, considering what you get for the price, it's not that hard to see why folks are liking it so much.
Highlights of this budget friendly indoor cycle include a heavy flywheel, an enlarged, fully adjustable seat, and a heavier then you'd expect duty frame.
The most impressive feature though, is that the JOROTO X2 comes with a magnetic resistance system- something you rarely find on a $400 spin bike.
Long-story-short: I think the X2 has a lot going for it and is a pretty good buy for this price range, but it's far from perfect.
If you'd like to hear the longer story, keep reading.
In this review, I'll go over everything the JOROTO X2 has to offer, including all the key specs and features you should consider before purchasing.
After reading, you'll know everything you need to in order to decide whether or not this is the right spin bike for your home gym.
The JOROTO X2 Magnetic Spin Bike
JOROTO is another budget friendly fitness brand you'll find on retail sites like Amazon and Wal-Mart. They specialize in really affordable cardio equipment, but it's their spin bikes that seem to get the majority of the attention.
According to their website, JOROTO has been around since the early '80s and was founded in Colorado.
I have to admit, this backstory sounds a little off, but what do I know.
Either way, I'd put down good money that these bikes are produced in China, but that's besides the point.
Moving on…
JOROTO offers several spin bikes to choose from and there are very subtle differences between them- mostly in terms of the flywheel weights and the type of resistance they use.
The X2 is their highest-end cycle to date and will cost ya about $400 depending on where you find it.
Pros
35 lb flywheel
Heavy-duty frame
300 lb weight capacity
Magnetic resistance system
Fully adjustable seat
Fully adjustable handlebars
More comfortable seat
Affordable price
Cons
Very basic console
Very short warranty
Doesn't track resistance levels
Resistance
Spin bikes have become really popular over the last few years because they can offer a great workout, they don't take up much space, and they can be really affordable.
Making them the perfect choice for many home gyms.
That said, in order for a spin bike to provide a quality workout, it has to have a quality resistance system.
In these cycles, the flywheel plays a big part in determining how smooth your pedal motion is going to feel, with heavier flywheels often being preferred because their extra weight creates smoother action.
This is because the more weight you have spinning, the more momentum you're going to build.
And this momentum helps the pedals continue spinning, reducing any awkward lag between pedal strokes.
The JOROTO X2 comes with a 35 lb flywheel, which is quite heavy for any spin bike, but especially for one in this price range.
Well, I say that, but as I write this I have to acknowledge that pretty much all spin bikes these days are coming out with really heavy flywheels.
Regardless, the X2's flywheel is very heavy.
The most notable feature of this bike though, is its magnetic resistance system.
It's usually taken for granted that more expensive cycles will come with a magnetic resistance system, but we shouldn't expect it from bikes in this price range.
Most spin bikes under $400 use friction brake systems because they're cheaper.
Most people prefer magnetic systems (myself included) because they're smoother and don't require the replacement of felt brake pads.
The magnetic system on the X2 is a little different than the resistance systems on many higher-end bikes though, because on the X2, there are no resistance levels.
Instead, the X2 basically functions like a friction brake system, but instead of using a felt pad, there are 7 magnets there.
As you rotate the resistance dial, you bring the magnets either closer to the flywheel (increasing resistance) or farther away (reducing resistance).
This design has its benefits and its drawbacks.
The benefits being you get virtually unlimited resistance levels because you can make tiny micr0-adjustments and that you don't have to mess with replacing a felt pad.
But the biggest drawback is that you don't get a resistance level reading, making it harder to reproduce workout conditions (you have to rely on the feel of the resistance instead of using a level to set your intensity).
You could always experiment a little and count your turns to get an idea as to what the resistance feels like at different turn counts and then use that as your reference…just sayin'.
Anyway, most users agree the combination of the heavy flywheel and the magnetic system creates a smooth, quiet workout experience.
Users also agree that the max resistance on the X2 is quite intense, giving it the ability to challenge folks of all skill levels.
Overall, the X2 scores highly in the resistance department- the heavy flywheel and magnetic system allows it to provide a smoother feel then you'd expect from a bike in this price range.
Frame
Ok, so the resistance system is pretty good on the X2, but what about the frame?
I like to look a bike's assembled weight and weight capacity to get an idea as to how stable it should feel during workouts.
I think this is the best way to gauge a bike's "heavy-dutiness" without actually taking it for a test drive (which usually isn't an option for us online shoppers).
The X2 comes with an assembled weight of 94 lb, which is impressive for such an affordable spin bike (the popular Yosuda bike only weighs about 73 lb, for the sake of comparison).
The extra weight is a good thing, because it should help keep the bike stable when standing and riding at higher resistance levels.
The X2 also comes with a weight capacity of 300 lb, which is really good for a spin cycle in this price range where limits of 250 – 270 lb are common.
Overall, I'm impressed with how heavy the X2 is. And the higher weight limit makes it more approachable for larger folks too.
Seat
Most indoor cycles come with traditional road bike seats, meaning they're small, firm, and pretty uncomfortable.
The X2, on the other hand, comes with a seat that's quite a bit larger than most other bikes.
The larger size will likely make it more comfortable to sit on for extended periods of time…or at least more comfortable than a lot of the other spin bikes out there.
Comfort is in the eye of the beholder- that is, what one person finds comfortable, another might not.
The more important thing to know is that the seat on the X2 is fully adjustable. This means you can easily adjust both the height and the fore/aft position (horizontal).
This is important because it allows you to fine tune the seat position, giving you a better chance of finding a comfortable riding position.
And according to JOROTO, the X2 should be able to comfortably hold folks who's inseams are between 27.5″ – 36.2″, which I guess is only helpful if you know your inseam.
Handlebars
There isn't a lot to say when it comes to the handlebars, but I do want to point out a few things real quick.
First, the handles on the X2 are multi-grip, so you'll be able to switch your grip up during workouts (most folks prefer a wide grip when standing, fyi).
The other thing I want to point out is that the handlebars on this bike are also fully adjustable.
I don't consider fully adjustable handlebars to be quite as important as a fully adjustable seat, but it's still nice to have the extra adjustability in case you need it.
Yeah, that's about it when it comes to the handlebars, nothing too special going on here (although not all bikes come with fully adjustable handles).
Pedals
Indoor cycles can come with pedals that are compatible with cleats, sneakers (toe cage), or both (dual compatible).
Each style has its benefits, it really depends on how you prefer to ride.
The X2 comes with toe cage pedals, meaning you can wear sneakers or any other shoe you want during workouts.
This is a good thing if you don't want to worry about having to purchase cleats just to ride.
If you already own cleats, or would like to get some, you can always swap 'em out for different pedals.
Speaking of the pedals, there have been some user complaints of pedals falling off during use (I actually had this happen once on my Diamondback 510Ic).
This certainly isn't a normal occurrence and if you attach them correctly you shouldn't have to worry about this, but it might be something you want to keep an eye on if you do decide to purchase the X2.
Console
We shouldn't have high expectations when it comes to consoles for bikes in this price range. And the same is true for the console on the X2.
"Console" is a strong word for the small, LCD screen that comes with this bike.
There aren't any built-in workout programs or heart rate monitoring functions, no just a simple display that shows your time, speed, distance, and calories burned.
The biggest bummer is that it doesn't track your cadence, so if you wanted to keep track of this metric, you'd probably have to purchase a cadence sensor separately.
The console isn't backlit either, so it could be hard to see in certain lighting situations.
Overall, the X2 comes with a very basic console that can't do much more than keep track of your time. But hey, I guess it's better than nothing.
Warranty
The X2 comes with the following warranty from JOROTO:
Yeah, that's not much of a warranty, but realistically, we shouldn't expect much of one for a bike in this price range.
Pretty much all of these affordable spin bikes come with the same 1 year guarantee and if you do have to contact their customer service department, it can be a pain in the you know where.
Overall, the short warranty is a drawback, but when purchasing a bike in this price range you have to be prepared to take your chances.
Final Thoughts
Ok, that's about all there is to say about the JOROTO X2.
Overall, I think it has a lot to offer for a $400 spin bike.
I like the heavy flywheel and I especially like the magnetic resistance system- something you don't always see on a bike in this price range.
I also think the heavier than normal frame is a big perk, especially for the larger folks out there that might be struggling to find an affordable bike that can accommodate them.
The console is pretty lame and the warranty sucks, but there are always reasons why affordable bikes are affordable in the first place.
All things considered, if you're looking for a magnetic spin bike in this price range, I think the JOROTO is a great option (it's actually the best spin bike $500 will get ya).