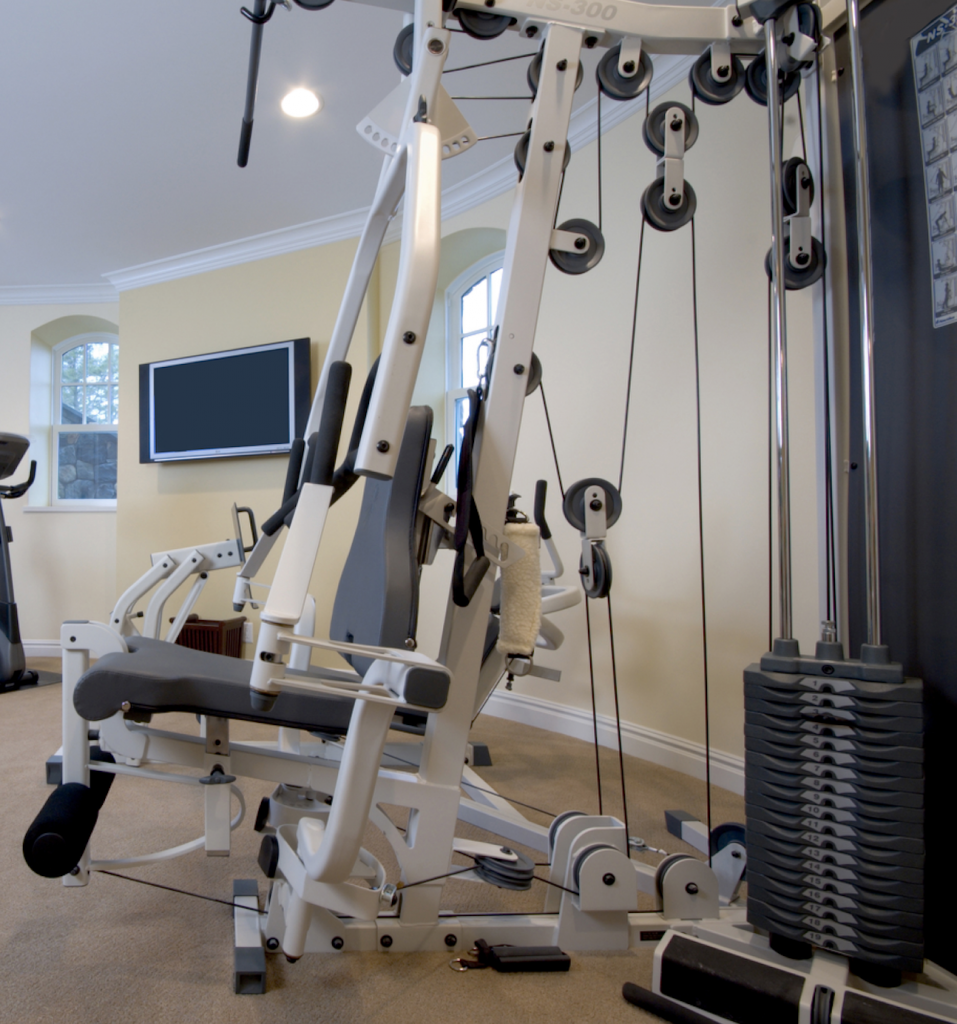 In order to find the best home gym system with a weight stack, you first need to know what features are most important to you. Once  you know what you want, you will know what to look for.
If you're not sure where to start, don't worry. After reading this article you will have a clear understanding of the major differences between weight stack machines.
You will also know what to compare between the different models in order to determine which home gym will be the best fit for you.
Weight stack home gym systems come in all kinds of shapes and sizes. They also come in a wide range of price ranges. This is great of you, this means regardless of your budget, you will be able to find a decent home gym with a weight stack.
Skip ahead:
Before we begin, I want you to ask yourself 3 questions:
Do I want a single stack or dual stack system?
How much exercise variety do I need?
How much weight do I need to reach my goals?
Single Stack vs Dual Stack Home Gym Systems
If you are looking for a weight stack home gym, I'm assuming you know how these systems work. If not, here's a quick review. Home gym machines can use a variety of resistance systems.
Some use free weights (plates), some use power rods (Bowflex), and others use weight stacks. If you've ever gone to a commercial gym, you've seen these.
These systems are the machines that have the "stacks" of rectangle shaped weights and you select your resistance by placing the pin into the selected weight.
For more information on the different types of resistance, refer to my home gym buyer's guide.
I mentioned that these home gyms come in a ton of different shapes and sizes. Most however, can be described as either a single stack or dual stack system. As the name implies, single stack machines have 1 stack of weights and dual stack systems have 2.
Both styles of home gym can offer a lot in terms of exercise variety. Single stack machines can offer both upper and lower body exercises, offering a total body workout. Single stack machines tend to be smaller, taking up less real estate than the dual stack systems. They also tend to be less expensive.
Dual stack home gyms are usually bigger and more expensive. But they have a few advantages. These systems can offer exercises that a lot of single stack machines can't, such as cable crossovers.
Dual stack systems can also be used by 2 people at the same time. Most single stack machines can't do this, because there is only 1 set of weights that are used for every exercise.
Exercise Variety
Both single and dual stack home gym systems can offer a ton of exercise options. Some people may not need more than 10 exercises to reach their goals. Others may want the ability to add more variety to their workout. Think about what you would prefer. Are you looking for a simple machine or a machine that offers more exercise options?
Quality weight stack home gyms can offer anywhere from 30 – 100+ different exercises. This varies greatly on the different attachments that are included. Weight stack systems that have adjustable pulleys offer a great deal of variety with all of the different height adjustments available.
Some stack machines come with leg attachments and others don't. If you are looking for a total body workout, I encourage you to find a home gym that does. A leg developer attachment gives you the opportunity to do leg extensions and hamstring curls. Some higher-end gyms have a leg press attachment as well.
Adjustable Weight
One of the great benefits of a home gym with a weight stack is the ability to rapidly and safely adjust the resistance. That said, the amount of weight included varies greatly from model to model. Smaller, less expensive stack machines tend to come with less resistance. Larger, more expensive gyms tend to offer more resistance.
But more isn't always better or necessary. If you are looking to stay tone and lean, you may not need a home gym with a 300 lb stack. On the other hand, if you are into strength training and want to build some muscle, look for a home gym with a heavier stack.
Most stacks top out at 200 lb, but through the use of pulleys some systems can offer resistances equivalent to 300 – 400 lb. Less expensive systems may top out between 90-120 lb.
---
The Best Single Stack Home Gym System
Body Solid EXM2500
Pros
210 lb weight stack
Over 30 exercises available
Heavy-duty construction
Comfortable, padded seats
Lifetime warranty on everything
Price
Cons
Assembly can be challenging
The Body Solid EXM2500 is my favorite single stack home gym because it has a lot to offer and comes at a reasonable price. This home gym will give you the ability to perform at least 30 different exercises. Attachments include: lat pulldown, press bar, upper pulley, mid pulley, lower pulley, pec station, and leg developer.
The name of this system is accurate, this gym is built "solid". You won't have to worry about this gym falling apart, its frame is constructed out of heavy-duty steel and the cables are military spec aircraft quality (with a tensile strength of 2,200 lb). If you are worried about quality of construction, rest assured. The Body Solid EXM2500 comes with a lifetime warranty on everything.
The EXM2500 has a 210 lb weight stack. This is pretty solid for a single stack home gym in this price range. This should be enough resistance for most users performing most exercises. However, if you are a serious lifter, you may max out on chest press. If this is the case, you may want to consider a free weight system, perhaps a power rack.
Being a single stack system, the Body Solid EXM2500 won't take up as much space as a lot of the dual stack systems. I recommend a floor space of at least 8′ x 5′ for comfortable use.
Overall, this is a high-quality home gym designed for durability. It's built from sturdy materials and has comfortable seats for added enjoyment during use. It has enough attachments to offer a full body workout with plenty of variety.
Users are very happy with this home gym, the Body Solid EXM2500 is currently rocking an average user rating of 4.3/5 on Amazon. The biggest complaint users have is with assembly- the instructions are a little hard to follow.

---
The Best Dual Stack Home Gym System
XMark Functional Trainer Cable Machine
 Pros
2 210 lb weight stacks
Ability to perform limitless exercises
Heavy-duty construction
All attachments included
Commercial grade pull up bar
Dual pulley system with 19 different height adjustments on each side
Lifetime warranty on frame, 1-year on parts
Multiple users can exercise simultaneously
Cons
Heavy system, difficult to move
The XMark Functional Trainer Cable Machine is a perfect example of a dual stack system. This home gym comes with 2 210 lb weight stacks with a series of adjustable pulleys for performing a wide variety of upper and lower body exercises. This XMark Cable Machine is really a commercial grade machine designed for home use.
The XMark is solidly built with an 11-gauge steel frame and commercial grade pulley systems. This home gym is built like a tank and weighs around 800 lb. This is a serious piece of fitness equipment that is built to withstand frequent use from multiple users.
What's also great is that with the dual stacks, 2 people can lift at the same time. This is super handy if you have a loved one that will also be using this gym.
The exercise possibilities are almost limitless on this cable machine. The XMark has 2 adjustable pulley handles each with 19 different height adjustments. This system also comes with several different handles and straps, including: single hand straps, ankle strap, tricep rope, tricep triangle bar, long bar, and chinning triangle.
The XMark Functional Trainer also has a commercial grade pull up bar. This gives you the opportunity to add pull ups to your routine, something a lot of the single stack systems can't offer. Pull ups are one of the best upper body exercises you can do. The addition of a pull up bar just adds to this system's complete total gym-ness.
Being a dual stack system, you may think this cable machine is going to take up more space. The XMark only needs a floor space of about 7′ x 4′. You may need a few extra feet of depth for some of the cable exercises.
Overall, the XMark Functional Trainer Cable Machine offers users a ton of exercise options from the comfort of their home. Just make sure you know where you want to put it, this thing is difficult to move once assembled.
Users are overwhelmingly happy with this system, it's currently rocking an average user rating of 5/5 on Amazon.

---
The Best Budget Weight Stack Home Gym System
Marcy Multifunction Home Gym
 Pros
Price
Multiple attachments offer a variety of available exercises
Offers a full body workout
Durable construction
Exercise chart
2-year warranty
Compact size
300 lb weight capacity
Cons
Assembly can be challenging
The Marcy Multifunction Home Gym has a lot to offer in terms of exercise variety and quality of build. This budget home gym is a single stack system with a 150 lb stack. This system comes with a variety of attachments and stations to provide a total body workout.
Attachments include: chest press (which can also function for pec flys), lat pull down bar, leg developer, and preacher curl support. The lower pulley can also be used for rows, upright rows, and various leg exercises through the leg strap.
The Marcy Multifunction Gym has a sturdy frame constructed out of 14-gauge steel tubing. Marcy also provides a 2-year manufacturer warranty. I've actually had the opportunity to use this machine before with a patient of mine. This gym is sturdy and doesn't wobble during use. It's easy to switch between exercises.
We were working on shoulder rehab, so we used it primarily for lat pulldowns and chest presses. My patient had no complaints and was happy with his Marcy. I like that it comes with an exercise chart to help show you all the different exercises you can perform. You can easily perform 15 different exercises with this system.
Even though this is a budget home gym, with all of the included attachments, you can easily get a full body workout in. Sometimes the leg developers feel awkward during leg extensions. Marcy pushed the pivot point on their extension arm closer to where the knee is actually moving to give it a more natural feel.
The Marcy Multifunctional Home Gym doesn't take up too much floor space. It has a footprint of about 6′ x 3′. This home gym can work well in smaller homes. My patient was lucky enough to be able to keep his in his bedroom, made it easy for him to remember to do his exercises.
Overall, the Marcy Multifunctional Home Gym is a great system for the price. This gym would work well as a starter gym or for folks on a limited budget. It' durable enough to last and has enough attachments to offer a total body workout.
Owners are pretty satisfied with this gym, it currently has an average user rating of 3.8/5 on Amazon.

---
The Best High-End Weight Stack Home Gym System
FreeMotion Dual Cable EXT
 Pros
2 fully adjustable arms
2 independent weight stacks (210 lb each)
Limitless exercise possibilities
Durable, well built system
Smooth, fluid cable movement
Great warranty
Commercial gym quality
Cons
Price
Assembly
Takes up a lot of space
The FreeMotion Dual Cable EXT home gym system looks like something you would see in your local gym. It almost costs as much too. This is your classic cable weight stack system. It consists of 2 fully adjustable arms and 2 independent weight stacks. Every commercial gym has a system like this because they are incredibly versatile and popular. You can almost literally perform any exercise on this machine.
The arms on the FreeMotion EXT are adjustable vertically and horizontally. This allows you to customize the position of the handles for any exercise you want to do. It also makes sure you have the right fit regardless of your size.
There is some confusion online regarding how much each weight stack weighs. According to the manufacturer, each stack weighs 210 lb. But, because of the way the cables are routed through the pulleys, you are actually only lifting 75 lb of resistance on the heaviest setting. Remember from you old physics class that pulleys make work easier?
75 lb is a significant load for one arm on a cable system and should offer the majority of users more than enough resistance to get the job done. Remember that lifting with these cable machines is a little different than sitting stationary and performing a lift. You have to work a little harder on these systems because you have to stabilize more (depending on the exercise of course).
The FreeMotion EXT is built like a tank. It's constructed out of heavy duty steel tubing for a durable feel you will notice. This system weights about 900 lb when fully assembled, so make sure you know exactly where you are putting it. I would not want to try and move this bad boy once fully assembled.
This cable system comes with 2 individual handles and a set of ankle cuffs for lower body exercises. With the ability to adjust the arms in so many positions, there aren't many exercises you can't do on this machine. Especially if you have a bench. Note: this gym does not come with a bench.
The FreeMotion EXT is a great home gym system, but it takes up a lot of room. If you are considering this gym, make sure you have a space at least 5′ x 10′ to dedicate to it.
FreeMotion has included an impressive warranty on the EXT- lifetime frame, 10-year parts, 1- year cables and labor. Speaking of labor, it takes some work to assemble this system. The EXT is delivered in 10 different boxes, it's highly recommended that you have a partner when assembling. The only complaints I found were regarding assembly- some folks reported holes that didn't quite line up correctly.
Overall, the FreeMotion Dual Cable EXT is a highly durable and adaptable home gym. It gives you the opportunity to perform any strengthening exercise you can think of without having to leave your home.
The EXT is currently boasting an average user rating of 4.8/5 on Amazon.

---
The Best Weight Stack System For Exercise Variety
BodyCraft Xpress Pro Home Gym
 Pros
Fully adjustable system that offers over 100 different exercises
200 lb weight stack (doubles to 400 lb with leg press station)
Doesn't take up too much space
Durable, sturdy construction
Soft, padded seats
Includes adjustable cable pulleys
Lifetime warranty
Cons
Assembly can be challenging
The BodyCraft Xpress Pro is a great all-in-one home gym that offers amazing exercise variety. With the inclusion of the adjustable cable arms, BodyCraft instantly doubled the amount of exercises this gym can offer, totaling in at over 100. This gym comes with a chest press station, lat pull down, leg developer, low row station, and set of adjustable cable pulleys.
The BodyCraft Xpress is above the competition when it comes to adjustments. It's ingenious how BodyCraft designed the Xpress Pro to maximize the amount of exercises it can offer. You can adjust the press bar in several different positions to perform chest press, high row, mid row, and shoulder press (to name a few). The seat is highly adjustable as well which helps you perform so many different moves.
Amazon doesn't have a video online. Click here to see the BodyCraft Xpress in action, it's pretty amazing.
The BodyCraft Xpress Pro comes with a 200 lb stack. You can add a leg press station to this base package which is sold separately. The leg press station can be cabled in a way to double the resistance to 400 lb.
This gym system is constructed out of quality 12-gauge steel tubing and weighs over 500 lb. So wobbling shouldn't be a problem. Users report that this gym is well built and feels smooth during use. The adjustable seat is even pretty comfortable with the 2-inch thick padded foam covering.
The BodyCraft Xpress Pro takes up a floor space of roughly 5′ x 7′, not bad for a home gym of this stature. Definitely one of the perks of choosing a single stack system.
There aren't many complaints for this gym, but the most common one that comes up is assembly. Any machine with this many moving parts and cables is going to take some doing to construct. Everyone agrees that BodyCraft is great to work with if there are any damaged or missing parts.
Speaking of BodyCraft, I want to mention that there is a lifetime warranty on the Xpress Pro. One reviewer even mentioned that after 13 years of use, BodyCraft is still sending him new parts as needed. So when they say lifetime, they mean it.
Overall, the BodyCraft Xpress Pro is a great system. If you are looking for a gym that offers the most exercise variety, this is a good choice. It comes with everything you need to perform over 100 strengthening exercises for a total body workout.
Users are overwhelmingly happy with the Xpress Pro, it's currently rocking an average user rating of 4.8/5 on Amazon.

---
Benefits Of A Weight Stack System
Choosing a home gym system with a weight stack can be a good way to turn your exercise space into a comprehensive home gym overnight. Regardless of your fitness goals or fitness level, these gym systems have plenty of benefits including: safety, variety, savings, and space.
Safety
One of the great things about a weight stack system is that they are very safe to use. The resistance (weight stack) is fixed to the machine, so there is no risk of losing control of the weight. You also don't need a spotter when using a weight machine. This comes in really handy if, like me, you are normally working out by yourself. This happens a lot when working out at home.
With traditional barbell and free weight exercises, it's nice to have a spotter for safety. With a weight stack system, the spotter is built into the machine. If you drop the weight, no worries, it stays right where it is.
Weight stack machines are also great if you have aches and pains. The machine helps you stabilize the weight while you lift, so there is less chance of discomfort or injury.
Variety
I hope you see how much exercise variety is possible with these weight stack home gym systems. Even the most simple single stack systems can offer 20-30 different exercises from one piece of equipment. The more elaborate single stack and cross cable dual stack systems can offer over 100 different exercise options.
Can you name 100 different strengthening exercises? Don't worry, I'm not sure I can either. It would take too long to find out. Point is, these home gyms are great for giving us the ability to perform a wide range of exercises.
These systems can replace a gym membership.
Savings
Ok, now if you checked the price on some of the above gym systems you may not believe that there any savings benefits here. But just bare with me for a minute. If you get the right weight stack system, it is the only piece of exercise equipment you may need. Well, for strengthening anyway. These gyms don't take the place of an exercise bike or treadmill.
But they do take away the need for dumbbells or barbells. Consider how expensive dumbbells become. The heavier they are, the more they cost. You can easily spend $1000 on stocking up on dumbbells alone. Then you're going to need a bench. And a rack to store them.
Barbells and power racks can end up costing you more too. Not to mention the cost of having to buy all the plates.
But don't forget the cost of a commercial gym membership. The cheapest gym memberships around me are about $20 a month. Many are closer to $50 a month. If you could cancel your membership with the purchase of a home gym, it would pay for itself in a matter of 1-2 years.
Space
Saving space may not apply to every weight stack system. Especially the larger dual stack cable cross systems which take up 10′ of floor space. But most of the single stack systems can actually end up saving you space in your home. Really for the same reason they can save you money.
Because all the equipment you need for your workouts are included in one unit. Not only do buying dumbbells and barbells cost you money, but you have to find space to store this stuff too. A quality weight stack system may take up 8′ x 6′ of floor space, but that's it. You're done. No need for any other weights, or bars, or benches.
---
FAQ
Will I be able to put this together by myself?
This of course varies depending on your handiness and the gym you chose. Most of the single stack systems can be assembled by one person, but it would go easier and faster with a  second set of hands. I recommend having a partner to assist when assembling the dual stack systems.
What are the dimensions of this gym?
The dimensions can be found under the product details section for most home gyms. Many gyms will also state their dimensions elsewhere. When in doubt, search the questions section on Amazon. Keep in mind, the dimensions listed describe how much floor space the machine itself takes. This doesn't account for the room you will need while using it. Always add a few feet to whatever is listed to ensure you have enough room to use comfortably.
Will they deliver this into my house?
This depends on the weight of the machine and the type of delivery you chose. Products that weight over 100 lb (and all of these home gyms do of course) are often delivered on pallets. Most standard delivery options will bring the product to your door, but not inside your house. It is up to you to get the gym from your front door to wherever you want it inside. Unless of course you paid for expert assembly.
How high of a ceiling do I need for these systems?
Always check the dimensions to make sure, but most of these systems will comfortably fit in a room with a standard 8′ ceiling.
How long does it take to assemble a home gym system?
This of course depends on the complexity of the machine, your abilities, and whether or not you have someone to help. A safe bet is anywhere from 4-8 hrs for the gyms discussed above.
Are these weight stack systems noisy?
No, decent weight stack systems should make very little noise. The cable gliding through the pulleys should be smooth and nearly silent. If you are hearing more noise than you think you should, check to see if cables are rubbing against something they shouldn't be.
Just make sure you aren't slamming the weight stack back into the set after you finish. Because they will make a lot of noise. Sleeping family members won't appreciate it!
Do I have to lubricate the cables?
No, these weight stack systems typically don't need any lubrication.
Can I get a cardio workout on a home gym system?
If you do it correctly, you can turn any weight training workout into a cardio workout. The key is to take short rest breaks so your heart rate stays elevated. These home gyms are actually well designed for this because it is so easy to switch between exercises. You could also easily do a circuit workout with this equipment, combining upper body and lower body exercises for a solid cardio workout.
---
Final Thoughts
The best weight stack home gym systems should be durable, reliable, and offer enough exercise variety for a full body workout. They should provide enough resistance to ensure you reach your fitness goals and fit comfortably within the space limitations of your home.
Weight stack home gyms can be single stack or dual stack. Both have their benefits. If space is an issue, you should be thinking single stack system. Dual stack systems are great if you have the available room and budget.
Regardless of which type of home gym you choose, you can rest assured that it will offer a safe mode of exercise. These weight stack systems are safer than free weights, because there is no need for a spotter. There is also no chance of you losing control of the weight and getting crushed. They work great for folks rehabbing an injured limb as well.
There you have it. The best weight stack home gym systems around. If you have any questions or comments, please leave them below.