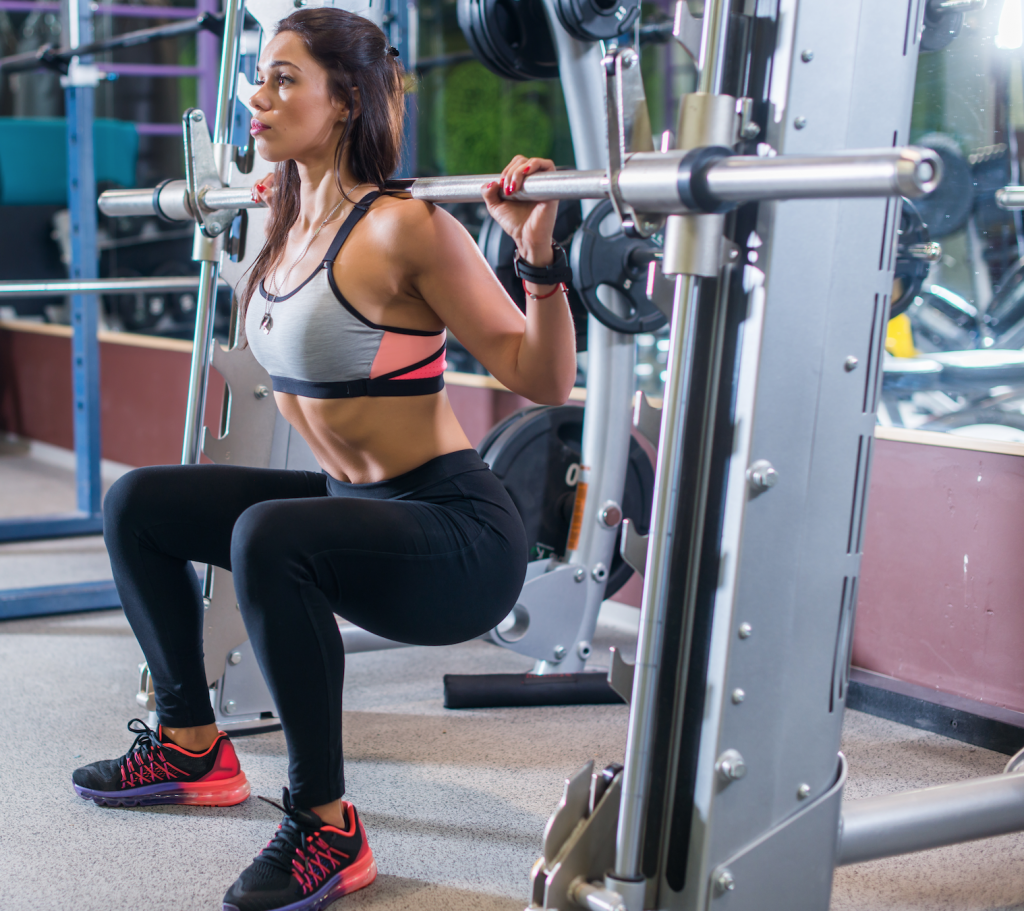 Determining the best home gym machine is a difficult task. The problem is there are several different types of home gyms and comparing the different types of machines can be tricky.
Kinda like comparing apples to oranges. In order to solve this problem, I went with my gut. What do I think of when I think of a home gym? The answer: the Marcy Diamond Elite Smith System.
The Marcy Diamond Elite includes a Smith machine, as the name implies. Not all home gyms do, but I love Smith machines, so I when I am comparing home gyms I am instantly drawn to the systems that have them.
The Marcy Diamond Elite also offers several attachments that allow you to perform more exercises than would be possible with just a Smith machine. But we will get to that in a second.
First things first, let's make sure we are all on the same page.
What Is A Home Gym Machine?
A home gym machine is a piece of equipment that allows you to perform several different exercises at home. I know that definition isn't very specific. I did that on purpose.
That's because there are several different ways a machine can do this.
Home gyms can use your body weight and pulleys, they can use free weights, they can consist of cables and weight stacks, or they can use a power rod type of resistance. Then there are machines that are combinations of the other types.
Body Weight Home Gyms
These machines are great because they typically don't take up much space and they are usually pretty affordable. There are no weight stacks or free weights involved. Just your body weight.
The machines use gravity and different body angles to make the exercise harder or easier. Don't expect to gain a lot of muscle mass with these, they are better for getting tone and flexible.
Example: The Total Gym XLS.
Free Weight Home Gyms
These home gyms use weight plates as resistance. Squat racks, power racks, and Smith machines fall into this category. The Marcy Diamond Elite is a free weight machine.
This type of home gym is great for people who are into power lifting- exercises like squats, dead lifts, and bench press are very doable on free weight home gyms.
Cable Machine Home Gyms
Also known as weight stack home gyms, these home gyms use series of cables and weight stacks. You've seen these in your local commercial gym. They are great, but tend to be more expensive and can take up a lot of space.
They do provide a lot of exercise variety though and are safe to use by yourself.
Power Rod Home Gyms
These are the Bowflex home gyms you've probably seen on tv. Their patented power rods provide the resistance, no free weights or weight stacks involved. This type of resistance feels a little different, but it's a very smooth system that is safe to use.
The resistance provided is similar to that of a resistance band- the farther you stretch it, the more resistance you get. Some folks like this feel because the resistance is less at the beginning of the move where you tend to be at your weakest.
People who grew up on free weights might not like this feel.
If you are looking for a different type of home gym or need a more in-depth discussion on home gyms, check out my buyer's guide.
Like I said, the Marcy Diamond Elite falls into the free weight category and it does include a Smith machine. Let's take a closer look.
---
The Marcy Diamond Elite Smith System
I like the Marcy Diamond Elite system because it offers a great combination of equipment you would otherwise have to buy separately. It has everything we need to get a full body strengthening workout from home.
Like I said earlier, when I close my eyes and think of a "home gym", I think of a system using free weights and a Smith machine.
I think of a system that let's me do all the exercise I would be able to do at a commercial gym comfortably in my home. I think of the Marcy Diamond Elite.
Pros:
Ability To Perform Over 100 Exercises
Between the Smith machine, the workout station, the cable system, and the included attachments, the Marcy Diamond Elite gives you the ability to perform over 100 different strengthening exercises.
This home gym is designed to give us a full body workout. I like this home gym because it offers so much variety on exercises. Boredom should never be a factor when exercising on this machine.
Smith Machine
I keep mentioning the Smith machine. I'm sorry to keep repeating myself, but it's a pretty big deal to me.
The Smith system included with the Marcy Diamond Elite give you the opportunity to perform barbell exercises safely without a spotter. This is great if you are normally working out by yourself, as I am.
The Smith machine allows you to perform power lifting exercises like bench press, squats, shoulder presses and deadlifts. But you can also do exercises like upright rows, bicep curls, lunges, and calf raises.
The adjustable safety stoppers ensure you always have a spotter in case you need to stop early during your workout. The "Ultra Guide" linear bearings will keep all movements smooth and comfortable.
All Steel Construction
This entire machine is constructed out of heavy duty solid steel. You don't have to worry about the frame wobbling or moving during use because of it's high quality construction.
The machine has a 300 lb weight capacity (weight on bar) and the cable used has a 2000 lb tensile strength. Rest assured, the Marcy Diamond Elite is built to last.
All-In-One Workout Station
The Marcy Diamond Elite comes with a detachable workout station that includes an adjustable bench, a preacher curl station, and leg developer for working hamstrings and quads.
The bench can be adjusted to perform flat bench press or any angle of incline bench you prefer. This is great because you don't have to buy a separate bench with this system.
Pectoral Fly Station
This home gym kinda has it all. It even has a cable routed pectoral fly station for crushing those pecs. I always enjoyed doing the pec fly machine at the YMCA and it's something I miss now in my home gym.
This is a great addition to this home gym machine because it really adds some variety to your chest workouts.
Cable Cross Dual Pulley System
The included cable system adds even more variety to your workouts. With these cables, you can do cable cross-overs to isolate your pecs.
But you can also use the included attachments to do exercises like: tricep press downs, bicep curls, lat pull down, rows, and many more. This pulley system adds an extra level of variety that most Smith machine systems can't offer.
Olympic Free Weight Racks
The Marcy Diamond Elite Smith System also includes 6 different pegs for storing your Olympic weight plates. Unfortunately, this machine does not come with any weights. You are responsible for purchasing your own plates. But you will have storage for them built-in to this system.
Foot Plate
This home gym system even has a built-in foot plate for performing rows. Simply move the workout station out of the way, attach your preferred handle, and start rowing away. The foot plate is even textured for a non-slip grip during use.
Price
I hope you are getting a good picture of all the features the Marcy Diamond Elite offers. I think this machine comes in at a great price at under $1000. Similar machines cost between $1,300 and $3000.
Click here to see the Marcy Diamond Elite in action.
---
Cons:
Warranty
The Marcy Diamond Elite Smith System comes with a limited 2-year warranty on the frame. I would like to see a warranty a little longer, but 2 years is better than nothing. Users agree the machine is solidly built and breaking down doesn't seem to be a regular occurrence.
Assembly
This is a pretty large home gym and assembly can be difficult. The machine is delivered in 3 large pallets and there are quite a few pieces. This is a home gym that is best assembled with a friend.
No Pull Up Bar
This is a really minor thing, but it would be nice if this home gym had a pull up bar. It would just add another level of exercise variety. Some home gyms include a pull up bar system and some don't. I don't hold it against Marcy, I'm just being picky.
---
Final Thoughts
Overall, the Marcy Diamond Elite Smith System is easily one of the best home gym machine under $1000. If you have the room for it (you need a space roughly 8′ x 8′ and a ceiling height of at least 8′), you really can't go wrong.
This home gym machine gives you the ability to perform all of the classic power lifting exercises safely with its Smith machine. As well as all of the isolation moves with all of the included attachments.
User reviews are overwhelmingly positive for the Marcy Diamond Elite. This machine is currently boasting a 4.0/5 average user rating on Amazon with almost 300 reviews.
Users seem to be very satisfied with the durability of the machine and think it is well worth the asking price.

I hope you found this review helpful. If you have any questions or comments, please leave them below and I'll get right back to ya.