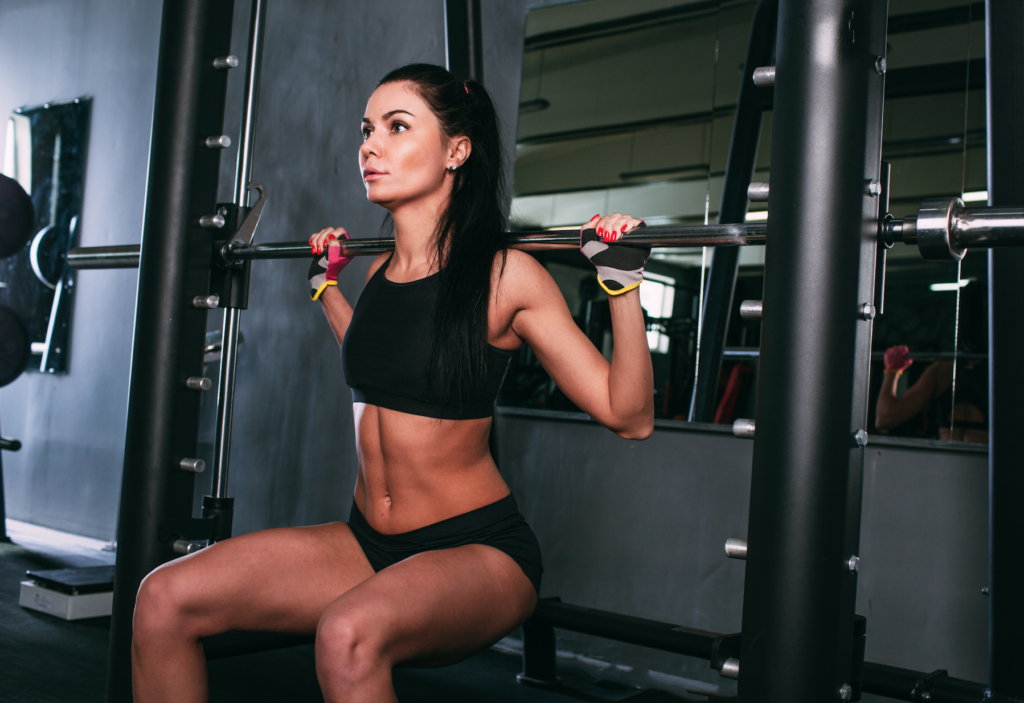 The Body Solid Series 7 Smith Machine is more than just a Smith machine- it's an all-in-one home gym system designed to replace your gym membership. With commercial grade construction and over 50 exercise possibilities, the Series 7 can instantly turn any space into a functioning fitness zone.
But even with all the bells and whistles, is this Smith machine a smart buy? Not necessarily. It all depends on what your needs and goals are.
This review will dissect the Series 7 in order to identify all of its strength and weaknesses. Then we'll discuss price to see whether or not this gym system is a smart investment.
I want to start with a quick intro to Smith machines. A little background information will come in handy as we start discussing the specific features and specs below.
Smith Machines 101
Smith machines have become a staple in any commercial gym. I would dare say there isn't a local gym in the country that doesn't have at least one of these machines. I'd also dare say they're probably one of the most popular machines in each gym too.
In case you're unfamiliar with the terminology, a Smith machine is basically a power rack with an attached barbel. The barbell is attached with gliders that allow it to move vertically up and down, but it can't be removed from the frame.
And in case you still don't know what I'm talking about, the Smith machine is the thing in the gym with a big metal frame that people are doing squats on.
All kidding aside, Smith machines are popular because they allow you to do power moves without a spotter. They also make moves like squats a lot safer (and easier) because the bar is physically attached to the frame- there's a lot less chance of you losing control of the bar and getting squashed.
Especially since these machines have lock-out points spaced out every few inches, meaning you can lock the bar at almost any point during your exercise. Doing heavy shoulder presses and you can't quite finish your last rep? No problem, turn the bar and lock it where it is.
Smith machines add a layer of safety to your workout, but they do take away from the difficulty of the exercise. For this reason, some folks are very anti-Smith machine (I'm not pointing fingers, but serious power lifters tend to frown at their use).
Which is understandable. If your goal is to add as much power and strength as possible, you should be using good ol' fashioned free weights.
But if you're lacking a spotter or just looking for a safe strengthening system, Smith machines are a smart way to go.
When comparing Smith machines, I suggest you consider the following specs, if nothing else:
Weight capacities- the total amount of weight the system can safely handle
Included attachments (if any)- some machines come with several attachments that can really add variety to your workouts
Warranty- always an important feature to consider, longer is always better
Oh, and of course you need to make sure you actually have room for one. Like power racks, Smith machines tend to take up a sizable chunk of floor space. Always measure out your workout area to make sure you have plenty of room before committing to one.
The Body Solid Series 7 Smith Machine
Body Solid is a well-known name in the home strength training world. They offer a ton of products and have home gyms in pretty much every shape and size you can think of. They're well known for making high-quality products that are backed by generous warranties.
Pros
Heavy-duty, commercial grade frame
20 lock out points on Smith machine
14 mounting positions on gunrack
6 Olympic weight plate storage posts
Adjustable safeties
4 separate attachments included
Adjustable bench included
210 lb weight stack included
Lifetime warranty
Cons
Assembly
Takes up a lot of floor space
Construction/Features
The Series 7 Smith machine is built with a heavy-duty steel frame. All sides use 11 and 12 gauge 2″ x 3″ steel components to provide a frame stone enough to handle some pretty serious weights. I've been having a hard time finding an exact value for this Smith machine's max weight capacity, but according to Amazon it can handle 600 lb.
The Smith machine has 20 different lock out points. This means you should have a place to lock your barbell nearby regardless of where you are in your exercise range.
The free weight barbell rack in the front of the machine (gunrack system) has 14 different mounting positions. This should come in handy if you prefer to do the non-Smith machine version of squats or any other exercise.
The barbell itself (the connected one that's part of the Smith system) only weighs 25 lb, which will make it easy to handle when adjusting between exercises. Having a lighter bar is also great for beginners who may not need as much weight to start off with.
More experienced lifters might not like the lighter bar because they'll have to add a little extra weight to make up for it.
The Series 7 also includes adjustable safeties for both the Smith and free weight sides, which is a must in case you do lose control of the bar. You can set the safeties to a position where they will catch the bar before it does any bodily damage.
Along the frame of the machine you'll notice 6 weight plate storage posts. These are designed to hold Olympic weight plates of all sizes. Another must have for a Smith machine because you don't want to have your plates lying all over your gym floor (you also don't want to have to buy a plate storage system separately).
Overall, the Series 7 scores high in terms of quality of construction and frame features. Users seem to agree that it's built solid enough to last.
Fully assembled, it has the following dimensions: 78″ (L) x 64″ (W) x 84″ (H). These are just the dimensions for the cage itself. If you include the bench during use, the length turns into 118″. That's almost 10 ft long. Just something to consider, you have to make sure you have enough room.
Included Attachments
The Series 7 package comes with several add-on attachments that aren't always seen on Smith machines. Here's the low-down on what comes with this bad boy:
Lat Attachment: with this lat attachment, you get the ability to perform lat pulldowns with a separate 210 lb weight stack. It consists of a lat bar connected to a high-pulley with the weight stack in the back of the system.
Pec Dec Station: the pec dec is located in the rear of the cage and gives you the ability to perform pec flys. The pec dec is also attached to the weight stack, so you don't have to worry about switching out plates for resistance.
Adjustable Bench: yes, this system comes with a bench, so you don't have to worry about buying one separately. The included bench can be adjusted to incline or decline (as well as go flat), giving you more variety in terms of your bench press exercises. You can also do decline sit ups on this bench.
Leg Developer: there's an included leg developer attachment for the front of the bench that gives you the ability to perform leg extensions and hamstring curls. It uses plates for resistance and like pretty much all leg developer attachments, isn't particularly comfortable to use.
Preacher Curl Attachment: as the name implies, this attachment allows you to perform preacher curls. A nice addition, just keep in mind the curl bar isn't included with this package.
Assembly
As you might guess, putting this large system together takes time. Expect to spend the better part of a day with assembly. Some users reported they were able to assemble by themselves, but it would be a good idea to have a partner on this one.
The instruction manual consists of images only. This isn't necessarily a bad thing because the images are large and pretty easy to follow.
There are several different sizes of bolts used during assembly and they all look pretty similar except for small differences in their lengths. You will probably have to compare the bolt to the image in the manual to ensure you are using the correct size throughout assembly.
You should also consider that this system weighs about 800 lb when shipped. Depending on where you're putting it, having a few extra people to help carry the boxes to their destination would be very helpful.
Warranty
Body Solid is backing the Series 7 up with a lifetime warranty on everything for home use. This is an incredible guarantee and may ease your mind a little on the asking price.
The Series 7 is also warranted for light commercial use: lifetime frame and welds, 3-years pulleys, bearings and hardware; 1-year cables, upholstery, and handles.
Price
To this point, the Series 7 looks pretty good. It's well constructed and comes with a lot of extra attachments for added exercise variety. It's also backed by a lifetime warranty for home use. But what about price? Are you going to have to rob a bank to afford this machine?
I wouldn't go that far, but it's definitely not a budget machine either. The MSRP on the Series 7 is $3850.
Luckily, you don't have to pay full price if you buy through a site like Amazon, which has it listed for about $3000.
I think the best way to figure out whether it's a good buy or not is to compare it to some of the other Smith machines out there. Check out the comps.
The Marcy Diamond Elite is one of the most popular home Smith machines and it comes with a lot of similar attachments as the Series 7. At only $1000 it's a great buy, but how does it compare to the Series 7? Well one of the most notable differences is the warranty- the Diamond Elite only comes with a 2 year warranty on the frame.
The frame isn't quite as robust either, the Series 7 uses thicker steel all around. We see the difference in the fact that the Diamond Elite only has a 600 total pound weight capacity.
The Yukon Caribou III is another top home Smith machine and is in direct competition with the Series 7. At about $1200, the Caribou III is significantly cheaper, but you have to pay extra for all of the attachments. It does come with a lower and upper pulley system, but the weight stack, pec deck, and preacher curl attachments are sold separately.
It's also interesting that Yukon doesn't include the linear bearings on the Smith mechanism, you have to buy them separately (for like $200). Users have complained that without the linear bearings the Smith part of the machine isn't smooth. There's also a questionable warranty here- Yukon is very vague and states frame issues are under warranty "to their discretion".
Finally, commercial grade Smith machines can easily run $3000-$4000 and up, especially if you're talking counter-balanced machines.
So, considering all the attachments, the warranty, and the fact that the Series 7 is qualified for light commercial use, I would argue its priced fairly. Not a steal by any chance, but a price we should except considering everything you get for it.
Final Thoughts
The Body Solid Series 7 Smith Machine is more than a Smith machine, it's a complete home gym system. With multiple attachments included, this system gives you ability to perform over 50 different strengthening exercises safely from home. If you're looking to stop your commercial gym membership, the Series 7 would be all you need.
With commercial grade construction and a lifetime warranty, the Series 7 is a pretty safe bet. I think it would be best suited for people who are going to take advantage of all the attachments. After all, if you are just looking for a Smith machine, you can save some money and find one with fewer bells and whistles.
But if you are looking for a complete gym system that is built to last, the Series 7 is a good choice. Just keep in mind you'll have to buy your weight plates and additional bars separately.