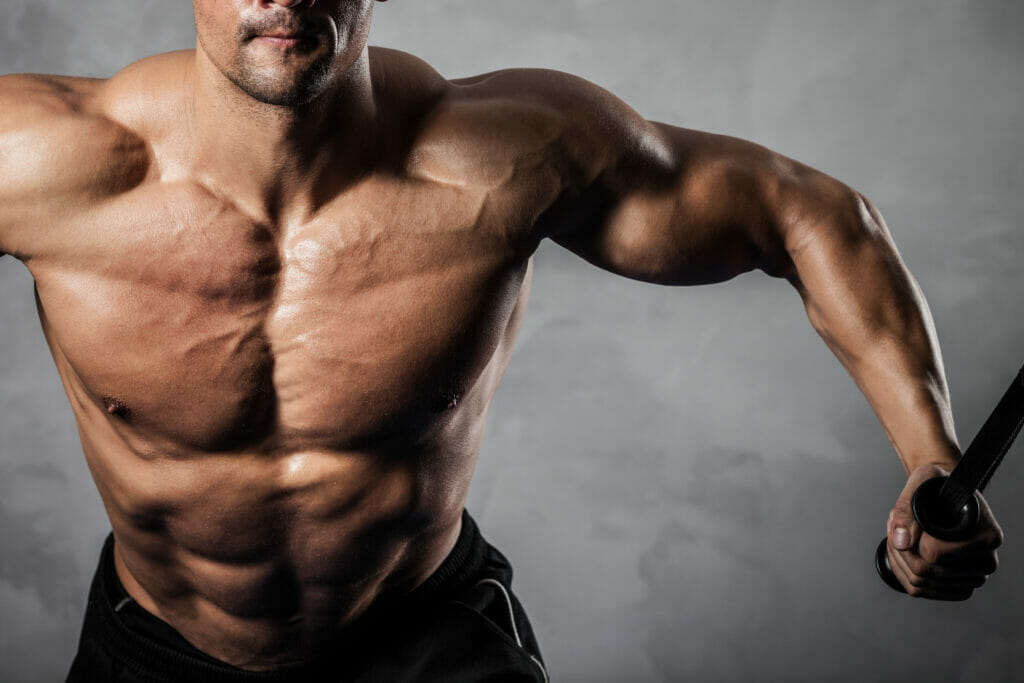 The G10 Pro is one of the newer additions to Force USA's popular lineup of All-In-One Trainers and even though it looks really similar to some of the other models, it's got a couple of interesting new features worth checking out.
Like all of their other All-In-Ones, the G10 essential combines the functions of a power rack, a Smith machine, and a functional trainer into a single unit.
But unlike their previous home gyms, the G10 gives you the ability to interchange between a 2:1 and 4:1 pulley ratio on the functional trainer.
If this all sounds like Latin to ya, don't worry, I'll go in a lot more detail below, but the takeaway is that it gives you more control over the resistance you're lifting.
The G10 Pro is also compatible with their new upgrade kit that adds 3 additional workout stations to the gym for even more exercise variety, as well as a few other option attachments.
Overall, there's no denying that the G10 is an impressive specimen, but does it make sense to choose this trainer over some of their other, more affordable gyms?
Well, that's what we're here to figure out.
In this comprehensive review, I'll go over everything the G10 Pro has to offer.
I'll also try to point out the key differences between this model and some of the older models so you can decide which (if any) trainer is the best fit for your home gym.
Well, let's get to it already.
The Force USA G10 Pro All-In-One Trainer
Force USA is a pretty respected fitness brand that provides all the essential gear you need for weight lifting from home.
They've got a solid lineup of benches, bars, and all the other accessories ya need, but it's their All-In-One Trainers that really put this brand on the map.
And for good reason, these things are awesome.
Force USA basically took all the most popular weight training devices and combined them into one piece of equipment.
The result was a series of trainers that can each function as a comprehensive, stand alone gym.
The G10 Pro is one of the newer trainers recently added to their lineup that already consisted of several models to choose from.
The features and forms of resistance vary a little from model to model, but all of the All-In-Ones at least consist of a power rack, a Smith machine, and a functional trainer.
Well, I say that, but their X-Series racks don't come with a Smith machine, giving folks the option to choose combinations between racks and functional trainers.
I actually own their X15 Pro and love it, but that's a story for another day.
Anyway, the G10 Pro is going for around $3k at the time of writing this and Force is even offering free shipping (and don't forget, you can save an extra 5% with the promo code "HOMEGYM5").
Pros
Ridiculous workout variety
Combines power rack, Smith machine, and functional trainer
3″ x 3″, 11-gauge steel uprights
992 lb weight limit on power rack
772 lb weight limit on Smith machine
Interchangeable pulley ratio on functional trainer (2:1 or 4:1)
Westside spacing on uprights
Smooth acting Smith bar
Fully adjustable pulleys
Comes with a ton of attachments and handles
Great warranty
Reasonable price
Cons
Challenging assembly
Barbell not included
Frame
There's a lot of stuff to cover on these All-In-One Trainers and the best way I can think to organize this review is to talk about each component separately.
Before we do that though, I want to make a few comments about the overall frame design of the G10.
I like to know the gauge of steel being used for any Smith machine or power rack because it gives you an idea as to how heavy-duty the system is.
Most home units are made out of 12 – 14 gauge steel, with the more expensive, heavier-duty racks being made with 11-gauge steel.
(The gauge refers to the thickness of the steel and smaller numbers indicate thicker metal).
And a thicker metal frame means a heavier, more stable system.
And even though you probably don't have to worry about structural failure during a lift (assuming you stay within the unit's weight limits), a heavier frame will still feel more stable and wiggle less during use.
Anyway, the G10 is constructed with 11-gauge steel, which is the thickest we can expect to find on any home gym.
The shipping weight for this thing is a whopping 685 lb, so it's gotta be pushing 600 lb or fully assembled – so I don't think you'll have to worry about this thing feeling lightweight or flimsy.
Finally, the G10 takes up a footprint of 80″ x 74″ (W x D) and you'll need a ceiling height of at least 7′ 8″ if you plan on doing full pull ups.
Overall, the G10 is a very heavy-duty gym that takes up a fair amount of floor space, not mentioning the extra wiggle room you'll need to actually use it.
Power Rack
The power rack on the G10, like all other power racks, allows you to perform all the classic barbell moves you can think of- bench presses, squats, shoulder presses, etc.
I think I forgot to mention it above, but the 11-gauge steel uprights on the power rack measure 3″ x 3″, which is as large as they come on home gyms.
Having larger uprights just adds to the overall strength and integrity to the gym.
Anyway, the G10's power rack station comes with a max weight capacity of 992 lb, allowing it to safely hold a lot more weight than most of us could ever dream of lifting.
It also comes with 60 different adjustment points along each upright, including the preferred 1″ Westside spacing that gives you more control over bar placement for your presses and deadlifts.
Force USA even includes a pair of heavy-duty J-hooks and a pair of front safety bars with purchase, so your power rack will completely functional out of the box.
Overall, the power rack station scores very highly. With 3″ x 3″, 11-gauge steel uprights and a 992 lb weight limit, it'll be able to accommodate even the most gifted lifters out there.
Oh, and there's also laser-cut numbering to make it easier to line your J-cups up when making adjustments.
Smith Machine
Moving on, let's check out the Smith machine station.
I know some folks frown upon using a Smith machine, but I love 'em.
And yes, I know that having the bar attached to a rail makes lifting easier, but it also makes it safer, especially if you find yourself lifting by yourself often.
You can use the Smith machine to perform basically all the same barbell moves you could do with the power rack, but with a built-in spotter.
The Smith bar on the G10 comes with linear bearings for a smooth glide and can be adjusted to 14 different height positions which is nice.
The Smith bar comes with a max weight capacity of 772 lb, which is also very impressive for a home unit.
Along with being able to easily lock the bar out every few inches along the rails, there's also built-in spring safeties that can be height adjusted for added safety during lifts.
And locking the bar out at the highest position gets it out of the way nicely when using the power rack station.
The bar is also counterbalanced, which makes for even smoother bar movement, but it also allows you to work with really low resistances.
Force USA's G12 also comes with a counterbalanced Smith machine, fyi.
Overall though, this is a high-end Smith machine with a very high weight limit.
Oh, almost forgot- the Smith bar is designed to fit Olympic plates, so make sure you plan on using the right size.
Functional Trainer
The last major station we have to discuss is the functional trainer (which is refers to the pair of adjustable pulleys on the uprights).
Functional trainers can work effectively as comprehensive home gyms in their own right because you can do a ton of different moves with them.
The G10's functional trainer comes with 22 height positions on each side, giving you a lot of control over the placement of your pulleys.
P.S.- the functional trainer uses the same uprights that are used for the power rack, so you might have to remove J-hooks or other attachments to place your pulleys where you want 'em.
Each pulley uses high-end cables like you'd expect to find on a decent trainer and the built-in handles on each pulley make them easier to adjust.
That's all fine and good, but the G10's functional trainer has another feature that I've never seen on any other trainer – the ability to change its pulley ratio.
The pulley ratio describes how much of the racked weight you're actually lifting (you know, with the mechanical advantage of the pulleys).
A lot of trainers come with a 2:1 ratio, meaning you're really lifting half the weight that you rack (100 lb feels like 50 lb of resistance).
Some, like Force's G12, comes with a 1:1 pulley ratio, meaning you're lifting every pound you rack – which is great for folks looking for a lot of resistance.
Well, with the G10, you can choose between a 2:1 or a 4:1 ratio. If you look closely at the pulleys, you'll notice each one is doubled up with cables.
If you clip into both cables, you'll be working with a 2:1 ratio; clip into only the top cable and you'll be working with the 4:1 ratio.
A 4:1 ratio means you're lifting ¼ of the weight you rack, allowing you to work with very light resistance.
Speaking of resistance, the functional trainer on the G10 uses weight plates, there are no included weight stacks on this unit.
Switching between the 2:1 to the 4:1 ratio could be beneficial if 2 or more people were working out together – it would be a faster way of reducing resistance than removing and adding plates each time.
I could also seeing it being beneficial for rehab purposes, where you might need very low weights.
Overall, I think it's an interesting feature, but I'm not sure how many people are going to really have to utilize that 4:1 ratio.
Personally, I think it would be more helpful if you could swap between a 1:1 and a 2:1 ratio, which would give you the ability to lift a lot more weight with the trainer when necessary.
But I'm not sure how doable that would be from a design standpoint.
Anyway, the functional trainer on the G10 is very sophisticated and the ability to change the pulley ratio is one of the biggest differences found on this model.
Attachments
Force USA includes the following attachments with the G10 Pro:
Multi-grip pull up bar
Pair of J-hooks
Pair of safety bars
Low row footplate
Dip handles
Suspension trainer attachment
Lat pulldown bar
Knee anchor for lat pulldowns
Pair of standard handles (for functional trainer)
Tricep rope
V bar
Short bar
Close grip row handle
4 extension chains
6 Olympic lock collars
4 band pegs
10 carabiners
8 plate holders
2 barbell holders
2 exercise charts
I'm not sure if I included all of them or not, but you can always check the extensive list on Force's website.
The point is, Force includes pretty much every handle and attachment you need to get started.
You'll notice that a barbell and a bench aren't included, so you'd have to get that stuff separately. Also, no weight plates are included.
The G10 is also compatible with Force's upgrade package, which includes:
Pair of jammer arms
Leg press plate
Core trainer (landmine station)
A TV mount
And a few extra handles
Overall, Force USA includes a ton of attachments with the G10 and all of their other all-in-ones.
This is one of the great features that sets them apart from many other brands.
Warranty
Force USA backs their G10 All-In-One Trainer with the following residential warranty:
Lifetime frame
10 year cables & pulleys
1 year upholstery and attachments
Ok, you can't beat a lifetime frame guarantee because that's as long as there is.
And considering in this case the majority of this unit is "frame", it comes in especially handy.
And 10 years on the cables and pulleys is going to be tough to beat as well.
Luckily, these components shouldn't wear down much with proper use anyway.
And a year on the wear items is solid too.
Overall, I think Force's warranty on the G10 is awesome.
Final Thoughts
Wow, that was a lot to cover – the G10 Pro is a whole lotta home gym.
Like all of Force USA's other all-in-one trainers, the G10 is a very nice unit.
The fact that it can combine a power rack, a Smith machine, and a functional trainer into a single piece of equipment is pretty spectacular.
The exercise variety available on the G10 is insane – I mean there isn't a strength training move you can't do with this thing.
And just like the other Force trainers, the G10 is heavy-duty and high-end from top to bottom.
I also like that it comes with so many attachments and is backed by a legit warranty.
The biggest difference I see between the G10 and all their other trainers is that interchangeable pulley ratio, which is cool, but I'm not sure how beneficial it'll be for most lifters.
If you'd be lifting with partners often and want to save time with swapping out plates, ok, maybe it makes sense.
But for the rest of us, I can't see it being used that often (how many times do you find yourself wishing your gym offered less resistance?)
I still think it would be awesome if you could switch between a 2:1 and 1:1 ratio…
Regardless, there's still no denying it – the G10 is one badass home gym.
That said, if you're looking to invest this kind of money into an all-in-one trainer, I think it makes more sense to go with one that has the built-in weight stacks, like the G6 (2:1 pulley ratio).
Overall though, I think the G10 Pro is a great piece of equipment.
P.S. – use the promo code HOMEGYM5 for an extra 5% off!