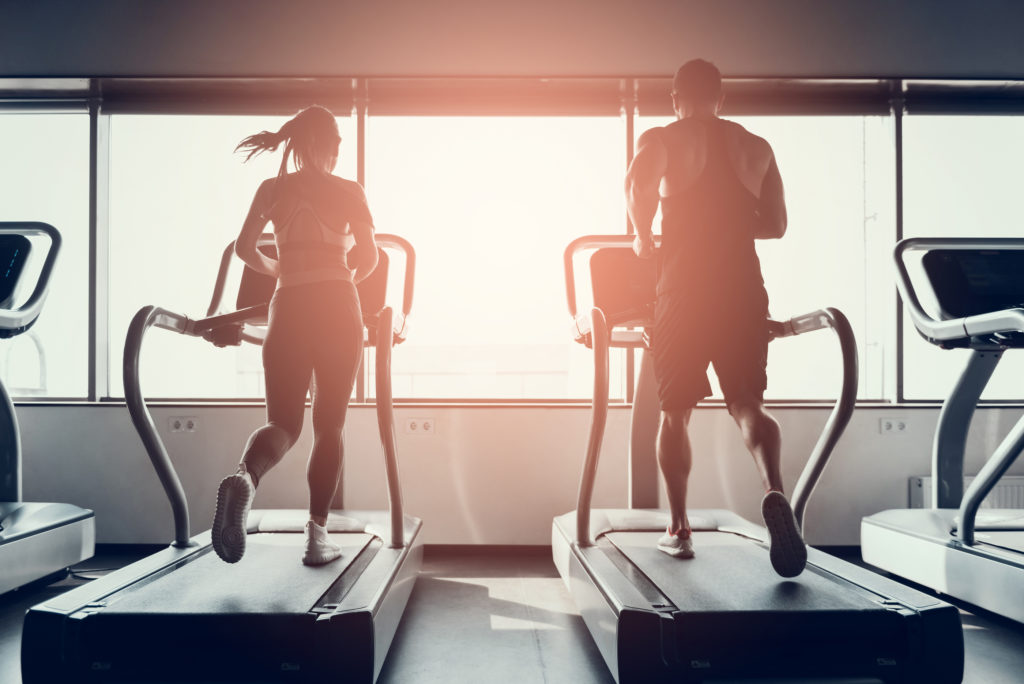 Treadmills come in all shapes and sizes these days, which is great because there are models now that can fit even the smallest of spaces. That said, not all compact treadmills are created equal and it's important to know what to look for during your search.
The best compact treadmills should be durable, equipped with sufficient horsepower for smooth operation, and backed by generous warranties.
Being a compact model, they should also have a small footprint and fold away for storage.
If you've been searching long, you've probably realized there are a lot of compact treadmills out there, but many of them don't meet the above criteria.
Luckily, you've found your way here to The Home Gym- don't worry, we got ya covered.
In this comprehensive review, we'll start off by going over the most important performance specs to examine when comparing compact treadmills. Then we'll offer our top 5 picks based on the criteria we discussed.
In the end, you'll be well equipped with all the info you need to make the right choice for your home gym.
Ok, time to get to it.
How To Choose A Compact Treadmill
Choosing a compact treadmill isn't any different than choosing a full size model- the only difference is the smaller size. And by size, I'm referring to the machine's footprint and running surface (which we'll discuss in more detail below).
For the sake of this article, a compact treadmill will be defined as treadmill with the following dimension limitations:
Unfolded footprint less than 36″ x 75″

Running surface shorter than 60″
When compared to full size models that can easily reach 7′ in length, treadmills that fall in this category will be noticeably smaller (which is the point after all).
Please keep this in mind- these smaller machines aren't going to feel as roomy as the ones you've used at your local gym. Remember that they're smaller for a reason- to fit smaller spaces that can't fit full size treadmills.
I'm always a little confused when I read reviews about people who purchase these smaller machines and then complain about how small they are- that shouldn't be a surprise if you did your homework and looked at the specs!
Ok, I got that off my chest. Now that we're all on the same page, let's discuss the most important specs to consider when comparing these treadmills.
Running Surface
Running surface is the first thing I look at on any treadmill. This measurement tells you how roomy the treadmill is going to be during use. It describes the usable size of the belt and is measured in inches (usually written as width x length).
When it comes to running surfaces, larger is better, because it makes for a roomier, more comfortable experience.
If the running surface is too short, you may not be able to stretch out fully during running (or walking if it's really short). Too narrow, and you'll feel like you're walking on a tightrope, with no wiggle room to sway a little side to side.
Now, we're here to discuss compact treadmills, so right off the bat we should be expecting smaller running surfaces.
The gold standard for high-quality treadmills is a running surface that measures 20″ x 60″. And that's because it's been shown that most folks (of differing heights) can comfortably walk or run on a belt this large.
How much room you ultimately need really depends on your height and your leg length. As a general rule, a belt length of at least 55″ is recommended for running, but shorter folks may make due on even smaller belts.
If you're 6′ tall or taller, you better aim for at a 60″ length to ensure you have enough room to stretch out fully when running at faster speeds.
All of the treadmills on this list have running surfaces smaller than 60″, meaning they aren't the best choices for taller runners (tall runners should check out our running treadmill guide for more info).
I also want to point out that there are treadmills a lot smaller than the ones we'll be discussing in this article. The quality of these tiny machines varies greatly- but generally speaking, these cheaper machines aren't well equipped for running.
Long-story-short: when looking for a treadmill, it's a good idea to aim for the largest running surface your workout area can accommodate. It'll make for a more comfortable experience.
Motor
Motor strength is another crucial spec to consider when comparing treadmills. Motor strength is measured in horse power (HP, the peak strength a treadmill can reach) or more appropriately, continuous horse power (CHP, the strength the treadmill can maintain).
Generally speaking, like running surfaces, bigger is better when it comes to motors.
Home treadmills usually come with motors somewhere in the 2.0 – 4.0 CHP range. For runners, it's a good idea to shoot for 3.0 CHP+ to ensure you have enough power to smoothly maintain higher speeds.
Walkers and joggers and get away with weaker motors, but it's always a good idea to check motor strength and go with the stronger model (assuming everything else is equal).
Stronger motors don't have to work as hard as weaker ones do to maintain the same intensity. This means stronger motors should last longer and run a little quieter (theoretically anyway).
Roller size is something else to consider when talking motors. The rollers are the part of the treadmill that make contact with the belt, allowing the belt to propel along the frame as the motor does its thing.
Larger rollers are preferred because they reduce wear and tear on the belt and the motor, prolonging the life of both.
Quality home treadmills should come with rollers in the 2-3″ range. Some treadmills have different sized rollers in the front and back.
Overall, when choosing a treadmill, consider motor strength and roller size- in both cases, larger is better.
Warranty
The final spec to consider on my treadmill cheat sheet is warranty. Treadmill warranties are often broken down into frame, motor, parts, and labor and longer is always better (duh).
Quality treadmills usually (but not always) come with a lifetime guarantee on the frame and motor. Parts warranties will likely range between 2-5 years, with higher-end machines offering 5.
Most brands only offer 1-2 years on labor and this is standard.
Price range plays a big part in how generous the warranties are. The more expensive the treadmill, the longer the warranty should be, although this isn't always the case.
Looking at a treadmill's warranty tells you a lot about its quality. Nicer, higher-end models come with longer warranties because the manufacturer believes it will last.
Cheaper, less sturdy machines will come with shorter guarantees because those manufacturers are realistic as to how long their products will last.
Ok, now to my 5 top compact treadmills based largely on the 3 specs we should discussed.
The 5 Best Compact Treadmills For Small Spaces
#1 LifeSpan TR3000i
LifeSpan Fitness is known for providing understated fitness machines that work very well. Their treadmills aren't very flashy, but they pack impressive numbers in the areas where it really matters.
Their TR3000i is a prime example.
As LifeSpan's most advanced compact treadmill, the TR3000i has a lot to offer for such a compact model. Speaking of compact, this treadmill has a footprint of 71″ x 33″ (L x W) unfolded and 42″ x 33″ when folded.
This treadmill comes with a running surface of 20″ x 56″, which is on the larger side for compact machines. Although as we mentioned above, taller users will probably find this treadmill a bit short for serious running, most folks should be able to walk and jog comfortably with the 56″ long belt.
Something I didn't mention above, but that really stands out to me about the TR3000i is its high weight capacity. This treadmill can safely hold users up to 350 lb, which is impressive for any home treadmill.
When it comes to the motor, this model is packing a 2.75 CHP motor that can reach a top speed of 12 mph. It also comes with 15 levels of motorized incline for added exercise variety.
LifeSpan gave this treadmill 2.5″ front rollers and 2.0″ rear rollers, which are larger than most budget treadmills.
The TR3000i comes with a fairly sophisticated console as well, with a touchscreen color display, 21 workout programs, and built-in bluetooth speakers.
And when it comes to the warranty, LifeSpan doesn't mess around: lifetime frame/motor, 5 year parts, 1 year labor.
Overall, if you're looking for a quality compact treadmill, this is a great place to start. See full review.

#2 LifeSpan TR2000i
LifeSpan's TR2000i is really just a slightly weaker version of their TR3000i. If you like the TR3000i but you're on a tighter budget, you can save a few hundred dollars and go with this model instead.
It's a little smaller too, so if every single inch counts, this model could make more sense.
The TR2000i has a footprint of 70.7″ x 32.9″ (L x W) unfolded and 41.2″ x 32.9″ when folded. It comes with the same 20″ x 56″ running surface as the TR3000i.
We see the biggest difference between these 2 models in the motor department. This model comes with a slightly weaker, 2.5 CHP motor that can reach a top speed of 11 mph.
It too has 15 levels of motorized incline and 2.5″/2.0″ rollers.
With the weaker motor, the TR2000i is better suited for walking and jogging, although smaller users might not have any trouble running at faster speeds.
This treadmill comes with the same shock absorbing system and EZFold technology as the other LifeSpan models. This model is a little less heavy duty though, with only a 300 lb max weight capacity.
When it comes to the console, the TR2000i is surprisingly advanced. It comes with a 7″ color touchscreen display, 21 workout programs to choose from, and built-in bluetooth speakers.
Not only is the motor weaker on this unit, but it's also not backed by a shorter warranty. The TR2000i comes with the following guarantee: lifetime frame, 5 year motor, 2 year parts, 1 year labor.
Overall, another quality compact treadmill from LifeSpan with impressive specs and a solid warranty. See full review.

#3 NordicTrack T 6.5S
The NordicTrack brand needs no introduction, it's one of the most well-known home fitness brands on the planet. While they offer several quality treadmill models to choose from, the T 6.5S is one of their most compact.
In terms of size, the T 6.5S is just a hair larger than the 2 models already mentioned. This treadmill takes up a footprint of 73″ x 36″ unfolded and 38″ x 36″ folded.
When it comes to the running surface, this treadmill comes with a 20″ x 55″ area to work with during your workouts- so just a little shorter than the 2 previous models.
It's kinda interesting that the T 6.5S is the largest of the bunch yet has the smallest running surface.
Anyway, this treadmill also comes with a 2.6 CHP motor with a max speed of 10 mph and a max incline of 10%. This is a little slower than the other 2 treadmills discussed so far, but still plenty fast for walking and jogging.
The rollers on this model are also a little smaller, at 1.9″ (which is more typical for budget treadmills).
This treadmill comes with a 300 lb weight limit and is easy to fold after your workouts.
Something interesting about this model is that you can adjust the feel of the shock absorption system (FlexSelect Cushioning), choosing between a softer feel or a firmer one that more closely mimics the feel of running on the road.
The console comes with 20 built-in workouts to choose from, one-touch speed and incline settings, and is iFit compatible through the use of your own tablet (for an upgraded touchscreen display, you can go with the slightly more expensive T 6.5Si).
The warranty on this model isn't quite as generous, but still pretty solid for the price range: 10 year frame, 2 year parts, 1 year labor.
Overall, NordicTrack's T 6.5S has a lot to offer- I think it's one of the best budget friendly treadmills around. See full review.

#4 Horizon T101
Horizon is another fairly well known brand that's gaining popularity for providing affordable machines that are higher quality than many in the same price range.
The T101 is their smallest treadmill to date, taking up a footprint of 70″ x 34″ unfolded and 46″ x 34″ when folded away for storage.
This treadmill comes with a running surface of 20″ x 55″, which is in the same ballpark as all the above models. It too has an easy folding deck and a max weight capacity of 300 lb, which is impressive for such an affordable machine.
The T101 comes with a 2.5 CHP motor that can reach a top speed of 10 mph and a top incline of 10%- almost identical to the T 6.5S mentioned above. The rollers are also on the smaller side, at roughly 1.8″ and 1.65″ (front and back).
The console on this treadmill is pretty sophisticated for the price range. Highlights include 40 built-in workouts, a rapid charging USB port, and bluetooth speakers.
Horizon also backs this budget friendly model with a generous warranty: lifetime frame, lifetime motor, 1 year parts, and 1 year labor.
With a price tag of roughly $600, the T101 is another one of the best budget treadmills on the market. It's compact, sophisticated, and backed by a great warranty. What more can you ask for? See full review.
#5 ProForm SMART Performance 900i
No "best of" list would be complete without a ProForm product. Don't quote me on this, but I think ProForm is one of the highest selling home fitness brands out there.
They have a ton of models to choose from in various price ranges as well as a generous selection of features to choose from.
Their SMART Performance 900i is a member of their "Performance" series, which emphasizes console features over size and motor strength.
Speaking of size, the 900i comes with an unfolded footprint of roughly 73″ x 35″ and can easily fold vertically for storage. This treadmill comes with a 20″ x 55″ running surface.
When it comes to the motor, the 900i is packing one of the strongest on this list. With its 2.75 CHP motor and top speed of 12 mph, this treadmill is probably the best running treadmill on this list (the rollers are on the small side at only 1.9″ though).
It can also reach a max incline of 12% for added workout versatility and intensity.
The 900i has the most advanced console of any treadmills on this list. It comes with a 10″ HD touchscreen display that is loaded with 30 pre-set workouts to choose from. It's also iFit compatible, which gives you access to virtually unlimited workouts.
This treadmill comes with ProForm's patented ProShox cushioning system and a max weight capacity of 300 lb.
ProForm also backs this treadmill with a generous warranty: lifetime frame and motor, 3 years parts, and 1 year labor.
Overall, the 900i is a great choice for the folks out there looking for a technologically advanced console. The huge touchscreen display is pretty impossible to beat in this price range. See full review.

Final Thoughts
Just because a treadmill is small doesn't mean it has to be a piece of junk. I hope this list shows that compact treadmills can be well-built and sophisticated too.
When searching for treadmills, big or small, it's a good idea to have a game plan. You know, have a set of criteria to judge them all on equally.
The short list should include running surface, motor strength, and warranty. After that, consider what features are most important to ya and find one that checks as many of your preferences as possible (and fits within your budget of course).
You may have noticed that none of the treadmills on this list have a running surface width less than 20″. There are plenty of smaller treadmills out there with widths in the 16-18″ range.
If your workout space requires a smaller machine, by all means, you have to do what you have to do. But the 20″ width is going to make for a more comfortable experience.