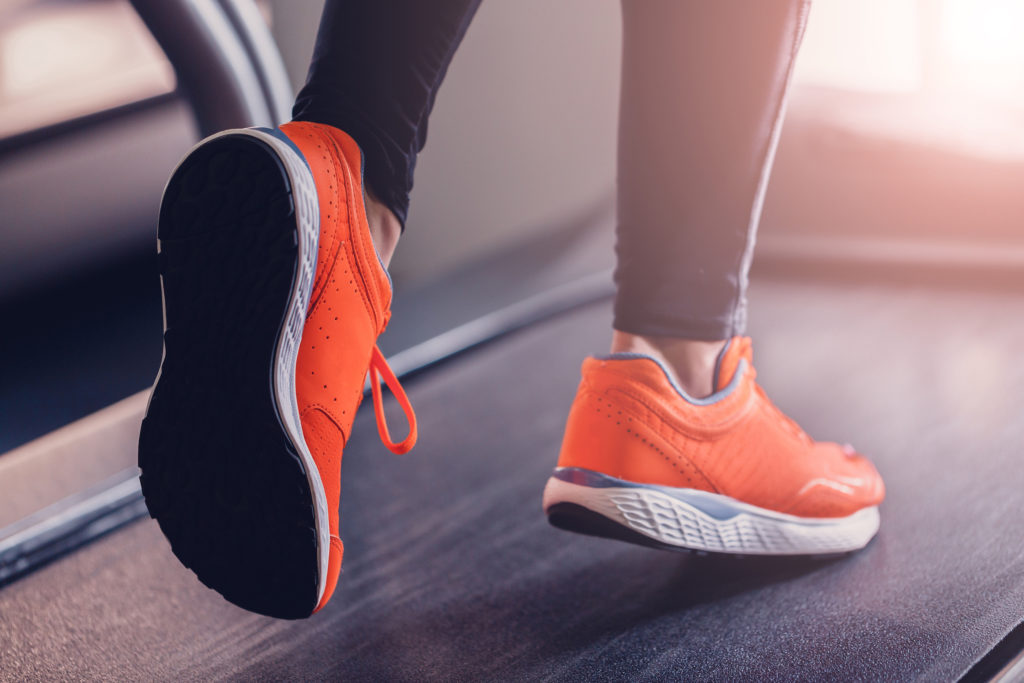 If you're in the market for a compact home treadmill, LifeSpan's TR2000i is definitely worth checking out. This well-priced model is ruggedly built and surprisingly sophisticated for such a compact treadmill.
Highlights of the TR2000i include a 7″ interactive touchscreen display, 21 workout programs to choose from, and built-in bluetooth speakers.
It's also backed by one of the best warranties in the industry.
Being a compact treadmill, the running surface and motor are smaller, making this model more appropriate for walking and jogging than fast-paced running.
But if your workout space is limited and you're looking for a treadmill that won't take up much space, the TR2000i is a smart choice.
Before you make that decision though, you need to know what this treadmill is all about- and that's where this review comes in.
In this article, I'll take you on an up-close-and-personal tour of everything the TR2000i has to offer, including all the essential performance specs and features you should be considering before deciding on your next treadmill.
After reading, you'll have a much better idea as to whether or not this model is the right fit for your home gym.
Ok, let's get to it already.
The LifeSpan TR2000i Fold Up Treadmill
LifeSpan has made a name for themselves by providing straightforward equipment that works exceptionally well.
You won't notice anything particularly fancy about their features or design, but when you compare their specs to other models in the same class, you start to notice that this company prioritizes function over everything else.
And that's the way I prefer my fitness equipment- performance first, everything else second.
LifeSpan has been around for nearly 20 years, which I'd consider kinda "middle-aged" for a home fitness company.
In that time, they've made a bit of a name for themselves for their high-quality cardio equipment.
They've also been pioneers in the workplace fitness genre, with their lineup including several high-end desk treadmills and desk cycles that are changing the way people stay healthy while at the office.
The TR2000i is one of several folding home treadmills the brand currently offers. It's one of their more affordable models, costing just a little more than their most affordable TR1200i.
Pros
Compact size
EZ Fold frame
300 lb weight capacity
0- 11 mph
15 levels of incline
2.5″/2.0″ rollers
7″ touchscreen display
21 workout programs
Bluetooth speakers
QuickSet buttons
IntelliStep feature
IntelliGuard safety feature
Chest strap heart rate monitor compatible
Easy assembly
Good warranty
Cons
Running surface a little small for taller users
Motor a little weak for running
Chest strap not included
Running Surface
When it comes to comparing treadmills, I think running surface is the best place to start. And that's because you can tell so much from looking at this simple spec.
To make sure we're all talking about the same thing here, the running surface of a treadmill is the measurement of how much belt area you have available to you during your workouts. You know, how much operational space you have to walk or run.
This measurement is measured in inches, and usually written as width x length.
Regardless of your size, have a larger running surface is always going to feel more comfortable. Having an extra spacious deck gives the feel of using a commercial grade treadmill- which is the point of reference for all of us I'm assuming.
One of the biggest complaints I hear when people purchase a new treadmill is that it doesn't "feel like the one they've used at the gym".
A lot of factors contribute to this, but running surface is a biggie. Commercial treadmills usually have much larger running surfaces than home models (and cost a lot more too).
Anyway, what I'm trying to say here is that large running surfaces are a good thing.
If you're using a treadmill with a running surface that is too small for ya, you might feel like you're walking on a tightrope (if it's too narrow) or maybe like you're having to march in place (if it's too short for ya).
Neither condition is comfortable.
The gold standard for home treadmills is a running surface of 20″ x 60″. It's been shown that people of most heights can comfortably use (walk or run) treadmills this large.
That said, the TR2000i comes with a running surface that measures 20″ x 56″.
The width here is great, the length is a bit short of the 60″ gold standard I was just talking about. This tells me that the TR2000i is  better suited for a) shorter users or b) folks who are more interested in walking or jogging.
If you're under 6′, you'll probably be ok with the shorter running surface. But those that are nearing or exceeding 6′ will likely feel a little cramped with higher speed running.
But considering this is a compact treadmill, the smaller running surface is expected.
In terms of the frame, the TR2000i comes with a 300 lb weight limit, which is pretty average for quality treadmills in this price range. It means that this treadmill will be able to safely accommodate most users.
Something else to consider here is the compactness of this model: unfolded this machine is only about 70″ long (less than 6′), folded that drops down to a mere 41″.
This small size makes this model an attractive choice for smaller homes. And considering this small footprint, the running surface is actually a little bigger than expected (many compact treadmills come with 18″ widths and 50″ lengths).
So, when it comes to the running surface of the TR2000i, the length may be a little short for taller users to run, but it's not bad considering how compact this treadmill is designed to be.
Motor
Once I've considered the running surface of a treadmill, my next stop is always motor strength. Just like running surface, this spec tells us a lot about the quality of the treadmill and how it should be most appropriately used.
When it comes to motors, stronger is usually preferred to weaker- I doubt many of you reading this find this surprising.
Stronger motors can reach and maintain higher speeds a lot more efficiently than weaker motors. This means, theoretically anyway, that stronger motors should last longer and operate more smoothly and faster (and slower) speeds.
Home treadmills usually come with DC motors with strengths that fall somewhere between 2.0 – 4.0 continuous horse power (CHP).
Higher-end treadmills may come with AC motors, but that's a discussion for another day.
If running is a priority, I suggest you look for a treadmill with at least 3.0 CHP under the hood. This is plenty of strength for most treadmills to ensure quiet, smooth operation at all speeds.
Walkers and lighter intensity joggers can make do with weaker motors.
Keeping this in mind, the TR2000i comes with a 2.5 CHP motor.
This tells me that this treadmill is better suited for walking and jogging than faster paced running. After all, this is below the 3.0 CHP threshold we just discussed.
This treadmill can reach a top speed of 11 mph, which is plenty fast for most of us, but a little below the 12 mph top speed many more powerful home treadmills can reach.
The TR2000i also comes with 15 levels of power incline though, which can instantly add intensity to walking or jogging workouts.
The last thing I want to mention in this section are rollers. On a treadmill, the rollers are the part that physically make contact with the belt, allowing it to be propelled along the deck as the motor does its thing.
Roller size is important to consider too, because larger rollers have their advantages- like smoother operation and extended belt/motor life.
The TR2000i comes with 2.5″ rollers in the front and 2.0″ rollers in the back.
Considering most high-end treadmills come with 2.0 – 3.0″ rollers, this is actually pretty good (especially considering the price).
So, overall, when it comes to the motor, this treadmill has plenty of power to fuel walking and jogging workouts, but is a little lacking for serious running. The rollers are pretty large, which is a good thing.
Features
The LifeSpan TR2000i comes with the following features:
7″ full color display- the touchscreen display is one of this treadmill's most impressive features. The sophisticated display makes it easy to choose and view all of your workout data. You get to choose between 3 different views and even use your finger to draw out custom workouts.
21 workout programs- this treadmill comes with a generous selection of workouts to choose from. With this many options at your disposal, getting bored with your routine won't be a plausible excuse. Workouts include heart rate options, custom programs, and 17 other standard programs based on your goals.
Bluetooth speakers- the console comes with dual built-in bluetooth speakers, allowing you to listen to your music or devices wirelessly during your workouts.
Chest strap compatible- this treadmill comes with grip heart rate monitors, but is also compatible with chest strap monitors (one not included).
IntelliStep- this feature is like a built-in pedometer, keeping track of all the steps you take during your workouts.
IntelliGuard- this is a safety feature that automatically turns the belt off if you stop exercising for 20 seconds.
QuickSet buttons- these buttons allow you to instantly set your speed and incline to predetermined settings without having to continuously push the up and down arrows. This comes in especially handy during interval training, when you may be changing speeds or inclines often.
Water bottle holders- the console includes 2 over sized water bottle holders, that could also hold stuff like remotes, keys, or pretty much anything else that might need storing during your workouts.
Media shelf- there's a small media shelf built into the console, giving you the option to set a tablet or magazine up there for entertainment (but it will block your view of the display screen).
Assembly
LifeSpan does a great job of making the assembly process as painless as possible here. I think most folks should be able to assemble the TR2000i without any issues.
The assembly manual is easy to follow with large images and well-written descriptions along the way.
There's really not that much to it, considering the frame and masts come pre-assembled. All you'll be responsible for is attaching a few covers, attaching the handlebars, the console, and the water bottle holders.
That's it.
All of the necessary tools and hardware are included.
It would be nice to have a second set of hands available to get the treadmill in its final destination before assembly, but otherwise, I bet most people could have this treadmill out of the box and operation in 30 min or so.
Warranty
The TR2000i comes with the following warranty:
Lifetime frame
5 year motor
2 year parts
1 year labor
Overall, a good warranty given the price of this treadmill. My only complaint is that I'd like to see a lifetime warranty on the motor as well.
Many high-end treadmills, even in this affordable price range, offer lifetime on the motor (like the affordable Sole F63).
The parts guarantee is pretty good and the labor warranty is standard.
Final Thoughts
I think LifeSpan has a nice treadmill here with their TR2000i. For a compact treadmill, it has a lot to offer in the console department with its touchscreen display and generous selection of workout programs.
Given the shorter running surface and weaker motor, this treadmill would work best with smaller (shorter) users or folks looking for a nice walking/jogging treadmill.
If you're looking for a more serious running machine, you should consider a larger, stronger model (check out our running treadmill guide for some great ideas).
But when it comes to smaller treadmills that don't take up much space, the TR2000i is at the top of the pack. Easily one of the best compact treadmills for homes with limited workout space. Recommended.