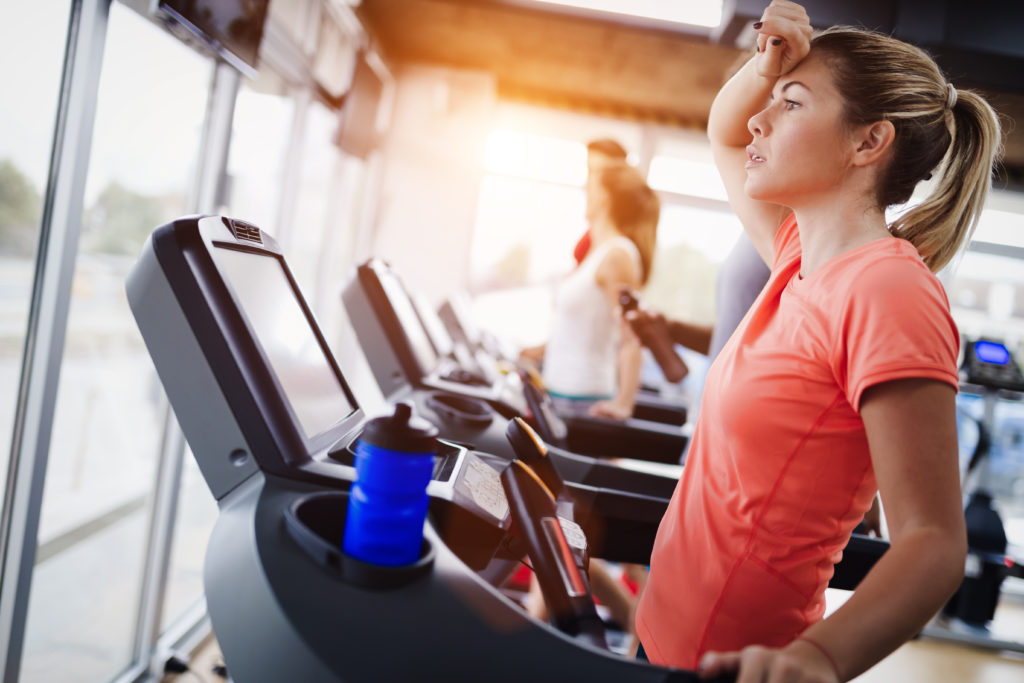 LifeSpan's TR3000i is a compact folding treadmill designed with small workout areas in mind. With its small footprint, even when unfolded, this treadmill may fit workout spaces you never thought would hold a treadmill.
Although the frame is small, it comes with some pleasant surprises in the features department. Highlights include a sophisticated touchscreen display, and EZ fold hydraulic system, and a great warranty.
If you're in the market for a compact treadmill, the TR3000i is a pretty wise choice. But like all treadmills, this model does have its limitations and isn't recommended for everyone.
Luckily, you've come to the right place because in this review we'll discuss everything this treadmill has to offer.
After reading, you'll know whether or not the TR3000i is the right choice for your home gym.
The LifeSpan TR3000i Folding Treadmill
The LifeSpan Fitness brand has been around since the early 2000's. Not to be confused with the luxury fitness brand Life Fitness, this company specializes in more budget friendly options (with most models falling under $2000).
While this company offers all the traditional fitness equipment you'd expect (ellipticals, treadmills, bikes, etc), they also specialize in innovative workplace fitness machines like treadmill desks and bike desks.
The result is a unique lineup with some really interesting machines. Oh, they also have a Cycle Boxer, which combines a punching apparatus with an exercise bike- yeah, I know, that sounds awesome.
Anyway, back to treadmills.
The TR3000i is one of six folding treadmills currently in their lineup. The treadmills all differ slightly in terms of motor strength and running surface size.
The TR3000i is the highest-end model of the smaller running surface machines.
LifeSpan also offers a few higher-end, commercial grade treadmills that are reasonably priced (like their TR7000i Commercial Treadmill).
Pros
350 lb weight capacity
Top speed of 12 mph
15 levels of incline
2.5″ / 2.0″ rollers
Compact footprint
Folds easily with EZ fold hydraulic system
7″ color touchscreen display
Large library of workouts
Bluetooth speakers
USB charging port
IntelliStep feature
IntelliGuard feature
Quick set speed/incline buttons
Great warranty
Cons
Small running surface
Fairly weak motor
No chest strap included
Running Surface
Personally, I consider running surface size the single most important spec to consider when purchasing a treadmill. That's because no other spec or feature contributes more to overall comfort during use.
As you probably know, the running surface of a treadmill describes the usable surface area of the belt (measured in inches). That is, how much room you have to work with on the belt.
Larger running surfaces mean more wiggle room during your workouts. They also mean less worrying about stepping off the belt if you drift a little from side to side.
The amount of running surface that you need depends mostly on your height and leg length. That said, high quality home treadmills usually come with at least a 20″ x 60″ running surface.
It's been found that treadmills with these dimensions can comfortably fit users of most heights.
So, how does the TR3000i stack up?
This treadmill comes with a running surface that measures 20″ x 56″. The width is fine, but the length is shorter than the 60″ gold standard we like to see on home treadmills.
This means taller folks may have to shorten their stride a little when sprinting. At 56″ though, walking and jogging should be fine for most folks.
The shorter running surface allows the TR3000i to maintain a smaller footprint, which is helpful for homes with limited workout space.
When it comes to frame integrity, this treadmill scores highly. I like to look at the machine weight and weight capacity for objective measures of frame quality.
With an assembled weight of 225 lb and a max weight capacity of 350 lb, it's evident that this treadmill is solidly built- proof that small treadmills can be durable.
For comparison's sake, many treadmills in this price range max out at 300 lb or so. Higher weight limits mean stronger frames because they have to be able to withstand the forces of heavier users running at top speeds.
Overall, the TR3000i falls a little short (get it?) when it comes to its running surface, but the smaller deck makes it more compact. Users under 6′ will most likely have enough room (but taller folks will probably need a longer machine for running).
Motor
A treadmill's motor is its engine- it's responsible for powering the belt during your workouts.
When it comes to treadmill motors, stronger is better. Generally speaking, a stronger motor won't have to work as hard as a weaker one to maintain the same speed.
This means stronger motors usually run more smoothly and are a little quieter.
They also last longer, since they aren't being taxed as much during each workout.
Most home treadmills come with motors in the 2.0 – 4.0 CHP range (CHP = continuous horse power, or the power the treadmill can maintain over time). If you'll be running often, you should look for a treadmill with at least 3.0 CHP to ensure smooth operation.
Keeping this in mind, the LifeSpan TR3000i comes with a 2.75 CHP motor.
This falls in the middle of our expected range, but is just shy of the 3.0 CHP threshold recommended for regular running.
This tells me that this treadmill is probably best suited for walking and jogging (especially considering the shorter belt length). Serious runners should consider a treadmill with a stronger motor (check out our guide on running treadmills for more ideas).
When it comes to rollers (another important feature to consider), larger is better again- larger rollers make for smoother belt action and prolongs the life of the belt, the rollers, and the motor.
This treadmill comes with 2.5″ rollers in the front and 2″ rollers in the back. Both of these sizes are respectable. It would be nice to see the 2.5″ rollers in the back as well, but for the price this is acceptable.
The TR3000i comes with a top speed of 12 mph, which is standard for home treadmills. It also comes with 15 levels of power incline, giving you more versatility in your workout options.
When it comes to shock absorption, this treadmill scores pretty highly with 8 independent compression shocks dispersed evenly throughout the deck.
This feature makes for a more comfortable experience, reducing compression forces through your ankles, knees, and hips.
As I mentioned at the beginning, the TR3000i is a folding treadmill. This means you can fold the deck vertically after use. LifeSpan's EZ fold hydraulic system makes this easy for ya.
Folded, this treadmill has a footprint less than 3′ x 4′, making it accessible to even the smallest of workout areas.
Overall, the TR3000i's motor is a little on the weak side for serious running, but should be well equipped for comfortable walking and jogging.
Features
Full-color touchscreen display- the 7″ display allows you to choose between 3 different views to track all your workout data. The gauge view is pretty cool, looks like the console of a vehicle. The track view is nice for the folks who are used to walking outside on a track.
21 workout programs- this treadmill offers a lot of workout programs to choose from. These include a few heart rate programs, custom programs, and several preset options to choose from.
Bluetooth speakers- you can listen to your workout music wirelessly through the 2 built-in speakers in the console.
USB charging port- this feature is a must these days, no one wants to drain their phone battery during their workout.
Quick set buttons- these convenient buttons allow you to instantly set the speed and incline to certain values with the push a button.
Contact heart rate monitor- there are grip heart rate monitors located in the handlebars. This treadmill is also compatible with chest strap monitors, but one isn't included with purchase.
3 speed fan- the built-in fan can help keep you comfortable during your workouts.
IntelliStep- this LifeSpan feature is basically a built-in pedometer that keeps track of all your steps while on the treadmill.
IntelliGuard- this is a safety feature that automatically pauses the treadmill if you step off the belt.
Media holder-there's a media holder integrated into the console, but you will have to block your view of the display if you place a tablet or book there.
Assembly
Putting the TR3000i together should be fairly straightforward. The included assembly manual is well-organized and easy to read.
Written instructions are included with each image. Speaking of images, the assembly manual includes large images that are easy to see.
I hate it when instructions come with tiny pictures and you end up guess where stuff goes.
Given the weight of this treadmill, it's a good idea to have a second person around when it comes to moving your treadmill to your workout area.
But once it's there, assembly shouldn't be too bad. The deck comes preassembled, you just have to add a few covers and attach all the console stuff.
Just make sure you don't pinch a finger in the folding frame.
Warranty
The LifeSpan TR3000i Folding Treadmill comes with the following warranty:
Lifetime frame
Lifetime motor
5 year parts
1 year labor
LifeSpan offers a very generous warranty on this model. You can't beat a lifetime guarantee on both the frame and motor (and that isn't always a given in this price range).
Five years on parts is also very good- few companies offer longer than this, regardless of price range.
A year on labor is pretty standard. Some companies these days will offer 2, but 1 is industry standard.
Overall, great warranty.
Final Thoughts
Like pretty much all LifeSpan treadmills, the TR3000i is a well-built machine. Although the running surface is a little on the small side, the frame is heavy-duty with a higher than expected weight capacity.
The motor should have adequate strength for comfortable walking and jogging, though avid runners should consider a stronger model.
The touchscreen console is pretty advanced and there are plenty of workout options to choose from.
And I love the warranty LifeSpan backs this treadmill up with.
Overall, I think the TR3000i would make a great treadmill for walking or for smaller users (given the motor and size of the running surface).
Its combination of features and warranty make the TR300i one of the best compact treadmills around. Recommended.