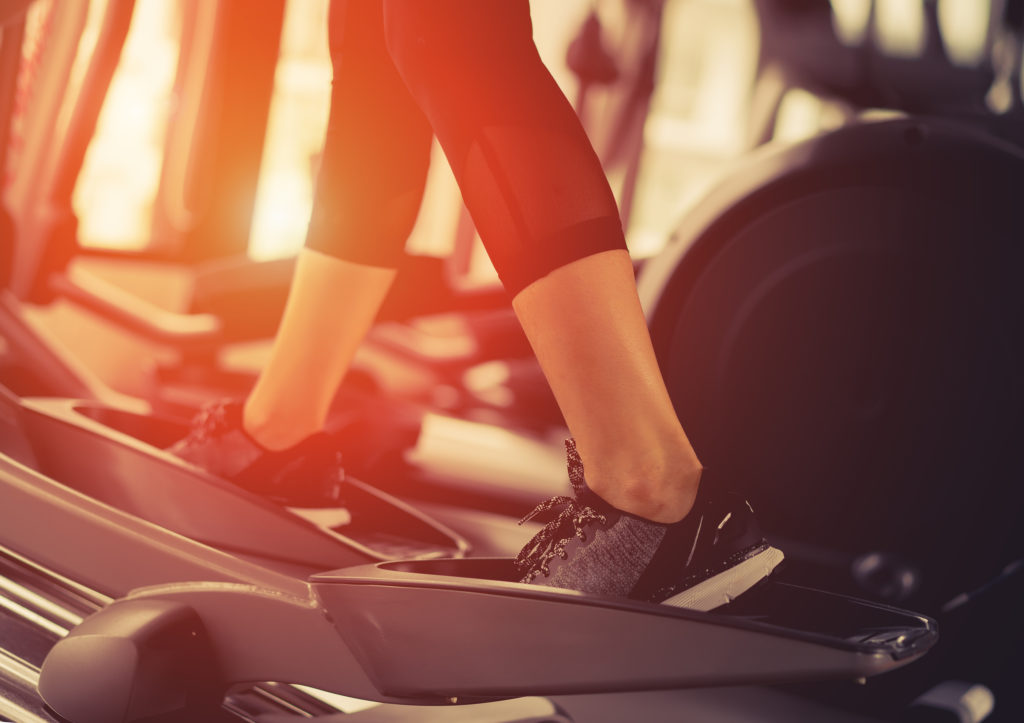 If you ask me, the most important spec to consider when purchasing any elliptical is stride length. This is especially important for tall people because you want to make sure the elliptical you choose will be comfortable to use.
Stride lengths vary greatly on home models, but the best ellipticals for tall people are going to be the ones with the longest (or adjustable) stride lengths.
How long is long enough?
Well, that depends on your height and leg length. But since this is a guide for taller folks, we're going to be discussing ellipticals that can comfortably fit people 6′ tall and taller.
That means we're talking stride lengths in the 20″- 22″ range.
But it takes more than just ample leg room to make a quality elliptical. In this guide, we'll discuss everything tall folks should look for when searching for the perfect elliptical.
I'll also provide my top picks based on the criteria we discuss. After reading, you'll be well equipped to find the best option for your home gym.
Finding The Right Elliptical Starts With Stride Length
I mentioned stride length in the intro there. Regardless of your height, the first thing you're going to want to examine when researching a new elliptical is its stride length.
And to make sure we're all on the same page here, an elliptical's stride length is defined as the distance the 2 pedals are moving apart (front to back) during use.
This spec is so important because nothing else is going to contribute as much to the overall feel and comfort you have during your workouts.
Simply put- if the stride length is too short, your workouts are going to suffer.
The gold standard for home ellipticals is a stride length of 20″. At this length, most users are going to be able to use the elliptical comfortably.
But since we're here to think about the folks that are above average in the height department, we're going to be looking at ellipticals that have longer stride lengths.
It's hard to definitively say the exact height parameters each stride length can comfortably accommodate.
That's because even 2 people of the same height can have different leg lengths and different comfortable strides during exercise.
Generally speaking, a 20″ stride length works great for folks in the 5'6″ to 6′ tall range. And a lot of folks that are a few inches taller than 6′ will likely be fine with a 20″ stride length too.
Personally, I'm 6'1″ and I do just find with a 20″ stride.
But if you're taller than say 6'2, it's a good idea to go with a longer stride length to ensure you won't have to cut your stride short (for more info, check out my stride length guide).
One of the tell-tale signs of inferior ellipticals is a really short stride length. Some really cheap models come with 12″-14″ strides, which would be very uncomfortable for someone above 6′ tall.
Anyone else picturing themselves marching in place?
Don't worry, that won't be an issue with the ellipticals that made this list. All of the models that were chosen here have at least a 22″ stride length, making them comfortable for users who are 6'6″ and above.
There are other considerations that should be made too though. These include:
Weight Capacity
Being tall doesn't necessarily mean being heavier, but often the 2 go hand-in-hand. When comparing ellipticals, it's a good idea to consider the machines' weight capacities as well.
If I'm stuck between 2 models, I always go with the one with the biggest weight capacity (or longest warranty, but more on that in a sec).
Having a higher weight capacity means the elliptical should have a more durable and more solidly-made frame.
After all, if it didn't, it wouldn't be able to tolerate the increased stress of a heavier user during use.
When looking at home ellipticals, I always look for at least a 300 lb weight limit. Anything less is indicative of a smaller, lighter-duty machine.
All of the ellipticals on this list have at least a 350 lb weight capacity, with several going up to 400 lb.
Warranty
The manufacturer's warranty is another key spec to examine when trying to find the right elliptical. Tall and short users alike can all benefit from a longer warranty.
Similar to weight capacity, longer warranties indicate superior craftsmanship.
I mean, let's be real- manufacturers aren't stupid. They know when their product is junk and in these cases, they aren't going to provide long guarantees.
On the other hand, a longer warranty is a great sign of overall quality- if a manufacturer is willing to offer a long warranty, that means they have faith that their product is tough enough to last.
Quality ellipticals will come with lifetime frame warranties. They will also come with at least 5 years on parts and a year or 2 on labor.
The 5 Best Home Ellipticals For Tall People
#1 Sole E95S
It's no secret that I'm a huge fan of Sole Fitness. I celebrate their entire lineup of ellipticals, treadmills, and exercise bikes. I love that they concentrate more on function than hi-tech features.
They also back all their products up with some of the best warranties on the market.
Their E95S is their most advanced home elliptical to date and easily the best elliptical for tall people I've come across.
This is largely due to the power adjustable stride length this model comes with. The E95S allows you to electronically adjust the stride length between 18″ – 24″.
Not only does this elliptical reach a max stride length of 24″ (which is huge by the way), but it can also be set to a minimum of 18″, which is great for homes with tall and shorter users alike.
There aren't many ellipticals that offer this feature- honestly, I can't think of another.
Besides the adjustable stride length, the E95S is rocking a 400 lb max weight capacity. This allows it to not only fit taller users, but heavier users as well.
It's also a great indication as to how solidly-built this thing really is.
The warranty is another department where the E95 really shines. Sole backs this model up with the following guarantee: lifetime frame, 5 year parts and electronics, 2 year labor.
Other great features include a 30 lb flywheel, bluetooth capabilities, and a 10″ LCD console.
Overall, if you're tall and looking for the best elliptical to meet your needs, there's no finer than the Sole E95S. Truly an amazing elliptical. See full review.

#2 Bowflex BXE216
The Bowflex brand is about as recognizable as any in the home fitness world. And even though they gained their initial fame with their Bowflex home gyms, I'd bet it's their cardio equipment that's brining in most of the bucks these days.
Bowflex currently only offers 2 ellipticals, and they both made this list. The BXT216 is their heavier-duty model and is very comparable to the E95S.
The biggest difference being the adjustable stride length.
Although the stride on the BXE216 isn't adjustable, it's plenty long at 22″, easily allowing it to fit users well over 6′ tall.
Like Sole, Bowflex designed this elliptical to be tough and rugged, concentrating more on impressive performance specs than hi-tech console features.
The BXE216 comes in with a total machine weight of 263 lb, allowing it to hold users who weight up to 400 lb. Both of these numbers are praiseworthy for a home elliptical.
The warranty on this model is also praiseworthy, although it's not quite as generous as the guarantee Sole offers: 15 year frame, 5 year parts and electronics, 2 year labor.
Although it's the performance specs that got this treadmill on this list, the tech features aren't bad either- this elliptical also comes with 11 built-in workouts, bluetooth capabilities, and quick-touch resistance/incline settings.
Put all this together and you've easily got one of the best elliptical machines for tall folks. See full review.

#3 Bowflex BXE116
It's pretty impressive that both Bowflex models made it on this list. The BXE116 is just a slightly less heavy-duty version of the BXE216 mentioned above.
Bowflex watered this model down a little, giving it a lighter flywheel, fewer workout programs, and a smaller weight capacity.
It also comes with a smaller price tag, making it a nice option if the BXE216 is a little out of your price range.
All that said, the BXE116 still has a lot to be proud of.
This elliptical also comes with a 22″ stride length, making it a perfect choice for taller users. The weight capacity on this model is a little lower, but it's still able to safely hold users up to 375 lb.
And even though this elliptical is a little cheaper, it still comes with the same great warranty as the BXE216.
Other highlights of this elliptical include 25 resistance levels, quick-touch resistance/incline settings, and bluetooth compatibility.
Overall, if you like the BXE216, but want to save a little cash, the BXE116 is a smart choice. P.S.- neither elliptical is available through Bowflex these days, you have to purchase through other retailers.

#4 Diamondback 1060ef
Diamondback only offers 2 ellipticals, but they both come with adjustable stride lengths that would be great for taller users. The 1060ef comes with a slightly longer stride though, which earned it a spot on this list.
Unlike the Sole E95S, which offers a power adjustable stride, the stride on the 1060ef (as well as that on the 1280ef) is adjusted manually- it doesn't take long, but you wouldn't be able to change it in the middle of a workout without getting off the machine.
The 1060ef comes with 3 stride lengths available: 18″, 20″,  and 23″.
With a 23″ stride option, this elliptical is capable of fitting even the tallest athletes out there, but it can also accommodate smaller folks with the other 2 options.
Other than having a very generous stride, the 1060ef comes with some other impressive specs worth mentioning. Like 12 built-in workout programs, 16 levels of magnetic resistance, and Polar chest strap compatibility.
This elliptical is also surprisingly compact, making it a great option for smaller homes. With a footprint of only 49″ x 29.5″ (L x W), this machine takes up a lot less space than most traditional home ellipticals.
And just because it's smaller, doesn't mean it's giving anything up in the durability department- the 1060ef can hold users weighing up to 300 lb.
This elliptical is also backed by a solid warranty (5 year frame, 3 year parts, 1 year labor), which is always a must.
Overall, if you're in a household with multiple users of differing heights, the Diamondback 1060ef and its adjustable stride length would make a great choice. See full review.

#5 Nautilus E618
Rounding out our list is a surprisingly affordable elliptical from Nautilus. If you're tall and working with a tighter budget, the E618 might make a lot of sense (for the sake of comparison, this model is almost half the price of the Sole E95S).
And even though this elliptical is more affordable, it's still packing a lot of heat in the departments that matter.
The E618 also comes with a 22″ stride length, which is pretty unheard of in this price range.
Although this model isn't quite as technologically advanced as the previous models, it actually comes with the most generous selection of workouts to choose from with 29 built-in programs.
This elliptical is also packing a 30 lb flywheel and 25 levels of resistance, meaning it should be capable of challenging even the more advanced athletes out there.
The E618 isn't as heavy-duty as the previous ellipticals on this list either, but given the price, it's more than forgivable.
This elliptical has an assembled machine weight of 210 lb and is capable of holding users weighing up to 350 lb.
It also comes with a generous warranty: 15 year frame, 5 year parts and electronics, 2 year labor (it's no coincidence that this is the same as the Bowflex warranties- both brands are owned by the same parent company).
Other perks of the E618 include a tilting console, a max incline of 10°, and an included chest strap monitor with purchase.
Overall, the Nautilus E618 is a great elliptical that's very well-priced. If you're dealing with a smaller budget, this is a wonderful choice. See full review.

Final Thoughts
I hope this list is proof that there are ellipticals out there that can comfortably accommodate the taller folks. It just comes down to knowing what to look for and where to look.
If you're well over 6′ tall, I think it's a good idea to go with a 22″ (or higher) stride length.
The extra length is going to make running out of room a lot less likely and should allow you to stretch out completely with each stride (which more closely mimics running).
Besides stride length, I think it's a good idea to pay close attention to the weight capacity and warranty for any elliptical you're considering.
Higher numbers in both of these departments is always a good sign.
I didn't mention flywheel weight much in this guide, but it's a good idea to consider that spec as well. Heavier flywheels are preferred because they usually make for smoother, more substantial workouts.
We stressed the performance specs in this guide, but you obviously want to find a model that comes with as many of the features you're looking for too.
None of these models come with fancy HD touchscreens or anything like that, but they do come with generous workout libraries, bluetooth capabilities, and power inclines.
The Sole E95S is the only home model I've come across that offers a true power adjustable stride length, making it a great choice for homes with multiple users at different heights.
Oh, I probably should've mentioned this in the intro, but I like to differentiate between ellipticals and free striders (which can also offer very long stride lengths)- their motions are so different I consider them to be 2 different styles of machine.
But free striders are another good choice for really tall users.
Alright, that about does it. I hope you found this guide helpful. If you have any questions or comments, you know what to do.