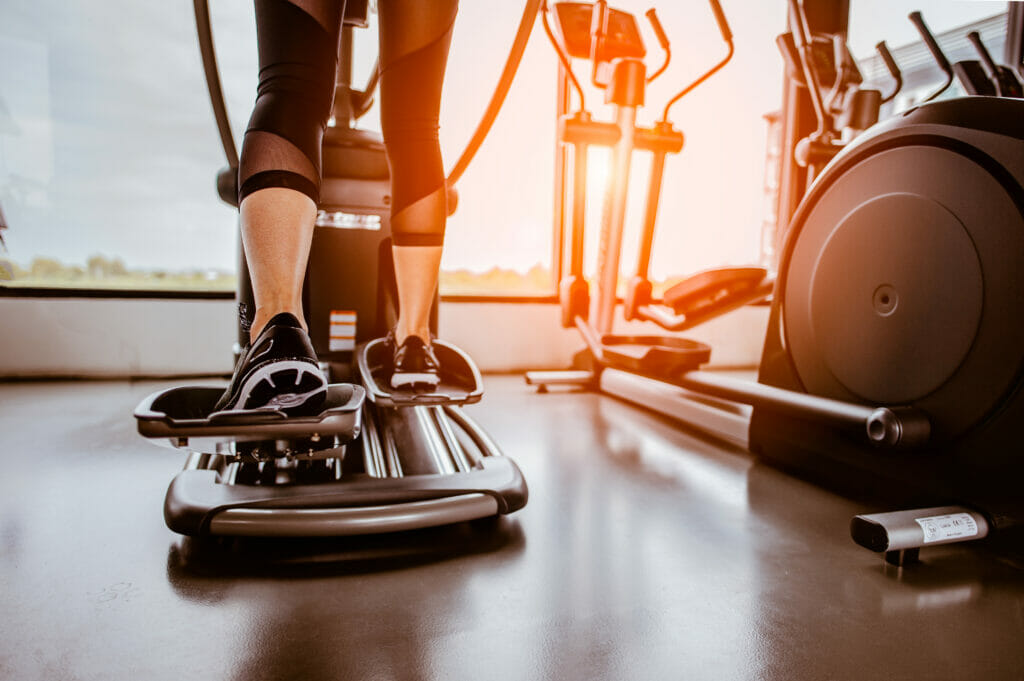 The 1280ef is Diamondback's most technologically advanced elliptical trainer to date. Actually, it's their most technologically advanced anything to date.
If you appreciate Diamondback's attention to performance detail, but have always been a little bummed by their simple consoles, the 1280ef could be the elliptical you've been waiting for.
This model comes with a 10″, wi-fit connected, Android enabled touchscreen that gives you access to all the entertainment and fitness apps you'd want to play with during your workouts.
This is huge for Diamondback, but tech aside, the 1280ef is also sporting some great performance features, like an adjustable stride length, 15 levels of magnetic resistance, and 12 pre-programmed workouts.
The 1280ef also comes with a compact footprint, taking up less space than most home ellipticals.
Overall, I think Diamondback has a winner here.
But there's no need to take my word for it- the numbers speak for themselves.
In this review, I'll go over all the key specs and features this elliptical has to offer. After reading, you'll have a better idea as to whether or not this is the right elliptical for your home gym.
The Diamondback 1280ef Adjustable Stride Elliptical Trainer
If you're familiar with the Diamondback brand, you're probably aware that exercise bikes are their speciality. Diamondback actually started out as a manufacturer of bicycles (and still is by the way) before adding exercise bikes to their repertoire.
And when it comes to exercise bikes (especially spin bikes), they have some of the best on the market.
But one thing all of their exercise bikes have in common is a very simple console.
They all come with basic monitors that really just display the appropriate metrics and, to be honest, they all look a bit dated.
Personally, I don't see this as that big a deal, because I'd rather see impressive performance specs than fancy tech features (says the guy with a Peloton).
But I understand the advantage higher-tech monitors provide.
Which brings me to the 1280ef, Diamondback's newest and most tech-save product to date.
With this elliptical, Diamondback decided to embrace our connected age and provide a large, touchscreen monitor that is app friendly.
And with a sales price under $2000, the 1280ef is a very reasonably priced machine.
Pros
Adjustable stride length (17″ or 22″)
Quiet, magnetic resistance
16 levels of resistance to choose from
10″ touchscreen display
6 built-in entertainment/fitness apps
12 pre-programmed workouts
Multi-grip handlebars
Polar chest strap compatible
Compact frame
350 lb weight capacity
USB charging port
Tablet holder
Good warranty
Cons
No bluetooth
Chest strap not included
Stride Length
If I've said it once, I've said it a hundred times- I think stride length is the single most important spec to consider on an elliptical.
This simple stat tells us whether or not the elliptical is going to fit you comfortably, and let's be real- if the elliptical isn't comfortable to use, eventually you'll stop using it.
Stride lengths are measured in inches and this spec refers to how far apart your feet are moving as you workout.
Smaller, cheaper ellipticals usually come with smaller stride lengths in the 14-16″ range; larger, higher-end models tend to come with larger strides in the 18-22″ range.
A 20″ stride length is considered the gold standard for home ellipticals because it falls right in the middle, allowing folks of most heights to use them comfortably.
Now, there are a select few (like the 1280ef) that come with adjustable stride lengths, meaning you can choose between different stride lengths depending on your height or preference.
There aren't that many ellipticals that offer this, but it's a pretty sweet feature, especially if you've got multiple users in your home and there's a pretty significant height difference between them.
The 1280ef comes with the option to choose between either a 17″ or a 22″ stride length.
Their other elliptical, the 1060ef, is also an adjustable stride length machine and that comes with 3 options: 18″, 20″, or 23″.
I like that Diamondback simplified the options on this model and I think it's smart that they made the shortest stride smaller at 17″.
This makes the 1280ef more approachable for shorter folks, which was one of my biggest concerns for the 1060ef. And realistically, the taller people that would be ok with 20″ will likely be fine with the 22″ stride as well.
By the way, you choose your stride by manually unscrewing a knob and pulling the pin out (unlike Sole's E95S which comes with a power adjustable stride)- make sure you select the same stride for each leg!
Overall, the 1280ef scores highly with the option to choose between a shorter or longer stride length, allowing it fit a wide range of users.
Flywheel
Most home ellipticals use a weighted flywheel based resistance system, just like spin cycles. As you pedal these machines, the flywheel spins- the heavier that flywheel is, the more momentum it builds, which creates a smoother sensation.
These heavy flywheels are often paired with magnetic resistance systems, that work by placing magnets near that metal flywheel.
The resistance is adjusted by bringing those magnets closer (more resistance) or farther away (less resistance).
However, the 1280ef doesn't use a weighted flywheel. Instead, according to Diamondback, it uses a "more precise" magnetic resistance system without the need for a weighted flywheel.
It is true, you don't need a heavy flywheel to create a smooth feel as long as your resistance system is sophisticated enough.
After all, most commercial grade ellipticals don't use heavy flywheel designs and they work great.
I can't attest to how much "more precise" Diamondback's resistance system is, but users have been very pleased with how this elliptical feels during operation.
According to users, the 1280ef feels smooth during workouts and is very quiet.
This elliptical comes with 16 resistance levels, giving you a lot of control over the intensity of your workouts.
Overall, the 1280ef doesn't use a heavy, weighted flywheel like most home models, but users seem to be very satisfied with magnetic resistance system that is utilized.
Features
The Diamondback 1280ef comes with the following features:
10″ touchscreen display- the large, touchscreen monitor is the star of the show on this elliptical. This monitor is Android based and comes with a lot of tech features you won't find on other Diamondbacks. This wi-fi enabled monitor comes with 6 entertainment/fitness apps including: Netflix, YouTube, Spotify, Chrome, iRout, and Kinomap. These apps can make your workouts a lot more enjoyable, but they're the only apps you'll be able to use (you can't download more apps to the console). The Kinomap app can track all your workout metrics, as well as give you guided workouts (the resistance is controlled automatically), but you can't connect to outside apps via bluetooth.
12 pre-programmed workouts- besides all the apps mentioned above, there are also 12 built-in workouts to choose from. These include standard workout profiles, as well as heart rate guided workouts and watt constant workouts. There's also a recovery function, that times you long it takes for your heart rate to come back to normal after your workout, as well as the ability to save data for 4 users.
Multi-grip handlebars- the handles are large and offer several grips to choose from. A nice feature that adds to overall comfort and also lets you target different upper body muscles during workouts.
Wireless heart rate receiver- the monitor is compatible with Polar non-coded chest straps, however one isn't included. You can use the grip monitors as well if you don't want to invest in a chest strap.
USB charging port- this features allows you to plug in your phone or tablet and charge them during your workout.
Compact frame- if you look at the shape of this elliptical, it doesn't look like your typical home machine. The floating pedal system means you don't need the extended rails going out that significantly increase the overall footprint. With a footprint of only 50″ x 36″ (L x W), this elliptical can fit in smaller spaces. And even though the frame is smaller, it's still heavy-duty enough to hold folks weighing up to 350 lb.
Tablet holder- there's a tablet holder built-into the console, but it's located right below the touchscreen, so if you do place a tablet there, it'll block your console.
Water bottle holder- allows you to conveniently hold water bottles, soda, beer (no judgment here) or anything else you might find yourself drinking during a workout.
Assembly
Putting this elliptical together should be a fairly painless procedure. Diamondback did a nice job of simplifying the process and their assembly manual is easy to follow.
I like that they provide large, easy to see images for each step and that they include to-scale images of all the hardware included.
There's also written instructions to help you follow along with each step.
The process is pretty straightforward- the main unit comes pre-assembled, so you'll be responsible for attaching the stabilizes, the console, the pedals, and the handlebars.
All of the necessary tools are included.
Overall, assembly should be doable for most folks. It's a good idea to have a second person around, definitely makes moving pieces a lot easier.
I bet most fairly handy individuals can have this elliptical up and running in an hour or so.
Warranty
The Diamondback 1280ef Adjustable Stride Elliptical Trainer comes with the following warranty:
5 year frame
3 year parts and electronics
1 year labor
90 day wear items
This is the same warranty Diamondback offers on all their products and like I say for all my other Diamondback reviews, this warranty is pretty good (although it could be better).
I think the biggest area where there's room for improvement is in that frame warranty.
I wish Diamondback would go ahead and change it to a lifetime guarantee because that's what most high-end brands are offering (especially in this price range).
And I think they could easily do this, because I find it hard to believe that any of their products are gonna have issues with their frames breaking down.
Three years on parts is pretty standard, as is 1 year on labor.
Overall, a solid warranty.
Final Thoughts
That about does it for the 1280ef. I'm a fan of Diamondback as a brand and I think there newest elliptical is a great addition to their lineup.
And although this elliptical isn't perfect, I think it does have a lot to be proud of.
The adjustable stride length is a great feature and something not many home ellipticals can offer.
I also think the touchscreen display is a huge step forward for Diamondback. And even though it isn't bluetooth friendly, the included apps are likely enough to keep most people entertained and happy.
The heavy-duty, compact frame is also impressive because it allows this elliptical to fit in a lot of spaces larger machines simply couldn't.
All things considered, I think the 1280ef is a very nice model. I think it would work great for folks who are looking for more entertainment options from their elliptical or who are working with limited floor space. Recommended.