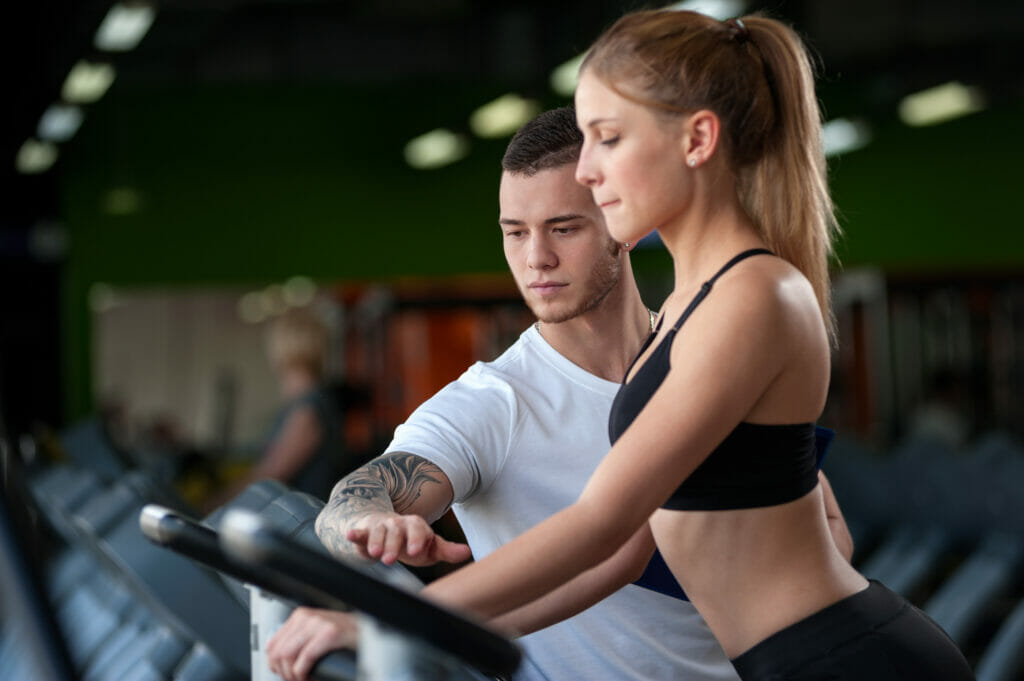 Diamondback's 1060ef looks a lot different than most home elliptical machines on the market today. It's lighter-weight, takes up less floor space, and doesn't use pedals that run along a rail.
The result is a smaller, leaner, easier to move elliptical that would work perfectly for homes with limited workout space.
And besides being compact, the 1060ef has a few other tricks up its sleeve- like the ability to easily adjust the stride length to comfortably fit users of all heights.
It also just so happens to be priced fairly and built by a company that's sporting a stellar reputation for their quality fitness machines.
Long-story-short: Diamondback's 1060ef has a lot to offer and is a great option in this price range.
For the longer story, keep reading the rest of this review.
The Diamondback 1060ef Adjustable Stride Elliptical Trainer
Diamondback is most well known for their bikes- both traditional and of the exercise variety. When it comes to their fitness side of business, they really don't offer that many products.
They've basically got a handful of exercise bikes to choose from and 2 elliptical trainers (including this one).
You know what they say- keep it simple.
I agree with the idea that if you're good at something, there's no need to keep expanding and adding more stuff to your lineup. I like that Diamondback has a speciality.
And there's really no denying that they're good at making awesome exercise bikes.
Diamondback's spin cycles (the 510ic and 910ic) can be found on pretty much everyones "best of" lists in their respective classes because they're well-built and perform quite well.
I can attest to their quality of build because I currently own the 510ic (and have for a few years now) and it works great.
But back to their ellipticals.
The 1060ef is one of 2 models they have in their lineup, with the other being the higher-end 1280ef. The 1060ef is a moderately priced home elliptical with a sales price of roughly $1200.
Pros
Adjustable stride length (18″, 20″, or 23″)
16 levels of magnetic resistance
12 built-in workout programs
4 custom workouts
Compact frame
Polar chest strap compatible
Tablet holder
300 lb weight capacity
Decent warranty
Cons
Stride length could be too long for shorter individuals
No bluetooth
Stride Length
I think stride length should be the first spec you look at when considering a new elliptical. This single detail will tell you a lot about the machine, including whether or not it's going to be comfortable for you to use.
The stride length describes the distance your feet separate with each step.
Most quality home ellipticals come with at least a 20″ stride length, because this is comfortable for most folks. Cheaper ellipticals tend to come with smaller strides and some models, like the 1060ef, even come with adjustable strides.
(For more detailed info on ellipticals and stride lengths, check out my article on the topic).
Having an adjustable stride length is beneficial because it allows users of differing heights to all use the same machine comfortably- this would come in especially handy if you have multiple family members with significant height differences all using the same elliptical.
It's also nice though, because you can change the stride to change the feel of your workout.
Even if you're the only user, you might want to shorten the stride one day to make it feel more like jogging, and then lengthen the stride next time to more closely mimic sprinting.
In the case of the 1060ef, you can choose between 3 different stride lengths: 18″, 20″, or 23″.
This is a nice variety, but I'd like to point out that all 3 of these lengths are on the longer side. This is great for average to taller people, but if you're 5'2″ or shorter, there could be an issue of the strides being a little too long for your liking.
On this elliptical, you have to adjust the stride manually, but it's an easy procedure. Simply loosen each knob, pull the pin, and adjust the leg to your desired setting.
Just make sure you set the stride on the same setting for each leg.
Oh, and in case you do purchase this elliptical, make sure you fully tighten the knob after you push the pin in- some users have had issues with unwanted movement or noise, which can be easily fixed by ensuring the knobs are tight.
Overall, I think the 1060ef scores highly with the adjustable stride length option. There aren't many machines in this price range that offer this feature, although shorter folks might find even the shortest stride a bit long.
Flywheel
Most home ellipticals use weighted flywheels to produce the resistance- just like spin bikes. On this systems, as you pedal, the metal flywheel spins.
The more that flywheel weighs, the more momentum it builds as it spins, which equates to a smoother feel during use.
These flywheels are usually paired with a magnetic resistance system.
These work by placing a magnet on each side of the flywheel- resistance is increased by bringing the magnets closer and the resistance is reduced by moving the magnets farther away.
Now, the 1060ef doesn't use a weighted flywheel, so there aren't any specs regarding how big or small the flywheel is here.
Instead, Diamondback designed this elliptical to function with a magnetic resistance system without the perimeter weighted flywheel.
This isn't unheard of- most commercial elliptical trainers don't use weighted flywheels either. If the engineering is there, you can achieve a smooth ride without the need for heavy flywheels.
It's just that using a heavy flywheel is an easy, cost effective way to do it.
Users seem to agree this elliptical functions smoothly- I haven't come across any complaints regarding feel. It comes with 16 resistance levels to work with, giving you plenty of control over the intensity of your workouts.
Features
The Diamondback 1060ef comes with the following features:
12 pre-programmed workouts- this elliptical comes with 8 workout profiles and 4 heart rate guided workouts. It also gives you the option to create 4 of your own custom workouts if you so choose. There's also a recovery mode that will time how long it takes for your heart rate to return to baseline, giving you an indicator of progress over time.
Floating pedals- the design on this elliptical is a little different. You'll notice the pedals are "floating" instead of riding along a rail on each side. This design is meant to keep the frame more compact, as well as more closely mimic the pattern of running.
Compact frame- speaking of the frame, this elliptical does take up significantly less room than most. With a footprint of only 49″ x 29.5″ (L x W), this elliptical will be able to fit in a lot of spaces larger models can't. And even though this frame is smaller, it can still hold people weighing up to 300 lb.
Easy to use console- Diamondback uses pretty basic consoles and the one found on this elliptical is no different. It's a simple LCD monitor, no fancy touchscreens or anything like that. It's really easy to use though, so if you're looking for a simple elliptical, you'll appreciate this console.
Large pedals- the pedals are large, allowing for your feet to move a little during use without slamming into the end of the pedal.
Wireless heart rate receiver- the console is compatible with Polar chest strap heart rate monitors, however one isn't included with purchase.
Tablet holder- there's a place to hold your tablet, which could also function as a book or magazine holder.
Water bottle holder- a place to hold any beverage you'd like to drink during your workouts (no judgement here).
Assembly
Diamondback refers to the assembly process on this elliptical as "quick". Hmm, not sure about that, but you can't blame 'em for trying.
In all seriousness, the assembly process should be fairly straightforward, but there's kind of a lot of steps to get the job done.
The main unit comes pre-assembled, but you have to attach the stabilizers, the pivoting arms, the pedals, the handlebars, and the console.
The assembly manual is pretty easy to follow, but there are a lot of images and a lot of written instructions along the way.
I do like that Diamondback provides real world photos of the elliptical being assembled for each step- definitely a nice reference.
Overall, I'd expect to spend 60-90 minutes getting this elliptical up and running. And if you aren't particularly handy or good at following directions, wouldn't be an awful idea to hire a professional.
Warranty
Diamondback offers the following warranty on the 1060ef Adjustable Stride Elliptical Trainer:
5 year frame
5 year brake
3 year parts
1 year labor
This is the same warranty they offer on all of their products and I think it's ok, not great. I'd like to see them offer a lifetime warranty on the frame, because most high-end brands do.
Otherwise, I think 3 years on parts and a year on labor is very fair.
Final Thoughts
Overall, I think the 1060ef has a lot to be proud of. I think it would make a great option for homes with limited workout space because this model takes up a lot less room than most traditional home ellipticals.
And this elliptical is a lot nicer than most of the other compact options out there.
I like the adjustable stride length option, something you don't see very often on home ellipticals, much less in this price range.
The console is very basic, but if you're looking for an elliptical that's easy to use, you won't mind.
The frame warranty could be longer, but Diamondback is a well-respected brand and I can't imagine the frame would break down anyway.
All things considered, I think the 1060ef is a good investment. Recommended.