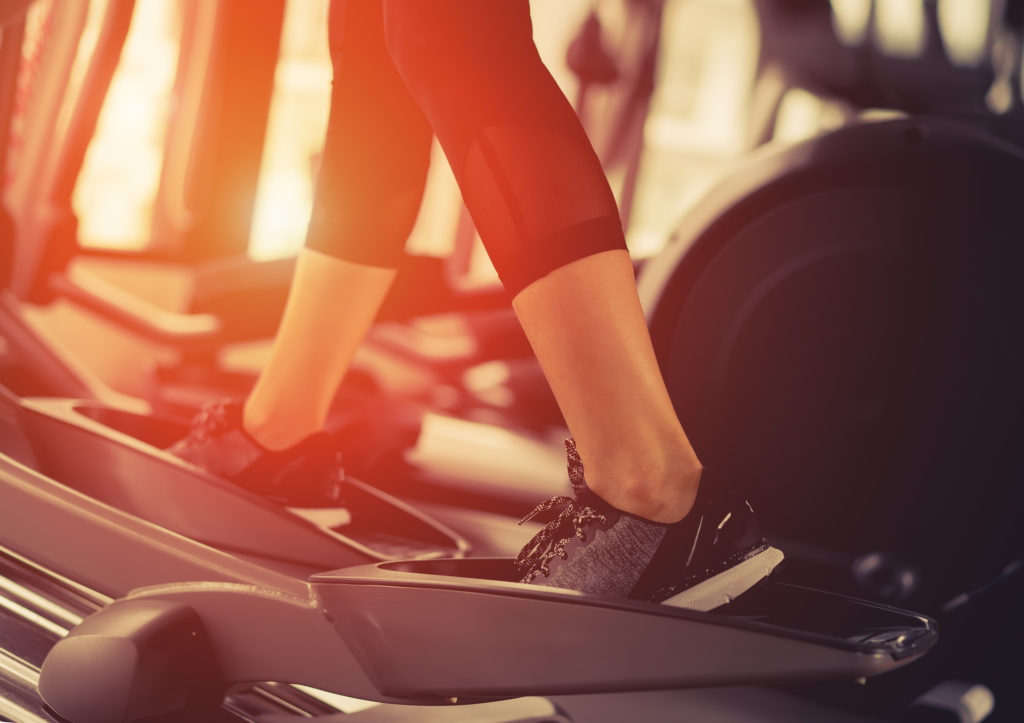 The Bowflex BXE216 Elliptical has a lot going for it. Besides sporting one of the most recognizable names in home fitness on its side, this mid-range priced elliptical is touting some very respectable specs and features.
Highlights for this model include a massive flywheel, a durable frame, and a great warranty.
Although its 22″ stride length is the stand out feature, making it a great option for the taller folks out there looking for an elliptical that comfortably accommodate those long limbs.
In a nutshell, the Bowflex BXE216 is one of the best home ellipticals out there. But in a price range with so much competition, is it the right option for your home gym?
Perhaps.
To help you decide, this review will take you on an up close and personal tour of everything this elliptical has going for it. I'll also offer my 2 cents on how the BXE216 stands up to the competition.
The Bowflex BXE216 Elliptical
The Bowflex brand needs no introduction, but I'll offer a short one anyway. The brand became popular for their Bowflex home gyms (duh), but have branched out to offer a little bit of everything these days.
Their HIIT trainers have become especially popular, which could be the reason they only offer 2 traditional elliptical models in their lineup.
Bowflex's BXE216 is the brand's most sophisticated elliptical trainer to date. As such, it comes with a few upgrades over the brand's other elliptical trainer, the BXE116.
Although the upgrades are fairly subtle, the BXE216 does come with more workout programs, a larger display, and a heavier flywheel.
Pros
35 lb flywheel
22″ stride length
400 lb weight capacity
25 levels of magnetic resistance
15 power incline levels
Adjustable pedal angles
Bluetooth compatibility
USB charging port
Chest strap heart rate monitor included
Multi-grip handles
Good warranty
Cons
Lacking bluetooth speakers
Only 11 workout programs
Stride Length
Just like running surface is the first spec I examine on treadmills, I always like to start my elliptical reviews with the stride length. And the 2 specs are pretty much the same (respectively speaking that is).
On an elliptical, the stride length is how far apart your feet move with each step (or stride).
Larger is usually considered better, because it means you'll have more room to work with. That is, you'll be able to stretch out more if you want during your workout.
Having more room is a good thing, because you don't want to feel cramped. Ellipticals with tiny stride lengths will have the feel of marching in place- this is the biggest problem most cheap ellipticals have.
A comfortable stride length is critical for a comfortable exercise experience.
Most quality home ellipticals will come with a stride length of roughly 20″. At this length, most folks can stretch out comfortably without feeling cramped.
The Bowflex BXE216 comes with a 22″ stride length, putting it in the "above average" category.
As a gentleman who's 6'1″, I like this. A 22″ stride length is going to give me (and people even taller than me) plenty of room to work with.
This stride length isn't adjustable (which is fairly rare in this price range), so if you're on the short side of normal (or height challenged) you may not want a stride length this long.
Although keep in mind- just because an elliptical has a 22″ stride length, it doesn't mean you have to stretch out fully during your workouts.
I like the long stride length, but I also like how heavy-duty the frame is on this machine. The BXE216 has a max weight capacity of 400 lb, putting it in the commercial grade territory.
Overall, this elliptical scores highly with the longer than average stride length and heavy duty steel frame. The BXE216 is a great elliptical for tall folks.
Flywheel
If stride length is the first thing I look at with ellipticals, flywheel is the second. The flywheel is the part that spins as you operate the pedals and handles, providing the resistance and "feel" of the elliptical.
Just like on most spin bikes, heavier flywheels are usually preferred on ellipticals.
And that's because the extra weight builds more momentum as the flywheel spins, making for a smoother, less choppy feel. The heavier flywheels should, theoretically, provide more overall resistance.
How heavy is heavy enough? Well, quality ellipticals should come with at least a 20 lb flywheel. That should be heavy enough to provide a pretty smooth workout.
At 35 lb, the BXE216 comes with one of the heaviest flywheels you're likely to come across on a home model.
This massive flywheel is going to provide a smooth feel during your workouts. It's also heavy enough to provide enough resistance to challenge folks at all fitness levels.
Speaking of resistance, Bowflex gave this elliptical 25 levels of magnetic resistance, giving you complete control over that flywheel.
More resistance levels doesn't necessarily mean more overall resistance, but it does mean you'll have more control to fine tune your workout intensity (more levels means smaller incremental increases and decreases).
The BXE216 also comes with 15 levels of power incline for added workout intensity.
Overall, this elliptical tops the chart with its 35 lb flywheel. I also like that Bowflex gives you a ton of control over your workout intensity with the resistance levels and incline settings.
Features
The Bowflex BXE216 comes with the following features:
11 workout programs- this elliptical comes loaded with 11 workouts to choose from. It's really convenient to choose them too, because there's a button on the console for each. Simply make your selection and get started.
Switch Select Cushioning system- they call this a cushioning system, but it's actually an adjustable foot plate. You can select 1 of 3 different foot angles to use for optimal comfort.
Bluetooth compatibility- you can connect with fitness apps for data tracking through bluetooth. You can also sync up with the free RunSocial app to get the virtual experience of running through different scenic routes with other people in real time.
USB charging port- you can plug your smart phone or tablet up to the USB charging port and charge your electronics during your workout.
Chest strap included- this elliptical has built-in grip heart rate monitors, but it also comes with a free chest strap monitor for more accurate results.
Burn Rate console- the console has Bowflex's patented Burn Meter that displays your workout intensity in real time, as well as giving you a read out of how many calories you're burning. Cool imagery to motivate you during your workouts. The 9″ LCD screen is large and easy to read during workouts.
Multi-grip handles- the large handles give you at least 4 different grip variations to use, depending on what upper body muscles you want to target. The handles are also designed with built-in resistance and incline control buttons, making it more convenient to fine tune your workout without having to lose your grip.
Speakers- there's an mp3 port you can use to plug your smart phone or mp3 player into the console, giving you the ability to jam out through the built-in speakers. Unfortunately, they aren't bluetooth.
Fan- the included fan isn't anything to write home about, but it might help keep you a little more comfortable.
Water bottle holder- yup, this elliptical has a place to store your water bottle, cola, or cold beer (or whatever interesting beverage you might consume during your workout).
Assembly
Putting the BXE216 together is fairly straightforward. Bowflex does a nice job with the assembly manual- all of the hardware is clearly labeled in a page before the first step.
I always like it when there's an easy reference to go to to make sure I'm using the right screws and bolts for each step.
The images they use are large and easy to follow. They even go the extra step to enlarge the areas where the action is happening to make the directions easier to follow.
All of the necessary tools are included (Allen wrench and screwdriver). I prefer to use my own screwdriver because I don't like those little screwdriver tools that come with these things.
Overall, most fairly handy people shouldn't have any issues with assembly. Keep in mind this is a heavy machine- it would be helpful to have a second pair of hands during the process for moving the heavy parts.
I'd expect to spend an hour or two on assembly if everything goes smoothly.
Warranty
The Bowflex BXE216 comes with the following warranty:
15 year frame
5 year parts and electronics
2 year labor
I think this is a pretty solid guarantee. I'd prefer to see "lifetime" on the frame warranty, but realistically speaking- is there a difference between 15 years and "lifetime"?
I guess there is, but I wouldn't be disappointed if I got 15 good years out any piece of workout equipment.
Five years on the parts and electronics is good and 2 years on labor is great (many brands only offer 1 year).
We should expect good warranties in this price range and Bowflex doesn't disappoint here. Overall, I'd consider this a fair guarantee.
Final Thoughts
After looking at all the specs and included features, I think Bowflex has a nice product here. I like how heavy and robust the frame is- I don't think I mentioned it earlier, but this thing weighs over 260 lb fully assembled.
You won't have to worry about this elliptical wobbling at all during use.
I also really like the huge flywheel and extra long stride length. Both specs make the BXE216 a smart choice for larger users or for people who are simply looking for a substantial machine.
I think the warranty is fair too. Lifetime on the frame would be a little better, but I'm not too concerned with a 15 year guarantee.
The only real downside I see here is the console- it's a little lacking in the tech department. I like that it comes with a chest strap monitor, but the display is a little dated (and it could use some bluetooth speakers).
The BXE216 holds up very well against the competition in this price range: the Sole E95 (my personal pick for best in class) and the NordicTrack Commercial 14.9.
The BXE216 has a bigger flywheel and longer stride length than both. The Sole model has a slightly better warranty and the NordicTrack model has a more advanced console. Otherwise, all 3 machines are pretty close in the other major spec departments.
Overall, I think the Bowflex BXE216 is a winner. It would work especially well for the bigger and taller crowd. It's also a great choice for anyone looking for an intense workout.