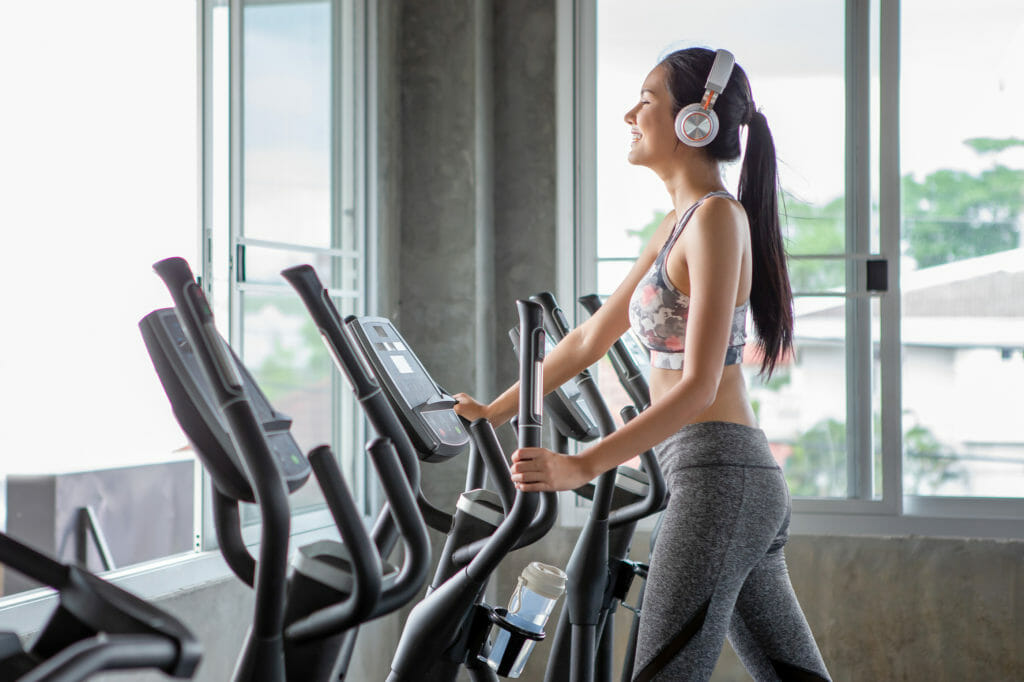 If you're looking for an elliptical trainer with a boatload of workouts to choose from, the ProForm SMART Endurance 920 E might just be the one for you.
It's one of the most feature-rich options in its price range- we're talking a 7" HD touchscreen display and 32 built-in workout apps to choose from.
But for even more routine variety, the 920 E pairs perfectly with iFit, giving you access to virtually unlimited, trainer-led workouts.
Aside from its fancy console, the 920 E comes with brag-worthy, high-performing specs. It has a solid steel frame, an adjustable stride length, and many resistance and incline levels to challenge users of any skill level.
To cut to the chase: ProForm's 920 E is a well-equipped elliptical trainer that offers a great combination of console tech and performance specs (which is more than capable of kicking your butt on a daily basis).
But before you decide to purchase, make sure you read this review.
In this article, I'll show you all the ins and outs of this model. We'll discuss the pros, cons, and everything in between. After reading, you'll know whether or not this is the right elliptical for your home gym.
The ProForm SMART Endurance 920 E Elliptical Trainer
Before we dig into the fantastic specs of the 920 E, let's explore a bit about its manufacturer, ProForm.
I'm guessing you're familiar with the ProForm brand. Whether you've read my previous reviews or have heard about the name as you shop for your home gym, ProForm is one of the most recognizable fitness equipment brands in the world.
The brand has made a name for themselves by producing well-made, fairly priced machines. Who knew making products that actually work is all it takes to become a top seller?
Kidding aside, they're popular for their treadmills and HIIT trainers, but their ellipticals and exercise bikes are just as impressive.
ProForm has several series under their elliptical wing — Endurance, Pro, Hybrid, and CSE. Each has its unique selling points. We'll explore more about them in our next few reviews. 
As of now, let's just focus on the Endurance series which the 920 E belongs to. This family is known for having the resistance systems upfront instead of at the back of the machine.
Models under the Endurance group take up less room, without cutting down on the potential stride length. 
Their current Endurance series collection includes the 520 E, 720 E, and 920 E. Prices range anywhere from budget friendly to moderately priced, depending on the model.
The 920 E is the youngest and most sophisticated invention in this lineup. It has the finest features and one of the best at this price point.
Pros
19″ adjustable stride length

25 lb flywheel

24 levels of magnetic resistance

20 levels of power incline

32 workout apps

Quick touch resistance/incline buttons

iFit-enabled

Pulse grip sensors

Integrated tablet holder

Transport wheels

325 lb weight capacity
Cons
Chest strap heart rate monitor not included

Warranty could be longer
Stride Length
Stride length is important when looking for an elliptical. It's defined by how far your feet will move apart with each step and is measured in inches.
The reason why I'm putting this spec on top of the list is that it directly relates to how comfortable your workouts are going to be. It can easily make or break your elliptical experience.
Too short of a stride length and it can make you feel cramped; too long can make you feel too stretched and off-balance. Either way, it's going to effect the comfort of your workouts.
Unfortunately, there's no universal stride length. It just doesn't exist. That's because the perfect stride length for you depends greatly on your height.
If you're anywhere between 5'3" and 6'0", a 20" stride length is probably best for you. If you're shorter, you can aim for 16" to 18". At these lengths, you should be able to stretch out to a normal gait pattern.
A 20" stride length is considered as the gold standard for home ellipticals because it's been shown that this length can comfortably accommodate most users.
This said, the 920 E comes with a 19" stride length.
Although the 920 E is an inch shorter than the considered gold standard size, at 19″ users under 6′ will likely feel comfortable. The folks nearing 6′ (or taller) may feel themselves having to shorten their stride a little.
Think of it as a jogging pattern compared to a running pattern.
ProForm reports they have an "adjustable stride length", but on this model they are really referring to the incline- adjusting the angle of the incline may adjust your actual stride length a little, but 19″ is the longest stride this elliptical offers.
For comparison, Sole's E95S has a true power adjustable stride length, that allows you to set your stride between 18″-24″ with the touch of a button.
Anyway, the 920 E has a solid frame with a max weight capacity of 325 lb, allowing larger users to safely use this elliptical.
The 920 E is designed with your home storage solution in mind too. 
Again, it's part of the Endurance series family that features front-drive trainers. It takes less floor space than most rear-drive trainers and has a footprint of 36.5" W x 68.25" D x 69.3" H. 
However, you can easily roll into any corner after use, all thanks to its built-in transport wheels placed at the front. 
Overall, the 920 E scores pretty highly with its heavy-duty frame and compact size. The stride length may be a little short for taller users, but given the compactness of this model, it's still pretty impressive.
Flywheel
Flywheel weight is something worth considering when looking at both ellipticals and spin bikes. Both machines use a perimeter weighted flywheel to provide the resistance.
As you pedal, the flywheel spins and creates your resistance with its magnetic system.
Heavier is usually considered better because the extra weight builds more momentum as it spins, making for a smoother ride. It's also linked to having quieter operation. 
But how heavy is heavy enough?
I'd say look for an elliptical with at least a 20 lb flywheel to ensure smooth operation. This rule isn't written in stone of course, but it seems to be a pretty good line to draw in the sand.
The 920 E has a 25 lb flywheel. At this weight, there's going to be enough mass to get that wheel spinning smoothly.
This heavy flywheel lets you enjoy a steady and comfortable pedal action during your workouts. Pairing this with its 24 resistance levels and you've got the perfect recipe for an elliptical that challenges even the most talented runners.
Having plenty of resistance levels is great because it gives you more control over the intensity of your workouts. In short, you can fine-tune your workout intensity by increasing or decreasing the resistance in smaller intervals.
The 920 E also comes with adjustable incline settings up to 20° for a more challenging fitness routine. This is best for targeted muscle toning. For example, higher inclines let you focus on hamstrings and glutes.
You can control the incline yourself or let a training program do the work. The most fun and interactive option is to use this automated incline with Google Maps (which you can access via the iFit app, by the way).
This lets you experience the up/down simulations of real topography as you hike with a Google Street View of your chosen route.
To wrap it up, the 920 E does an amazing job in the flywheel department. It has an extra heavy flywheel paired with several resistance and incline levels for smoother and more powerful workouts.
Features
The ProForm SMART Endurance 920 E comes with the following features:
7″ HD touchscreen display: This large, HD screen is one of the most fancy features of this elliptical. This should go very well with iFit, and it works equally cool with its built-in workout programs and other metric parameters. 
32 workout programs: The 920 E is loaded with effective workout programs that are designed by professional trainers. Having this many training options is a solid alternative if you decide against the optional iFit subscription.
iFit compatibility: iFit is a fitness app that gives you unlimited access to exercises led by virtual coaches. This lets you track all your workout data, access scenic trails, and more. Purchasing the 920 E gives you access to a free 1-year iFit subscription. After that, you'll have to pay a monthly subscription fee to access.
Again, the iFit is an optional feature. You can still use the machine even without the iFit integration.
EKG pulse grip sensor: The 920 E comes with a conventional heart rate monitoring feature. You can get your pulse readings by gripping its handlebars. This elliptical is also compatible with bluetooth chest straps monitors, but one isn't included.
Adjustable pedal angle: The pedals of the 920 E are oversized and cushioned for a more comfortable workout session. The adjustable angle lets you enjoy a number of foot positions to target different muscle groups and improve overall comfort.
Adjustable leveling feet: This keeps your machine stable on uneven surfaces.
Water bottle holder: Yup, it's a pretty standard feature for any machine to make hydration easier.
Integrated tablet holder: The tablet holder is conveniently located above the huge display screen, so you won't have to block that gorgeous display in order to watch Netflix.
Assembly
You can put together the 920 E all by yourself. It comes with relatively easy assembly process. The manual is straightforward and there are images included too.
The assembly process on this elliptical is a little more involved than some of the Pro Series ellipticals, but generally speaking you'll have to add the stabilizers, add the upright and console, and make a few connections between the pedals and handlebars.
It's possible to get the job done solo depending on your skills, but it's always a good idea to have a friend or a family member to assist you, just to simplify the process even more.
Overall, assembly isn't bad. Expect to spend an hour or so to finish the job.
Warranty
The 920 E comes with the following warranty:
Frame: 10 years

Parts: 2 years

Labor: 1 year
I wish ProForm would go back to offering lifetime frame warranties. Ten years is a bit short for an elliptical of this caliber. Two years on parts isn't bad (especially for the "on sale" price), but 3-5 years would be better.
A year on labor is standard.
Overall, not an awful warranty, but there's room for improvement (if you're looking for more impressive warranties, you may want to check out Sole's elliptical lineup).
Final Thoughts
The 920 E is ProForm's most high-end front-drive elliptical under their Endurance series. For the price, it offers an exciting combination of hi-tech features and performance specs.
I like how many resistance and incline levels this elliptical offers, as well as the generous selection of workouts to choose from (even without paying for the iFit subscription).
This elliptical also comes with a fairly heavy flywheel, which should be heavy enough to ensure smooth operation as well as provide enough resistance to challenge all users.
My biggest complaint is the warranty- could be longer.
If you're looking for a compact, hi-tech elliptical, the SMART Endurance 920 E isn't a bad choice.
But, I don't really see any reason to choose it over ProForm's SMART Pro 12.9 which comes with a smaller retail price, heavier flywheel, and longer stride length.
Unless the 920 E is on sale (which it often is) for under $1000. At the sale price, this elliptical makes a lot more sense.