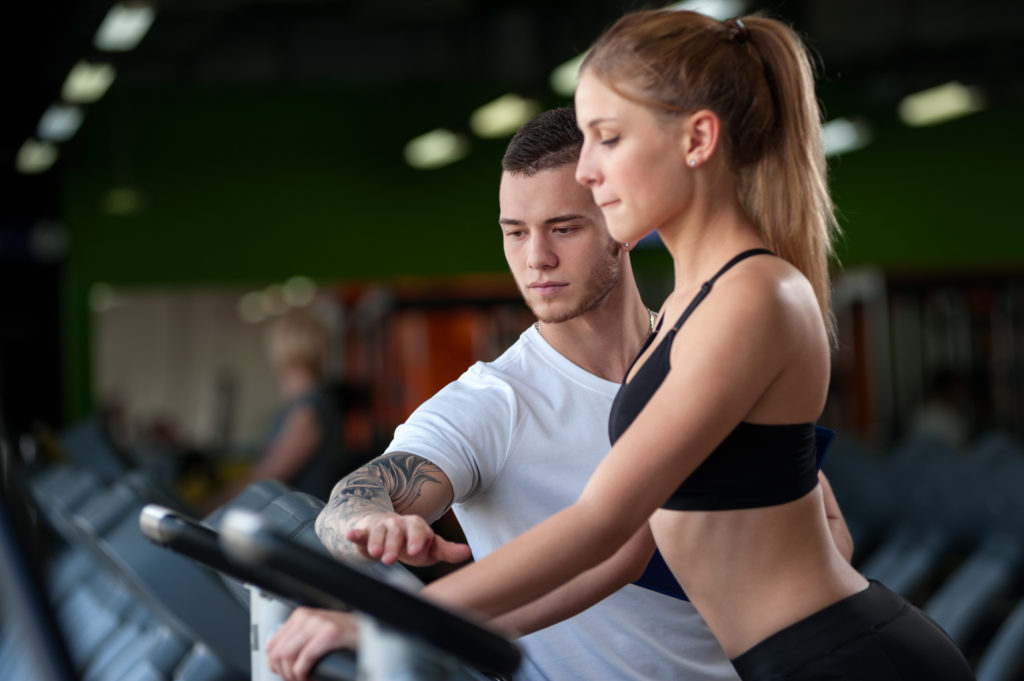 It has a solid build with some fantastic features like a 20" stride length, 32 lb flywheel, 24 resistance levels, and a power incline up to 20°. Other nice touches include the 7" touchscreen display and 2" dual speakers.
Long-story-short: the Pro 12.9 is an impressive machine and a pretty good buy in its class.
But if you're interested in the finer details (and you should be), don't worry- I got ya covered.
In this review, I'll walk you through everything you need to know about the Pro 12.9. After reading this post, you'll know everything you need to to determine whether this elliptical is worth taking home.
The ProForm SMART Pro 12.9 Elliptical Trainer
Before we dig in, let's get to know the proud manufacturer of the Pro 12.9.
ProForm is a famous brand in the home fitness industry. It has a pristine reputation in providing high-quality machines at affordable prices.
And although they're quite popular for having an arsenal of feature-rich machines, they're also high-performing and durable to meet any of your fitness needs.
But did you know that ProForm is under the ICON Health & Fitness company?
ProForm is owned by ICON Health & Fitness. It's a large multi-brand organization from Utah. They're one of the industry giants when it comes to the manufacturing, developing, and marketing of exercise equipment.
ProForm is neck and neck with NordicTrack, which happens to be the sister company of ProForm anyway. ProForm, NordicTrack, and Weider are all owned by ICON. 
And to keep you on your toes, ICON also owns iFit. It's an interactive fitness platform to keep you motivated and inspired as you exercise. This should explain why machines manufactured by these leading fitness brands are all iFit-ready.
ProForm is known for their treadmills and HIIT trainers. But they also offer an impressive selection of exercise bikes and ellipticals that are fairly priced.
Now that we're all familiar with the ProForm brand, let's turn our attention to the elliptical we're here to discuss.
The Pro 12.9 is just one-third of ProForm's "Pro" series of elliptical trainers. This lineup features heavy-duty flywheels (which is perfect for intense workouts) and longer stride lengths. This lineup also includes the Pro 16.9 and 9.9.
As you've guessed, the Pro 16.9 is the most advanced model in this series yet, while the 9.9 is the oldest. The Pro 12.9 offers amazing specs at a bargain, which is most likely the reason why it ranks so well with users.
So without further ado, let's see what the famed Pro 12.9 elliptical has to offer us:
Pros
20″ stride length

32 lb flywheel

24 levels of magnetic resistance

35 built-in workout programs

20 levels of power incline

Quick touch resistance/incline buttons

Dual 2" speakers

iFit-enabled

EKG pulse grip sensors

Integrated tablet holder

Transport wheels

350 lb weight capacity
Cons
No telemetry heart monitoring

Substandard warranty
Stride Length
When looking for the best elliptical trainer, I always recommend prioritizing stride length.
The stride length is the distance the two pedals move front to back as you exercise. It's how far the pedals separate from each other (at their farthest point) during use. It's like your step length when walking (if that makes sense).
It's how far the machine allows you to step out when you're exercising. This is important because it relates to your overall workout experience. A short stride length can make you feel cramped and uncomfortable. 
A good elliptical should let you stretch out to your normal, comfortable gait pattern. To find the best stride length for you, you need to consider your height.
If you want to know more about stride lengths, you can read it in full detail here. 
While there's no one-size-fits-all stride length to make everyone happy, there's a single measure that's been considered the 'gold standard' for home ellipticals and it's 20 inches.
At this length, most users with a height between 5'3″ and 6′ can comfortably operate a machine with a 20″ stride length. Most commercial gyms utilize ellipticals with this measurement, as it can accommodate most users.
But if you're shorter, you may be okay with a smaller stride length of 16" to 18". 
The Pro 12.9 has a 20" stride length. It should fit most people between 5'3″ and 6′ tall fairly well. It's the perfect size for many users without compromising comfort for function. 
It also offers quick adjustments for a more satisfying workout. You can easily modify the stride length to complement your comfort and convenience (by adjusting the incline angle).
When it comes to the frame, the Pro 12.9 comes with a heavy-duty one that can safely hold users weighing up to 350 lb. Many home models have a max weight limit of 300 lb, while commercial-grade units can offer up to 400 lb.
This machine has a small footprint of 25.75" W x 79.75" D x 66.25" H. So if you're looking for some space-saving design trainer, then you've got a winner here. It has front-mounted transport wheels, so you can easily move it to any corner after use.
Overall, I'm pleased with the Pro 12.9. Its 20" stride length can fit most users and should be enough to provide a satisfying workout. Factor in its heavy-duty frame and small footprint and this elliptical is scoring pretty highly so far.
But let's see how it fares with the other important components we should look at when comparing ellipticals.
Flywheel
The flywheel is the drive system of an elliptical trainer. It's what you're moving when you push the pedals. Hence, it makes up the resistance levels of your machine.
Flywheels are important because they give us an idea of how smooth the machine will operate. To ensure a smooth, efficient, and quiet workout, the flywheel weight should be considered. 
Lighter flywheels may provide a less fluid pedaling experience. The transition between pedal strokes can feel awkward- and we don't want that.
Heavier flywheels are usually preferred because their additional weight help them spin more efficiently. 
When thinking about elliptical flywheels, it's a good rule of thumb to aim for at least a 20 lb flywheel. At this weight, the flywheel should be heavy enough to spin efficiently and provide a smooth workout.
The Pro 12.9 goes beyond this benchmark with its 32 lb flywheel. This should give you a more powerful yet natural striding experience.
To make the most of its massive flywheel, the Pro 12.9 comes with 24 digital resistance levels. Users agree this elliptical operates smoothly, providing a very quiet workout experience.
It also offers up to a 20° incline. With the push of a button, you can easily adjust this angle, allowing you to add variety to your workouts as well as target specific muscles.
The Pro 12.9 lets you enjoy some uphill or downhill challenges. It's a very exciting feature when paired with Google Maps (through iFit). The machine will automatically adjust its incline levels depending on your chosen terrain.
Overall, this elliptical scores highly in the flywheel department. It has a heavy flywheel and tons of resistance and incline levels to challenge even the most talented runners. 
Features
ProForm's SMART Pro 12.9 Elliptical comes with the following features:
7″ HD touchscreen display: Okay, touchscreens are the hype nowadays, but not all machines can go as far as 7". The screen upsize we get from the Pro 12.9 is cool, especially at this price range. 
Large LCDs make it easier for you to swipe, scan and monitor your training parameters like speed, time, distance, inclination, heart rate, scan mode, and calories burned. 
A 7" touchscreen display is impeccable especially if you're using the iFit app. You can enjoy watching the celebrity coach or seeing the topography from your chosen Google Map destination at a comfortable screen size.
iFit-enabled: Using the Pro 12.9 with an iFit brings a whole lot of difference to your routines. You can get unlimited access to different training sessions, coaches, and many more. However, the iFit subscription incurs a monthly bill.
Some users aren't a fan of spending more for the app, while others are willing to go the extra mile because they love the interactive workouts. Nevertheless, ProForm offers a free 1-year iFit subscription if you'll purchase their Pro 12.9.
2" speakers: Many users mentioned that the speakers work really well. This should give you that extra boost when you listen to your favorite workout playlist or watch a movie.
EKG Grip Pulse Heart Rate Monitor: The Pro 12.9 has contact pulse sensors located on its handlebars. It's a standard feature so you can easily monitor your cardio health as you exercise.
However, telemetry heart monitoring could've been better. Grip EKG monitoring can be tricky, and its reading can be easily affected by several factors like your handgrip strength.
Machines that are telemetric lets you move freely as it tracks your heart health accurately. For comparison's sake, the Pro 16.9 has both handgrip and telemetric EKG features.
Coolaire workout fan: It comes with 2 settings to keep you cool and comfortable. It also has a water holder to make hydration easy
Tablet holder: The built-in tablet holder makes it easy to multi-task with the Pro 12.9 without blocking the view of your console. Now, you can easily watch videos or check your social media.
Assembly
The Pro 12.9 takes a simple assembly process before you can begin your in-home training. ProForm has incorporated well-written instructions and images to describe clearly what needs to be done.
Since ellipticals are a bit huge and heavy, having two people working on the assembly is a smart move. Just follow the instructions included on the package and you can begin working out with the Pro 12.9 in no time.
The process is pretty straightforward- you're really only adding the stabilizers and covers, securing the upright, and attaching the console (all this only takes a few screws and bolts).
Overall, I think most people should be able to get the Pro 12.9 elliptical up and running without professional assistance. I'd guess most users will be able to get the job done in 30-45 min.
Warranty
ProForm backs their Pro 12.9 with the following warranties:
Frame: 10 years

Parts: 2 years

Labor: 1 year
I feel like ProForm used to back their higher-end products with lifetime frame warranties- I'm not sure what happened, but that doesn't seem to be the case any more. And it's a shame.
Considering the price range we're in here, I'd like to see a lifetime guarantee on the frame. Two years on parts is also a bit short, considering plenty of high-end machines in this price range are offering 5 years (like Sole's E35).
A year on labor is pretty standard, but again, other brands offer 2 years (like Sole).
Overall, the warranty here isn't awful, but there's definitely room for improvement.
Final Thoughts
ProForm is a popular home fitness brand with a good reputation for offering reasonably priced machines that work better than most.
Their SMART Pro 12.9 Elliptical fits this mold nicely.
I like that this model comes with a 20″ stride length and an extra heavy flywheel- a great combination when it comes to the necessary specs to provide a smooth feel.
The touchscreen HD display is a nice touch. Hi-tech consoles are certainly one of ProForm's calling cards, so folks looking for technologically advanced screens and loads of workouts to choose from will likely enjoy the 12.9.
The biggest downside I see is the warranty- at this price, ProForm could do better. Brands like Sole come with less advanced consoles, but much better warranties- I guess it all depends on what you're looking for.
Overall, I like the 12.9. It has a lot to offer, especially in the tech department. If you're looking for an advanced console and are interested in joining the world of on-demand fitness workouts, this is a smart buy.